Space crafts for kids can be done as an exciting weekend activity to introduce toddlers and preschoolers to the vastness and mysteriousness of outer space.
The number of stars in the known universe is as plenty as the number of space craft ideas that children can choose from. These range from rocketships that will take them to imaginary planetary systems to replicas of moon rocks that will provide them with a unique sensory experience.
So prepare to launch an imaginary space adventure by making these 23 space crafts for toddlers and preschoolers.
7 Outer Space Crafts for Kids
This section features seven crafts that include things from outer space, like moon rocks and alien crafts.
1. Paper Plate Space Craft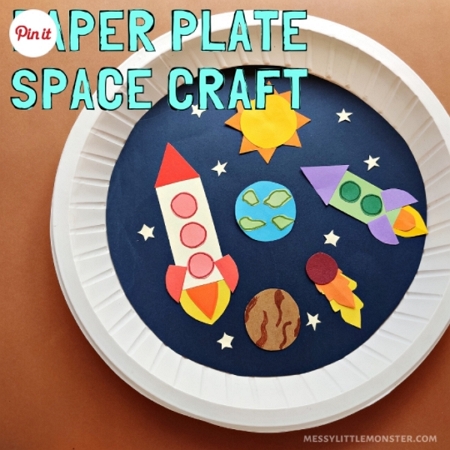 Create a comprehensive space project with your toddler or preschooler by taking inspiration from this paper plate craft made by Messy Little Monster.
It includes different celestial objects, like the Earth, the Sun, and the stars, and artificial satellites, such as spaceships.
2. Homemade Moon Rocks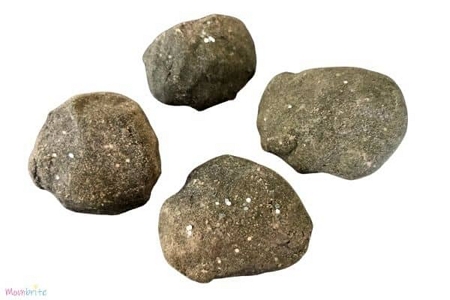 Have the kids ever wondered what exists on the moon? Well, they'll be able to sate their curiosity with this DIY moon project by Mom Brite.
The main ingredient to make these homemade moon rocks is baking soda and food coloring. I never expected a common ingredient like baking soda to form moon rocks that look like they're actually from outer space!
If you enjoy DIY projects like this one, then you won't regret checking out this homemade playdough guide.
3. Toilet Paper Roll Space Windsock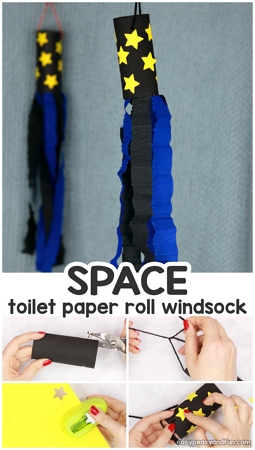 It's better to stay indoors when it's pouring outside. Seize the day and take advantage of that unpleasant weather by making this space toilet paper roll windsock by Easy, Peasy, And Fun.
Little ones will feel a sense of accomplishment when they see these windsocks hanging and swaying on the front porch or beside the window.
It's a shame that toilet paper rolls that could've been repurposed as toys go to waste. Fortunately, there are plenty of toilet paper roll crafts to try with your kids.
4. Alien Easter Eggs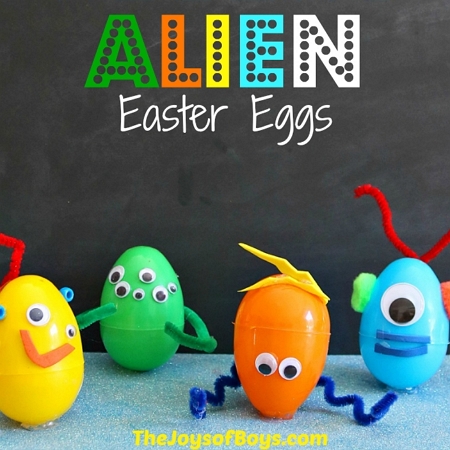 With the vastness of space, it's incredible that we haven't encountered other life forms. Encountering alien species could be something to celebrate or might spell bad news for humanity.
But toddlers and preschoolers don't have to worry about encountering these alien easter eggs made by The Joys Of Boys because they'll gain new friends after completing this activity.
5. Alien Popsicle Stick Spacecraft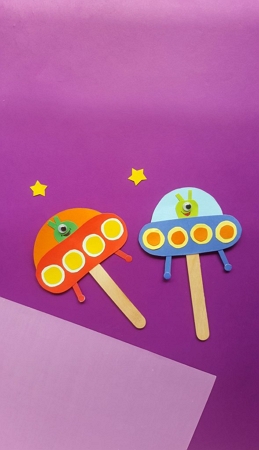 Two Kids And A Coupon shares a popsicle stick craft of couple of alien riding their spaceship. This project is a nice activity that little fingers practices dexterity because it involves cutting shapes.
The popsicle stick makes it easier for preschoolers to fly the spaceship, and it also has the benefit of serving as a bookmark for their children's books!
Click here for more incredibly easy popsicle stick crafts.
6. 3D Alien Spacecraft
Sometimes DIY toys turn out to be better than store-bought ones because it creates a sentimental value for children.
I believe that this 3D alien spacecraft by Woo Jr is one of those homemade toys that are better than purchased ones because a lot of care and effort went into it.
If you'd like to make more DIY alien toys, check out our compilation of Toy Story crafts.
7. Alien Headgear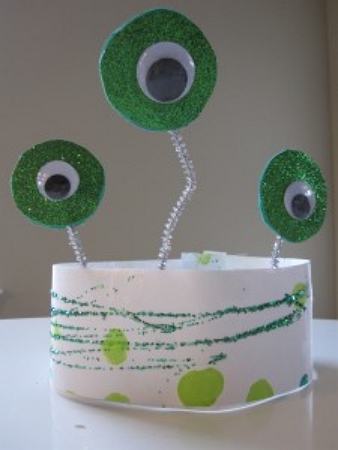 If your kids would rather impersonate an alien species, then No Time For Flashcards has a great guide on how to make an alien headgear.
The project involves making some alien eyeballs with sparkly foam and googly eyes and taping the two ends of a wide piece of paper together. The design on the paper is up to your kids' imagination.
For a more comfortable experience, I suggest taping the bottom part of the headgear to avoid any paper cuts.
7 Rocket Ship Crafts for Kids
How can kids experience space travel without the proper vehicle to operate? Here are seven rocket ship crafts that will propel the kids into an exciting space adventure.
Speaking of space adventures, it's never too early to introduce the little ones to these one of the most legendary sagas with these Star Wars crafts.
8. Rocket Ship Spelling Activity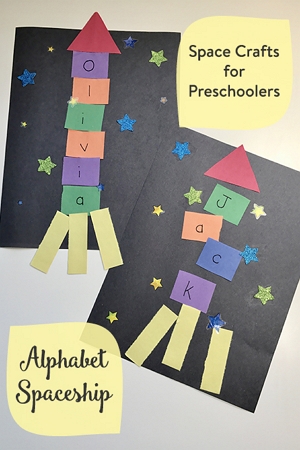 Here's a great activity for toddlers who are learning their ABCs. The Inspired Home finds a creative way to incorporate a rocket ship and the alphabet with this alphabet spaceship project.
"R" is for rocketship, so here are letter R crafts to reinforce this versatile consonant.
9. DIY Simple Rocket Ship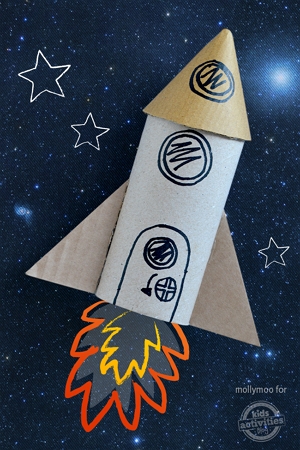 Here's another toilet paper roll craft by Kids Activities Blog. The toilet paper roll transforms from a thing that can be found in bathrooms to a vehicle that enables space travel. This craft says a lot about the value of toilet paper rolls!
10. Space Shuttle Craft for Kids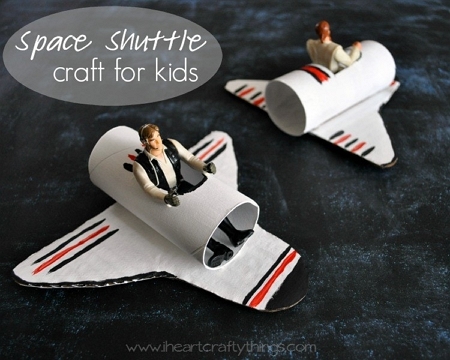 If your preschoolers already have existing toys but no space vehicle to travel around with, simply follow this space shuttle craft brought to you by I Heart Crafty Things.
11. Corner Bookmark Spaceship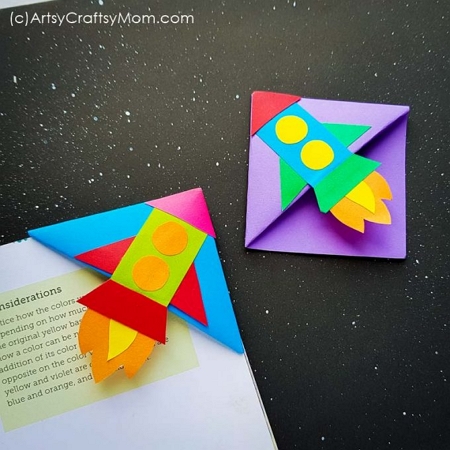 When your kids are ready to take reading to the next level, Artsy Craftsy Mom is here to guide them with a rocket ship corner bookmark.
Don't worry, the rocket's thrusters won't burn off the pages of your children's books.
12. Another Rocket Ship Bookmark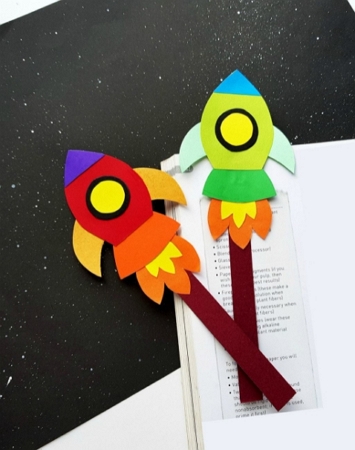 Here's another rocket ship bookmark provided by Kim And Carrie if the kids prefer this type of bookmark more than corner ones.
Though these rockets can last quite a bit with proper care, I suggest applying a sealer, like Mod Podge, to ensure the durability of the bookmark.
13. Easy Rocket Craft for Kids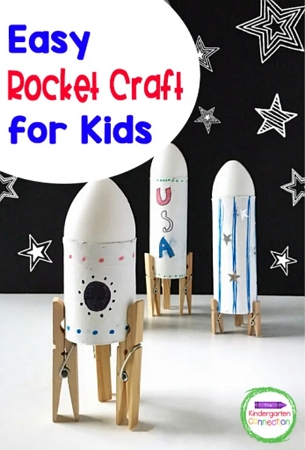 The Kindergarten Connection shares an awesome rocket craft that any kid can easily make. The materials consist of a cardboard tube for the body, a plastic egg for the head, and some clothespins for the thrusters.
As for the design, it can be anything that children want.
14. "A" is for Astronaut Craft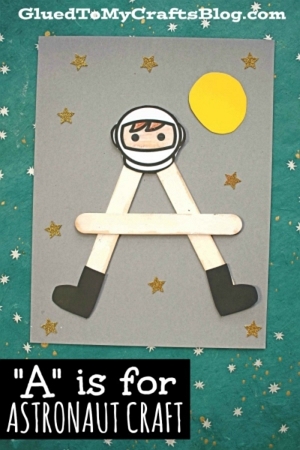 A rocket ship is just a glorified piece of metal without the expert that will operate it. Glued To My Crafts Blog shares an "A is for astronaut craft" that allows kids to get acquainted with the astronaut.
Here are other letter A crafts that kids will enjoy!
4 Solar System Crafts for Kids
Introduce the kids to the interesting planets that can be found on our Solar System.
If they'd rather draw these planets, then here is a guide on how to draw the planets in our Solar System.
15. Easy Button Solar System Project for Toddlers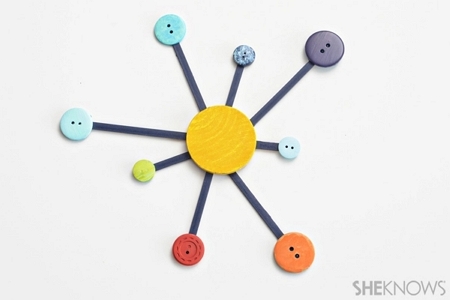 Buttons are the perfect representation of planets for kids since they're small and come and different colors and sizes.
She Knows instructs to gather eight different buttons, preferably colors linked with the planets of the Solar System, and simply attach them to craft sticks. Link these buttons to a bigger, yellow circle, and voilà, it's the Solar System in the palm of your toddlers' hands!
16. Solar System Bookmarks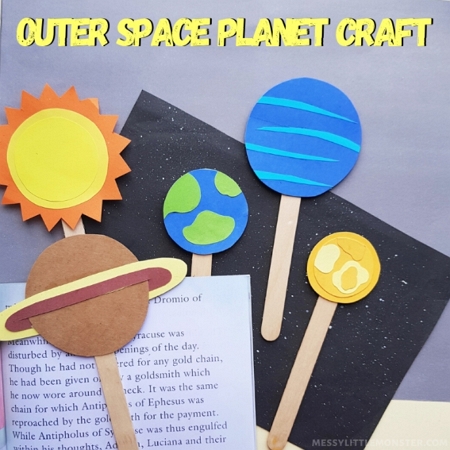 If the kids would like a variety of bookmarks to make reading sessions more exciting, then here are a bunch of planet bookmarks from Messy Little Monster to take inspiration from.
They produced planets like Earth, Neptune, and Saturn, but the kids can bring in their creativity to make a planet of their own vision. With so many planets at their disposal, they can shuffle between these celestial objects every day of the week!
17. Paper Plate Space-Themed Wreath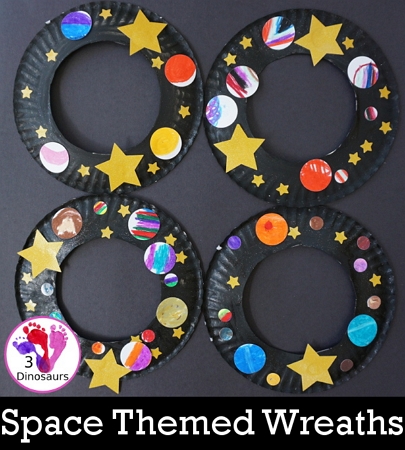 Here's a fun planetary system decoration made by 3 Dinosaurs. The paper plate ring is fitting for the spatial plane on which planets float around. Place as many celestial objects as the kids like, picking from different planets and stars of their choosing.
18. DIY Solar System Mobile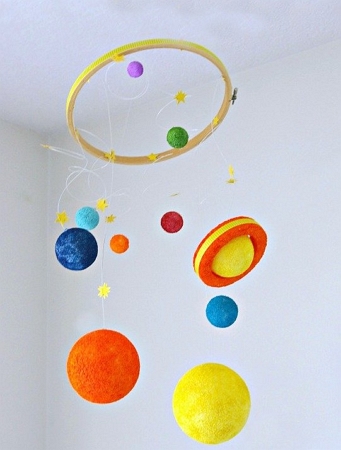 Today's Creative Life takes the crafting of the Solar System to a different level by making it into a 3D mobile. The most fun part of the activity is painting the foam balls to give life to the planet.
Follow their guide on how to string the colored planets together.
5 Outer Space Painting Projects for Preschoolers
Painting can be a relaxing activity, and for kids, it's an educational one too, improving their hand-eye coordination as well as their creative thinking.
19. Colorful Planet Made with Recycled CD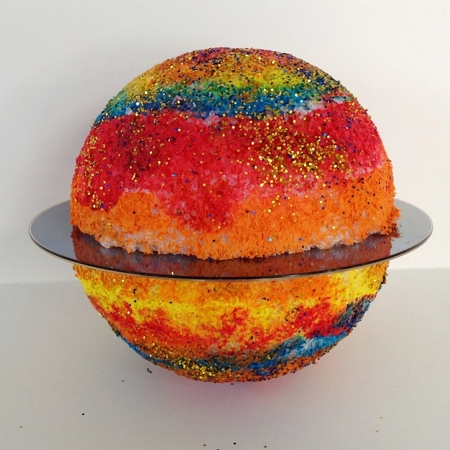 Kristen Hewitt shares an amazing guide on how to reuse an old CD and turn it into an awesome planet with a ring. Alternatively, those who don't have a spare CD can use round cardboard, which is thicker and sturdier than regular construction paper.
Allow the kids to choose any color they like, and complete the planet with a glitter finish.
Glittery and shiny activities are attractive, so here are some diamond painting kits that you'll no doubt enjoy.
20. Blow Paint Aliens
Mas And Pas found a unique painting technique that involves blowing air from a drinking straw. Simply apply a dollop of paint on a piece of paper and instruct the kids to blow through the straw to create a splattered effect.
Be very careful and always supervise kids when doing this activity to ensure they ingest any paint!
21. Solar System Painting for Preschoolers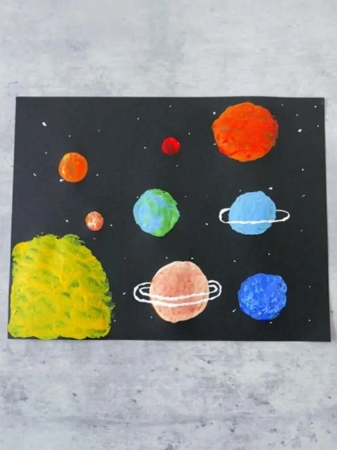 It's amazing to see an eye-catching painting and discover that it's made by a preschooler! That's exactly the impression that this Solar System painting from Made With Happy gave me.
It looks stunning yet it's quite easy to replicate. I was also surprised to know that the secret material used in this painting is a carrot. Who needs a paintbrush when there are carrots?
22. Easy Paper Plate Moon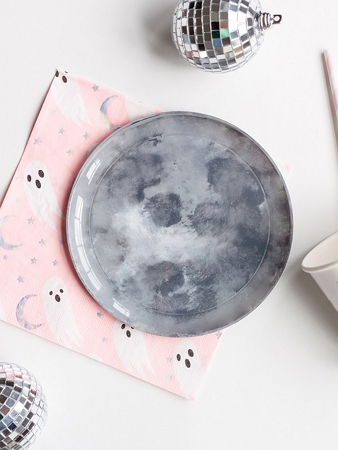 Fun fact about the Moon: the dark spots that are visible are vast plains called maria, which is Latin for 'sea' because early astronomers mistook these for actual seas with water.
Handmade Charlotte recreates that characteristic of the Moon perfectly on a paper plate with the use of pom pom and different shades of gray.
If you'd love to see more uses of pom poms, here are pom pom crafts that kid will enjoy putting together.
23. Marbled Planets Space Art Project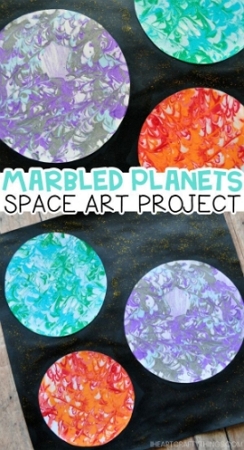 I Heart Crafty Things shares a step-by-step guide for preschoolers to create their own planets with a marbled design. These effects are incredibly fascinating.
It's possible the planet your kid produces will have a similar, if not identical, planet out there in the vastness of space!
Suit Up and Explore the Universe with These Space Crafts
Explore the stars and beyond through these fascinating space crafts for kids. From imaginary alien crafts to mesmerizing painting techniques, these space crafts will satisfy the curiosity of children with inquisitive minds.
Further quench their thirst for knowledge by following these other guides: