Thanksgiving is a time of gratitude and a chance for distant families to gather and bond. I've curated the best Thanksgiving Perler bead patterns to prepare for this important festivity!
Parents and teachers will find that Perler bead activities are an engaging and exciting introduction to Thanksgiving for children. I've included in the list traditional symbols and food associated with Thanksgiving like patterns of cornucopia, turkeys, the Thanksgiving pilgrims, and Thanksgiving banquets.
So let's be thankful for this year's blessings and the abundance of the fall's harvest while we complete these Thanksgiving Perler bead projects.
Want to go back to the basics? I've got just the right easy Perler bead patterns for you.
Materials Required
Alternatively, if having everything in one package is more convenient, I suggest getting this Thanksgiving fuse bead craft kit.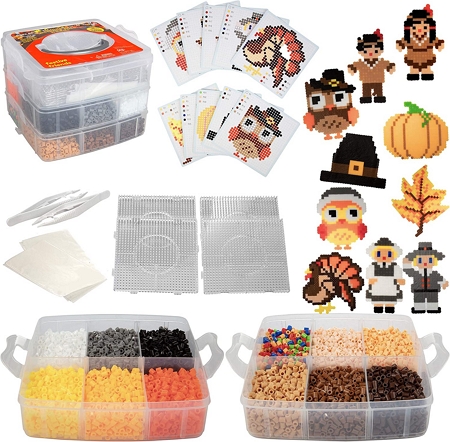 Bring to life 15 charming and seasonal Thanksgiving and fall patterns through the kits' pool of 8,000 fuse beads—with the appropriate colors for the season— as well as four square pegboards, two tweezers, and two sheets of ironing paper. There is no other Thanksgiving Perler bead kit that gives you better value for your money.
9 Cornucopia Perler Bead Patterns
Designing a cornucopia Perler bead pattern can feel overwhelming, but thankfully we've got these nine impressive patterns that can easily be done.
Cherry-pick the types of fruits and vegetables in your basket by checking out our food Perler bead patterns.
1. Simple Cornucopia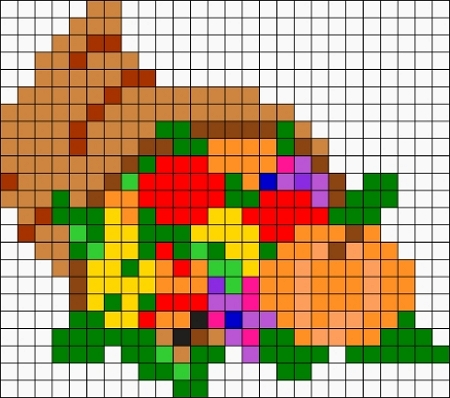 If you see in a cornucopia pattern what seems to be an indistinguishable river of fruits and vegetables—don't worry, you're on the right track. An example of it is shown by User, who shares this simple cornucopia pattern that will test the skills of some preschoolers.
2. Big Cornucopia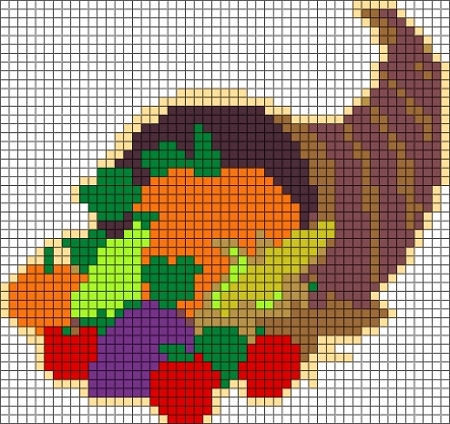 For a pattern with a better resolution, busybusya1 provides a cornucopia pattern in which the edges of each item are clearly defined.
3. Harvest Basket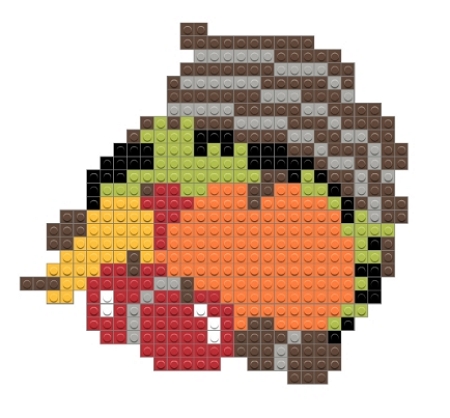 Just because we don't have a goat's horn doesn't mean that our autumn harvest is wasted. The lesson I draw from cageytower's pattern is that we should make the most out of what we have.
Sow your resourceful nature by practicing with these toilet paper roll crafts or egg carton crafts.
4. Baby Pumpkin for Kids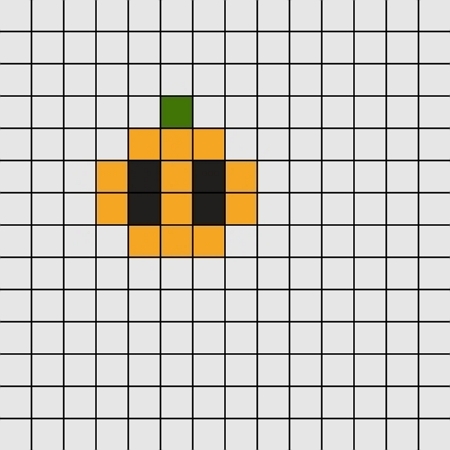 Practice preschoolers' fine motor skills through this tiny pumpkin Perler bead pattern, shared by Betelgeuse.
For more advanced pumpkin crafts, I suggest these paper mache pumpkins.
5. Pumpkin in Stardew Valley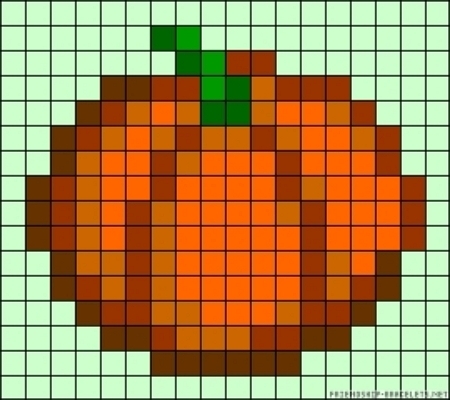 Fans of Stardew Valley can spot from miles away the unique, pixelated art of the farming simulator. Complete your collection of Stardew Valley produce by making adask2000's pumpkin pattern.
Gamers, get ready for these Minecraft Perler bead patterns!
6. Carrot Pattern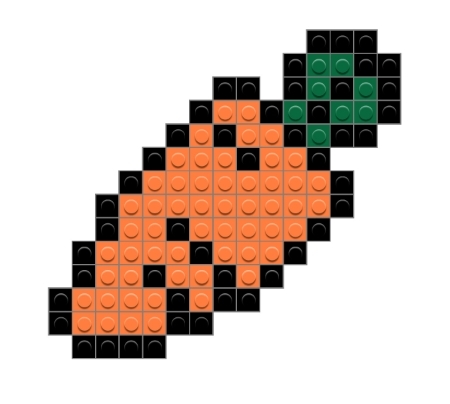 Let's make a basic carrot pattern by following mindofmiller's design. A cornucopia is made up of individual fruits and vegetables, so it's okay to start with single items, like this carrot.
7. Grape Pattern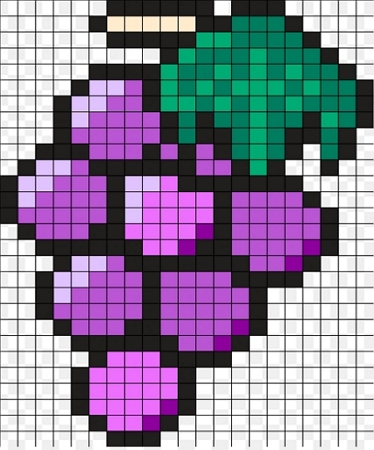 Emoji PNG shares a pattern of another seasonal berry that's often seen in cornucopias—the grape. The design doesn't skimp on the shades of purple, as we can observe four different colors in the grape pattern.
8. Yellow Corn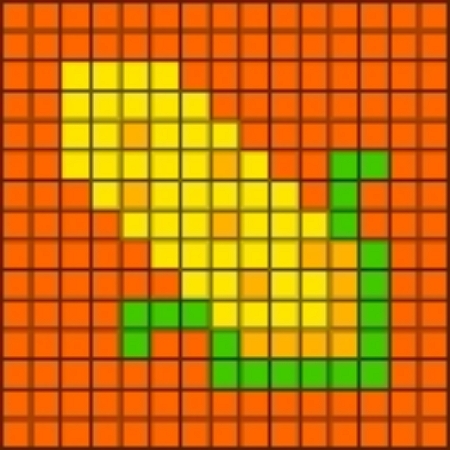 Here we have unicorn547 sharing a pattern of one of the staples during Thanksgiving—the humble corn. I recommend experimenting with this one, as there are numerous varieties of Indian corn, each possessing a unique color pattern that ranges from white to red and even purple-blue!
See what other surprise you can make with these Indian corn crafts.
9. The Evolution of an Apple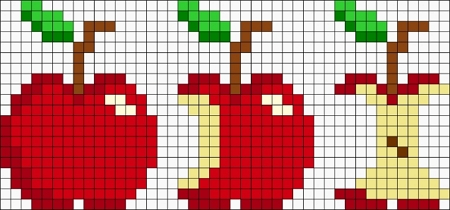 Growing kids need to consume their daily vegetables. With this apple pattern, Ninie also reminds us to remember to eat nutritious fruits as well.
As the saying goes, "An apple a day keeps the doctor away!" Reward your little ones with a fruit snack after making this pattern.
4 Turkey Perler Bead Patterns
No bird is more iconic during the fall season than the turkey.
But don't rule out the demand for chicken—they're popular all year round. Create chicken drawings or chicken crafts too!
10. Thanksgiving Turkey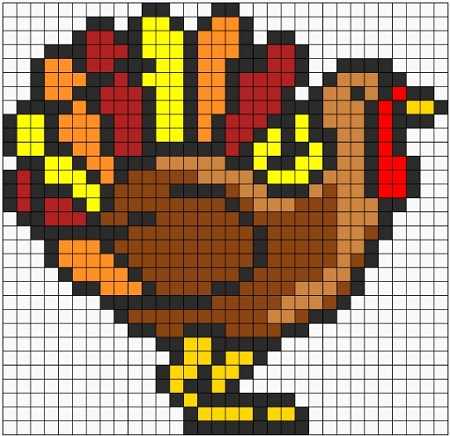 PerlerHime lets us commemorate the turkey and its abundance through this simple turkey with fall-colored plumes.
11. Turkey Wearing the Pilgrim Hat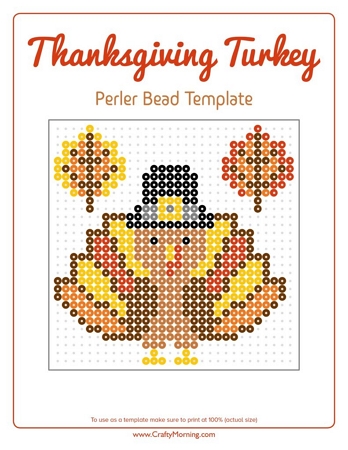 Can a pattern get any more Thanksgiving than this one by Crafty Morning?
The turkey is complemented with a couple of fall leaves that match the color of the bird's tail.
12. Turkey Trot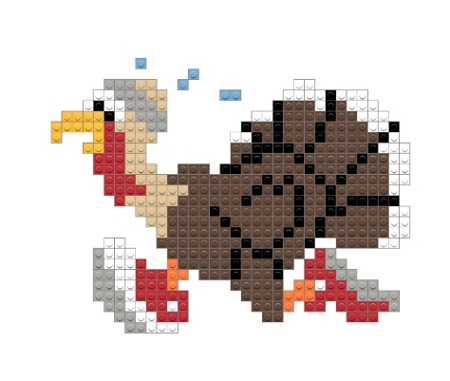 In another universe, a turkey trot would mean literal turkeys racing each other.
This ridiculously funny pattern by mailsaved cracks me up—especially the tiny sweat detail.
13. Endearing Grandma Turkey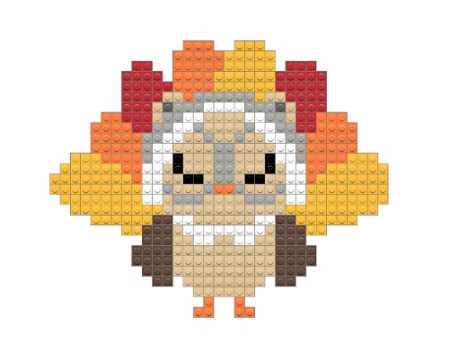 For an endearing pattern of a turkey, here's italianoffend sharing their version of what seems to be a turkey grandma.
Check out more turkey crafts in our list of handprint turkeys.
4 Thanksgiving Pilgrim Patterns
Let's remember the Thanksgiving Pilgrims from whom this important celebration originated.
14. The First Thanksgiving Pattern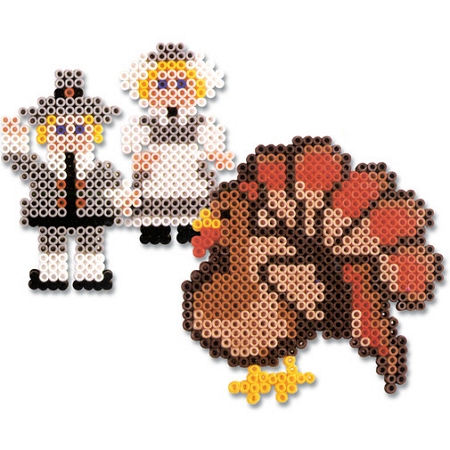 Here's a pattern of a man and a woman from Perler who represents the ancestors who first celebrated the 3-day Thanksgiving feast.
Included in their template is a turkey pattern.
15. Pilgrim Woman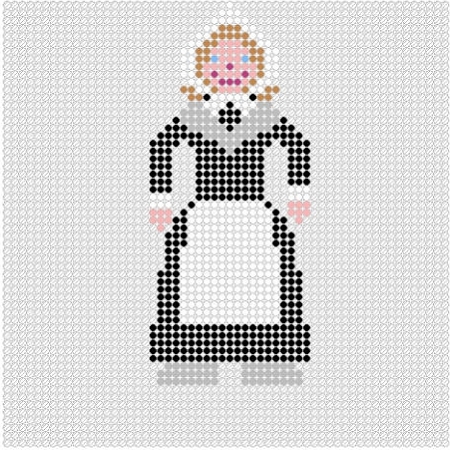 For a larger pattern that you can place in your home, take Activity Village's Pilgrim pattern.
16. Thanksgiving Owl Pilgrims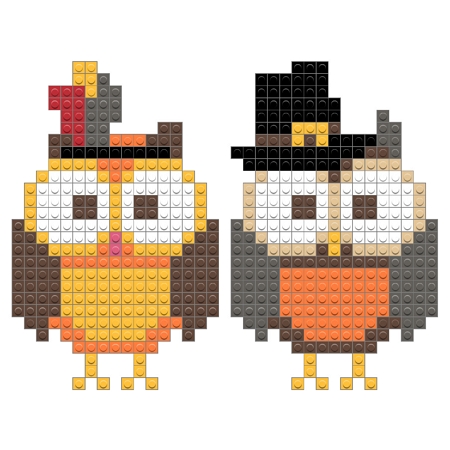 As seen in our fall Perler bead patterns, the owl is another prominent figure during the fall. It's not a surprise that someone out there creates a pattern of Pilgrim owls to commemorate Thanksgiving.
The user cartloadlatvian1 creates not one, but two owls, matching a traditional couple of Pilgrims.
17. Thanksgiving Pilgrim Hat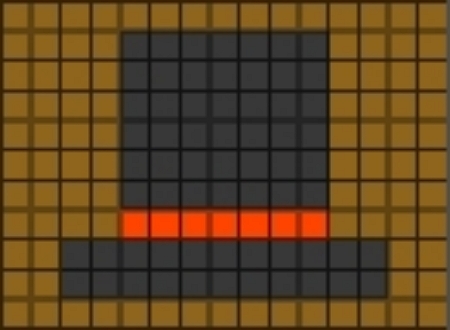 This tophat makes us immediately think about Pilgrims. A pattern shared by gnvbooks, this Pilgrim hat can easily be done in under ten minutes.
6 Thanksgiving Food
Here are the patterns you've been waiting for! Don't blame me if you get hungry making these Thanksgiving food patterns.
Try something new with our list of Thanksgiving sensory bins and activities.
18. Small Slice of Pumpkin Pie

Am I the only one who just can't wait for the dessert to come during Thanksgiving dinner? Luckily for you, mintycorgi has got a slice of that custardy, melt-in-your-mouth pumpkin pie.
19. Cartoon Pumpkin Pie
Even though it has a cartoon style, I could almost get a whiff of the sweet and cinnamon fragrance from this pumpkin pie by not_jenni.
Practice other cartoon-style fuse beads through this list of PAW Patrol Perler Beads.
20. Turkey Leg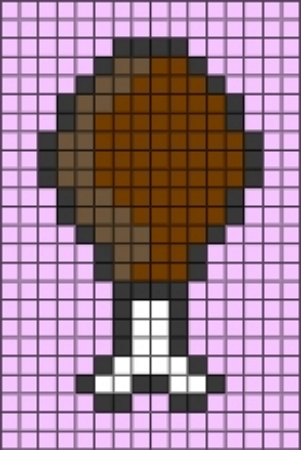 A typical turkey's leg is big enough to sate two average people. This pattern from Angry_Birb is so simple that even a preschooler can recreate it.
21. Thanksgiving Feast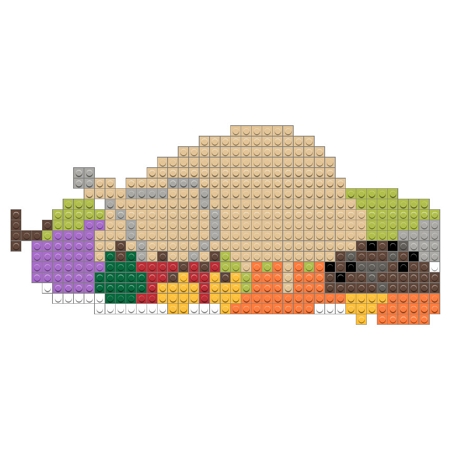 It's not hard to salivate when seeing a banquet in front of you. Like this one from italianoffend, who prepares a roast turkey surrounded by fruits and vegetables.
22. Thanksgiving Food Magnets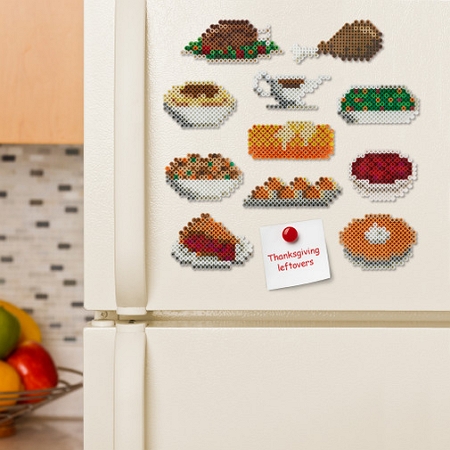 In preparation for Thanksgiving dinner, Perler has shared these stunning patterns of typical Thanksgiving dinner food, like roast turkey, cranberry sauce, pumpkin pie, and other scrumptious delights.
Their Perler bead patterns include the process of attaching a self-adhesive magnet, so there's no chance of forgetting any item on the Thanksgiving menu when passing by the fridge.
23. Thanksgiving Table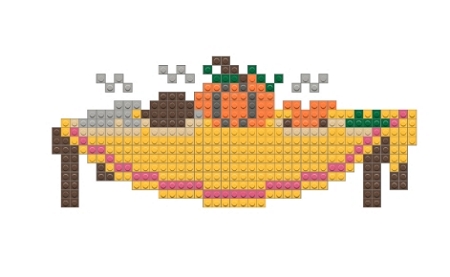 Kids enjoy simulating cooking scenarios, and that's why cooking equipment toys are so popular.
You don't need to break your wallet for children to enjoy a fun and educational activity. Simply instruct your little ones to follow buzzertasks Thanksgiving table pattern and watch them enjoy playing pretend with it!
Happy Thanksgiving to Everyone!
Let's look back on all the positives this year and be thankful for the little things in life, like having every loved one around the dinner table during Thanksgiving.
For other seasonal crafts check out these lists: