Did you know that there are over 33 billion chickens worldwide? They're on farms, in houses, and now in our craft! Check out these cool chicken perler beads.
There are many reasons why this list is going to be awesome. First, these crafts are easy to do so the kids will not have a hard time following the steps.
Second, the patterns that we've picked are cute, innovative, and cool. Lastly, I'm sure that we'll all have a wonderful time making each of these patterns.
Dance and sing along with music coming from these homemade instruments.
Perler Beads and More
There's no need to find the art materials you'll be needing because we've already compiled them for you. These will be useful in each chicken perler bead craft below:
8 Easy Chicken Perler Beads
1. Happy Chicken Dance Perler Beads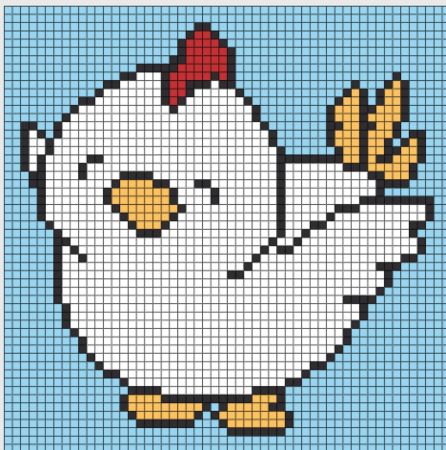 Roosters show off to their potential mate by dancing. Can you show us your best chicken dance?
This pattern from Bracelet Book shows the happy dance steps of chickens.
Learn how to draw a delicious meal through this list of easy taco drawings.
2. Chicken Perler Beads Card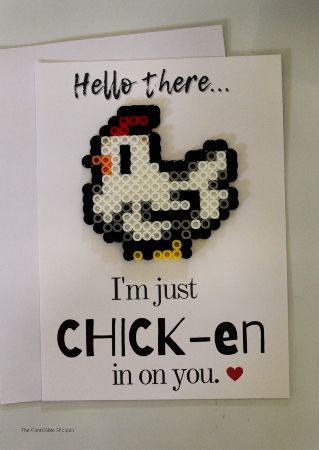 Do you love witty cards and chickens? This pattern from The Cents' Able Shoppin will be a fantastic project for you!
In this craft, you'll be making a thoughtful and personalized card by making a DIY perler bead chicken.
3. Small Chicken Perler Beads
Here's a quick and easy chicken perler bead pattern from Erica Sanborn.
Watch this Youtube video to get a full step-by-step tutorial on how to create a small chicken perler beads in no time.
4. Hearty Chicken Perler Beads Pattern

Spread the love you have for chickens with this adorable hearty pattern from Bracelet Book.
It's a unique and fun pattern with a black and white chicken and hearts floating all over.
Plus, the chicken's beak is also shaped like a heart (super cute)!
5. Beautiful Hen Perler Beads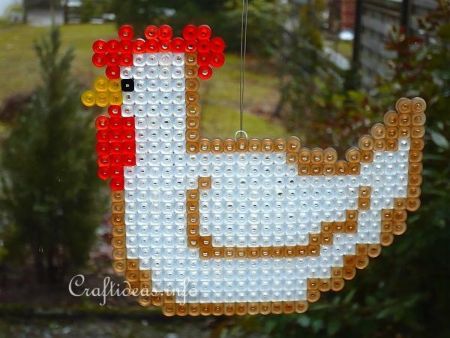 Hang their beautiful hen perler bead creation on your window.
Their art piece deserves to be displayed and one of the best places to show the kid's craft to the world is through the window just like with this tutorial from Craft Ideas.
It will also look phenomenal whenever sunlight passes through it.
6. Magnificent Rooster Perler Bead Pattern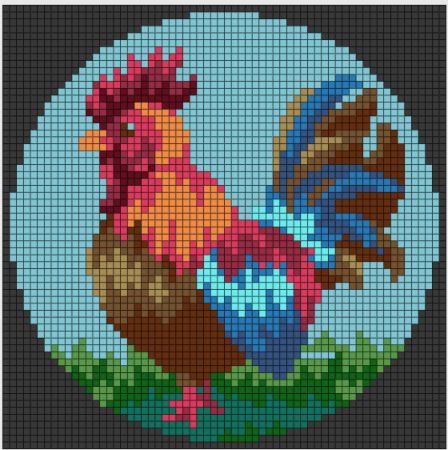 Practice makes perfect and once you've mastered creating these chicken patterns, it's time to try out this cool rooster pattern from Bracelet Book.
This is a more challenging pattern so it's suitable for those with advanced perler bead skills.
7. Minecraft Chicken Perler Bead Figures
Play Minecraft even when they're not using gadgets by creating these cool 3D chickens from QDCrafts.
Creating these will bring joy to the kids during and even after making the project.
More Minecraft perler bead patterns can be found in this list.
8. 3D Chicken Perler Beads
Let's make more 3D chicken perler beads because it's so fun making them.
Check out this pattern from Rest-In-Pixels on Deviant Art to serve as your guide.
6 Cute Chick Perler Beads
9. Dapper Chick Perler Beads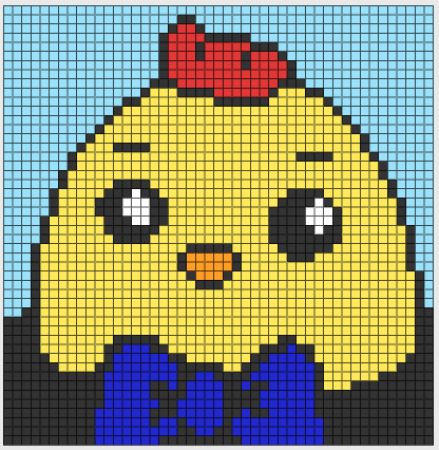 Adding clothes to the chicken perler bead pattern will level up their look.
This pattern from Bracelet Book proves that a chicken wearing formal wear will look undeniably cool and dapper.
10. Simple Yellow Chick Perler Pattern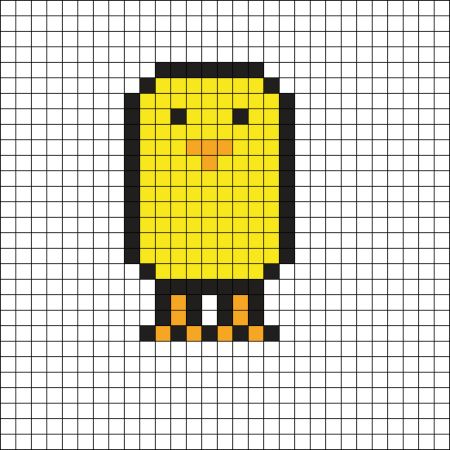 We've also got a cute pattern from BriSlays on Kandi Patterns for your little ones.
Instead of staying in the background and watching their siblings do amazing patterns, this simple yellow chicken will allow younger children to join in the fun as well.
11. Cute Chick in a Flower Egg Pattern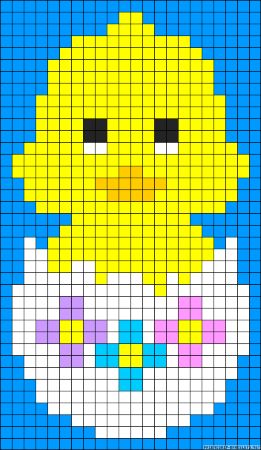 Add this beautiful hatching chick pattern from Friendship-Bracelets on your to do list.
It's got everything children want: a yellow chick and colorful flowers.
Get more Easter perler bead patterns in this list.
12. Adorable Chick Perler Beads Pattern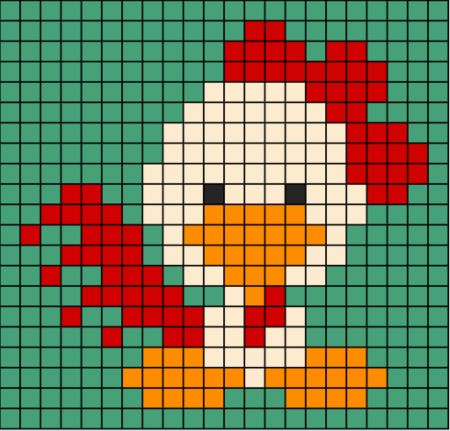 Your child will also find this pattern from Bracelet Book cool.
This rooster pattern will be a nice change from the usual chick and hen patterns that they've already done.
13. Cool Chick Perler Bead Pattern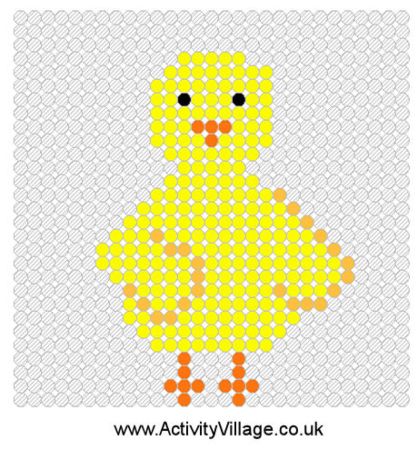 Here's another simple pattern that will be suitable for younger kiddos courtesy of Activity Village.
Completing this easy pattern will make the kids more creative and independent.
Plus, the pattern will only require four colors of perler beads so creating this will be a piece of cake.
14. Happy Chick Perler Bead Pattern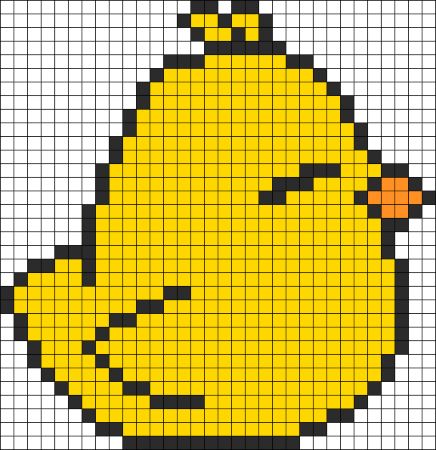 We all want to be happy and content like this little chick from Volcanin on Kandi Pattern.
Its eyes and smile show that it's glad, relaxed, and satisfied with where it is now.
6 Famous Chicken Perler Beads
15. Heihei Perler Bead Pattern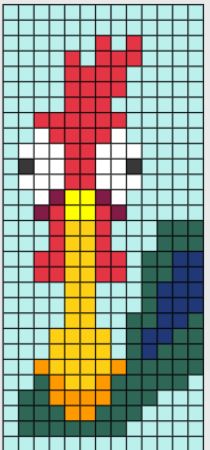 Hei Hei made us laugh in Moana and this pattern from Bracelet Book will do just that.
His big round eyes, clumsiness, and colorful feathers make him stand out from the other chickens.
These minion perler beads are a must-do as well.
16. Chicken From Cow And Chicken Bead Pattern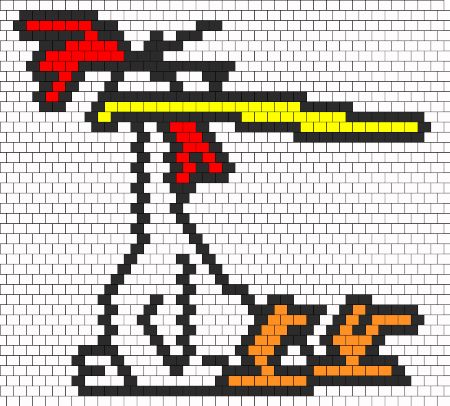 Cow and Chicken is an unconventional cartoon show featuring two siblings which are a cow and a chicken.
Fans of the show who'd love to reminisce about their childhood and share the fun memories with their kids will like this pattern from maninthebook on Kandi Patterns.
17. Stardew Valley White Chicken Pattern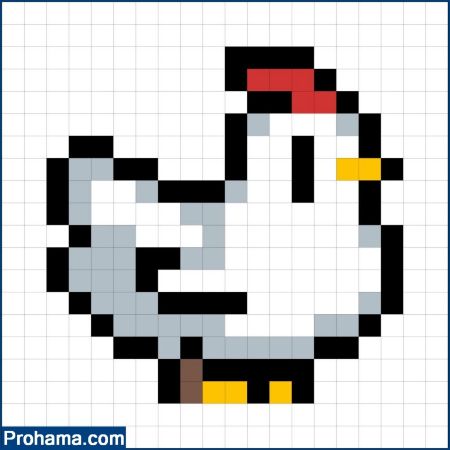 Does your kid love the video game Stardew Valley? Be a real farmer with this cool chicken pattern from Prohama.
This will allow them to have a tangible chicken that they can play with or display in their room.
18. Chicken Little Cluck with a Spoon Pattern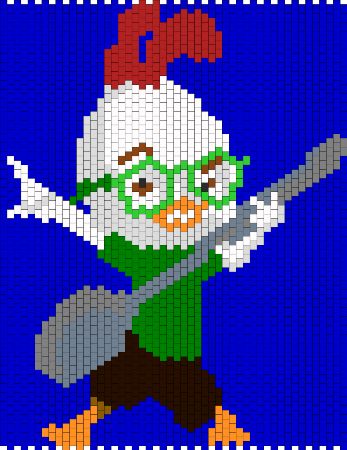 Children will learn to be courageous after watching the second highest-grossing animated film of 2005, Chicken Little.
This pattern from User on Kandi Patterns will also teach them to try out different things such as these chicken patterns and soon enough they'll be experts in their crafts.
19. Stardew Valley Blue Chicken Perler Bead Pattern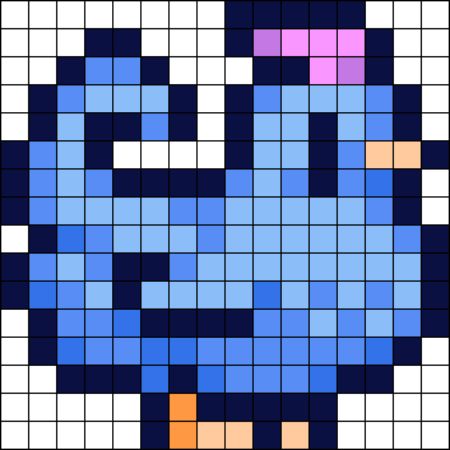 Amaze the kids with this one-of-a-kind blue chicken pattern from meowcatmeow on Kandi Patterns.
Just as this blue chicken is rare in the game, this pattern will also be one of the highlights of their chicken perler bead collection because of its uniqueness.
Enter a colorful and magical world with these My Little Pony perler beads patterns.
20. Hello Kitty in a Chicken Costume Pattern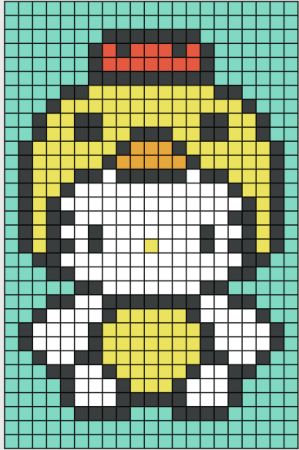 Hello Kitty in a chicken costume? Nothing can beat its cuteness.
This super kawaii pattern from Bracelet Book will be a hit with the kids because of how irresistibly cute it is.
Cool Chicken Perler Beads
Chickens are part of our everyday lives so it will be nice to introduce the kids to these creatures as early as possible.
These chicken perler beads patterns won't just be a fun activity but will also teach kids about chickens in an exciting and creative way.
Here are more amazing crafts that kids will love: