As Thanksgiving approaches, there's no end to the number of holiday crafts available on the internet.
In this article you'll find 20 Indian corn crafts to keep kids busy while the adults prepare for the big Thanksgiving feast!
7 Indian Corn Art Projects for Kids
This is the kid-friendly and mommy-approved washable craft paint and pair of safety scissors we recommend.
1. Hand and Footprint Indian Corn Art
Kids will use both their hands and feet with this fun tutorial from Madeby that will keep little hands and feet moving. Besides some common arts and crafts materials, you'll also need paint and a sponge brush to make this very simple, very easy-to-do Indian corn art.
2. Lego Stamped Indian Corn Art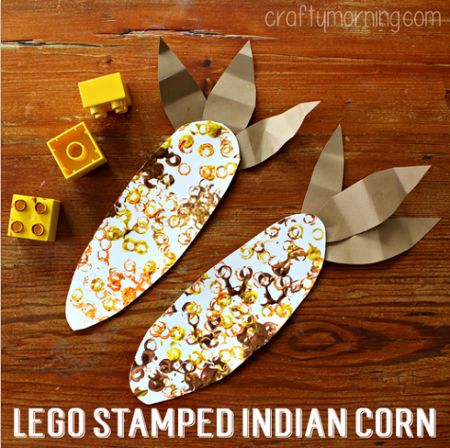 Crafty Morning shares an easy-to-do stamping activity involving a toy that's the bane of every parent's existence: LEGOs. The LEGOs give this corn art an authentic appearance!
Stamp your way to making Native American corn art with paint and crafting supplies usually found at home.
3. Bubble Wrap Indian Corn Painting
Bubble wrap is great for keeping packages safe, but it's also a great tool for painting. Craft Project Ideas use bubble wrap to show how we can make realistic looking corn from an ordinary, everyday item.
4. Eye Dropper Indian Corn Craft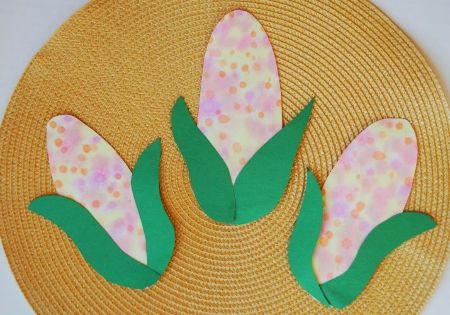 Kids will love playing with paint with this Indian corn craft by What Can We Do With Paper and Glue that uses an eye dropper as the paint median.
This craft requires a couple of special supplies, such as watercolors and watercolor paper, to create that neat "bleeding color" effect.
5. Indian Corn Suncatcher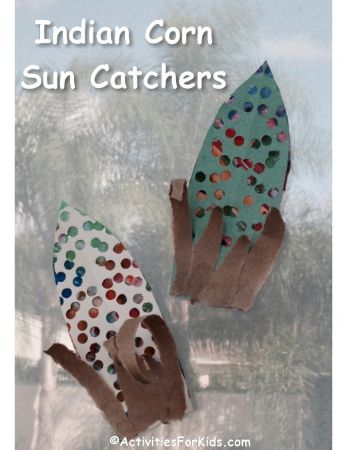 Activities for Kids has some nice Indian corn suncatchers kids can make without the need for acetate or contact paper, common materials used to make suncatchers.
To catch the light Indian corn style, grab a coffee filter or tissue paper, washable markers, a spray bottle with water, and a brown paper bag.
Hang the finished products in the windows to catch the morning and evening light as the sun makes its way around the earth.
6. Indian Corn Wreath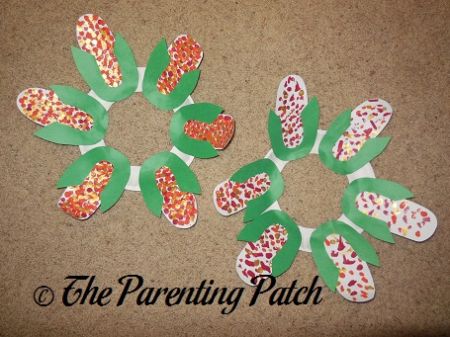 The Parenting Patch shares a different (but neat!) Indian corn craft preschoolers can make all on their own.
While this project is pretty simple, it does require various items and materials found at home along with a paper plate and cardboard scraps to show kids how to make their own.
7. Flint Corn Painting
Courtney has an easy-to-follow tutorial that teaches kids how to draw and paint their own Indian corn with just watercolors. They'll be creating their own a-maize-ing work of art in no time!
9 Textured Indian Corn Arts and Crafts Activities
8. Fruit Loop Indian Corn Craft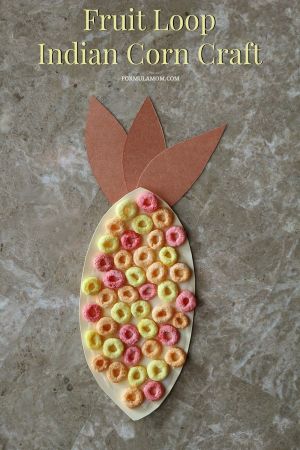 The Simple Parent uses Froot Loops and common craft materials to create a fun sensory corn craft that's easy enough for children as young as toddlers.
I love using food items for crafting because they make for a great snack in the process. Just make sure to leave some for the craft itself!
9. Crumpled Paper Corn Craft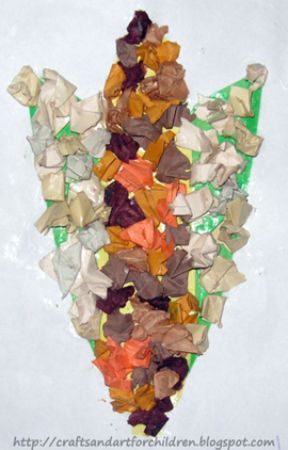 This Indian corn craft by Artsy Momma is SO easy. Toddlers just have to crumple tissue paper and construction paper to create an ear of Indian corn with its husk. Chances are you have everything you need tucked in a cabinet or closet somewhere!
Want more ideas for easy crafts like this one? Then read my post that shares simple tissue paper crafts for kids!
10. Hole Punched Indian Corn Craft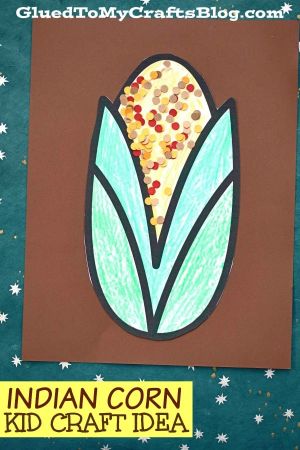 Usually, the pieces punched out by a hole puncher are discarded. However, Glued to My Crafts makes use of them to create this simple and colorful Indian corn craft.
Let kids hole punch their way to crafting theirs by using a hole puncher and the free corn template.
11. Paper Squares Indian Corn Craft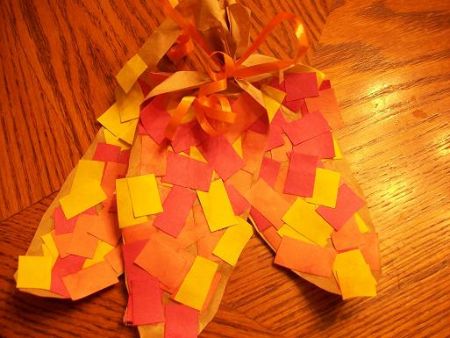 Our Craft N Things shows kids how to chaotically position colored scraps of paper cut from paper bags and construction paper to create a fall-themed piece of artwork in this tutorial.
12. Foam Indian Corn Craft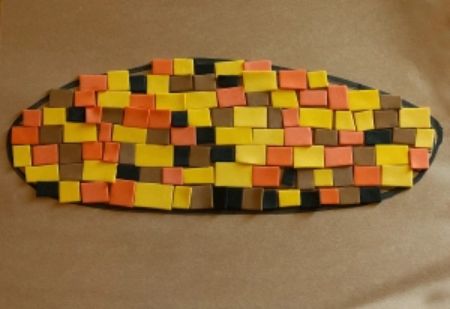 No Time for Flash Cards shows kids how to make a really easy Indian corn craft using self-adhesive craft foam.
This is a great sensory craft for younger kids that can also be used to teach toddlers about colors and counting!
13. Beans Indian Corn Craft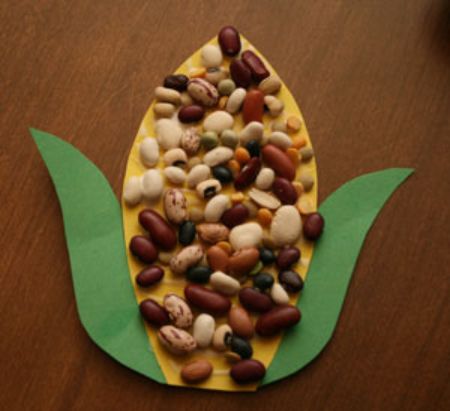 All Kids Network uses beans to make an Indian corn craft that doubles as a sensory craft. Additionally, kids will need the corn template (sign up as a member of the site to access it) and some materials you might already have around the house.
14. Button Indian Corn Craft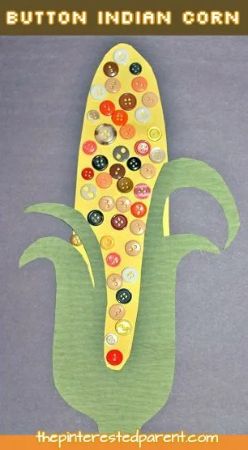 Buttons can be used as nifty craft materials, as clearly seen in this Indian corn craft by The Pinterested Parent. They use the buttons to create the colorful pattern characteristic to Indian corn.
Easily make a stalk of Indian corn without the need to go to a craft store as you probably have these materials handy already!
15. (Unpopped) Popcorn Kernels Indian Corn Craft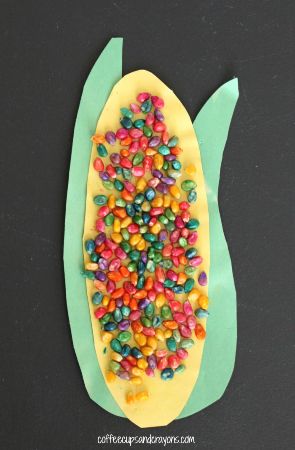 Blog site Coffee Cups and Crayons uses painted unpopped popcorn kernels to make this colorful Indian corn craft.
Before getting started, paint the kernels different colors by putting them inside a few different Ziploc bags with different paint colors and let your little ones go to town!
16. (Popped) Popcorn Indian Corn Craft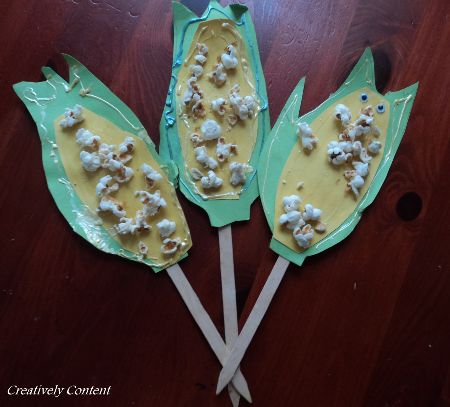 You can use popped kernels at your next family movie night to do this fun Indian popcorn craft courtesy of Tangrila!
It's super simple yet SUPER fun because it's easy enough for every member of the family to do. And while this activity calls for pretty common craft supplies, it does call for skewers (but chopsticks work just as well!).
4 3D Indian Corn Craft Ideas
17. Bubble Wrap Indian Corn Craft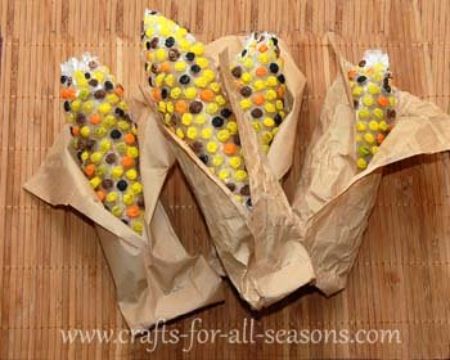 Bubble wrap has a "corn" texture that makes it a pretty neat crafting material. To help give their Indian corn craft a very realistic appearance, Crafts for All Seasons wraps an empty paper towel roll in bubble wrap!
18. Pinecone Indian Corn Craft
Chelsey provides kids with an Indian corn craft that's made with a pine cone, making it a very fitting fall craft as well.
After foraging for pine cones, gather pom poms, a glue gun, and crepe paper to put together this adorable corn craft project that will be a perfect addition to the Thanksgiving dinner table.
19. Toilet Paper Roll Indian Corn Craft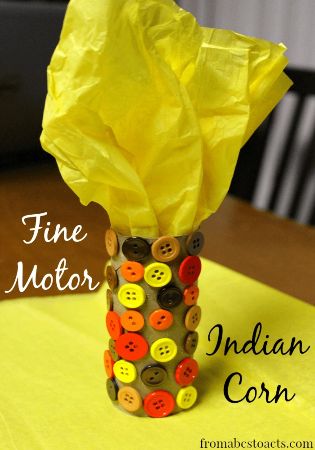 Fall colored buttons glued on to an empty toilet paper roll makes a really cool Indian corn craft for kids! From ABCs To ACTs uses the buttons to give the appearance of different colored corn kernels and also adds tissue paper to make this corn craft look as real as possible.
The best part? You probably have all of these materials at home!
20. Pipe Cleaner Indian Corn Craft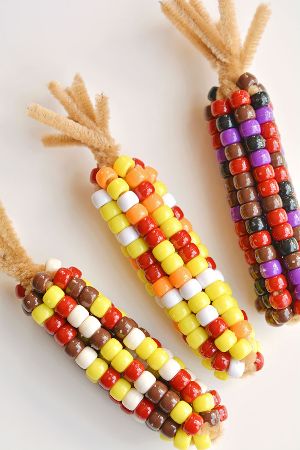 One Little Project shares a challenging but relatively easy Indian corn craft for older kids. The best part is that you don't need a lot of material to put this one together!
Kids can make this Indian corn craft with just beads and pipe cleaners. That's it!
Thanksgiving Indian Corn Themed Activities
Turkeys aren't the only food present during Thanksgiving. Show some love to another holiday staple by letting kids make these 20 Indian corn crafts!
If you want more Native American themed crafts for your kids, I've got some neat dream catcher crafts they can do, too!
Or if you want some crafts beginning with the letter "i," then check out this post that shares a bunch of letter "i" crafts.