Are you ready to draw some delicious strawberries? These strawberry drawings will be a fun and colorful way to express the kid's creativity and to learn more about this sweet fruit.
With their bright red color and unique shape, strawberries make a great subject for drawing and coloring. So grab your pencils, markers, or crayons, and let's get started on these juicy drawings
Don't forget to read until the end for an exciting surprise.
The word strawberry starts with the letter "S". Learn more about it with these letter s crafts.
You've Got to Have These
To create these beautiful drawings, you'll be needing the materials listed below:
9 Easy Strawberry Drawings
1. Plump Strawberry Drawing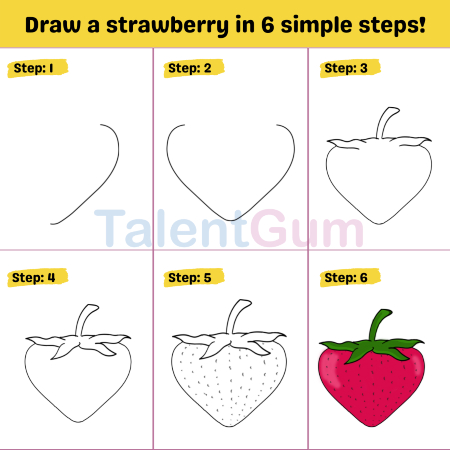 The kids won't have a hard time drawing this strawberry drawing from Talent Gum.
All the steps are easy to follow so minimal guidance will be needed in perfecting this sketch.
2. Cute Strawberry Drawing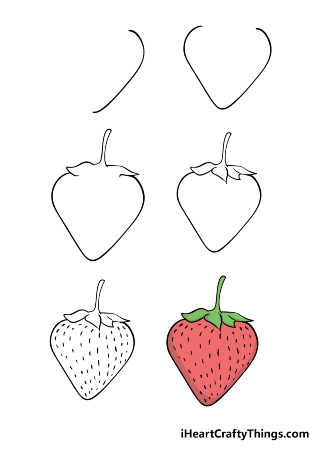 Our next strawberry drawing from I Heart Crafty Things looks super fresh.
It's a realistic sketch with its seeds and leaves so you wouldn't want to miss out on this one.
Chase those bad dreams away by displaying these DIY dream catcher crafts for kids.
3. 4-Step Easy Strawberry Drawing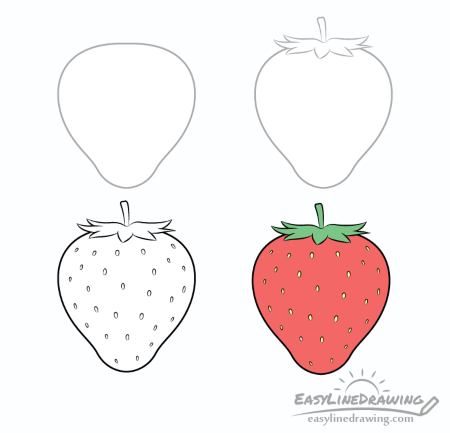 This 4-step strawberry drawing from Easy Line Drawing is up next on our list.
Follow the guidelines provided to be able to effortlessly draw this adorable strawberry sketch with the kids.
4. Tilted Strawberry Drawing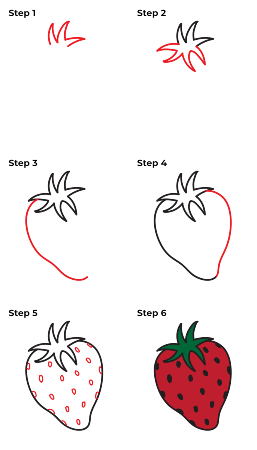 Learning how to draw a strawberry in just a single style is not enough.
They should also know how to add some variation to their sketches by rotating the subject just like this strawberry from Muse Printables.
5. Simple Strawberry Drawing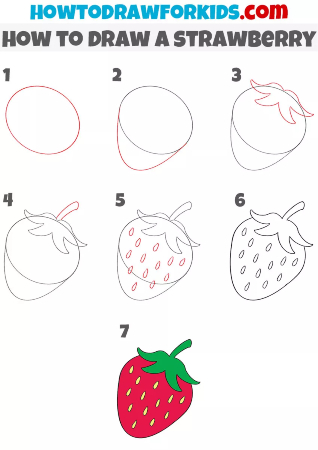 This strawberry drawing from How to Draw for Kids will be perfect for the kid's sketchbook.
It will look great with any theme of their drawing whether that may be a bowl of fruits or an outdoor picnic.
Prepare for a lovely picnic by adding these cute food drawings.
6. Realistic Strawberry Drawing
Want to challenge your little artist? Why not try out this awesome drawing from @MyArtShine?
Using oil pastels make the experience more fun, too so it's definitely a must-try.
Welcome the winter season with these snowman crafts for kids.
7. Sliced Strawberry Drawing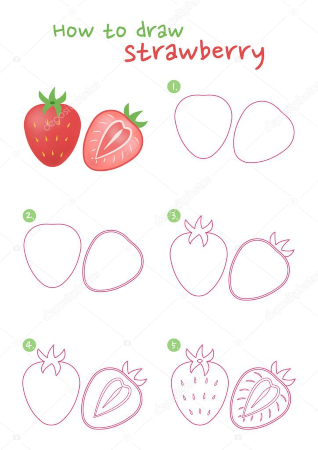 Chop chop! We've got more exciting strawberry projects to do.
W Stock Vector provided us with this unique way of drawing strawberries.
Learning how to do this will level up the artistic skills of the kids.
8. Pretty Strawberry Drawing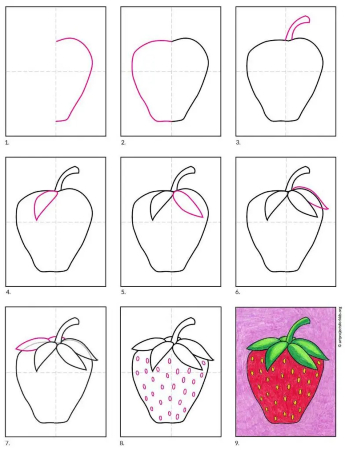 Teach the kids about drawing perspectives with the help of this guide from Art Projects for Kids.
Even though strawberries oftentimes have an irregular shape, using lines will let them create a more artistic sketch.
9. Twin Strawberry Sketch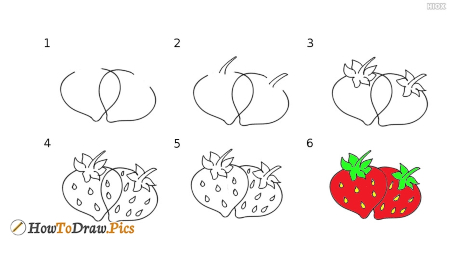 Double the fun with this twin strawberry drawing from How to Draw Pics.
After all, why draw a single strawberry when you have the time to draw two.
Spending time outdoors? You're going to love these camping crafts for preschoolers.
3 Cute Strawberry Drawings
10. Strawberry Dipped in Chocolate Drawing
Strawberries and chocolate make the best dessert combination hands down.
If your kid is like me and can never turn down this tasty dessert then this drawing from Learn step by step will be a great project for them.
11. Sleeping Strawberry Drawing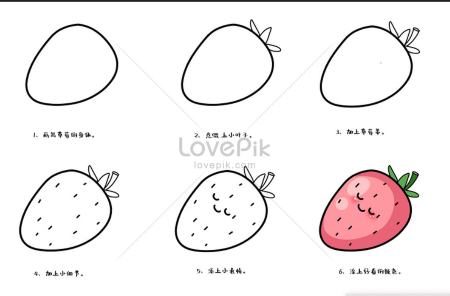 Your strawberry drawings will look more adorable when you follow this tutorial from Love Pik.
Adding facial features to the sketches will not only make them cuter but will also make them look like cartoon characters.
Dive into the deep blue sea by doing these Finding Nemo character drawings.
12. Strawberry Friends Drawing
Have a memorable and fun time with the kiddos by doing this drawing from Draw So Cute.
The video will guide you from the first to the last step so you don't have to be intimidated when drawing this.
Get ready for some epic adventures while making these Teenage Mutant Ninja Turtles drawings.
Bonus: Fruit Drawings
13. Fresh Apple Drawing
Looking for another juicy red fruit to draw? How to Draw for Kids has got you covered with this cool apple sketch.
A is for apple. More letter A crafts await you here.
14. Pretty Cherry Drawing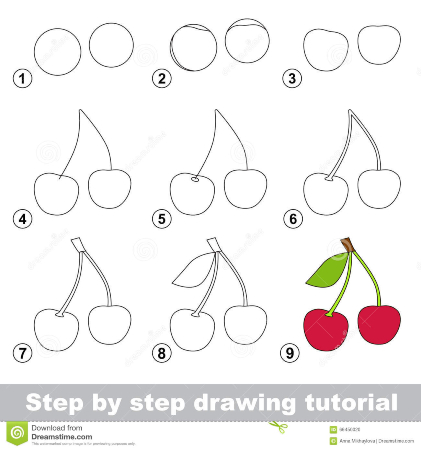 Follow Dreamstime's drawing tutorial to get this cherry on their sketchbook.
Start by drawing a small circle for the cherry's body and then add two connecting lines on top for the stem.
Yes, it's that easy to do!
15. Sliced Watermelon Drawing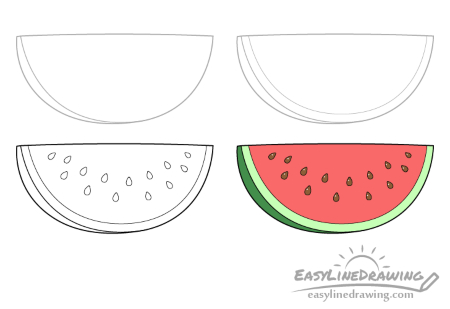 Watermelons are perfect for summer because they're very refreshing.
Whatever the season may be, this sketch from Easy Line Drawing will be a great activity for the kids to do.
Try out these classic Beauty and the Beast drawings as well.
16. Mango Drawing with the Number 5
The kids will be amazed by how the number five could turn into a drawing of a mango.
Watch this creative tutorial from Anup Kumar Acharjee to learn the magic trick.
17. Simple Banana Drawing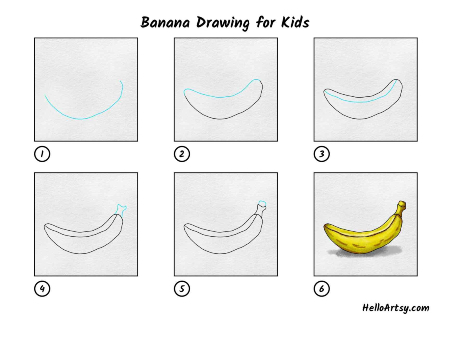 Draw a curved line for the body of the banana followed by the stem at the top.
Hello Artsy's has everything you need to do to achieve this realistic banana drawing.
Get spooked with these Nightmare Before Christmas cupcakes.
18. Easy Grapes Drawing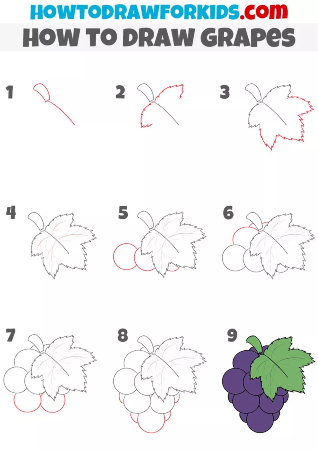 If your child can draw circles, then they won't have a hard time drawing these grapes from How to Draw for Kids.
You can also choose to personalize this drawing by coloring the grapes green or red aside from the usual purple.
Learn more about the shape by doing these circle perler bead patterns.
19. Cool Peach Drawing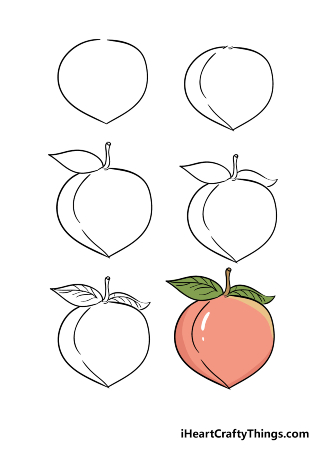 Drawing a peach is easy peasy thanks to this tutorial from I Heart Crafty Things.
You'll be able to draw this peach in one go which will be perfect for the youngsters.
Be one with the jungle with these Lion King drawings.
Strawberry Delight for Everyone
Great job on your strawberry drawings!
Whether you decided to draw a realistic strawberry or a fun and whimsical one, Your drawings are a fantastic proof of the kid's creativity and the fun time you had in making them.
Keep practicing and experimenting with different techniques and styles and you'll be a master strawberry drawer in no time.
We've got more activities for the kids lined up below: