Make these easy Beauty and the Beast drawings to break the evil enchantress's spell before the last rose petal falls.
We're all familiar with the story of Beauty and the Beast: a snob prince, transformed into a hideous beast by a witch, must earn another's love in return to become human again. That's the plot of this classic Disney love story, but there are plenty of lessons to be gained from this movie like learning to be compassionate, admit mistakes, and become strong for the people you love.
Let's learn how to create some Beauty and the Beast drawings.
Check out our other Disney crafts, like these Moana Crafts.
Materials for Drawing
Pencil kit: Using a regular pencil is fine. But if you're determined to take artistic skills to the next level, it's crucial to know the difference between different types of pencils—which this affordable kit will provide.
Sketch pad: Compile drawings easier in a portable sketchbook, which comprises 100 pages of acid-free paper.
8 Tutorials on How to Draw Belle
The rose is an important symbol in Beauty and the Beast. Think of it as a beautiful sandglass, counting down to the point when Beast remains cursed forever.
Here's a cartoon drawing by Art for Kids' Hub of Belle holding the rose, with its petals restored as Beast earned Belle's love.
Here's another kawaii drawing, shared by Cartooning Club Junior's channel.
Kawaii means "cute" in Japanese, and it typically refers to drawings or figures with unique characteristics, such as large eyes that make them appear more adorable.
For more kawaii stuff, head on to kawaii Perler bead patterns.
Draw So Cute's channel never fails to deliver simple and adorable drawing tutorials.
Many children enjoy this style of drawing because it's not too complicated and the design is very appealing.
4. Small Belle Chibi Drawing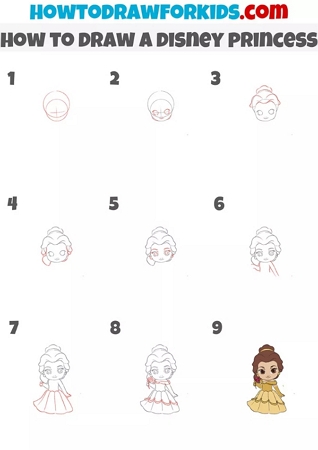 Chibi is another type of kawaii drawing. How To Draw For Kids shows us how to draw a chibi-style drawing in their nine-step tutorial.
While all chibi styles of drawing can be labeled as kawaii, not all kawaii drawings are chibi. This particular style usually involves a large head-to-body ratio, which, again, makes the figure more charming to look at, especially for kids.
5. A Graceful Belle Drawing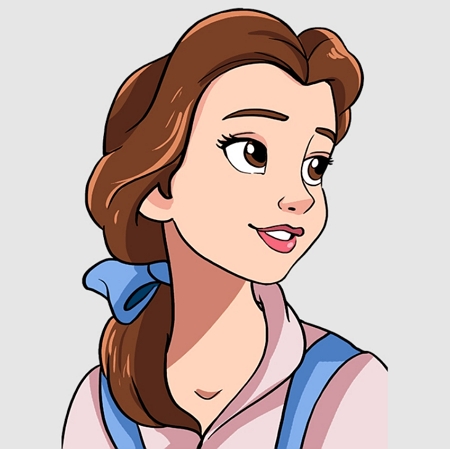 The most popular image of Belle is her wearing her golden dress. It's easy to forget that she lived a simple life with her father in a quaint French village before living happily ever after with her Prince.
Easy Drawing Guides gives us a peek at the daily life of Belle.
Take your first steps to become a more experienced artist by following EasyDrawingTutorials's meticulous and beautiful drawing of Belle's face.
Any drawing will benefit from an initial outline that guides the details.
7. Another Kawaii Belle Guide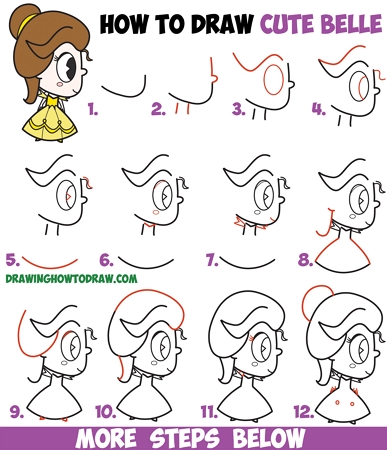 You don't need to draw realistic figures to be called an artist: your little ones are artists every time they draw, well, pretty much anything!
So, it's quite alright to draw a simple Belle figure like this one from Easy Drawing Guides, as every drawing, good or bad, entails progress.
8. Little Belle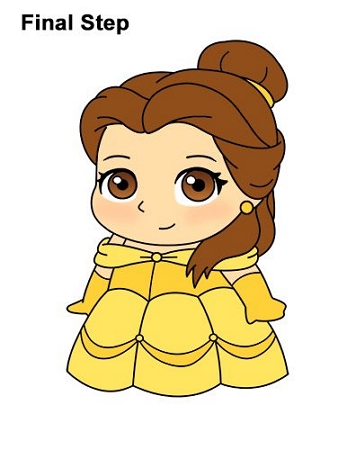 One of the most obvious lessons that can be learned from the film is that one shouldn't make quick judgments based on appearance. In other words, don't judge a book by its cover.
That's true for Beast, and that's true for this stubby Belle created by Easy Drawing Tutorials.
For more adorable drawing inspiration, try these squirrel drawings!
7 Way to Learn How to Draw Beast
9. Angry Beast Drawing Guide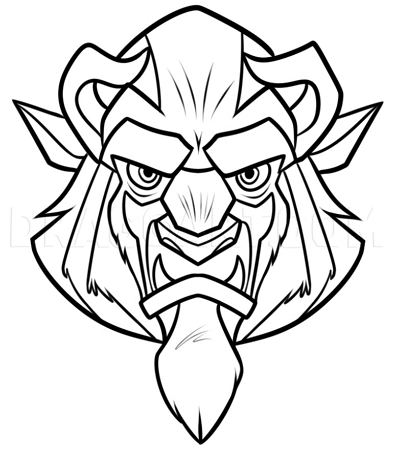 I'd be angry too if a witch transformed me into a hideous beast. Drago Art shares a mad Beast drawing.
Beast isn't very terrifying once you get to know his personality. He's also not that scary when you draw him like Art for Kids' Hub has drawn him in this video tutorial.
Just like the witch responsible for Beast's transformation, drawing has the power of magically transmogrifying Beast into a cute figure.
Simply follow Cartooning Club How to Draw's video tutorial to learn how to draw a chibi Beast.
Beast can prove to be a gentle giant once he starts to warm up to you. It just takes time, just like making this drawing by Articco Drawing's channel.
Draw So Cute never fails to deliver a great kawaii-style drawing of any character.
This video tutorial is inspired by Beast in the 2017 live-action adaptation of Beauty and the Beast. The on-screen rendition of Beast is not as scary as many have expected him to be—it's a Disney movie after all.
14. How to Draw The Beast's Face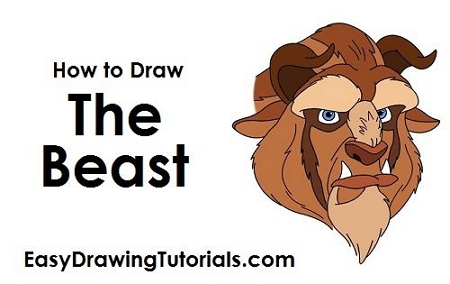 There's no shame in starting with just the Beast's face if the entire body is too difficult for your little ones. Be warned, though, because this visage drawn by Easy Drawing Tutorials is not that simple either.
Watch out for the furry details on his face, as well as the different shading of browns.
If drawing isn't your thing but you love Disney these Encanto Perler beads patterns might just be what you need.
15. Cartoon Beast Drawing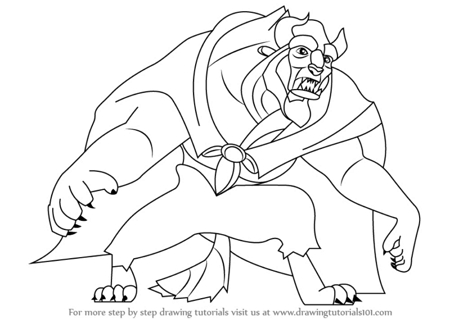 For a more cartoony version of Beast, Drawing Tutorials 101 shares a not-so-complicated guide.
3 Ways to Draw Gaston
16. Chibi Gaston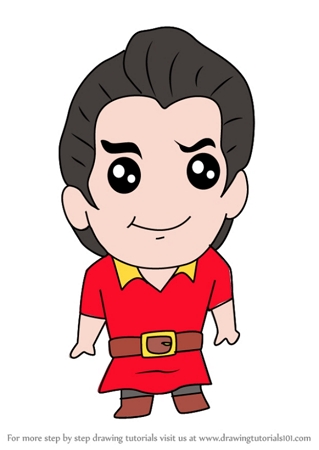 Even though he has charmed the village with charisma and physique, Gaston looks shady as soon as he is brought to the stage.
When you view a character with such suspicion, you know the writers have created a memorable, albeit morally questionable, character.
Here's Drawing Tutorials 101's drawing of a chibi Gaston.
17. Gaston with Big Muscles
Even foil characters such as Gaston can provide valuable lessons. One of them is to control confidence before it can turn into self-centered arrogance, which is what Gaston possesses.
That hubris is shown in this drawing guide shared by World of Drawing's channel.
One of the easiest methods for learning how to draw is through letters and shapes.
The Gaston drawing guide created by drawinghowtodraw's channel is filled with such simple techniques that will make it easier for children to design characters.
5 Supporting Character Drawing Guides
Beast's entire household suffered from the witch's curse. Their bodies might have been transformed, but their warm and cheerful personalities remained.
Speaking of warm personalities, we're starting with Beast's most charismatic (and arguably closest) friend, Lumiere.
As a manager of Beast's keep, Lumiere's personality clashes with his aloof master.
Cogsworth's position in Beast's castle is only second to the Prince himself. As a majordomo, he ensures that all the rules inside the walls are strictly followed.
As a result of his stern personality, he's often the butt of the joke. Lumiere brings out his brotherly personality, and that's shown in Createful Kids' drawing.
If you're a mother, then these two next drawings will be perfect for you and your little ones. Mrs. Potts has a nurturing personality and is the voice of reason among the adults—traits that are typical of a mother.
JX FUN Art shows how to draw Mrs. Potts as well as color her.
You can't see Mrs. Potts without her little Chip. ARTY SMARTY PARTY CREATIONS has the perfect pair for those drawing this with their children.
Tale as Old as Time
I hope you've enjoyed these Beauty and the Beast drawings! For more drawings, look no further than these guides: