Direct your caffeine-driven energy by learning how to draw a coffee cup! Whether you prefer fancy latte art or simply view coffee as a caffeine delivery system, one thing is for sure—these drawings will satisfy your artistic craving.
Throughout this list you'll learn how to draw simple black coffee, latte art, realistic mugs, and even coffee beans.
Materials for Cups of Coffee Drawings
6 Basic Coffee Drawings
Perhaps you haven't had your cup of coffee yet and need to wake up your half-asleep brain. These basic coffee drawings will help you warm up.
1. Do You Take Sugar or Cream?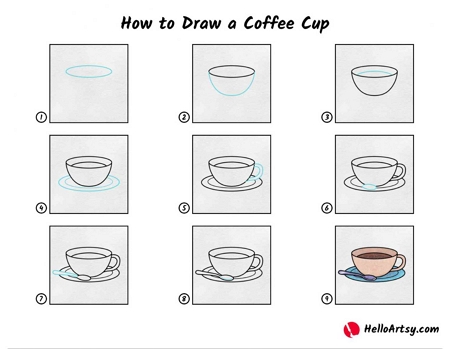 Do you take sugar and cream in your coffee? I respect anyone who drinks coffee unadulterated.
Just like how omitting milk and sweetener allows for the aromatic notes to be discerned more accurately, including any other unnecessary details to Hello Artsy's coffee drawing would muddle its simplicity.
2. Latte Art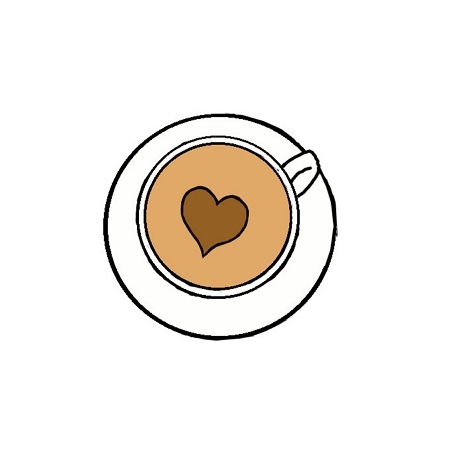 We eat with our mouths as much as we eat with our eyes. Seeing golden crispy skin on a fried chicken is enough to make a vegan salivate, for example.
Looking at latte art evokes a similar instinct of anticipation—of thinking about the complex and diverse aroma of the coffee beans with which your espresso-based drink has been brewed.
Let's appreciate the craft of our local barista with Drawing Howtos's drawing.
3. Red Mug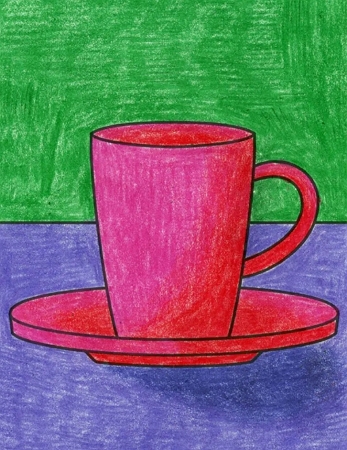 There are a variety of mugs and cups that fulfill different purposes. But everyone has a favorite mug that they drink their coffee from.
My favorite one is the stainless steel mug that keeps my beverage as hot or cold for as long as possible.
To draw a simple mug, simply follow Art Projects For Kids's red mug on a red saucer drawing, which you can color to your liking.
4. Simple Cup of Coffee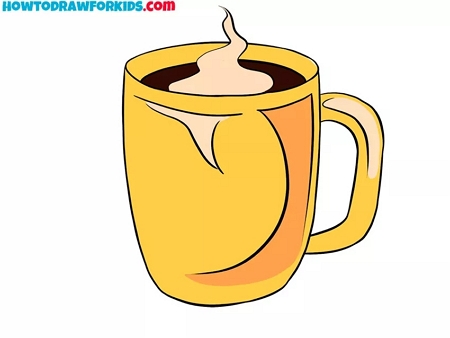 My ideal cup of coffee is when it's still hot enough to scald when taking in a mouthful but not too hot to be able to take a couple of slurps.
That's how I imagine How To Draw For Kids's still steaming hot coffee to be.
You don't have to tell me you love coffee—the fact that you're trying to learn how to draw a cup says enough.
But if you really want to announce your strong feelings about this beverage, then by all means, follow this drawing found on drawstuffrealeasy's channel—where you'll find a coffee mug that reads, "I <3 Coffee."
Some coffee enthusiasts might find paper cups ruining the flavor of their coffee. Others might bring their own mug to lessen waste.
For our drawing purposes, the vessel doesn't really matter—as long as we're able to practice our skills!
So far, we've featured coffee in ceramic mugs, but this drawing by santhoshi fine art's channel will hand you coffee in a paper cup.
7 Realistic Cups of Coffee for Sleepy Artists
Now that you've practiced with the basic cups (and you've probably had your caffeine dose), it's time to move on to more complex sketches.
Drawing with a permanent marker from the outset can be quite challenging; a simple mistake is difficult to erase.
That's why on Articco Drawing, they start with a pencil when drawing their cup of coffee.
The artist also sprinkled some beans on the saucer, telling us, "it's freshly ground!"
Coffee lovers, particularly the obsessed ones, will tell you one thing: exact measurements matter—whether it's the grind size of the beans or the grams of coffee grounds per cup.
For those who love to adhere to precise dimensions in their art, 1 Medias Drawing's channel has a video tutorial of a tea cup, using a ruler for total accuracy.
While precision is needed in many art styles, drawing freehand without the aid of any measuring tools is a great way to enhance skills.
That's exactly what US Arts & Edits' channel provides us with—simple freehand.
Through this tutorial, your shading skills will be enhanced.
As a beginner, one shouldn't concern themselves with different types of pencils, like soft, black, hard black, firm, and whatnot.
While that can certainly elevate your craft at higher levels, focusing on practicing skills is more important than having an array of pencils.
Circle Line Art School can teach you the technique you've been looking for.
Some video tutorials only show a simple visual of what needs to be drawn.
That's certainly not the case with Leila Ataya – Artist's video tutorial, which includes a detailed commentary and basic questions that need to be asked on proportions, depth, and shading.
When coffee is brewed it starts bubbling—the more of it the fresher the roast.
We can clearly see that PKB ART's coffee is somewhat fresh. The bubbling effect is probably the hardest aspect of this drawing, who includes a couple of sugar cubes on the side.
Introduce me to somebody who hasn't heard of Starbucks Coffee. I'll introduce them to this drawing by UltimateArtistT, and even bring them a cup from the ubiquitous shop!
The challenge in this sketch is drawing the logo.
3 Arabica and Robusta Beans Drawings
Ask me to identify between the Arabica and Robusta varieties of coffee beans. I probably can't.
Thankfully there are experts for that. Also, we also don't have to look very far for coffee bean drawings.
14. Light Roast Coffee Beans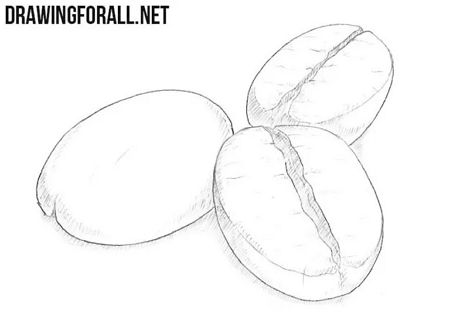 Control the color of your roast by looking at this drawing tutorial by Drawing For All.
They added minimal shading to this drawing, allowing you to determine how light or dark you want your coffee to be.
Coffee is green in color before it is roasted. That has certainly been taken into account when CanDo made this drawing tutorial of coffee beans.
Different shades of brown have been employed in this sketch, and even a slight hint of green is noticeable—the remains of the pre-roasted bean.
This coffee bean drawing by SNA Arts looks so realistic you could almost grab it and put it in a coffee grinder.
The level of detail poured into this coffee bean sketch is incredible. There's plenty to be learned from this painting, from lighting to depth to perspective.
3 Cute Cappuccinos
People who love to add a cute factor to their doodles should look forward to this drawing, made by Learn step by step's channel.
For more cute drawings, simply head on to our cute food drawings.
18. Moka-waii Coffee in Paper Cup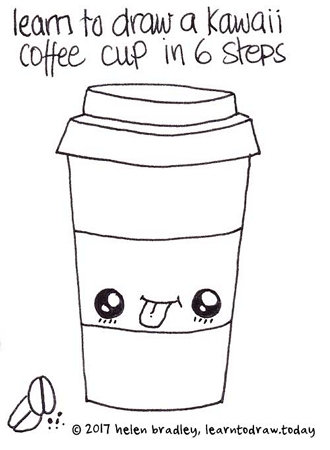 Creating a kawaii drawing is very easy: just add a face and blush on any object or food, and it's kawaii!
Learn To Draw has a template for you in their drawing tutorial.
For more kawaii stuff, please check out our kawaii Perler bead patterns.
Draw So Cute's channel is unrivaled when it comes to drawing kawaii things. Their content range from animals to food to inanimate objects—all of which are drawn with a unique style.
In this tutorial, they present a white mug with a mustache containing our favorite beverage.
Start the Day Right with Your Favorite Cup!
I hope these coffee drawings have energized your mind and enhanced your drawing skills.
Practice some more by following one of the drawing lists: