If you've ever wanted to learn how to draw sushi, boy do I have a list for you.
Sushi belongs to that category of universally recognized food, along with dishes like pizza, pasta, and burger. It's incredible how unseasoned, raw fish, carefully prepared and paired with other ingredients can bring a complex world of flavors.
If you're one of those aficionados who adore the fresh and light taste of this seemingly simple dish and would love to make sketches or doodles in your bullet journal, then you're in for a treat!
Read on to find out about different types of sushi drawings!
3 Sushi Sketch and Coloring Books
Here's a sketchbook and some coloring books to inspire children to make their own sushi drawings and color some fantastic designs.
If you'd like to start your children on their drawing journey, look no further than these easy animals to draw.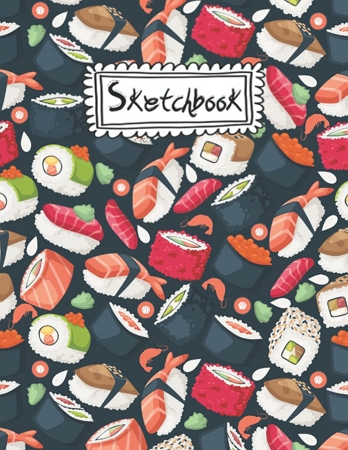 Here's a sushi-themed sketchbook for all those sushi designs that you're gonna transfer from your creative mind to these blank pages.
I assure you, you won't notice filling up your entire sushi sketchbook because of all the exciting sketches.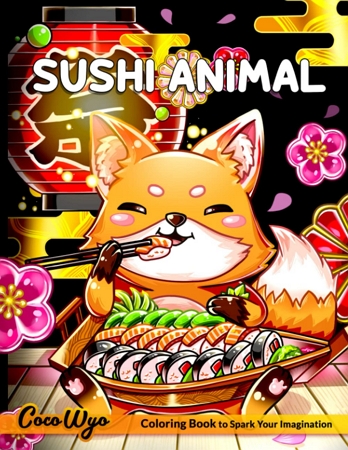 Are you looking for pre-made drawings that need coloring? Then this sushi animal coloring book is for you!
The coloring book features animals either eating sushi or serving their customers some tasty sushi rolls. The positive energy of the happy animals eating sushi will surely be passed on to those coloring this book.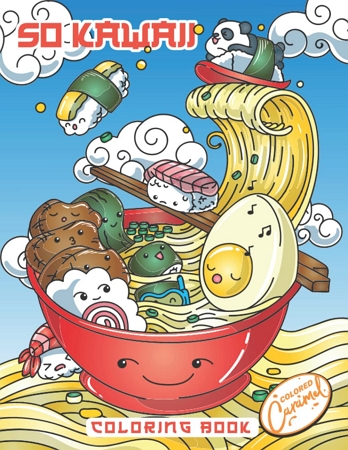 Simple food and object drawings with cute faces added to them have become more and more popular, as our kawaii Perler bead patterns have demonstrated.
If you'd love to see more of these drawings, then this kawaii Japanese food coloring book is the best deal for you!
It features many cute drawings that will make you salivate. Just don't blame me if you crave ramen in the middle of the night.
8 Easy Sushi Drawing
These first eight easy sushi drawings are suitable for beginner artists and children alike. They feature step-by-step drawing guides with minimal and easy steps so kids don't get overwhelmed.
See if you can spot fish that can be made into sushi in this list of Perler bead fish patterns!
4. Easy Nigiri Drawing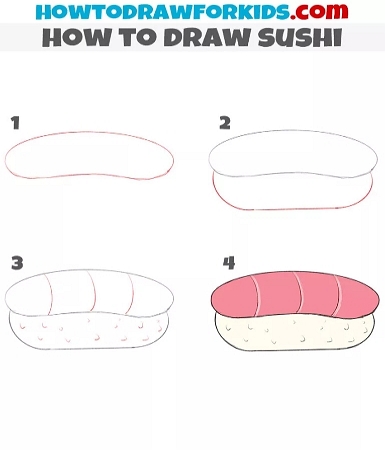 First is one of the most basic types of sushi, the nigirizushi. It consists of rice seasoned with vinegar and sometimes wasabi, then topped off with a slice of delicious fish.
How To Draw For Kids is a master of making easy nigiri drawings, as demonstrated by their 4-step drawing guide.
5. Sushi and Chopsticks Drawing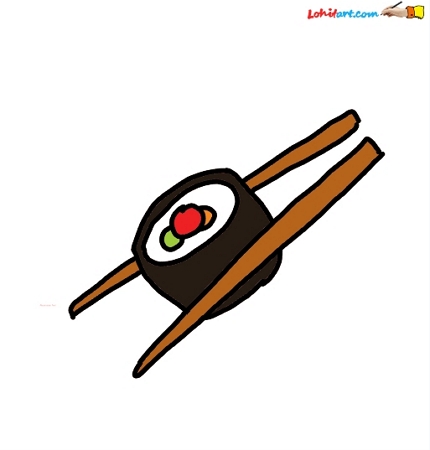 It's perfectly normal in Japan to eat sushi with bare hands, just like you would with fries or nuggets. You're also not breaking any rules or offending anyone if you eat your sushi with chopsticks.
Just like eating sushi, you can draw your sushi however you like, but this one from Lohit Art threw in a pair of chopsticks in the design.
Speaking of bare hands, practice those fine motor skills through these easy Perler bead patterns!
6. Step by Step Sushi Drawing Guide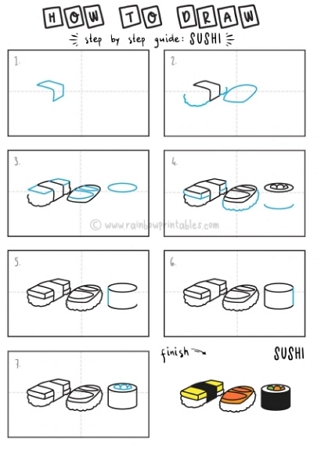 While most sushi consists of raw fish and rice, there are other types of sushi that have been popularized without the fish.
Enjoy sushi with different ingredients, such as egg, fish egg, crab meat, and many more, just like this design made by Rainbow Printables.
7. Assorted Sushi Drawings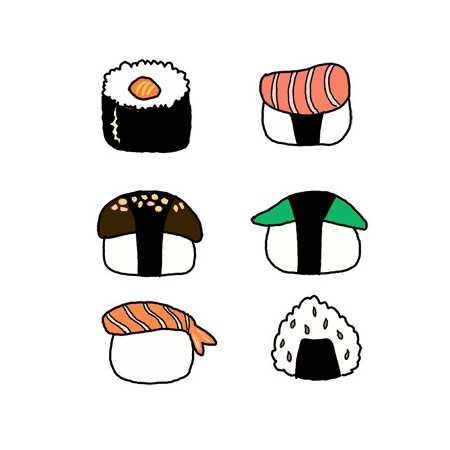 Get inspired by different types of sushi from Drawing Howtos's selection of assorted sushi. They've included the common maki and nigiri, as well as the onigiri, which is the tasty-looking rice ball that you typically see in anime.
8. Simple Salmon Maki Drawing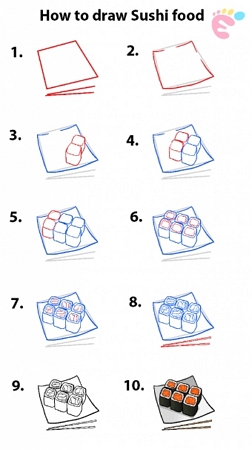 Too much rice on sushi can turn the light dish into something heavy on the stomach. Just like Easy to Do Everything's design, I prefer my sushi with more fish and less rice.
9. How to Draw Sushi for Kids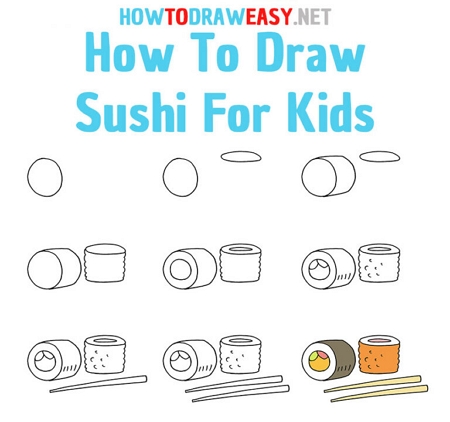 For those who love making a crisp-looking drawing, this design from How To Draw Easy will easily let you achieve that.
Nine simple steps are all it takes, and they're not too complicated.
10. Fresh Sushi Drawings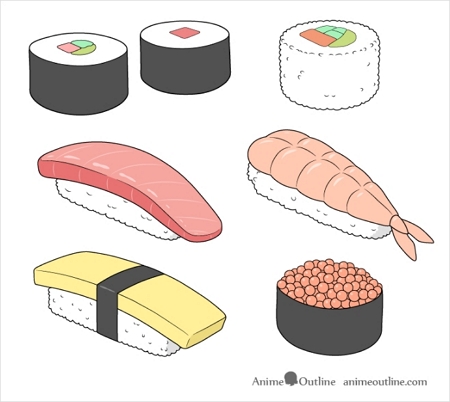 Sushi looks like a simple dish filled with complex flavors. But don't let the simplicity fool you: it takes years of practice to become a sushi chef.
Anime Outline applies that concept of simplicity to their sushi design, minus the complexity of the details.
If you're ever having a hard time following the written guides, here's Ms. Jess Art Class's channel providing an easy video tutorial.
5 Kawaii Sushi Drawing
It's not uncommon to see cute faces on food. These are known as kawaii, or chibi designs, and these next five sushi drawings will introduce you to them.
Find out more chibi-looking food by checking out our food Perler bead patterns.
Come Draw with Joy's channel shares this straightforward method of drawing kawaii sushi. The video tutorial is accompanied by some light music that will keep your little ones entertained throughout.
Here's another cartoon sushi drawing from one of the pillars of kid's drawing, Art for Kids Hub.
If your children are intimated, do not fret, because just like most of these videos they'll be accompanied by novice artists in the video.
Other components of the sushi such as the wasabi and soy sauce are often overlooked in drawings. Draw So Cute's video tutorial doesn't ignore these essential ingredients and creates a wonderful design alongside a shrimp and salmon nigiri.
For yet another simple chibi sushi that children can follow without a fuss, check out this video tutorial made by Easy Pictures to Draw's channel.
If you're the type who likes to doodle on their bullet journal, then you're gonna love this video tutorial from Archer and Olive.
They start their doodles by drawing a basic outline with a pencil, then fleshing out the details with a fine-tip pen.
3 Cat Sushi Drawings
Cat sushi designs aren't drawings you'd expect on this list. But they do exist, and there are plenty of them around the Internet.
That said, I don't condone turning your pet into a sushi dish, with the exception of photoshoots.
You're a cat lover, aren't you? You'll adore these cat crafts, cat Perler beads, and Hello Kitty Perler beads!
17. Neko Sushi Drawing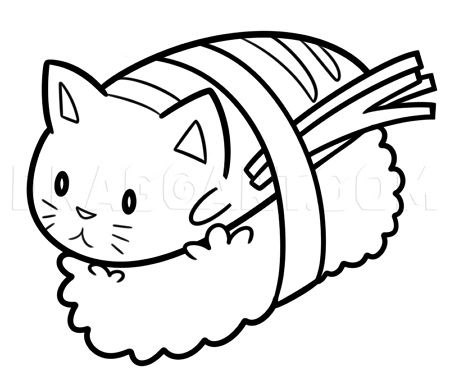 This first cat sushi drawing from Drago Art is perfect for a salmon nigiri cosplay, with the lines on the cat's back looking like tasty salmon fats.
Here's a jolly-looking cat who enjoys being the rice component of this tuna nigiri. Easy Drawing Lessons makes it easy for beginners to follow the video tutorial.
Wouldn't it be nice to have a plushie looking like this drawing provided by MsMattimeo's channel? If you can't find any, I hope drawing out this sushi cat design will give you some comfort.
3 Realistic Sushi Sketches
Moving on to more complex sushi sketches, I present to you the best realistic sushi guide you can find.
20. Easy Authentic Sushi Drawing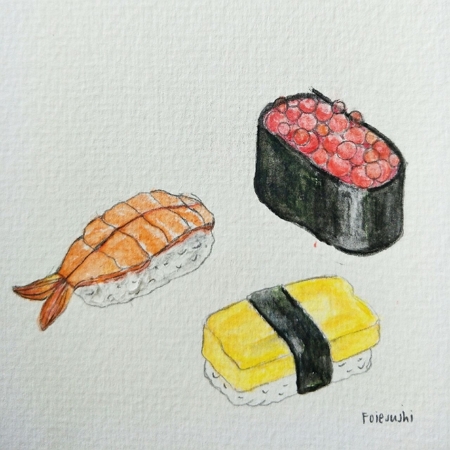 Simplicity and raw freshness best describe sushi. Those descriptions are accurately captured by this almost realistic sushi sketch provided by Steemit.
Want to create realistic sushi made drawn and colored entirely out of pencil? Look no further than this sushi drawing by UltimateArtistT, who makes a stunning maki drawing.
If you find the video too fast, it's easy to slow it down by adjusting the playback speed on the settings.
A sushi aficionado can tell whether it's an imitation or the real thing. You can tell the difference from the presentation, freshness of the fish, and other subtle details in flavors.
Just by a glance, you could also tell that this sushi watercolor painting by yao khuan's channel is one of the most authentic designs out there.
Keep It Up, You're On a Roll!
Whether you're an inexperienced artist or a more advanced one, there's one thing that connects everyone who visits this page: the love for sushi!
After you're done with these designs, head on to our other drawing lists: