Kois are one-of-a-kind fishes. They originated from Japan but have taken over the world one step at a time. Let's get to know more about these enigmatic fishes through this list filled with koi fish drawings.
These fishes come in all colors like orange, white, yellow, and black. There are also more than 100 species of koi which we'll get the chance to draw in a little while.
Let's get this show on the road so grab your child's favorite pens and crayons and let's do some art.
More amazing creatures await you in these farm animal crafts for kids.
Draw the Best Kois with These Art Supplies
5 Fantastic Koi Fish Drawings
1. Cute Koi Fish Drawing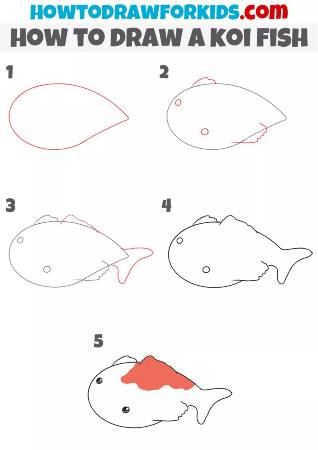 Let's start with something simple yet so beautiful by recreating How to Draw for Kids's koi drawing.
This will be a great introduction for the kids because it will boost their confidence and encourage them to continue drawing more kois in the future.
2. Golden Koi Fish Drawing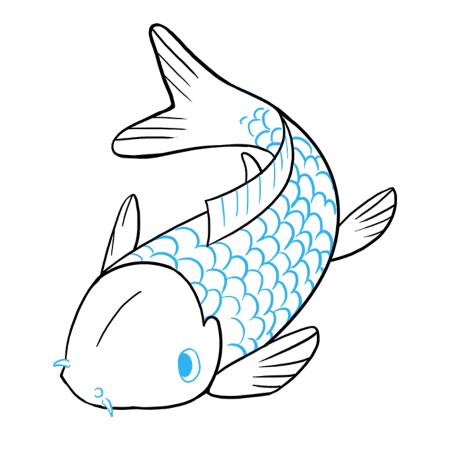 Looking for a clear headshot view of a koi?
This drawing guide will be perfect because of its impeccable details.
Get the full step-by-step tutorial here in Easy Drawing Guides.
3. Magnificent Koi Fish Sketch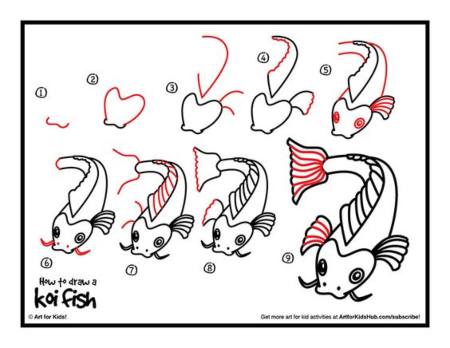 Here's another look at a koi diving deeper into the pond.
Art for Kids Hub's tutorial will give the kids some ideas and inspiration on how to add depth and movement to their sketches.
4. Awesome Koi Fish Drawing
A big part of what makes a drawing more beautiful is the colors.
Good thing Art for Kids Hub created this video tutorial on how to draw and color a realistic koi.
These peacock crafts will ignite the kid's love for unique animals.
5. Two Koi Fishes Drawing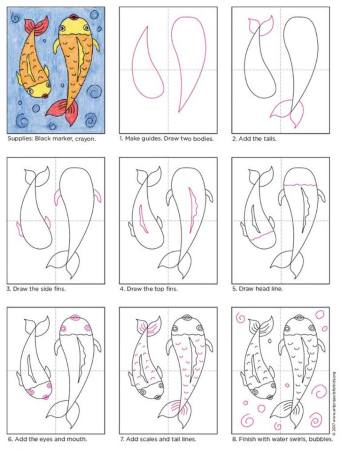 Koi fishes enjoy the company of other kois which can seen in this awesome drawing by Art Projects for Kids.
Doing this will be a great idea for the kids because drawing two kois will double the fun.
6 Cool Koi Fish sketches
6. Happy Koi Fish Drawing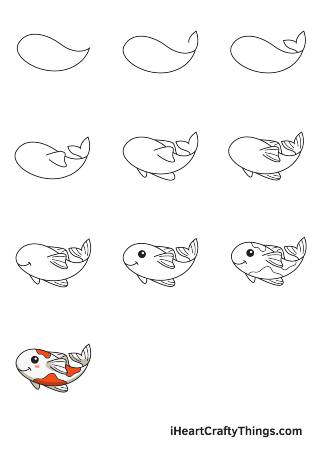 Make your child as happy as this smiling koi fish by deciding to add it to your to-draw list.
I Heart Crafty Things made sure that kids will enjoy making this project especially with its level of cuteness.
7. Realistic Koi Fish Sketch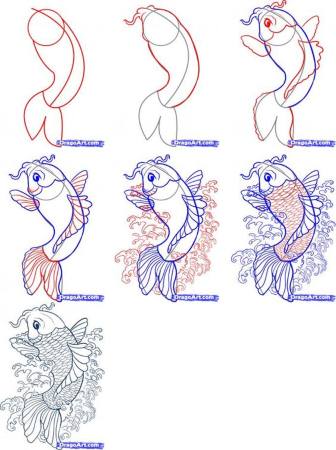 Add glamour and mysticism to their koi drawings by following this tutorial provided by Pinterest.
The additional lines surrounding the fish made it look more ethereal and out-of-this-world.
Marshmallows aren't just sweet treats because they can also be used for these marshmallow crafts.
8. Epic Koi Fish Sketch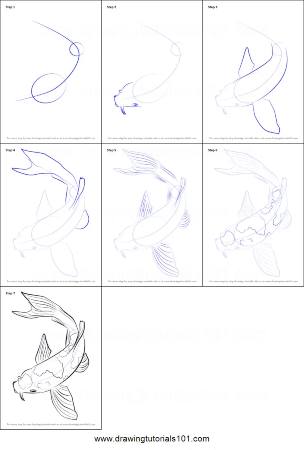 Drawing Tutorials 101 captured the unique beauty and elegance of koi fishes in this sketch tutorial.
Different kois come in different colors and this tutorial will give the kids artistic freedom of what color they'd like their fish to be.
Whether they choose to color it black, white, orange, or yellow, this guide will be perfect.
9. Incredible Koi Fish Sketch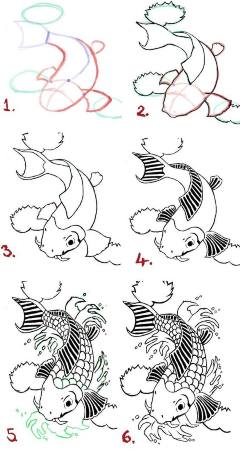 Level up their koi drawings as well as their artistic style by following this epic tutorial from Deviant Art.
They made the instructions easy to follow so even the youngsters won't have a hard time recreating this masterpiece.
10. Adorable Koi Fish Drawing
Drawing these two koi fishes will be a great bonding activity with your favorite person.
Draw So Cute's video tutorial will guide you and your BFF every step of the way to create this amazing art piece.
Learn how to make friendship bracelets with the help of this list.
11. Lovely Koi Fishes Drawing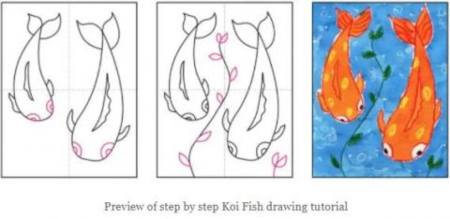 Draw not one but two adorable koi fishes courtesy of Koi Organisation International 's drawing guide.
Aside from the kois, your child will also learn how to draw the aquatic environment they live in through this tutorial.
11 Cute Fish Drawings
12. Fish with Bubbles Drawing
Your child will love this colorful fish drawing from Prem Nath Shukla.
This will enable them to use their favorite coloring materials and will teach them how to draw some bubbles as well.
13. Colorful Fish Drawing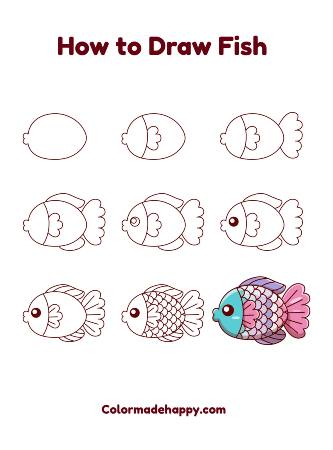 Color Made Me Happy made this guide that will allow anyone with a pencil and paper to draw a fish.
Follow these nine easy steps so that your child can recreate this pretty fish sketch.
14. Fish Drawing from the Word FISH
Blow the kids' minds away by turning the word "fish" into an actual drawing of a fish.
PIN KORO knows all the tricks and tips on how to do just that so make sure to watch this video tutorial.
More letter f crafts can be found here.
15. Triangular Fish Drawing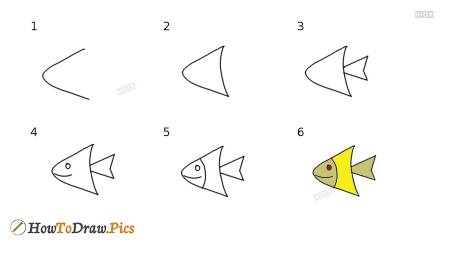 Make the kids' drawings look more interesting and try out this triangular fish from How to Draw Pics.
Fishes come in all shapes and colors so this tutorial will deepen the knowledge of your child about aquatic life.
16. Yellow Fish Drawing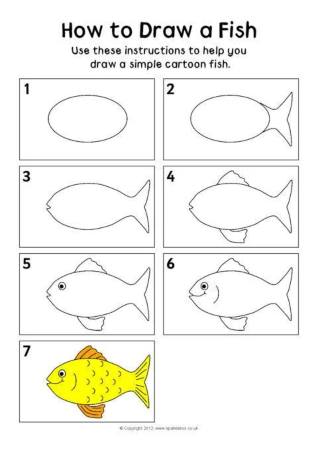 This big yellow fish drawing from Refined Prose will be an incredible addition to your child's sketchbook.
Not only does it look cool but will also teach the kids all about textures and coloring techniques.
17. Clownfish Drawing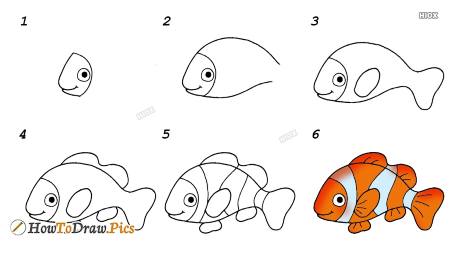 We've found Nemo!
There's no need to search the deepest blue oceans because How to Draw Pics will give us the best clownfish drawing guide right here.
18. Cool Blue Fish Drawing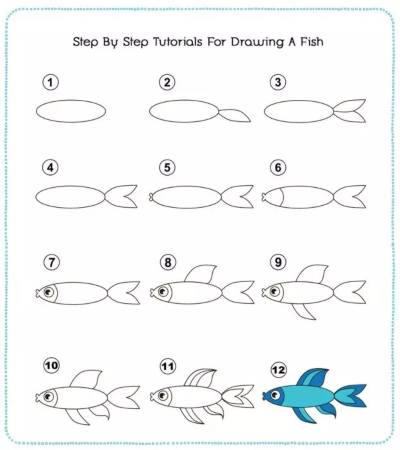 This blue fish from Mom Junction will effortlessly blend in the deep blue ocean.
It also features a different shape of the body, tail, and fins which the kids can learn a lot from for their future artworks.
19. Incredible Fish Drawing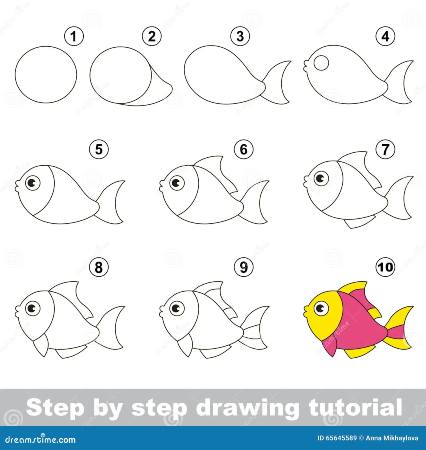 Got more time on your hands?
Be productive and create this adorable fish drawing from Art@Fadil.
I promise that you won't regret doing this little project with your little ones.
20. Cool Betta Drawing
Betta fishes are one of the coolest and most colorful fishes ever.
Don't miss out on the chance to translate this unique creature on paper with the help of this video tutorial from Art@Fadil.
21. Grumpy Fish Drawing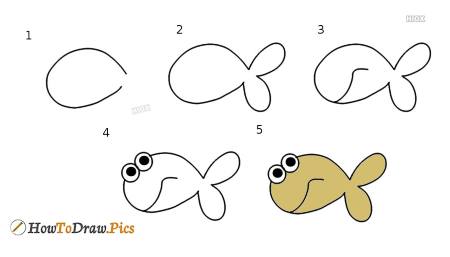 Here's a quick and easy fish project from How to Draw Pics that the kids will find fascinating.
It will turn the kid's frown upside down once completed.
Feel like a superhero by creating these Spiderman crafts.
22. Fish Tank Drawing
Combine everything the kids have learned throughout this list and draw this epic aquarium.
They can even include their favorite fishes in it, too.
Make sure to watch the video tutorial of COLOURING FORUM from start to end.
Easy Koi Drawings for You and Me
Creating koi fish drawings will be a wonderful art activity for the kids to engage in. Koi fish drawings will allow kids to explore vibrant colors, intricate patterns, and different textures that will stimulate their visual senses.
Through this creative endeavor, kids will develop a connection with the underwater world that will also foster their curiosity about aquatic ecosystems.
Check out these amazing projects for the kids, too: