Finding the right arts and craft project to do with your kids isn't always as simple as it sounds.
A lot of kid's crafts you find online are actually quite complicated, and sometimes you're just looking for something easy to keep your child busy and engaged.
As it turns out, there are A TON of cotton ball crafts for kids available online that are fun and simple, so I've rounded up the 10 best cotton ball crafts for kids you'll find online.
Artsy Cotton Ball Crafts Your Kids Will Love
You'll be surprised to discover how artistic and creative you actually are when you're forced to keep your kids entertained. That's why I love these cotton ball crafts – not only are they fun to make, they're really easy, too.
1. Cotton Ball Snowman Cards
Send personalized greeting cards next holiday season with these adorable cotton ball snowman cards. Not only will they make for a heartwarming surprise, but your kids will love them, too!
This snowman card includes a snowman's body, made with flattened cotton balls, and your child's face. Inside the card, your child has the opportunity to write a personalized holiday message to their friends and family. Oh what joy!
Here's a video tutorial on how to make cotton ball snowman cards.
2. Cotton Ball Sushi
Among all of the cotton ball crafts on this list, this won my kids' hearts – hands down. I personally love sushi, but all biases aside, this was such a fun and easy project to make! Your kids will love putting it together because it requires very little adult supervision.
The cotton balls act as the rice component of the sushi that's then wrapped in black paper. It's then topped with strips of yellow, green, pink, and red paper. Add chopsticks for a nice touch.
Check out this cotton ball sushi tutorial and you'll see what I mean!
3. Cotton Ball Snowy Owl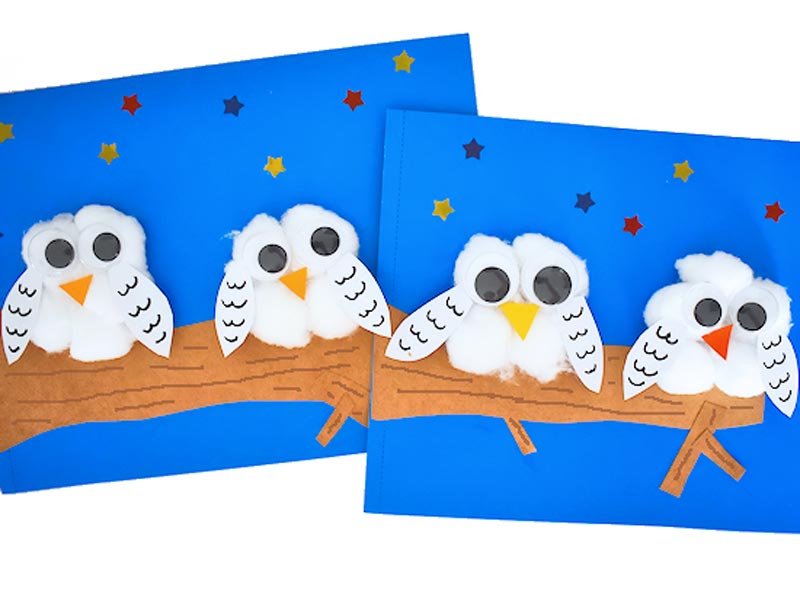 Snow owls are magical, and none are as magical as Hedwig from the beloved Harry Potter series. Why not bring your very own Hedwig to life?
Your kids will love doing this on their own because it's such a fun and simple project. They'll need basic art supplies such as glue, a black sharpie, a pair of scissors, and yellow, white, blue, and brown cardstock paper. Googly eyes make for an adorable detail!
Check this tutorial to learn how to make cotton ball snowy owls.
4. Cotton Ball Ice Cream
What's a party without ice cream? With this cute cotton ball art project, you'll have the kids screaming for ice cream in no time.
Set this activity up during a party for guests and use the finished products as party décor. For a more festive celebration, provide droppers with food coloring to create different ice cream "flavors."
Learn how to make cotton ball ice cream by watching this video.
Stylish Cotton Ball Crafts (Because Adults Love Them, Too)
Cotton ball crafts aren't just for kids.
These cotton ball crafts that are popular among adults will help to take your mind off the day-to-day humdrum. Plus, they'll give you a sense of pride when complete.
Use these projects for home décor or sell them for supplementary income (a little side cash never hurt anyone!).
5. Cotton Ball Stems
Cotton ball stems are sweet, dainty, and work well with farmhouse-themed decor. However, faux cotton stems can be expensive (ain't nobody got time for that). So, why buy them when you could make them yourself?
For this cotton ball craft you'll need cotton balls, pinecones, some small tree branches, and a hot glue gun. That's it! Easy-peasy.
This tutorial video will show you how easy it is to make cotton ball stems.
6. Cotton Ball Wreath
If you want a wreath that doesn't have to come down after the holidays, this project is for you. Whether it's wintertime, springtime, summer, or fall, this cotton ball wreath is good for any season.
Cotton ball wreaths have a vintage, rustic feel, so if that's "thing," get your hands on some cotton balls and twigs and watch this video tutorial on how to make a cotton ball wreath.
How to Color Cotton Balls
When it comes to creativity, your imagination is the only limit, and pops of color make any craft activity more fun.
The most common materials to make colored cotton balls are food coloring, water-based kids' paint, tempera paint, and watercolor.
The kids and I found some really cute crafts that required coloring cotton balls, and to say that you're going to enjoy making these is an understatement.
7. Cotton Ball Bug Magnets
Your kids will have a blast creating spiders, bees, ladybugs, flies, and all kinds of critters to stick to the refrigerator. Added bonus: cotton ball bug magnets are a great way to teach children how to upcycle and to bond with your kids!
For this cotton ball craft you'll need plastic bottle caps, cotton balls, glue, kids' paint, scissors, googly eyes, and magnets. Coloring the cotton balls is as simple as using a brush and paint.
8. Cotton Ball Rainbows
You can bring the magic of rainbows into your home simply by making cotton ball rainbows. To color your cotton balls, have your kids dip them in different colors of liquid tempera paint.
It'll be messy, but who cares? You may be able to wipe off the paint from your kids' hands, but not the smile on their faces.
Work on some magic today. Start by watching this video tutorial on how to make cotton ball rainbows.
9. Cotton Ball Balloon Birthday Cards
Here's another great personalized greeting card craft. Using colored cotton balls to make balloon birthday cards is a fun way to wish someone a happy birthday.
Dip the cotton balls in liquid food coloring and let them dry. When they are ready, glue them on the ends of pre-drawn balloon strings. That's it!
These cotton ball balloon birthday cards are sure to be a hit because not only are they cute, they're personal.
10. Cotton Ball Tree Painting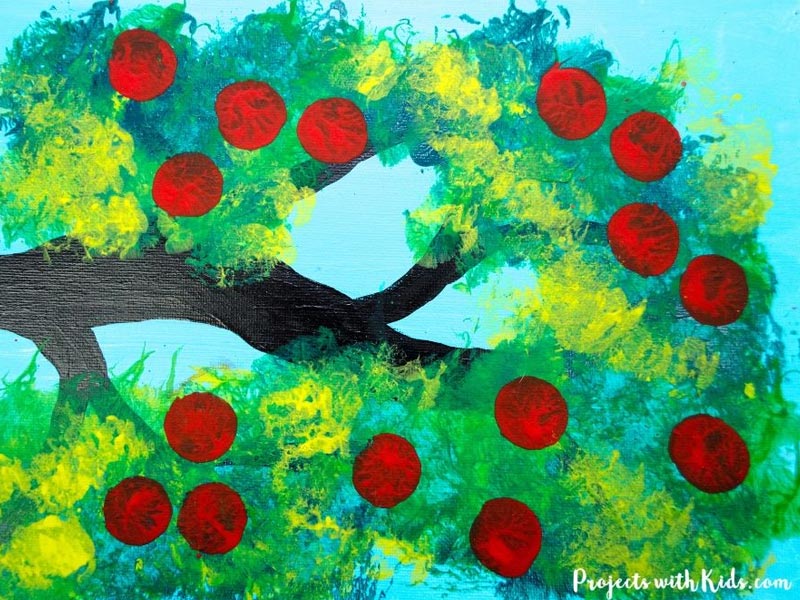 The last cotton ball craft on this list is cotton ball tree painting.
To paint your trees, dip cotton balls into fabric paint and start dabbing away on a piece of paper (or whatever you choose as your canvas). Use different colors depending on what tree you're painting. Nice options are red for apple trees, white and pink for cherry blossom trees, and brown, orange, and yellow for autumnal trees.
If you're happy with your finished product, frame and display it! I know I did.
Cotton Ball Crafts Will Be Your New Favorite Fluffy and Fun Activity
It's inevitable – you WILL get hooked on cotton ball crafts.
There's nothing not to love about using cotton balls to keep your kids busy and engaged. They're fun to work with, are inexpensive, and yield the best results.
Plus, they're so fluffy (which means they're safe for your kids to use)!
Cotton ball crafts are a great go-to activity to entertain the kids, but be warned – you'll end up entertaining yourself, too.
Looking for a different kind of spring-time kid's craft? Check out my comprehensive list of 15 fun and easy spring crafts for kids.