If you're looking for a fun and creative activity to keep the kids entertained, then look no further because these monster truck drawings will be perfect. Not only will they have a blast creating these designs but will also have the opportunity to show their creativity and improve their artistic skills.
Whether your child is a budding artist or just loves all things monster trucks, this activity will provide hours of entertainment and fun to them.
So grab some paper, pencils, and crayons, and get ready to unleash your child's imagination with these exciting projects!
Let's explore the outer space with these space crafts for kids.
Let's Start Drawing!
Grab these essential materials before we dive in and create the coolest monster trucks ever.
5 Easy to Draw Monster Trucks
1. Roaring Monster Truck Drawing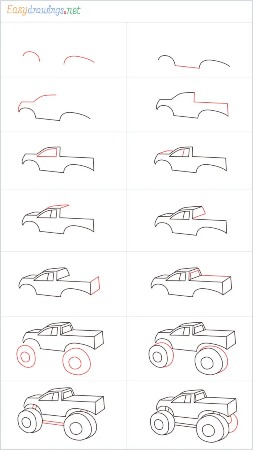 Get the hang of drawing monster trucks and use this guide from Easy Drawings Net for your first project.
It will teach the kids everything they need to know to get started— from the wheels to the frame of the truck.
Arrgh! Discover some easy pirate drawings that will be perfect for the kids on this list.
2. Powerful Monster Truck Drawing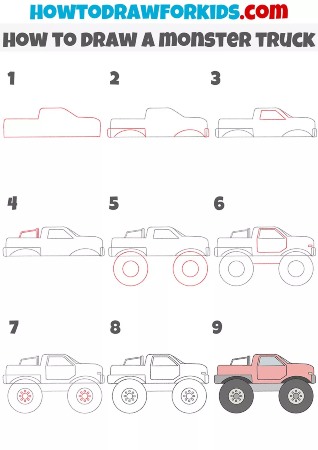 Hop on and let's go on a ride with this epic monster truck drawing from How to Draw for Kids.
Its powerful wheels and cool accessories make the truck one of the most powerful ride on the road.
Jam in and sing along using these homemade instruments.
3. Epic Monster Truck Drawing
Enjoy a fun afternoon watching and recreating these humungous monster trucks from Art for Kids Hub's video.
Kids won't have a hard time doing this because the instructions are well explained.
4. Multiple Monster Truck Drawing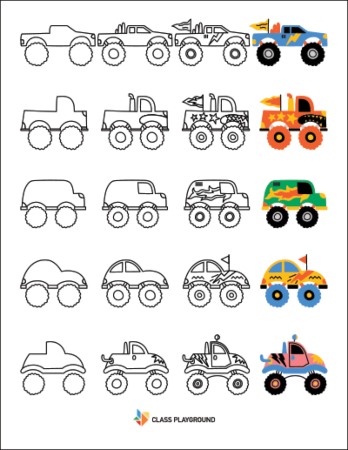 Draw five monster trucks in one go thanks to this complete drawing guide from Class Playground.
Your child will have multiple monster trucks to choose from that have different colors, prints, and sizes.
Design your own clothes by learning how to tie dye a shirt.
5. Extreme Monster Truck Drawing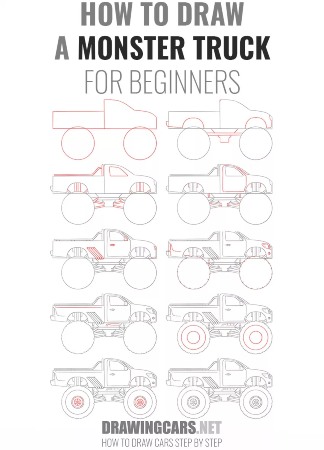 Another extreme monster truck drawing is heading our way and this one is from Drawing Cars.
The kids will be excited to see a monster truck slowly coming to life with each stroke of the pencil.
Show your love for the sport by learning how to draw a football helmet.
8 How to Draw a Monster Truck: Step-by-Step
6. Giant Red Monster Truck Drawing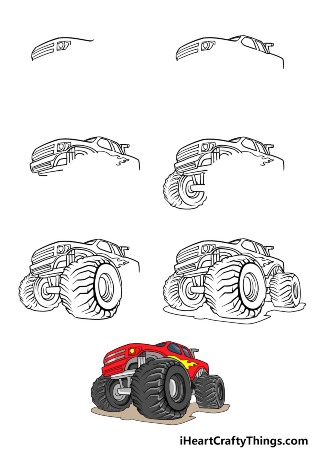 Looking for an activity that will be fun and will also enhance the kid's creativity? I Heart Crafty Things has got you covered.
Block out the whole day morning because this project will be epic.
Hoot! Make sure to include these owl crafts for kids on your to-do list.
7. Monster Truck with Rocket Drawing
How about a monster truck with a rocket? Now we're talking!
Monster trucks are already cool but throw in a rocket and it will become even cooler.
Check out this drawing guide from Taurus Art for inspiration.
8. Volkswagen Monster Truck Hybrid Drawing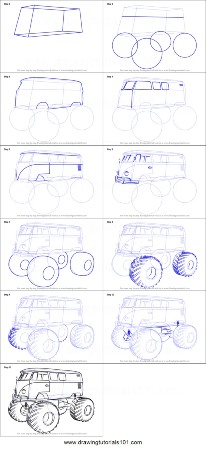 More people can enjoy the cool ride in this spacious Volkswagen monster truck hybrid.
Draw this fantastic variation of a monster truck with the help of this guide from Drawing Tutorials 101.
Make the occasion more special and memorable by playing around with this Thanksgiving sensory bin.
9. Shark Monster Truck Drawing
Monster trucks have conquered land and now they'll dominate the vast oceans, too.
Build a monster truck that will last on both land and water with this video tutorial from Taurus Art.
10. Monstrous Monster Truck Drawing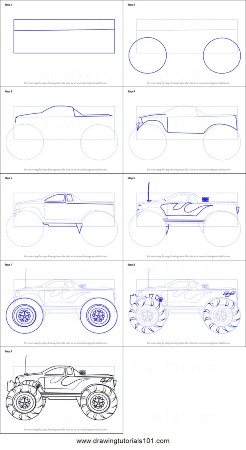 Spice up the wheels of their monster trucks just like this one from Drawing Tutorials 101.
Adding a few lines and patterns to the drawing will instantly level it up.
The ocean is calling us to do these Moana crafts.
11. Police Monster Truck Drawing
Fret not because this huge police monster truck is here to save the day.
Spootz Art will show you how you can easily transform an ordinary police car into this powerful vehicle.
12. Fiery Monster Truck Drawing
I don't know about you but this monster truck drawing from Taurus Art is one of the best I've seen on the internet.
Not only does it look awesome with its big wheels and high suspensions but the nicest thing about it is that it's super easy to draw.
Fly high up in the sky with these airplane crafts.
13. Tilted Monster Truck Sketch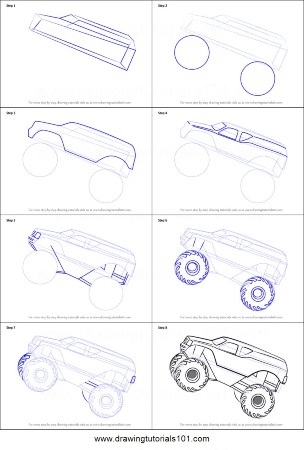 Monster trucks are built for action. Whether that's climbing a hill or speeding across the track.
Drawing Tutorials 101 will teach the kids how to modify their drawings to look like it's climbing.
It will be a great skill to learn to add variety to their drawings.
Bonus: Awesome Car Drawings
We're not done yet, on the contrary, we're just getting started. Find more awesome vehicle drawings for kids below.
14. Simple Yellow Car Drawing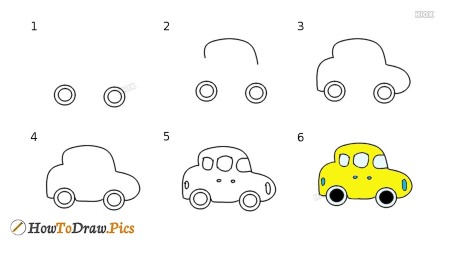 Beep beep!
Here's a funky little car drawing from How to Draw Pics for the kids to try out.
This is perfect for young kids or complete beginners because of how easy and fun it is to do. This will get them hooked on drawing cars.
15. Reliable Car Drawing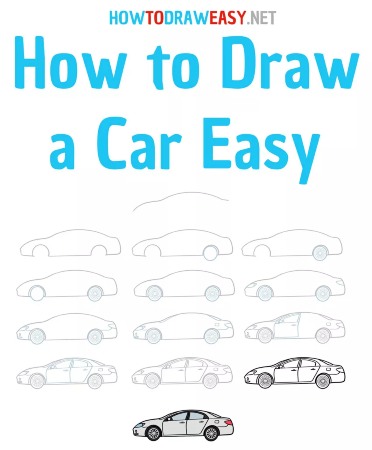 It will be fun to draw things that kids see on a daily basis.
Check out this silver car drawing from How to Draw Easy.
It's the type of car that kids see pass through the streets or highways.
16. Yellow Car Drawing
Grab some pencils, paper, and rulers because we're about to create something awesome.
Let this video by happycolorz be your guide in drawing this yellow car.
Follow the steps for a smooth and simple drawing experience for the kids.
17. Red Car Drawing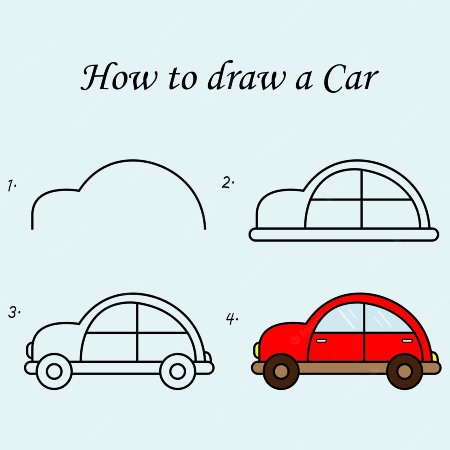 This red car drawing from Freepik will teach them the basics of how to draw vehicles.
In four easy steps, they'll be able to create this classic car that will complete their other drawings.
Explore the wilderness with these camping crafts for preschoolers.
18. Green Classic Car Drawing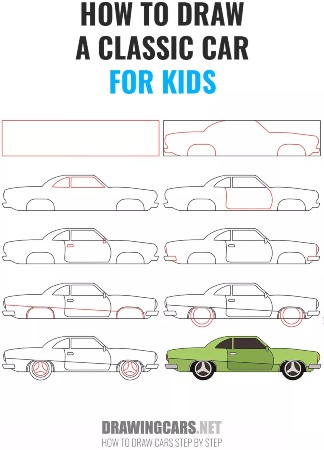 Who would've thought that this drawing of a green car started from a rectangle?
Drawing Cars Net's creative technique will be a hit with the kids.
Loved playing the video game? They'll love these Minecraft perler bead patterns more.
19. Cat Driving a Car Drawing
This drawing from drawinghowtodraw combined the two favorite things of the kids that start with the letter c: cars and cats!
This will tingle the children's imagination and creativity. Brownie points for the adorable plate number of the car, too.
More cat crafts for kids await you on this list.
Monster Truck Drawings
These monster truck drawings are beneficial for kids to do: they're fun, engaging, and informative.
Plus, kids will learn about different shapes, colors, and patterns. They'll develop their ability to visualize and create their own unique designs, too with enough practice.
These are the reasons why doing these projects are highly-recommended for kids.
Try out these equally amazing crafts for children: