Vroom vroom! Hop on because we're about to go on the craziest ride with these perler beads car patterns.
Go on an unforgettable trip with the kids by completing these Perler crafts that include cars, trucks, and a whole lot more. The whole family can join in the fun because we've compiled a list that has something suitable for everyone.
The Art Materials That You'll Need
Make sure you have these materials packed before getting started:
16 Perler Beads Car
1. Big Beads Truck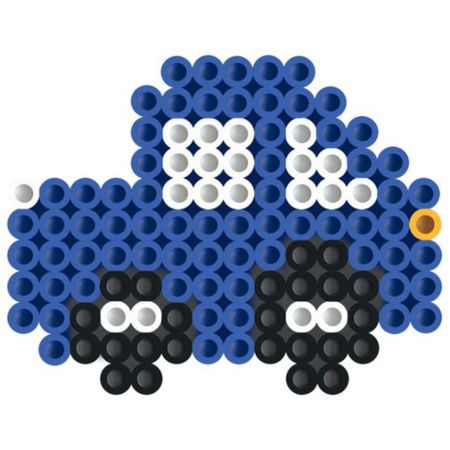 Use biggie beads to create a gigantic truck just like this one from Perler.
It will be the best bead choice because it will make the truck look much bigger and more realistic especially when placed side by side with the other perler bead cars.
Learn how to do an easy drawing of trucks here.
2. Perler Beads Volkswagen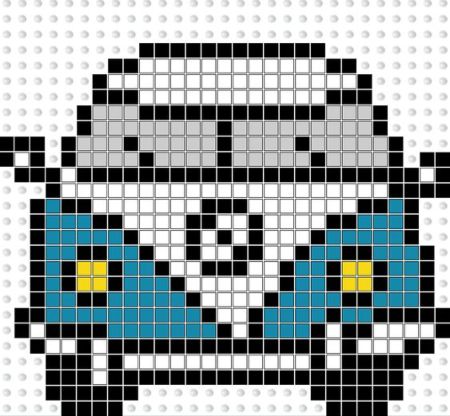 Car enthusiasts won't be able to turn down the opportunity to make this perler beads Volkswagen.
Deavita got you covered because the details in this car pattern are as accurate as it gets.
It's got two headlights, the Volkswagen logo, and a V mark on the front.
3. Perler Bead Sports Car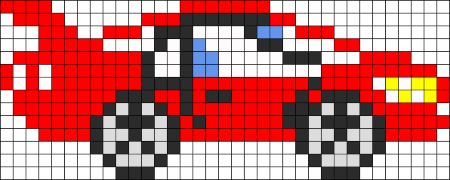 Does your kid like watching car races or dream of becoming a racecar driver?
Then they'll love this perler pattern from KandiKidYushi on Kandi Patterns.
This epic car would take the spotlight in their perler beads car collection.
4. Small Car with Dog Perler Bead Pattern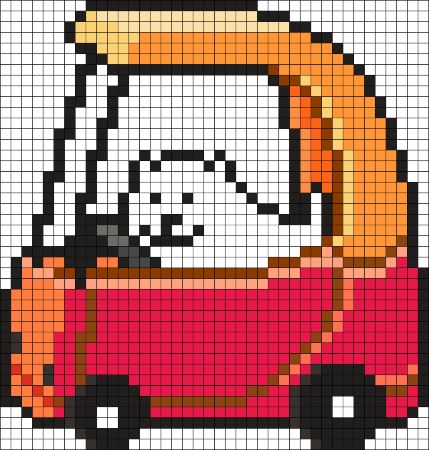 Beep beep!
Get this car along with the cute white dog inside when you make this pattern from iconstantlytired on Kandi Patterns.
I'm sure that your child will love this because its got two of their favorite things: dogs and cars.
5. Cute Car Perler Bead Pattern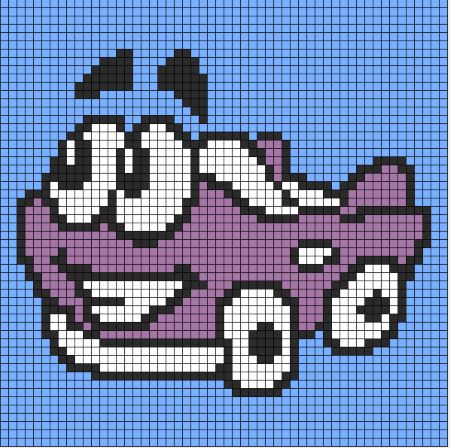 Get ready to have a great time making this cute car pattern from Bracelet Book.
Your kid will love this because it's not a typical car.
On the contrary, it has eyes and a nice smile that makes it stand out from the rest.
6. Green Car Perler Beads Pattern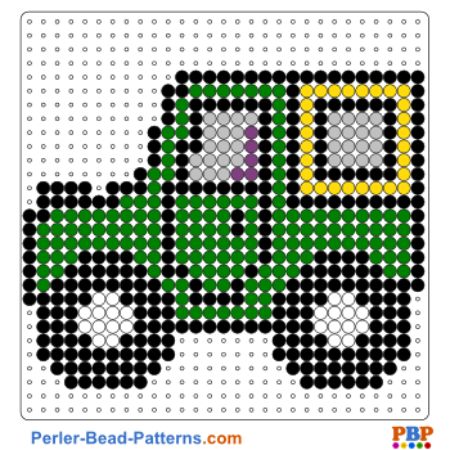 Another model of car that's famous among kids is the Jeep. They're perfect for outdoor activities and it looks super awesome, too.
Give your child their very first Jeep by following this perler guide from Perler Bead Patterns.
It will serve as a nice toy and inspiration until they're old enough to get the real one.
7. 3D Perler Bead Car
It's nice to play with store-bought toy cars but it would be much cooler to play with perler bead cars that you've done by yourself.
Making these cars from Perler Bead Planet will give kids a sense of accomplishment once they're done.
Plus, they could bring these to school to play around with their friends.
8. Race Car Perler Bead Pattern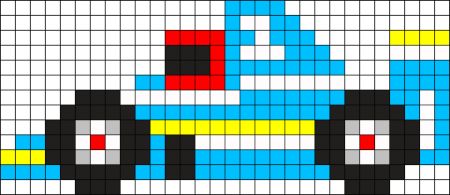 The list won't be complete without this epic race car pattern from Ninie on Kandi Patterns. It even has a racer included!
This car may not be built for speed but it looks super cool and would make a great addition to your child's room.
Get in touch with nature through these 3D paper flowers.
9. Perler Bead Formula-1 Car
This pattern from Lightning Rocket Creates is something that kids and adults alike will be thrilled to do.
Block off the whole night because it's advisable to have adult supervision while doing this craft.
Watch the informative and detailed video on how to make a Formula-1 car right here.
10. School Bus with Students Perler Beads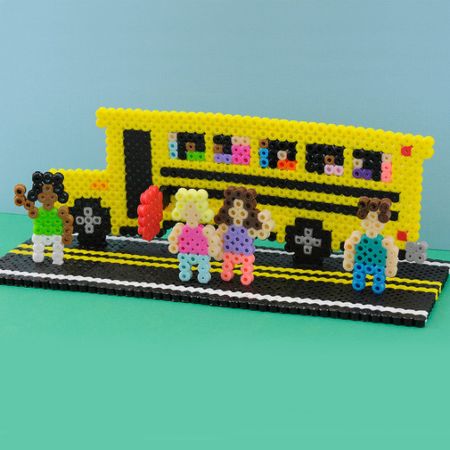 It will be the only time that your kids will be excited to see their school bus.
Kidding aside, this pattern from Perler will guarantee a fun learning experience for them without the need to go to school.
They can even make a perler version of themself and their friends to hop on the bus.
11. Taxi Car Perler Bead Pattern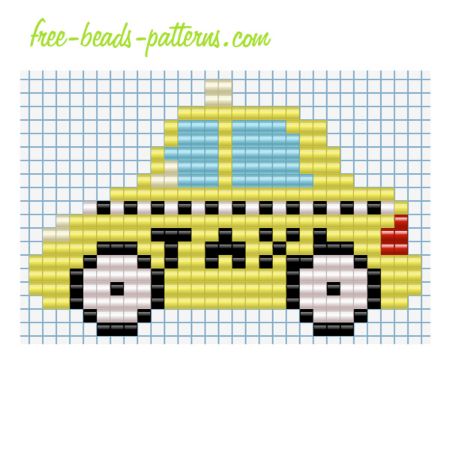 Don't wait around for a taxi because we've got a better one right here.
Completing this taxi perler bead pattern from Free Beads Patterns promises an enjoyable experience without all the hassle of flagging one down.
This pattern is beginner-friendly as well which is a huge plus.
12. 3D Truck Perler Beads
Had a lot of fun creating 3D perler beads cars? We don't blame you because we sure did, too!
Good thing Lightning Rocket Creates created this helpful tutorial on how to make a customizable perler beads 3D car.
Head on to their Youtube channel to get the full tutorial.
13. Tractor Perler Bead Pattern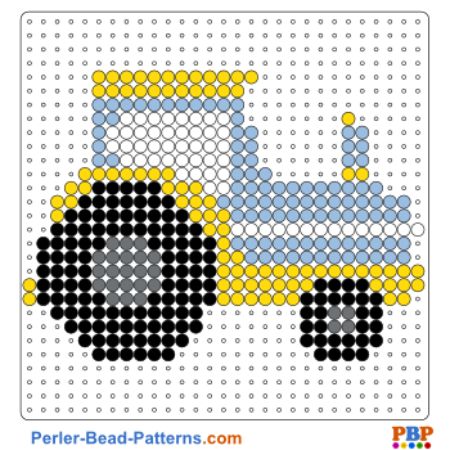 If you're looking for a pattern to teach the kids all about tractors and farming then this one from Perler Bead Patterns will be a great choice.
It's an accurate depiction of the heavy-duty and extremely useful motor vehicle.
After they've done this pattern, the kids will look forward to the day when they can finally see a tractor in real life.
14. Car with Scenery Pattern

One of the best things about driving is seeing all the beautiful landscapes.
In this pattern from Bracelet Book, you won't just be getting a cool car pattern but a nice scenery will accompany it.
A magical time is guaranteed with these unicorn crafts.
15. Back to the Future Car Pattern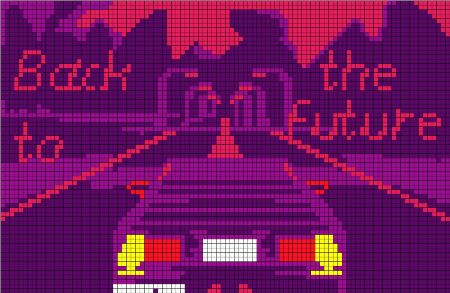 Your child will feel like they're part of a car video game every time they look at this pattern from Bracelet Book.
Plus, the pattern gives off futuristic vibes which kids like.
Arrrgh! Here's a list of easy pirate drawings for kids.
5 Famous Cars Perler Beads
16. 3D Herbie Beetle Perler Beads
Herbie the beetle is hands down one of the coolest cars out there. So I was ecstatic to find this 3D Herbie perler beads tutorial from KandiPerlerFairy.
Even if kids don't know Herbie (which they should), they will still have a blast in making this project.
It will also be an awesome car to add to their growing collection.
17. Hello Kitty on a Car Perler Bead Pattern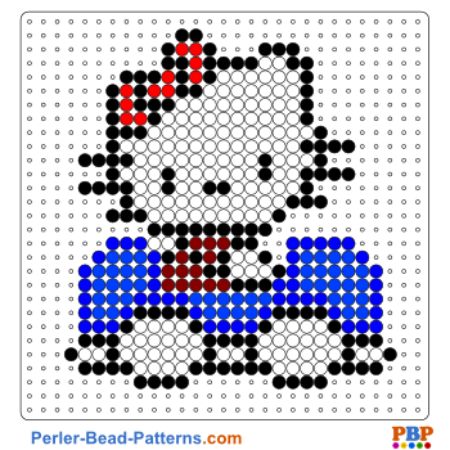 Hello Kitty is on her way to brighten up your day with this adorable pattern.
Perler Bead Patterns combined Hello Kitty and a car (an incredible duo) in this pattern which landed it a stop on our to-do list.
Get the most kawaii perler bead patterns right here.
18. Lightning McQueen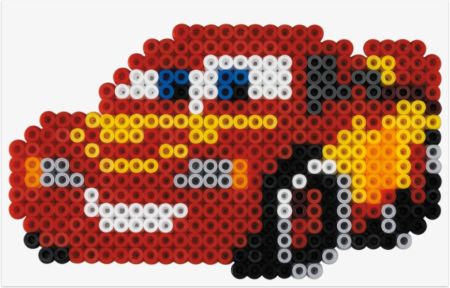 Faster than fast. Quicker than quick. It's time for a Lightning McQueen perler bead project from Seek PNG!
Kids can learn a lot from Lightning McQueen. He made a full spin from being an arrogant self-centered character into a gracious kindhearted protagonist.
Make it a productive day by making this pattern while watching Cars.
19. Sally Perler Beads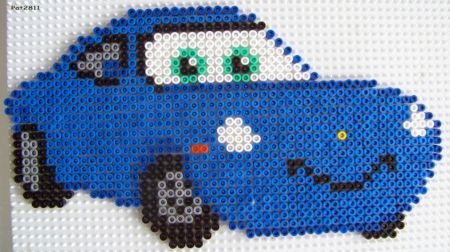 Include this pattern of Sally Carrera, a blue Porsche who's also the attorney of the town on your to-do list.
This pattern from Pat2811 will serve as a great guide in doing the craft.
20. Cruz Ramirez Perler Beads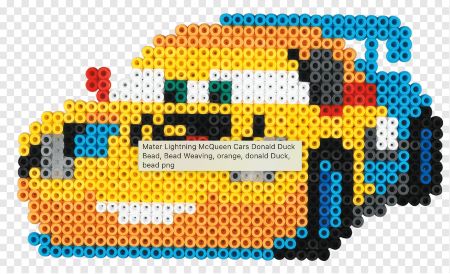 Rust-eze Racing Center is proud to present its most patient and helpful trainer, Cruz Ramirez!
This cool pattern from PNG Wing will help you in making one of our favorite characters from Cars 3.
Coolest Perler Beads Car for A Nice Ride
And that ends our trip! I hope you enjoyed creating these perler beads car patterns as much as we did.
The best part about these crafts is that the fun never stops. Once you've completed the pattern, it's now time to play with it.
Wait, there's more. Find more crafts to do with the kids below: