The minions are taking over Cool Kids Crafts (and we're not complaining!) These adorable yellow creatures, who are equally funny and amazing are the focus of our next project. You'll find the best minion drawings that are also kid-friendly below.
They stole our hearts a few years back and still got us head over heels for them now. They're adorable, inventive, and lovable just like these drawings.
Scroll down to get started in creating these drawings of minions.
Get the best friendship bracelet strings here.
Drawing Materials You'll Need:
6 Easy Minion Drawings
1. Simple Minion Sketch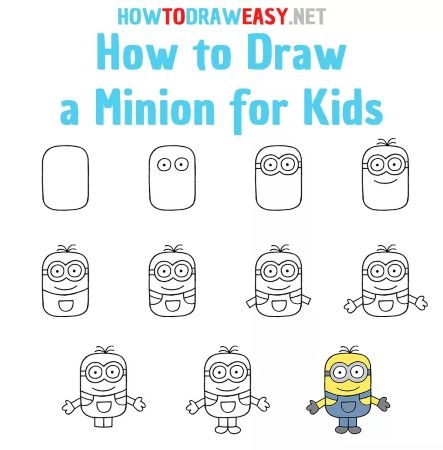 This adorable minion drawing from How to Draw Easy is ready to welcome you to the list with open arms.
From its blue jumper and little hair, no one can deny that it's one of the cutest minion drawings ever.
Make your trip to Disneyland more magical by making these DIY Mickey ears.
2. Minion Face Drawing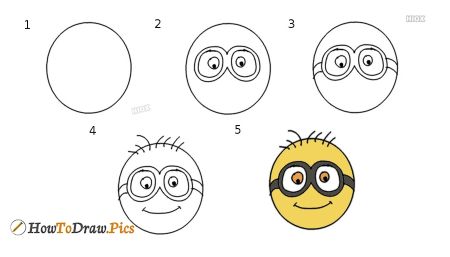 Draw a close-up look of a minion with the help of this guide from How to Draw Pics.
Master how to sketch their eyes and smile with this easy five-step drawing tutorial.
3. Waving Minion Sketch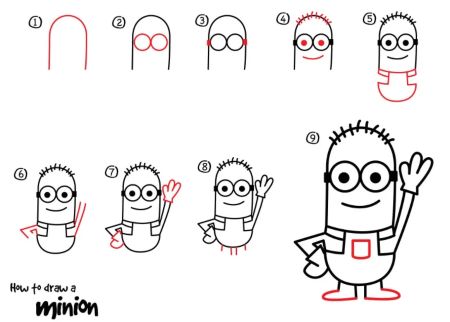 Wondering how to capture the adorableness and warmth of the minions in your drawing?
Daily Doodly has got you covered with this drawing guide.
Follow the steps to create a fantastic minion drawing with the kids.
4. Ghost Minion Drawing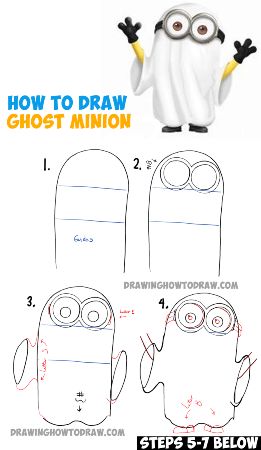 This ghost minion tutorial from Drawing How to Draw arrived just in time for Halloween.
Learn how to create the spookiest and scariest minion just by adding a white blanket on top of it.
Get more amazing craft ideas in these Halloween perler beads list.
5. Happy Minion Drawing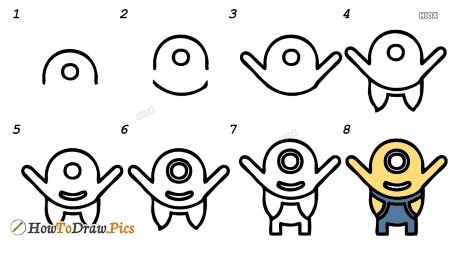 Here's another way to draw a minion courtesy of How to Draw Pics.
Kids of all ages will be able to follow this tutorial because of how simple and straightforward it is.
This will be perfect for younger kids who are obsessed with the minions.
6. Outdoor Minion Drawing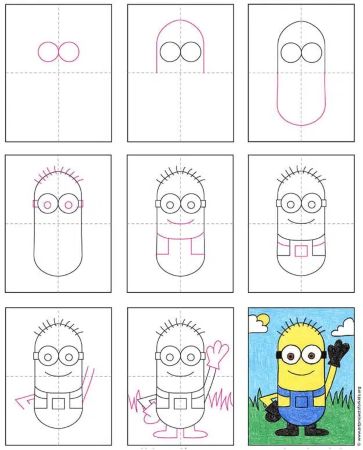 Adding a background will add life to your minion drawings as seen in this one from Art Projects for Kids.
Draw some grass, sun, and clouds along with the minions through this guide.
Hop along with these easy kangaroo drawings.
10 How to Draw the Minions
7. Smiling Minion Drawing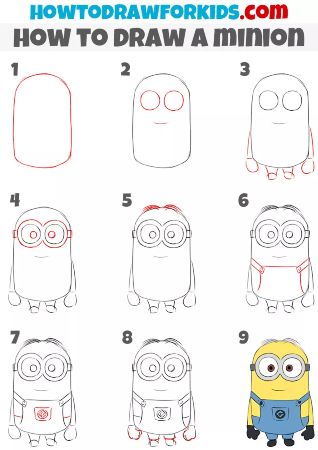 Looking for more minion drawings to keep the kids busy and entertained?
This one from How to Draw for Kids will be a great choice.
It features the innocent Bob who's one of the most loved minions in the films.
8. Surprised Minion Drawing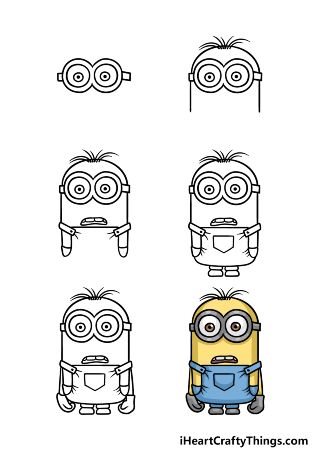 I'm not surprised that a lot of kids (and even adults) love the minions.
Just look at how adorable and cuddly they are which can be clearly seen in this drawing from I Heart Crafty Things.
Want to learn how to create perler crafts? Check out these easy perler bead patterns.
9. Bob the Minion Drawing
Bob finds joy in doing everything he does. He's also caring and loving as seen in this drawing with his outstretched arms and sparkling eyes.
For fans of King Bob, this video tutorial from Cute Tea Drawings is for you.
Watch the short video to get tips on how to draw Bob the minion.
10. Minion in a Dress Drawing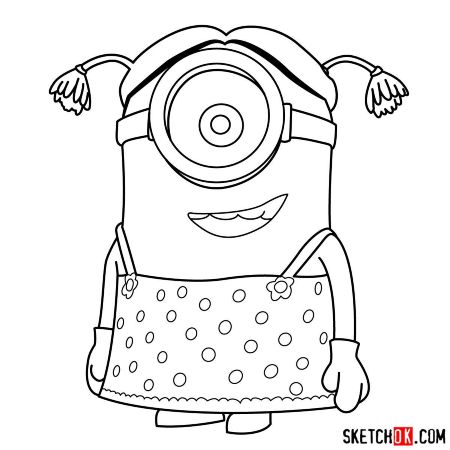 Add variety to your drawings by including a girl minion as well.
Give this tutorial from Sketch OK a go.
It's a unique minion because of the polka dot dress (instead of the usual blue jumper) and pigtails.
11. Shy Stuart Drawing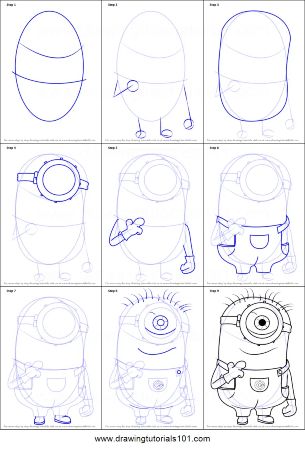 The feelings and thoughts of minions can be seen even if they have limited facial features.
Like this shy Stuart drawing from Drawing Tutorials 101.
The lopsided smile and bent arms make Stuart look a little shy.
12. Bello Kevin Drawing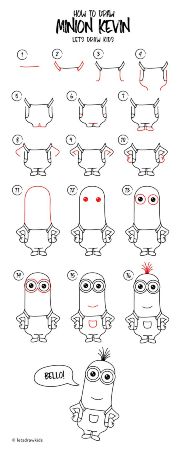 Bello! 
The minions have their own language called the Minionese and "bello" is their way of saying hello.
Be an expert on minions by mastering this Kevin drawing from Let's Draw Kids.
13. Three Minions Sketch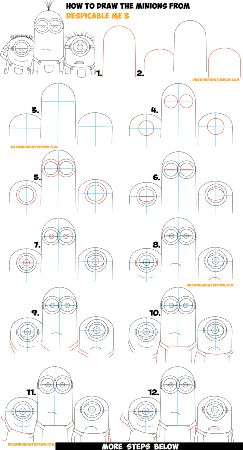 Sketch the most iconic and famous minion brothers namely Kevin, Bob, and Stuart with this awesome guide from Drawing How to Draw.
This tutorial highlights the differences among the minions regarding their heights, facial structures, etc.
Kids can choose and learn to draw their favorite minion in one go through this one.
14. One Eye Minion with Prsion Overalls Drawing
Minions may be cute but they're also troublemakers by nature.
Switch up their blue overalls to these prison overalls to make the minion drawings look more daring and badass.
Draw So Cute will guide you on how to draw them with this step-by-step video tutorial.
15. Excited Bob Sketch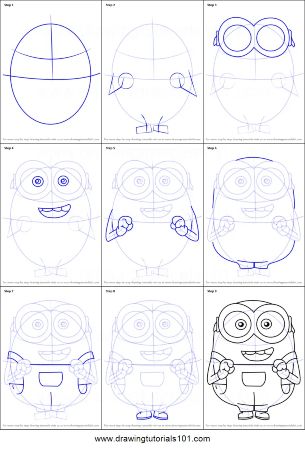 Bob can't hide his excitement (and so do we) for another amazing minion drawing.
This tutorial is courtesy of Drawing Tutorials 101 featuring our favorite little Bob.
It's Taco Tuesday! Make sure you come in prepared with these easy taco drawings.
16. Side Glancing Minion Drawing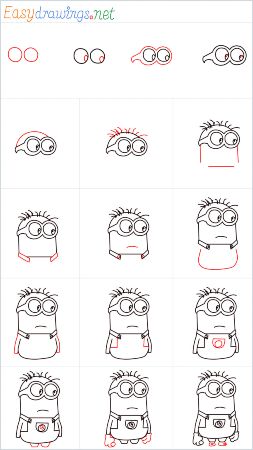 Looks like the minions are up to no good in this sketch from Easy Drawings.
Get ideas on how to draw different emotions of minions starting with this sketch.
Check out these emoji perler bead patterns.
5 Minions as Different Characters Drawings
17. Minion Spongebob Drawing
Combining the two most adorable yellow characters is a great idea and your kids will have a guide on how to do just that thanks to this helpful video guide from SUPER CUTE Drawings.
Who lives in a pineapple under the sea? Catch the coolest Spongebob perler beads patterns here.
18. Elsa Minion Drawing
Ever wondered what Queen Elsa will look like as a minion? Spoiler alert: she looks stunning!
For kids who love Frozen and the minions, this drawing guide from Chiki Doodle – Learn How To Draw will be an amazing project.
Get more Frozen perler beads projects here.
19. Batman Minion Drawing
Here's Utoocan draw take on what minions would look like as a superhero.
Head on to the bat cave and draw this awesome Bat Minion with the kids.
Unleash your child's artistic skills with these Batman crafts.
20. How to draw Minionstein
Another character who's loyal to their master aside from the minions is Frankenstein the monster.
Check out this cool drawing from my-how-to-draw.com combining the two most loyal and hardworking characters.
Only the most courageous dares to make these monster crafts.
Bonus: How To Draw Gru From Minions: Rise Of Gru
Let's not forget the evilest master of the minions, Gru.
The kids can learn how to draw him with this video tutorial from Art for Kids Hub.
Cutest and Yellowest Minion Drawings
This list compiled all the best minion drawings there are. We've got Bob, Stewart, Kevin, and many more.
Even though minions are created to help the evilest person, their quirks and adorableness make it hard not to fall in love with these yellow creatures.
Try out these amazing and entertaining projects for the kids: