Don't fear the long night for these Batman crafts are here to protect you!
While controversial in Gotham City, Batman's status among fans in the real world is considered to be almost god-like. If you know children who idolize "The Bat," then these stunning Batman crafts are perfect for them.
In this article, you'll find: Batman toys children can play with, Batman art projects, useful Batman-themed DIY stuff, and last but not least, DIY Batman costumes.
Get in your Batmobiles and let's get going!
5 Cool Batman Crafts
In this section, you'll find crafts that children can play with. Since your little ones may spend plenty of time making these handmade toys, they can easily become attached to these crafts.
Not only were you able to save money from buying expensive toys, but your children will also have a great time, and develop crucial skills while they're at it!
1. Craft Stick Batman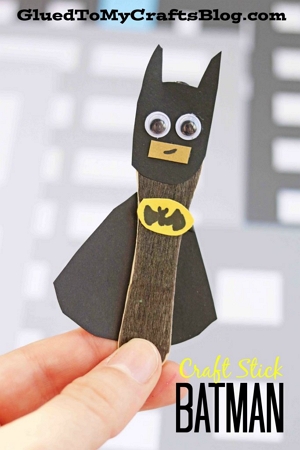 The simplest toy you could create is probably made with a popsicle stick. Glued To My Crafts Blog has an excellent guide on how to bring to life a mini Batman using only a popsicle stick, some construction paper, and googly eyes.
2. Paper Bag Batman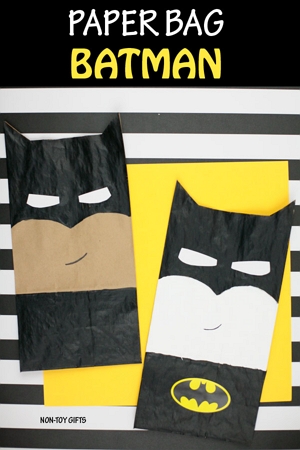 Let's admit it, we have an excess amount of paper bags laying around our homes. This craft by Non-Toy Gifts is the definition of sustainable and economical.
Upcycle your paper bags now into Batman crafts children can play pretend with.
Related: Paper Bag Puppets Any Kid Can Make.
3. Batman Paper Cup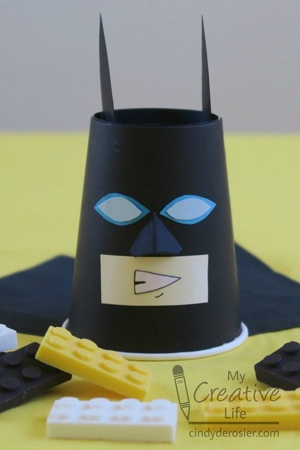 Cindy deRosier takes inspiration from The Lego Batman Movie and recreates him by using a paper cup.
Make sure that children doing this craft are under supervision at all times, since the activity involves plenty of cutting.
4. Duct Tape Batmobile Craft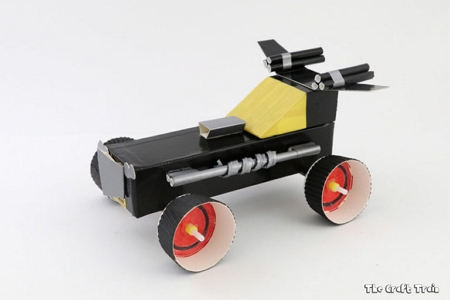 Here's another awesome craft inspired by The Lego Batman Movie. The Craft Train takes DIY crafting to the next level with their duct tape Batmobile craft.
By checking out their written guide, you'll find the necessary materials, as well as the template for the Batmobile.
Do your little ones want a Batman-themed party? No worries, Troom Troom SELECT's channel is here to guide you with their video tutorial on how to make decorations and accessories with a Batman design.
8 Batman Art Projects
Children interested in drawing Batman rather than making a craft will enjoy these next seven Batman art projects. These include drawing, painting, origami, and more!
See Also: 19 Spider-Man Crafts Little Web-Shooters Will Love.
6. Batman Handprint Art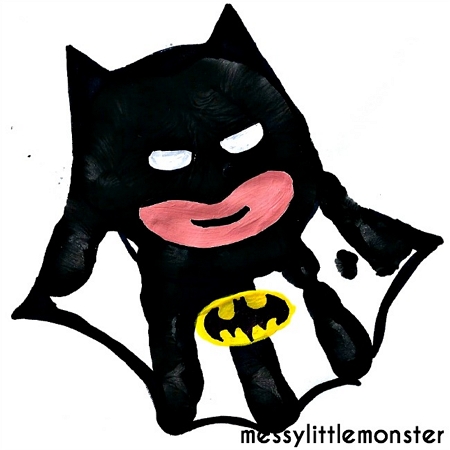 Can there be an art project more engaging than handprints? Being messy will be the last thing on your mind when doing handprint activities because they're so fun!
Shared by Messy Little Monster, the project requires your little ones to dip their hands in black paint (here's a link to washable paint), and imprint on any paper like they're high-fiving Batman.
Drawing can be exciting for children, especially when it's a drawing of their favorite superhero. It's encouraging for children when they're drawing alongside a video tutorial like this one by Art For Kids Hub.
See more drawings here: How to Draw PAW Patrol Characters.
To protect your little ones from enemies, like boredom and distraction, here's Kooky Craftables's 3D Batman paper toy.
The most impressive thing about the guide is that they provide the template for this Batman craft, and all that's left is to follow the cutting and folding instructions.
9. Batman Cork Art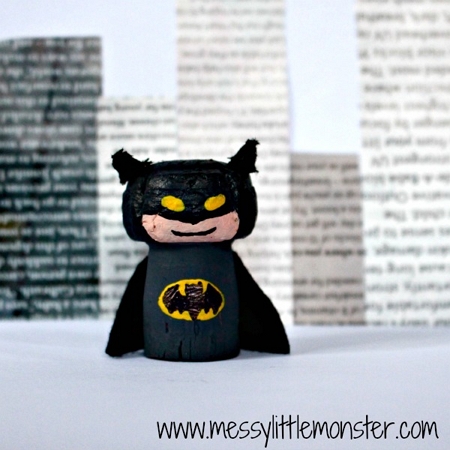 Finding a cork around your house might be rare if no one in your household is a wine lover.
In the chance that you do enjoy wine regularly, Messy Little Monster has got the perfect craft to transform that cork into a Batman craft that your kids will adore.
Batman's long-range weapon of choice is his versatile Batarang. If you want to learn how to create your own, look no further than Kyle Harrington Origami's video tutorial.
Unlike the mass-produced toys out there, this handmade Batarang will have a special place in your children's hearts.
Check out more: 20 Origami Kits and Ideas for Kids to Create.
Take your children's folding skills a step further and challenge them to create a Batman mask origami.
While this craft is not difficult, Henry Origami's video tutorial won't hold your hand either. This is suitable for kids with more experience with origami.
12. Batman Snowflake Art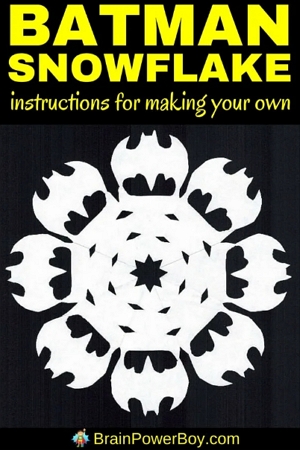 Work smarter, not harder. That's what Brainpower Boy essentially tells us with their snowflake Batman paper craft.
Folding paper in the right way and cutting the correct angles will produce this hypnotizing craft.
13. Batman Notebook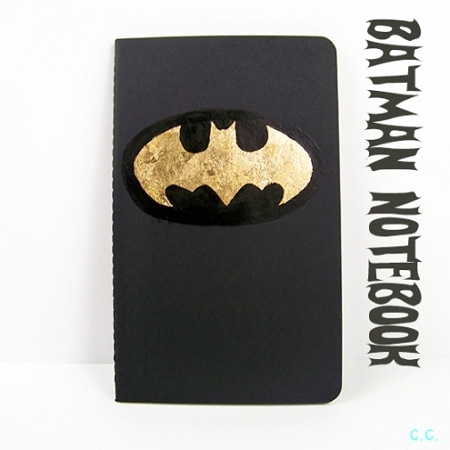 Do you want to see your little ones pick up their notebook more often? The Cwafty Blog has the solution—add Batman's symbol on the cover.
Just like the Bat-Signal, this symbol will call upon your children anytime they see it, making it an effective visual cue for developing a habit.
The style is made luxurious by the use of gold leaf. See their guide to learn more.
4 Useful Batman Crafts
While the previous crafts have dealt with arts and crafts, so too do these next ones. However, these next ones have other functions than being purely decorative or entertaining; they're also useful. Read on to see what I mean.
Related crafts: 21 Superhero Crafts to Save The Day!
14. Batman Money Jar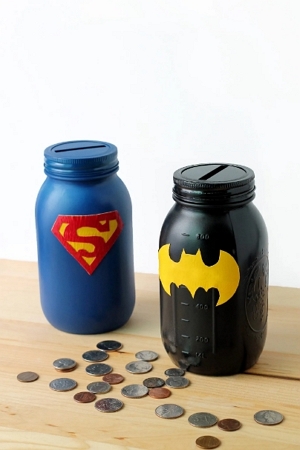 It's also important for children to learn the value of money. Perhaps they want to see the next DC movie. Or buy a Lego Batman.
In any case, Fireflies and Mudpies has a superhero jar to enable your little ones to save up for those. Remember
15. Bookmark Batman Craft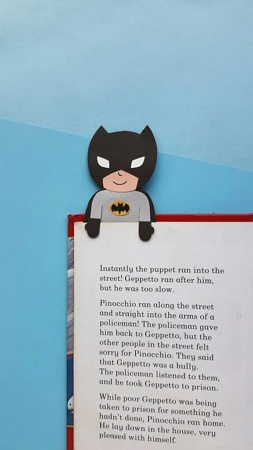 Here's another craft that will encourage your little ones to read more.
Big Family Blessings creates a bookmark Batman who will not only protect your tiny tots' books from the book monster but also keep track of the last read page.
16. Batman DIY Pencil Holder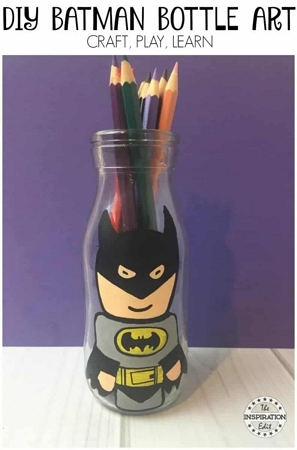 The Inspiration Edit allows us to neatly place our office supplies in their DIY Batman pen holder.
The craft upcycled a glass bottle, which will be painted with a Batman figure.
17. Batman and Superman Bookends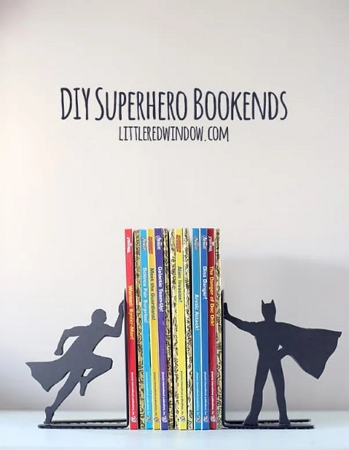 With great power, comes great responsibility. While that is not a Batman quote, its meaning rings true to whichever world or universe you might be part of.
If knowledge is power, then it follows that with great knowledge also comes great responsibility. You need powerful bookends to contain all that knowledge.
For that, Littered Window has created these amazing Superman and Batman bookends.
4 DIY Batman Costumes
While Halloween might be over, Batman's work is never done. There's never a bad time to dress up as the Dark Knight.
Here are five DIY costumes that you can easily make at home.
For more Batman content, check out our Batman Perler Beads.
18. Batman Paper Mask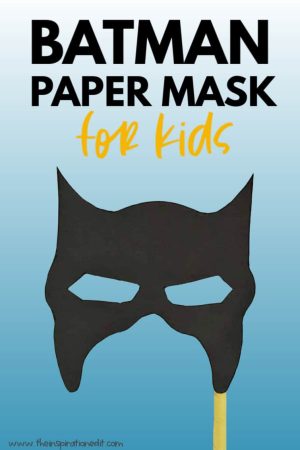 A plain Batman mask will suffice for very busy people. In probably less than 30 minutes, you'll be able to recreate The Inspiration Edit's handheld Batman mask.
19. Wearable Batman Mask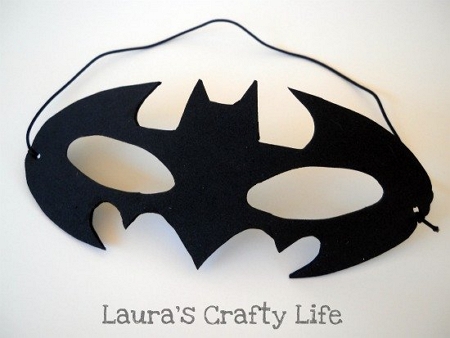 For a Batman mask that you can wear, see Laura's Crafty Life's craft, which is shaped like the Bat symbol.
Children can run around your home with their hands free and do chores while wearing this mask.
20. DIY Batman Costume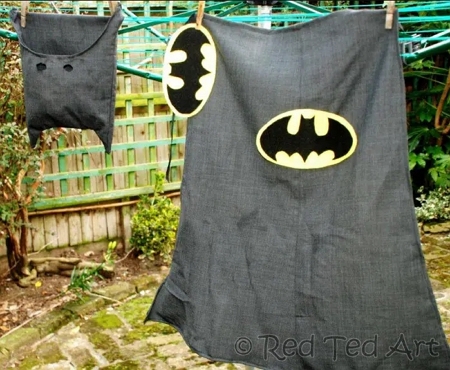 Many kids have been waiting for this DIY Batman costume for a long time. Finally, with Red Ted Art's guide, they'll be able to get rid of Gotham City's corruption.
21. Batman Cuffs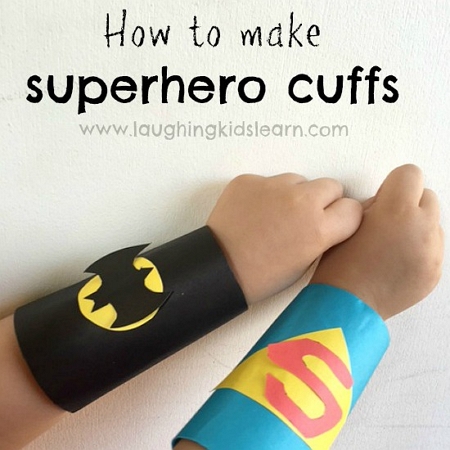 Even though it's not faithful to Batman's design, these superhero cuffs by Laughing Kids Learn undoubtedly get children in the mood for imaginative play.
A Hero Can Be Anyone
I hope you've had fun making these Batman crafts. These Batman crafts will accompany your children to make them feel safe, and especially, entertain them.
For more crafts, see our other list below: