With Halloween just around the corner, your kids are probably getting into the spooky holiday spirit.
That's why I've gathered 30 DIY monster crafts for kids that include simple paper crafts, cool monster boxes, paintings, and even some Cookie Monster projects!
9 Simple Monster Paper Crafts
This is the kid-friendly and mommy-approved pair of safety scissors and washable paint we recommend for the crafts on this list.
1. Really Easy Monster Craft
Monsters come in all shapes and sizes. The aptly named Toddler Approved gives toddlers a really easy rectangular monster craft they can do with just a few simple supplies and minimal help from a grown up.
2. Monster Hand Craft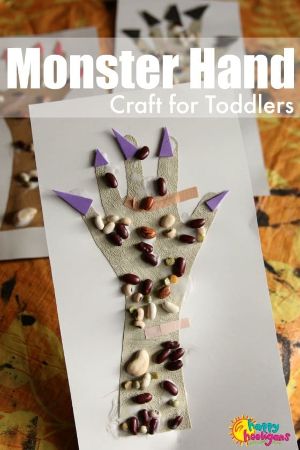 Kids can create this scary monster hand by Happy Hooligans for Halloween. I love this particular monster craft for toddlers because it doubles as a fun sensory activity!
With textured cardstock, craft foam, dried lentils, bandaids, and any other toddler-safe sensory materials, your little one will be exploring touch and sight with this fun monster craft.
3. Tie Dye Monster Craft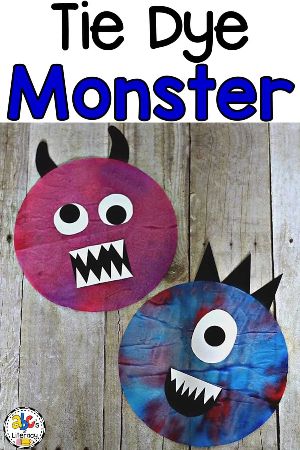 Coffee filters are great for tie-dyed paper crafts, and ABC's of Literacy shows kids how to make a simple tie-dye monster with their monster craft tutorial.
4. Handprint Monster Craft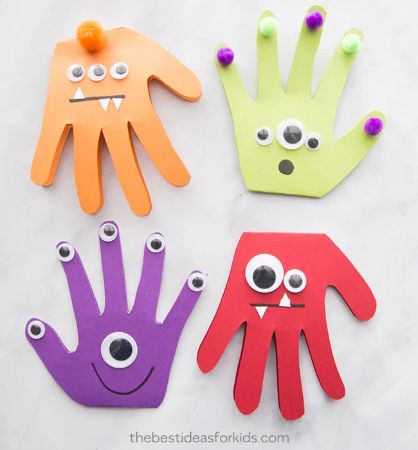 These are some really easy monsters to make thanks to The Best Ideas for Kids. With just a few common craft supplies, kids will have their very own monster halloween decorations from their traced hands!
5. Paper Monster Puppets
Here is a cute preschool monster craft by Easy Kids Craft that teaches children how to make puppets using basic school supplies.
We had so much fun with this monster craft that everyone in the family made a puppet and battled each other!
6. Big Hand Paper Monster Craft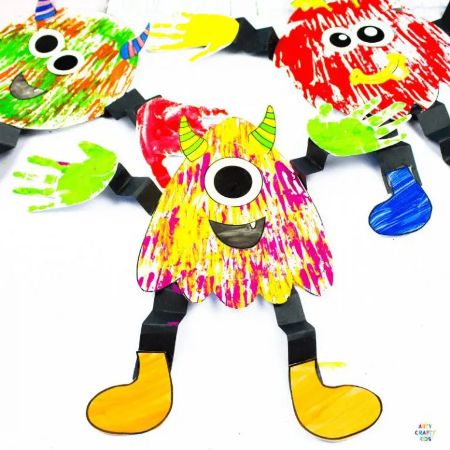 Here's a neat and easy preschool monster craft courtesy of Arty Crafty Kids that will have kids expressing their creativity via different mediums such as paper, paint, and markers.
7. Egg Carton Monster Craft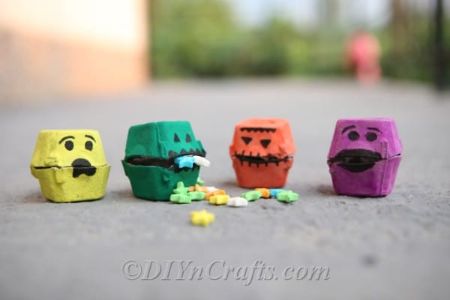 DIY & Crafts shares this cute tutorial for mini monster candy holders made from egg cartons!
Egg cartons are a great crafting material because they're easily accessible and safe for kids as young as toddlers to manipulate.
8. Easter Egg Monster Craft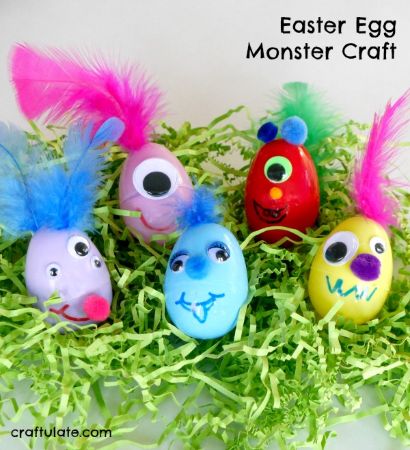 Just because it's not Easter doesn't mean you can't put those leftover plastic Easter eggs to good use for Halloween.
These cute little monster eggs from Craftulate can be easily made with plastic eggs, craft feathers, googly eyes, pom poms, and tacky glue.
For more Easter holiday crafting fun, check out this list of Spring-themed craft ideas for children!
9. Really Chompy Monster Jaws Craft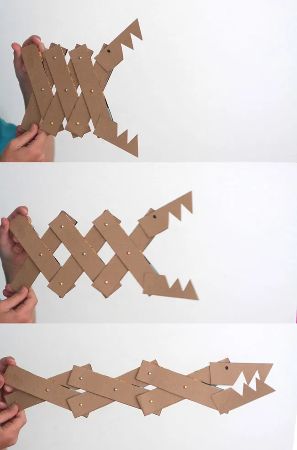 Get chompin with these really cool snapping monster jaws by Autumn. Not only will your kids have fun making it, they'll have fun playing with it, too!
The only materials you'll need outside of the typical craft supplies are an empty cereal box, thumb tacks, and round head fasteners. She even provides a template for the extending tongs!
10 Monster Box Crafts
10. Crayon Box Monster Craft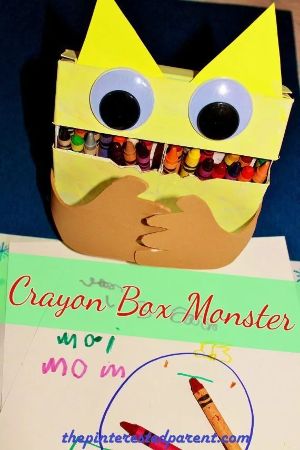 Can we talk about how CUTE this monster crayon box is? The Pinterested Parent has an adorable crayon box monster craft tutorial so kids can not only keep their crayons organized, but love doing it as well!
11. Cereal Box Monster Craft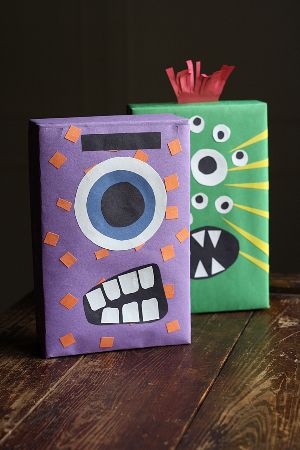 Don't throw away those empty cereal boxes just yet! Use them to teach your kids about upcycling with this easy-to-do monster cereal box craft provided by Kix Cereal.
Did you know you can make a kid's guitar out of an empty cereal box? Check out my blog post about homemade instruments for kids to learn how!
12. Tissue Box Monster Craft
If your household is anything like mine, then you also go through A LOT of tissue paper. Well, turn those empty tissue boxes into cute monsters instead of throwing them away!
Mister Maker shows how to make this monster craft with just an empty tissue box, paint, and ping pong balls.
13. Tissue Box and Egg Carton Monster Craft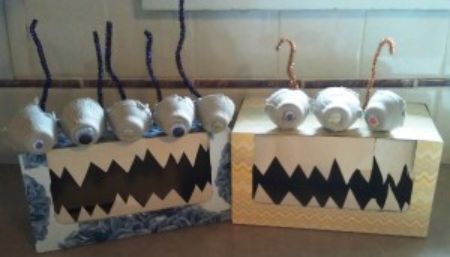 Egg cartons are used in this scary monster craft by Woo! Jr. as monster eyes that pop-out! Turn an empty tissue paper box into snarling monster Halloween decor using craft supplies you probably already have in your home.
14. Shoebox Monster Craft
Do you have a spare shoebox laying around? Then the aptly named Box Yourself teaches viewers how they can make a cool and intricate chompy monster craft with one.
This craft is probably best for older kids, like kindergarteners, because it involves a little more time and patience than most kids' crafts.
15. Juice Box Monster Craft
After quenching their third with juice, kids can use the empty box to create these fuzzy one-eyed monsters following this tutorial by Crate and Barrel.
This craft calls for the usual supplies as well as uncommon materials found inside one's home, like paper shreds, and big googly eyes.
16. "Feed the Monster" Halloween Game Craft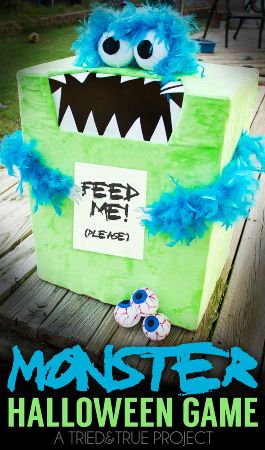 Are you in need of a fun Halloween activity to do with the kids? Then look no further as Tried and True has got you covered!
This fun "feed the monster" game will keep the entire family entertained as you wait for trick-or-treaters. Because this craft involves the use of a utility knife, I recommend a lot of help and supervision from a grown up.
17. Cardboard Sea Monster Costume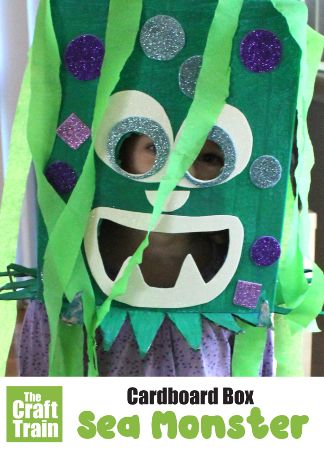 Turn kids into monsters this Halloween with this cool looking cardboard monster costume by The Craft Train.
To make their own, kids will need a cardboard box, a utility knife (with the help from a grown up, of course!), paint, glitter foam and anything else they want to decorate their costume with.
18. Pillow Box Monster Craft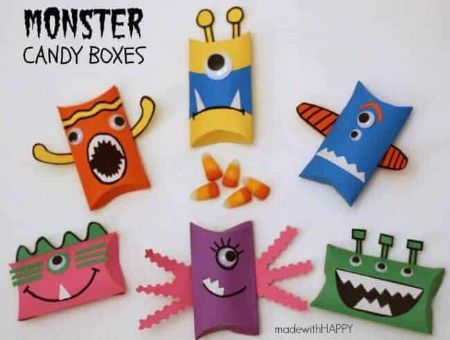 Kids can make their own candy gift pillow boxes to share with friends this Halloween thanks to Chica Circle. Don't worry if you've never made a pillow box before (or have never even heard of one) – a template is provided for you!
19. Tissue Box Monster Feet Craft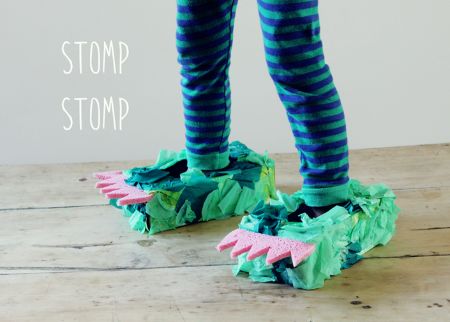 Kids will be stomping on all the other ghouls and ghosts this Halloween with this pair of monster feet. To make a pair, Kid.Play.Do uses empty tissue paper boxes to turn little feet into stomping menaces.
6 Cute Monster Art Craft Ideas
20. No Mess Monster Painting
Smooshing paint is quite fun for kids of any age, so let them have their fun and create a piece of artwork in the process with this monster craft by Kids Activities.
21. Germ Monster Blow Painting Activity
Germs are some of the nastiest monsters, but kids can have fun painting them with this blow painting activity by Mrs. K. using just need paper, food coloring, water, and a straw.
22. Very Easy Monster Drawing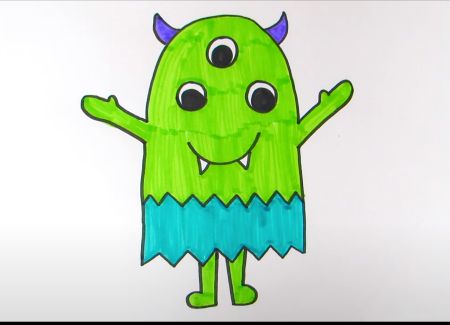 Drawing is a great way for kids to develop their fine motor skills, and this video tutorial shows kids how to draw a simple monster of their own.
Want more ideas for kids' drawings? Read my post on easy animals to draw for kids!
23. Monster Hand Fork Painting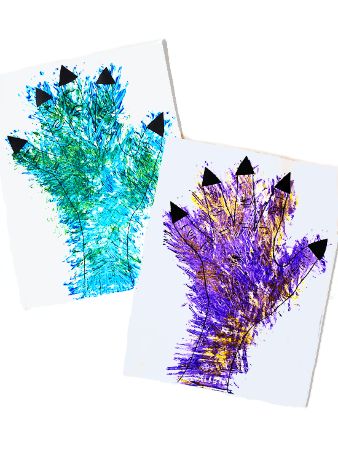 Our Kid Things shows a neat and different way kids can paint monster hands to make them look like they have actual fur using a fork!
Using things around your home, like forks, is a great way to teach kids about shape, texture, and the relationship between liquids and solids.
24. Monsters, Inc. Footprint & Handprint Art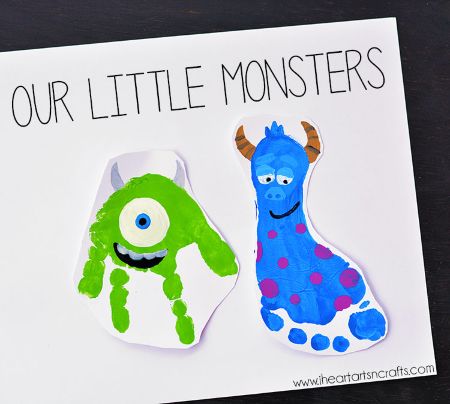 Hailing all the way from Monstropolis is this fun monster craft of Mike and Sully! With the help of I Heart Arts and Crafts and a few simple craft supplies, kids can make their own version of these iconic Monsters Inc. characters using their hands and feet.
25. Easy Mike Wazowski Drawing
This green one eyed monster from Monsters, Inc. can easily be drawn by kids thanks to Draw So Cute. Kids just need to grab a marker and follow the tutorial, and they'll be drawing Mike Wazowski in no time.
5 Cookie Monster Craft Ideas
26. Scrap Paper Cookie Monster Craft
This is one of the easiest monster crafts for toddlers on this list. Paper Crafts TR shows kids how to make Cookie Monster out of scrap pieces of colored paper, a black marker, cardboard, scissors, and glue.
27. Popsicle Stick Cookie Monster Craft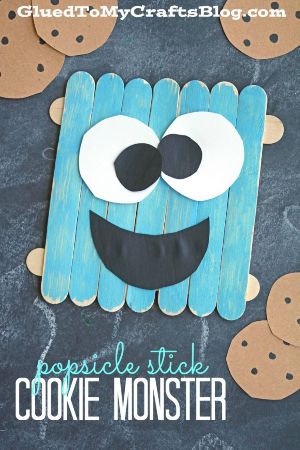 This cute and adorable popsicle stick Cookie Monster craft by Glued to My Crafts is really easy to make, so it's great for kids as young as toddlers!
Here at Cook Kids Crafts, we LOVE popsicle stick crafts because they're fun, safe, and really easy to do. Check out this blog post for more easy popsicle stick crafts for kids!
28. Paper Plate Cookie Monster Puppet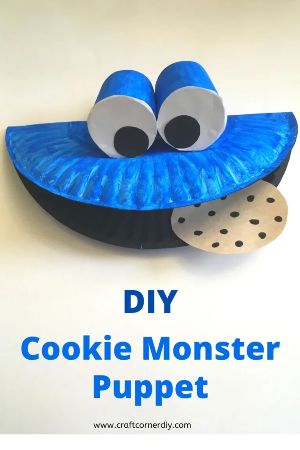 Munch on cookies, just like Cookie Monster, with this simple Cookie Monster puppet craft by Craft Corner DIY. To make this munching blue monster shape, kids will need empty toilet paper tubes and a paper plate.
29. Cooking Monster Bookmarks
Are your kids already reading? Then show them how to make this cool Cookie Monster Bookmark by Red Ted Art that makes it seem like he's eating the page!
30. Cookie Monster Sock Puppet Craft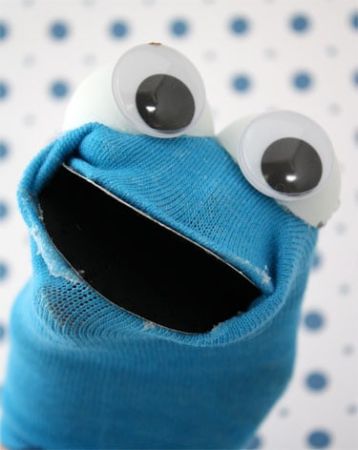 Does your kid have an old, unused blue sock? Then it's time to turn it into this neat Cookie Monster sock puppet.
Kids will also need a glue gun, ping pong balls, googly eyes, and a black poster board.
Bring a Monster Home With These Monster Crafts
These 30 monster crafts for kids will ensure they have a monster of a time anytime of the year!
Don't stop at monsters! Make other magical creatures, like these neat DIY mermaid crafts that are great for kids of any age and any gender.
Which monster craft did your kids enjoy making the most? Tell me in the comments section.