Whether it's in the heat of summer or the middle of winter, it's always a good time to learn about some of the most interesting animals on the planet: polar bears!
These 12 polar bear craft ideas for kids will help build imagination, develop fine motor skills, and promote creative play.
So grab your kids, some materials found around the house, and follow along with these easy-to-follow tutorials!
12 Polar Bear Crafts Even a Preschooler Can Do
1. Cotton Ball Polar Bear Craft
What's white, fluffy, has big eyes, and a huge smile? This cotton ball polar bear craft!
This craft is so easy, even toddlers can make it. They'll need cotton balls, a paper plate, glue, and pre-drawn polar bear eyes and nose.
This video tutorial by Reading Eggs teaches how to make this cotton ball polar bear craft.
2. Fork-Painted Polar Bear Craft
https://www.youtube.com/watch?v=XdkJuHfbBeM
Despite the mess, kids love working with paint – and because of that, this fork-painted polar bear is another craft activity they'll have fun with.
Instead of a paintbrush, kids will use a fork to give the finished product a unique texture. Toddlers and preschoolers can make this with little adult supervision!
Just prepare some cardstock, puff paint, a plastic fork, school glue, and markers.
Stacey Gibbon from Glued to My Crafts has a great video tutorial on how to make a fork-painted polar bear.
3. Handprint Polar Bear Craft
Handprint crafts are a favorite because they're inexpensive, and this handprint polar bear craft is no exception.
With construction paper, glue, safety scissors, and red and black markers, kids can make a cute polar bear using their handprint.
You can also opt to use white paint instead of paper – just dip your kids' hand in paint and press it onto construction paper!
Watch LEAP with Laurin's video tutorial to learn how to make this handprint polar bear craft.
4. Marshmallow Polar Bear Craft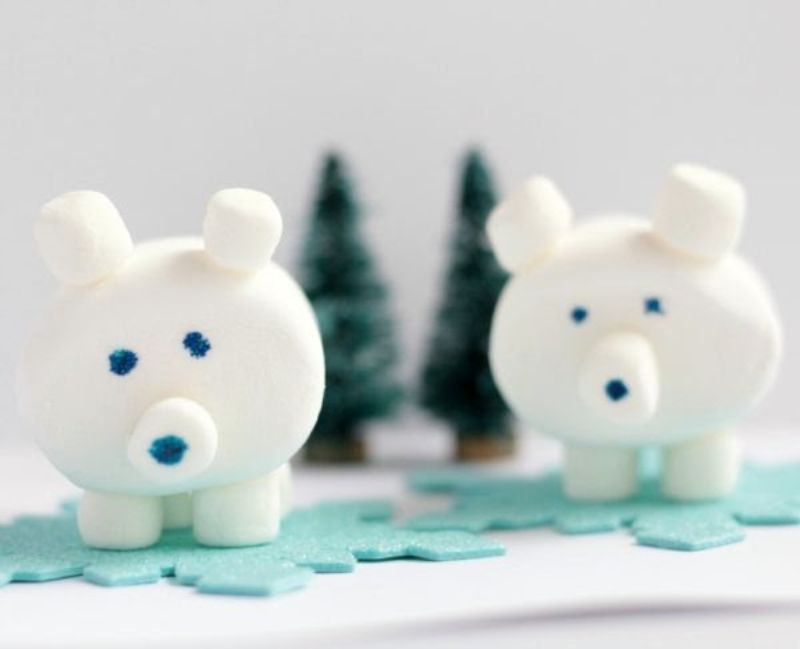 Photo Credit: Darcy and Brian
Marshmallow polar bears are a great craft treat for the kids. Plus, it's fun, cheap, and easy to make! This activity is perfect during the holidays, but you can make them any day of the year.
For materials, you'll need jumbo-sized and mini marshmallows, food coloring, a paintbrush, toothpicks, and a small cup of water. Kids can make this on their own with minimal supervision from an adult.
Check out the step-by-step instructions from Darcy and Brian.
5. Moving Polar Bear Craft
This moving polar bear craft is just imPAWsibly cute. Its head is capable of moving from side to side as if it were a real polar bear!
This activity is simple enough for preschoolers to make, but geared towards bigger kids who have better fine-motor skills.
Print the downloadable template from Kids Craft Room onto a piece of cardstock and watch the video tutorial to get started!
6. Newspaper Polar Bear Craft
There are a lot of craft projects that you can make with old newspapers – and this newspaper polar bear craft is just one of them.
You won't need to spend much with this craft because you may already have necessary materials at home. Aside from newspaper, you'll need blue construction paper, white printer paper, safety scissors, glue, and a black marker.
I Heart Crafty Things shares a great video tutorial on how to make this craft.
7. Paper Bag Polar Bear Craft
This activity is an easy cut and paste craft for kids. The help of an adult when cutting the pieces of the printable template (that's free after signing up for their newsletter) from Simple Everyday Mom may be needed, but kids can glue the different parts by themselves.
The video tutorial above shows how to make a paper bag polar bear craft.
8. Paper Cup Polar Bear Craft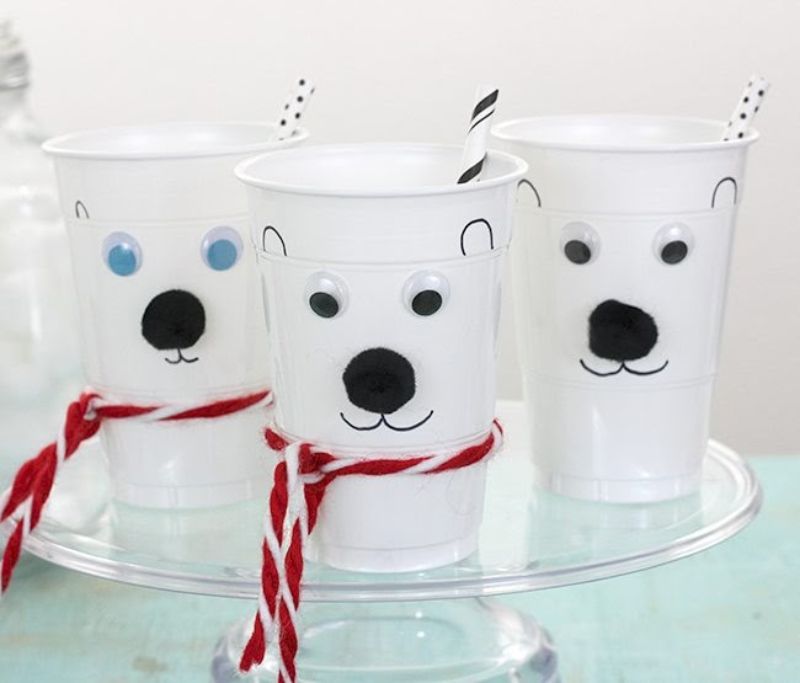 Photo Credit: Cutefetti
This paper cup polar bear craft is perfect for an Arctic-themed party! Set up a Make-Your-Own-Polar-Bear-Cup corner for kids. They'll love drinking out of these adorable paper cups!
Check out Cutefetti's tutorial for the materials and step-by-step instructions.
9. Paper Plate Polar Bear Craft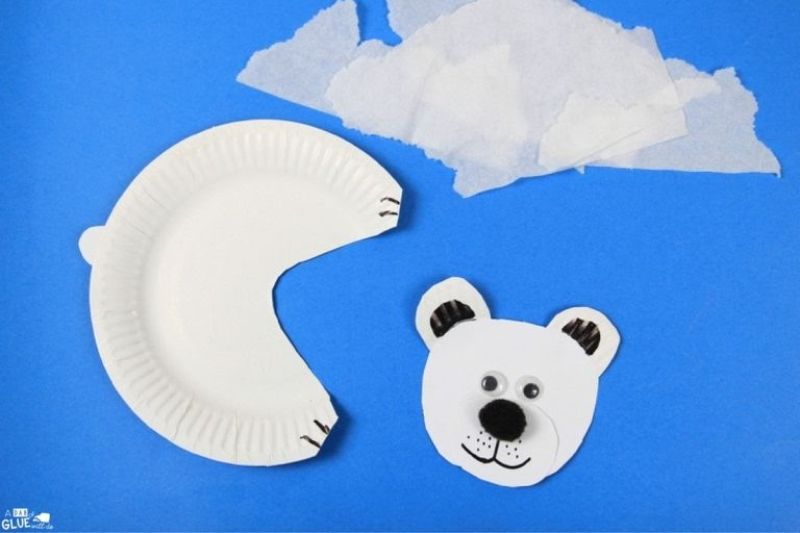 Photo Credit: A Dab of Glue Will Do
This paper plate polar bear craft is a nice way to introduce kids to animals and their habitat. Make this polar bear craft with your kids and turn crafting into a teaching opportunity!
Kids will need a paper plate, white construction paper, googly eyes, a black pom pom or cotton ball colored black, a black marker, safety scissors, and glue.
A Dab of Glue Will Do has step-by-step instructions on how to make this adorable polar bear craft.
10. Polar Bear Finger Puppets
Finger puppets makes story time more fun and engaging – and this polar bear finger puppet is a nice accompaniment to your kids' favorite polar bear story.
This can be made with cardstock, black pom poms, googly eyes, a hole puncher, glue, and safety scissors.
It's so easy to make your kids can get this done in less than 20 minutes! But I still recommended an adult help with the hole puncher.
Get the downloadable template and follow along with I Heart Crafty Things's video tutorial.
11. Polar Bear Mask Craft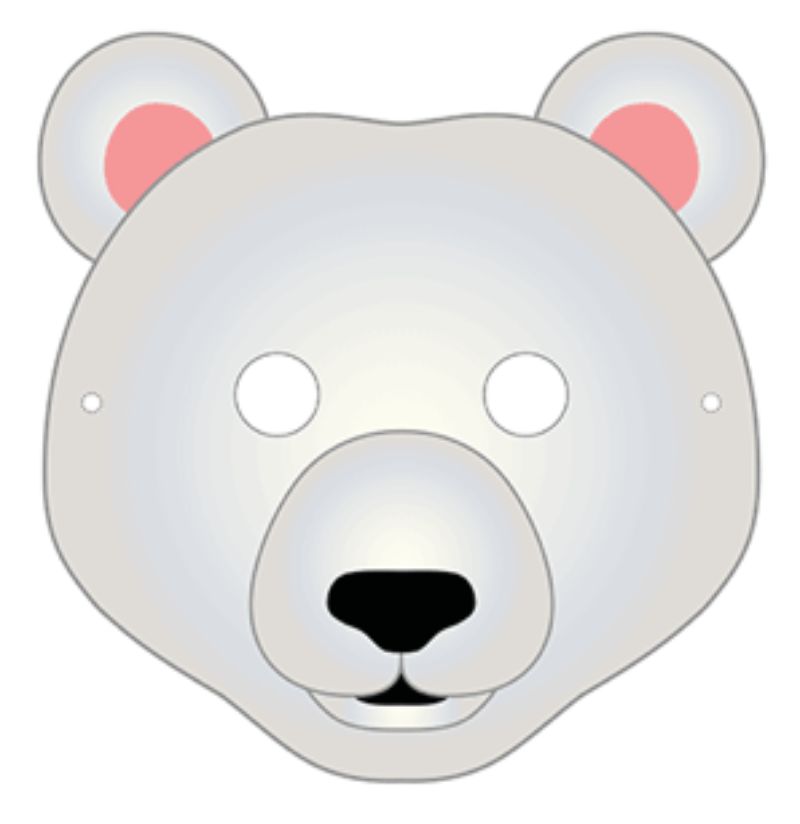 Masks are great for pretend play because kids get to assume another character. This polar bear mask craft will help enhance your kids' creativity and imagination when they get to act like a real polar bear.
Download and print the free template from First Palette, cut out the eye, and punch holes on the sides for the elastic strings, and that's it!
Check First Palette's step-by-step tutorial on how to make a polar bear mask craft.
12. Polar Bear Paper Craft
This craft is a great way for preschoolers to practice cutting and drawing, while toddlers can work on their gluing skills.
For this simple polar bear craft you'll need blue and white construction paper, red and black markers, glue, and safety scissors.
The video tutorial above from Paper Magic shows how easy it is to make a polar bear from paper.
More Crafts Using "Bear" Hands!
These polar bear craft activities are just some of the many crafts your kids can do with their "bear" hands.
Projects such as these are essential for a child's growth and development because crafting develops fine motor skills, promotes creativity, and encourages learning.
For more fun and entertaining craft activities for preschoolers, check out my post about fun and easy animals kids can draw.