We are nearing the spring season and with that comes a very important celebration: Easter! I've collected fun and easy Easter Perler bead patterns that your kids can make.
Easter is a celebration filled with many symbols, most notably the Easter eggs, Easter chick, and Easter bunny, all of which will have their Perler bead patterns below.
This might be the first time doing Perler bead activities, so introduce your kids to this awesome pastime by following our easy Perler bead patterns guide, where there's a beginner's guide that will get them started with these melty beads.
3 Easter Perler Bead Kits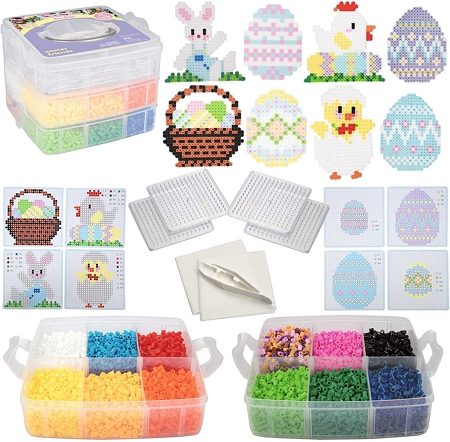 Celebrate the spring season with this perfect Easter Perler beads kit that provides everything to make all the easter symbols your children need. The kit includes 8,000 assorted beads, four square pegboards, two tweezers, and design templates, which are perfect for your little bunch.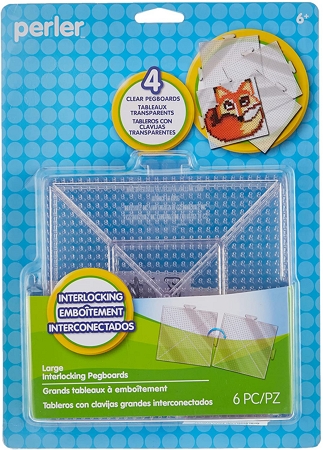 The previous Easter bead kit includes all the materials you need for a great Easter experience. Should the kids decide to create their own Easter Perler bead patterns, then you may need pegboards.
Here are some square pegboards that can be interlocked together to form a bigger square for bigger patterns.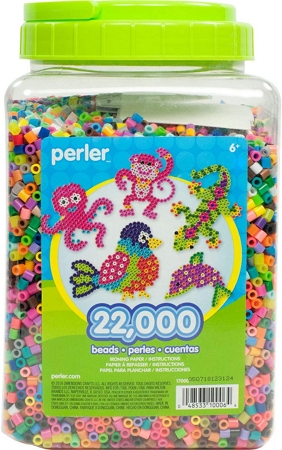 When making fuse bead projects become an "addiction" then you're gonna always need to have your beads stocked up. Get yourself this pack of Perler beads that contains 20,000 beads for these Easter Perler beads and future projects.
7 Easter Egg Fuse Beads
Eggs can mean different things depending on what tradition you follow. In any case, they are the most prominent symbol during Easter, so here are seven Easter egg fuse bead patterns, varying from simple eggs to painted ones in baskets.
4. Simple Easter Eggs in Basket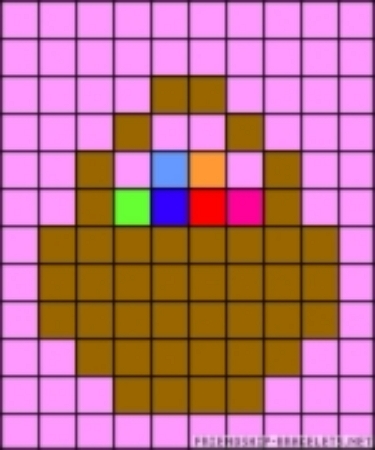 You need a basket to collect those hidden Easter eggs, so here's a super simple pattern of eggs in a basket by soccergeek75.
Collecting eggs is similar to collecting Pokemon, so catch them all with these Pokemon Perler beads patterns.
5. Chocolate Egg, Hatching Egg, and Painted Egg

Valentine's Day isn't the only festivity when there's plenty of chocolate. Naiyah reminds us that Easter also has its chocolate in the form of chocolate eggs!
Their pattern also includes a hatching egg and a painted egg. All of these egg patterns are quite easy, even for toddlers, who will develop their fine motor skills while making this Perler bead activity.
6. 3D Easter Egg Perler Bead Pattern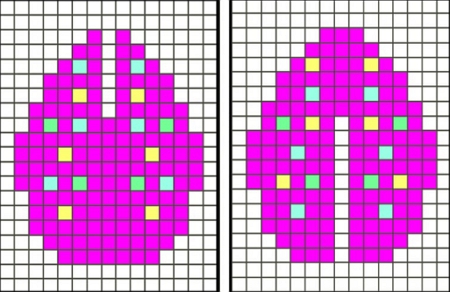 Hello Kids gives an interesting Easter egg pattern for kids to have fun with. Among the skills that your kiddos will improve through Perler bead projects is counting skills, and this egg is no exception.
This one is interesting because they made two egg patterns that will connect to form a 3D effect.
For other cool 3D crafts, try these 3D paper flowers, perfect for the spring season!
7. Easter Eggs with Design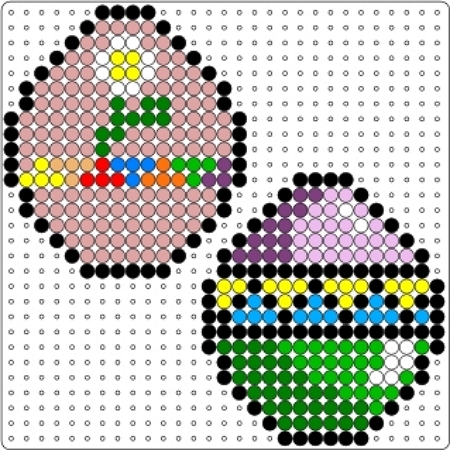 Painting eggs during Easter is a common activity. While you won't be painting eggs with these Perler bead projects, younglings will still be able to design their Easter egg Perler beads by following this painted egg pattern from Perler Bead Patterns.
Introduce children to painting through these Halloween painted rocks and owl rock paintings!
8. Cute Easter Eggs in Basket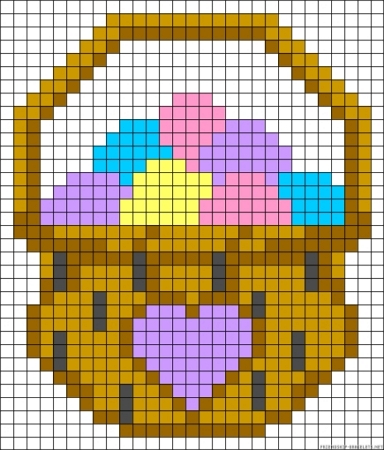 Here's a bigger Easter egg basket for older kids who need a bigger basket and an even bigger challenge for their skill level. Fredgirl1804 puts a heart shape on the basket and fills it with colorful eggs, which means it's also filled with exciting experiences and skills for your young ones to acquire.
Just like how this basket shares the love, these heart Perler beads and Valentine's day crafts for toddlers will also do the same!
9. Painted Easter Eggs Perler Beads

Those who already have a basket can just make these painted Easter eggs by starmaker3.
They basically provide a template with this pattern, and it's up to your children's preference and imagination to create their own version of Easter eggs.
10. Egg with Flower Design Perler Beads
Easter is associated with the spring season and blooming flowers, so this Easter egg by For Kids is appropriately "painted" with some pretty flowers.
Try to mix the colors up and experiment with different palettes to inspire your kids' creativity.
Enjoy the season with these spring crafts for kids!
4 Chick Perler Beads
While eggs are the more prominent symbol during Easter, presumably chicks hatch out of those same eggs. Here are four chick Perler beads so kids can pretend those collected eggs are hatching.
11. Easter Chick Perler Beads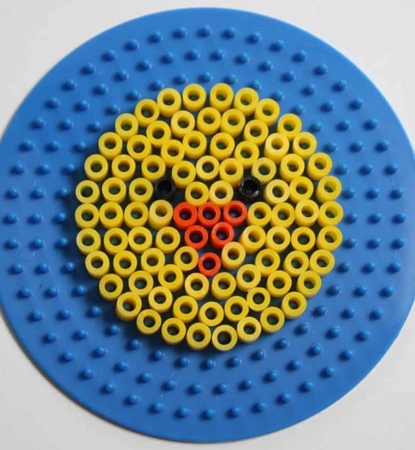 Emma Owl shares a cute chick pattern that uses a circle pegboard. Prepare a couple of black beads, some orange beads, and plenty of yellow beads for this pattern.
Maximize your circle pegboard by making these circle Perler bead patterns.
12. Hatching Chick on Easter Perler Beads
Curious to see how an egg hatches? Laceys Crafts' video tutorial will demonstrate exactly how it hatches with their Perler bead pattern! Not only do they provide a pattern, but your children can also follow the chick Perler beads being made.
Now, the egg is colored with simple white Perler beads, but since it's Easter and most eggs are painted, instruct your kids to add some colors to the eggshell as if it were painted before hatching.
13. Cute Chick Pattern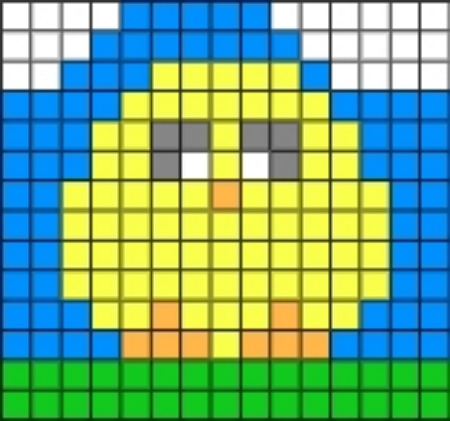 It's common knowledge that kids adore cute stuff. Aidacraft creates a plump and adorable chick, shaped like the egg from which it hatched. Create this now so your little ones can have a cuddly companion they can take on their imaginary adventures.
Watch this small chick grow up into an adult version through these chicken crafts!
14. Easter Chick in a Basket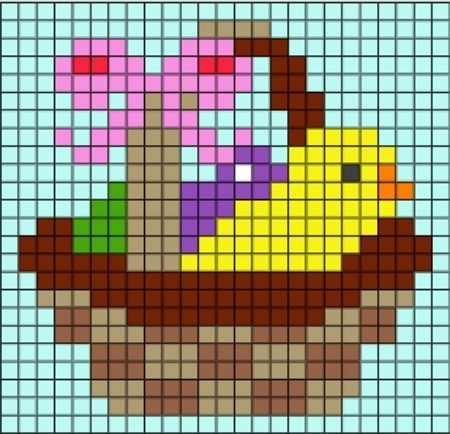 While there's more going on in this Perler bead pattern, I think we can agree that the chick is the center of this design by Aracne. This might be more suitable for older kids because of the colors involved, but of course, younger ones can still try to challenge themselves.
7 Easter Bunny Perler Bead Patterns
The Easter bunny is the one that slips the eggs around your home. Think of it as the Santa Claus of Spring, giving away chocolate and other presents and hiding them inside eggs.
15. Simple Easter Bunny Pattern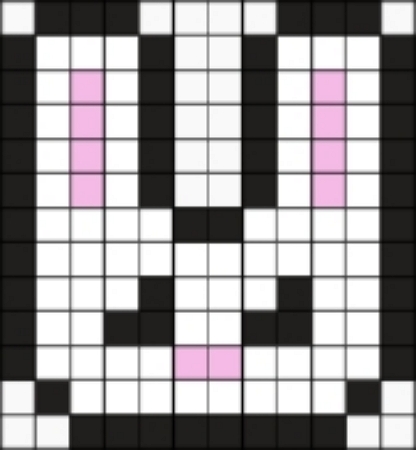 Toddlers who are just starting their Perler bead journey can make this simple Easter bunny pattern, brought to you by lesbian on Kandi Patterns.
The hard black outline allows the kids to discern the pattern better, improving their visual skills and color recognition.
16. Cute Bunny in Egg Pattern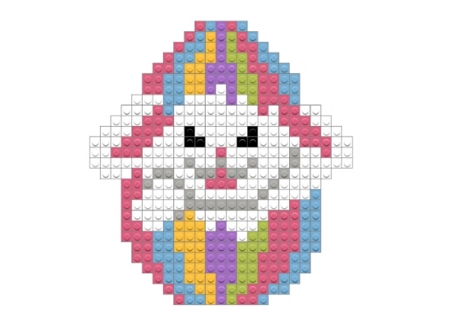 Here's a fun Easter bunny pattern shared by Brik. It's a colorful Easter egg from which an Easter bunny comes out.
If your younglings like colorful things such as this pattern, then you will love these rainbow crafts for kids!
17. Easter Egg Bunny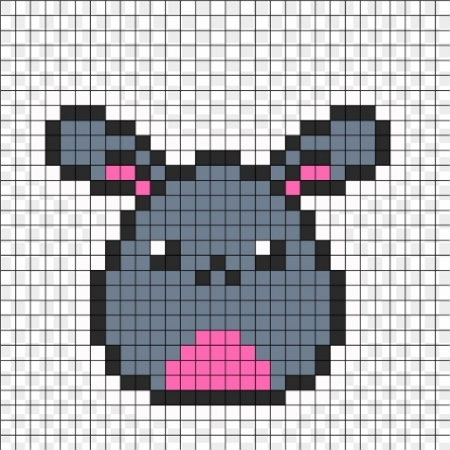 Here's another combination of an animal and egg, shared by PNGFind. I'm not sure if the egg shape was intentional or not, but I find the pattern both funny and adorable, and I'm sure kids will, too.
18. Cute Easter Bunny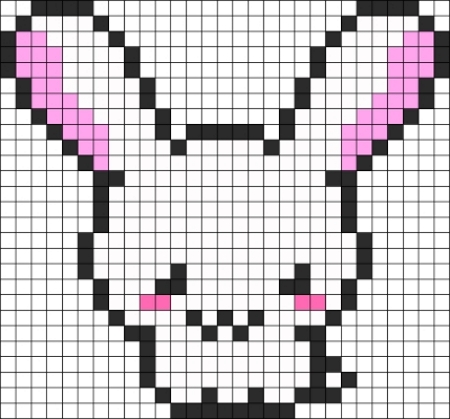 SeekPNG creates a kawaii version of the Easter bunny by making the body proportions abnormal. This bunny's head and ears are way too large for its body, which some may find cute.
19. Easter Bunny with Egg Pattern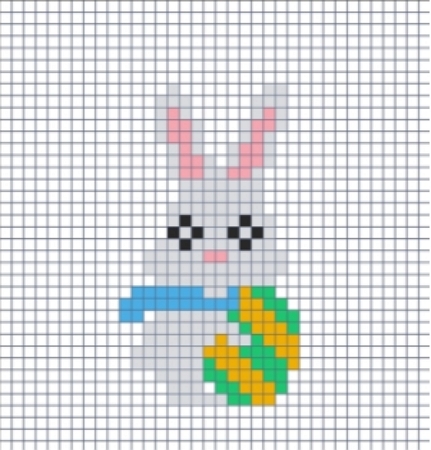 Catch the Easter bunny while it's trying to hide eggs around your home by recreating this bunny pattern from Positive-Parenting-Ally.
Encourage your little ones to design the egg as they please with the color they prefer.
20. Kawaii Easter Bunny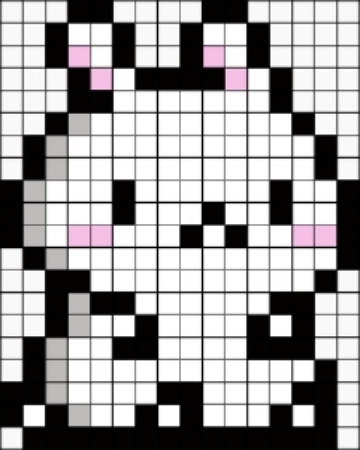 Rose1555Evo provides another lovable companion for your young ones whenever they feel lonely. Just like the previous kawaii pattern, this bunny has a head that's way too large for its body.
Love similar cute stuff? Here are some kawaii Perler bead patterns you should try out!
21. Easter Bunny on a Field of Flowers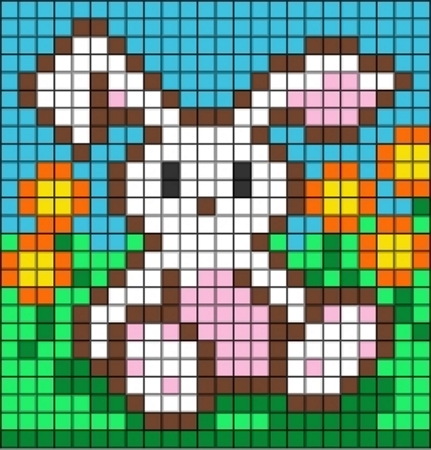 This last Easter bunny pattern shows it in its natural habitat, on a field of grass and flowers. This is a great pattern by Aracne to recreate after having a stroll through your local park.
While you're walking with the kids, pick up some nature's treasure to make the coolest nature collage!.
Happy, Hoppy Easter Everyone!
Easter is a festivity full of joy and I hope that your toddlers have enjoyed these Easter Perler beads.
Do your kids love drawing? Introduce them to the world of drawing by following one of these lists: