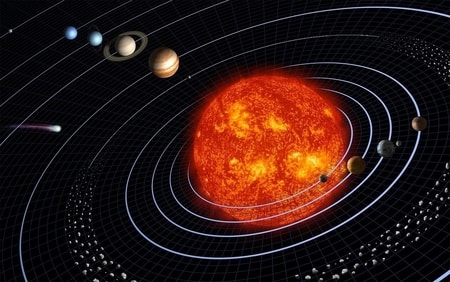 The sun is important part of our every day life, so it's also important for your little ones to learn all about and understand what makes this star so great.
Let your kids create their own version of this hot ball of gas with these 23 easy sun crafts they can make with (mostly) basic craft supplies.
13 Paper Craft Sun Art Projects
1. Simple Paper Sun Craft
Paper Magic shares a sun craft preschool kids can make using various supplies you might already have handy.
This version of the sun results in a nice flowering effect for the rays. It may look complicated, but it's actually pretty simple!
2. DIY Paper Plate Sun Craft
Paper plates are a staple craft material, and their round shape make them perfect for making sun crafts.
Easy DIY shows kids how to make a rising or setting sun using half a paper plate and common craft supplies you can find in any craft store.
3. Handprint Sun Craft
A neat way to make sun rays is using your hands! This handprint sun craft idea by Awesomely Crafty just uses your kid's hands.
A grown-up's help might be needed to trace little hands, but this could also be a good opportunity for kids to exercise those fine motor skills.
4. Toilet Paper Roll Sun Craft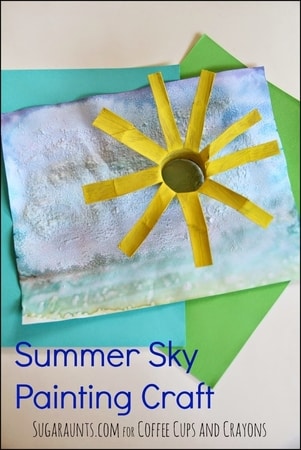 A mixture of salt and watercolor results in a nice texture kids will love messing with. Coffee Cups and Crayons shares this fun and easy summer sun craft that's made with an empty toilet paper roll, paint, a paintbrush, and other typical craft supplies.
Make even more things out of toilet paper rolls. Check out this compilation of neat toilet paper roll crafts your kids will love.
5. Paper Plate Sun Catcher Craft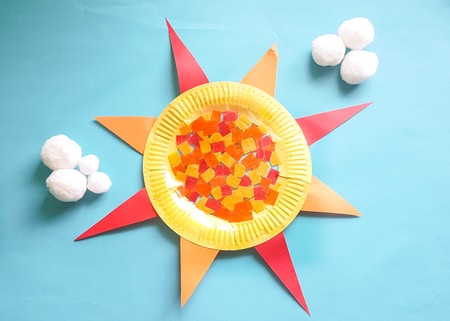 Kids can make lovely decorations to brighten up their windows with Make and Takes' sun catcher craft. All kids will need to make this cool sunny sun catcher is a paper plate and contact paper (amongst the other usual craft materials).
6. Recycled Sun Collage Craft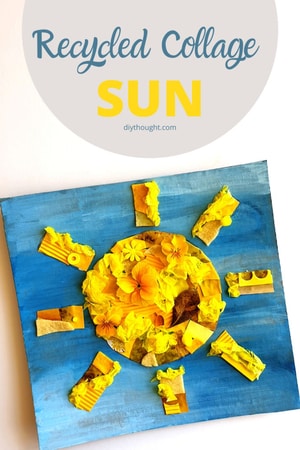 Here's a neat sun craft that uses various scraps of cardboard, paper, and tissue paper by DIY Thought. I love these kinds of crafts as they don't limit kids to just one type of material.
Download and print out this free sun template to achieve the same look!
7. Sun Headband Craft
DIY Kids Craft will let kids become the sun with this simple sun headband craft. The best part is the required items are easy to find or your kids at home or at your local craft store!
8. Spinning Sun Craft
Want a more interactive sun craft for developing minds to play with? Then let your kids try their hand at this spinning sun craft from How to Draw. This project is very easy to do and only requires few materials, like toothpicks and a straw.
9. Origami Paper Sun Craft
This sun craft may be more suitable for older kids as it requires quite a bit of precise folding. KIDS Craft shares an easy-to-follow tutorial on how to fold pieces of paper to make this origami sun.
Aside from glue and markers, kids will just need paper – SO easy.
10. Colorful DIY Paper Sun Craft
How about this more colorful sun craft courtesy of Oddly Satisfying Videos? Using common arts and crafts materials and a compass, kids can make a rainbow colored sun instead of the typical yellow one.
11. 3D Paper Sun Craft
Here's another unique twist on the typical sun craft. Twitchetts shares this tutorial of a 3D paper sun craft that's completely mesmerizing. Most of the tools and things you'll need for this project are already found in most households. It really is that easy!
12. Dancing Sun Craft
Make a cool and fun dancing sun puppet following Ria's video tutorial. To make one, kids will need common arts and crafts materials including a paper plate, string, paint and a foam brush, a hole puncher, googly eyes, and straws.
13. "Sun Safety" Educational Activity
10 Minutes of Quality Time has a simple craft that doubles as fun reminders for kids about what they need to protect themselves against harmful sun rays. Kids will just need crayons and scissors for this super simple activity.
Even though the site provides a printable template, you can only access it if you become a member.
6 More Sun Crafts with Non-Traditional Materials
14. Cupcake Liner Sun Craft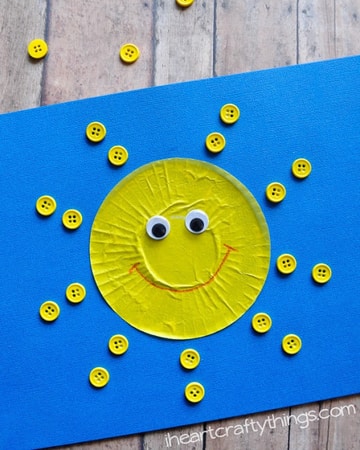 Use yellow buttons to make this easy-to-do sun craft by I Heart Crafty Things. Aside from the buttons, kids will need googly eyes and a cupcake liner to create the same sun from the tutorial.
15. Popsicle Stick Sun Craft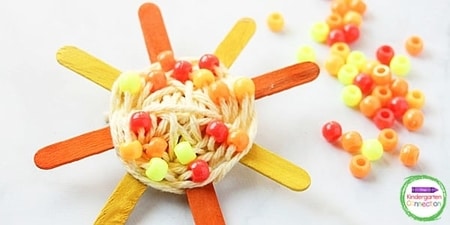 Help enhance your kids' fine motor skills with this sun craft by The Kindergarten Connection that will surely keep their hands busy. Popsicle sticks, pony beads, yarn, and basic crafting materials are all kids need to make their own unique looking sun.
If your kids can't get enough of  popsicle sticks, then head on over to this compilation of fun and easy popsicle sticks crafts!
16. Puffy Sun Craft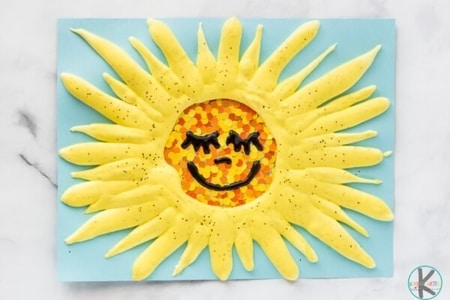 Here's a unique sun craft that uses something most people have in their bathroom: shaving cream! You can use shaving cream to make this puffy yellow sun craft courtesy of Kindergarten Worksheets and Games. In addition to shaving cream, kids will also need paint swatches, food coloring, a hole puncher, a Ziploc bag, and glitter.
17. Uncooked Pasta Sun Craft
Got some uncooked pasta lying around? Then let Nirosha Creations show your toddlers or preschoolers how to make a simple sun craft using pasta shells.
Grab some other common crafting materials and get started!
18. Sun Spinner
Catholic Icing has this really cool sun spinner craft your kids will enjoy for hours. All you need to make it is some foam board, embroidery floss, something to poke a small hole with, and some easy-to-find arts and craft supplies you might already have at home.
19. Foam Sun Craft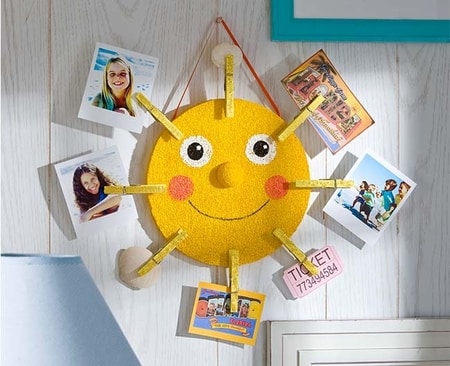 Here's a fun and lovely sun craft that doubles as a picture holder courtesy of Plaid Online. This craft makes kid use even more unusual materials such as various foam items (disc, ball, and round sponge brushes) and clothespins.
You'll also need paint, paint brushes, a ribbon, a glue gun, and glitter.
4 Easy Sun Painting Activities for Toddlers
We recommend using tempera paint for these arts and crafts activities because it washes off easily after all the fun is had!
20. Sun Finger Painting
This is one of the easiest sun crafts for toddlers! Finger painting is a fun (albeit a bit messy) activity young kids who are still developing their hand coordination can do.
Toddlers will just need paint and a piece of paper for this sun craft by Panira Arts. Oh, and be sure to have some baby wipes handy as well!
21. Handprint Sun Painting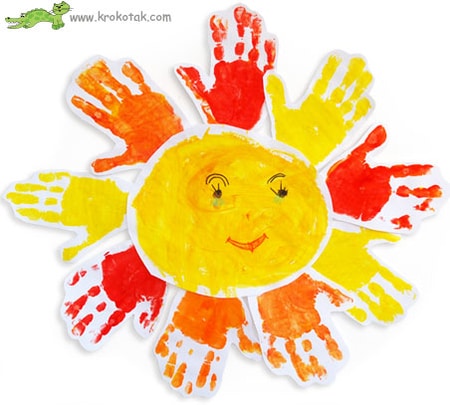 Toddlers and preschoolers can also use their entire hands to create wonderful art! Krokotak shares this simple sun painting that only asks kids to use paint and their hands.
Minimize the mess by using a foam brush to paint your little one's hands before they start stamping away.
22. Squish Sun Painting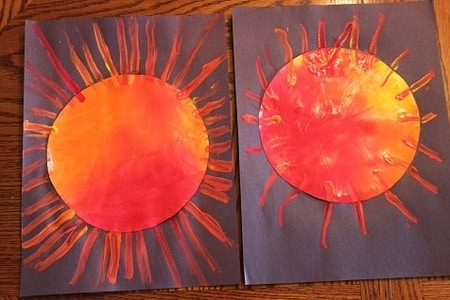 Our Crafts N Things shows a less messy way for kids to paint with their hands with this sun painting that has them squish the paint under cling wrap.
Utilizing cling wrap, paint, and Q-tips, kids will be able to make this neat sun painting. This sun craft can double as a sensory activity as well!
For more sensory bin ideas, try some of these Thanksgiving sensory bin activities this upcoming holiday season.
23. Sun Painting with a Fork
Forget using a paintbrush, Arty and Crafty shows kids that they can use a fork to paint instead! Grab a fork that you don't mind getting paint on and let your kids go crazy painting a sun.
Easy and Fun Sun Crafts for Kids
Kids will love learning about and crafting their very own sun with these 23 sun crafts that will keep them busy and having fun for hours.
And when you're done having "fun in the sun," check out these other sky-high kids crafts:
Airplane Crafts
Balloon Crafts
Rainbow Crafts
Letter S Crafts