The summer heat can be exhausting; it's time to cool down with these refreshing watermelon Perler beads!
Watermelons are the quintessential summer fruit—they're sweet, juicy, and the perfect energizer for a lethargic afternoon.
Just as this tasty fruit will hydrate the body, these watermelon Perler beads will nourish the mind and stimulate creativity, especially the peppy little ones.
So don't forget your slice and let's start these Perler bead activities!
Materials for Perler Bead Activities
5 Bite-Sized Watermelons
Watermelons are huge. Some varieties can grow up to 200 pounds! The first five watermelons are small, and thus easier to digest—especially for Perler bead beginners.
1. Plain Watermelon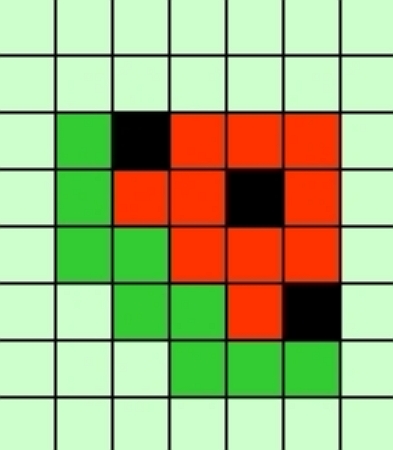 Be wary of any seeds left for small children since these are a choking hazard.
But there's no need to worry about the danger of seeds when making watermelon Perler beads, such as this design shared by Kittycat1234.
2. Minecraft Watermelon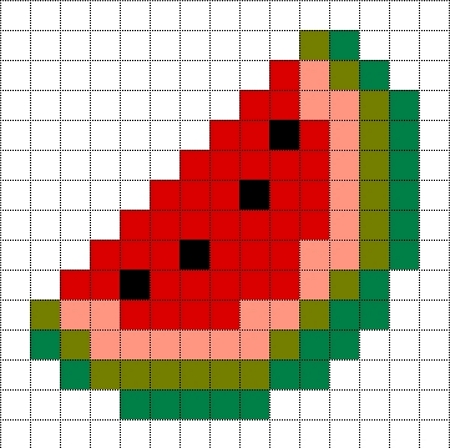 This watermelon cut presented by The Daisy Tree is the most common way to enjoy the fruit.
A Minecraft enjoyer easily recognizes this common treat found in the game.
Let's harvest more resources and craft more Perler bead projects through these Minecraft Perler bead patterns.
3. Dripping Watermelon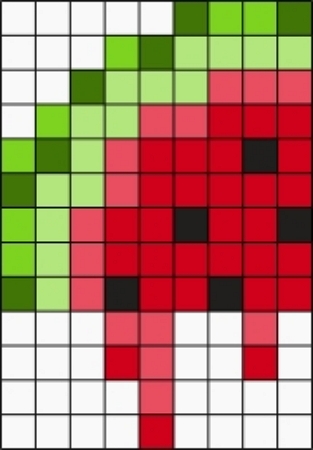 Grab a paper towel because devouring this watermelon—shared by hoodiestrings—will get messy.
It's impressive how just a few beads can create such a dripping effect. The detail only works when the flesh is facing down; otherwise, it would be ignoring the laws of gravity.
Are you craving more succulent fruits? Look no further than these juicy pineapple drawings.
Nothing screams summer more than a watermelon-flavored popsicle stick to relieve us from the intense heat.
How delightful it is to create this popsicle Perler beads by Laceys Crafts while indulging in a watermelon treat.
Didn't like this flavor? Choose your favorite in these ice cream Perler beads.
5. Watermelon Crop

It's not unusual to see fields of crawling watermelons during the summer. A scenery of such is presented to us by nastya_fw in their compact watermelon crop pattern.
3 Larger Watermelons
It's impossible to not include huge watermelon patterns in this list. Though big, these patterns aren't too difficult to create.
6. Take a Bite at This Watermelon!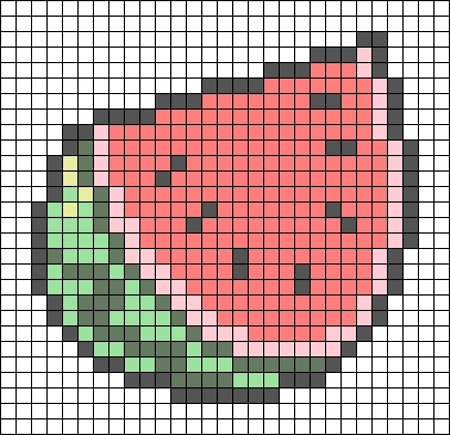 If the watermelon sounds hollow when tapped, it's usually a good indicator of its sweetness.
Since tapping or smelling the watermelon is not possible here, the only option is the visual cues.
If it has a creamy yellow spot, like the tiny detail found in this pattern shared by HollyS, then there's a good chance that it's ripe.
7. Evil Watermelon
Pumpkins are the go-to option during Halloween, but what if you need decoration during the summer?
Take inspiration from PerlerPixie's evil watermelon—a Perler bead pattern of a carved watermelon, probably emptied of its flesh and seeds.
Of course, there's no issue with going traditional: pumpkin Perler beads.
8. Sliced Watermelon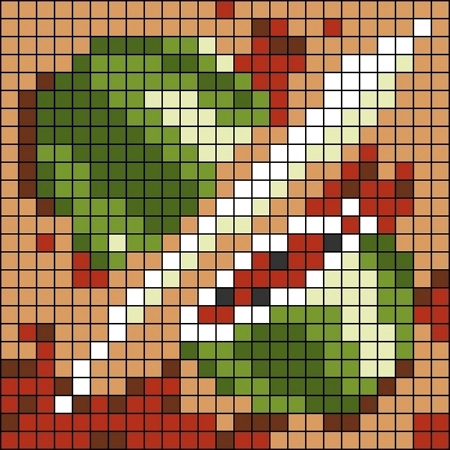 It takes some skill to cut a watermelon—let alone slice it in half. That's why being able to do it so effortlessly in games like Fruit Ninja is so addicting.
Fortunately, we don't need to be a samurai to enjoy such a satisfying portrait shared by STech.
Disclaimer: no watermelons were harmed in making this article.
For more game-inspired activities, proceed to these Fortnite Perler beads.
7 Watermelon with Faces
Even a child with a slight imagination can see faces on a slice of watermelon and its seeds.
On that imaginative aspect, the next seven items will have the work cut out for us.
9. Happy Watermelon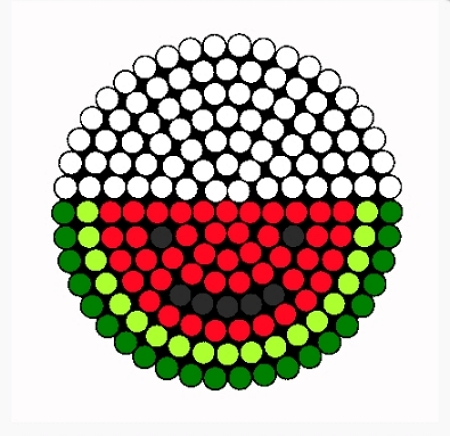 For a simple watermelon with a plain, happy face, look no further than nicole.fiction's design.
This particular design requires a circle pegboard—designs of which can also be found in our circle Perler bead patterns.
10. Baby Watermelon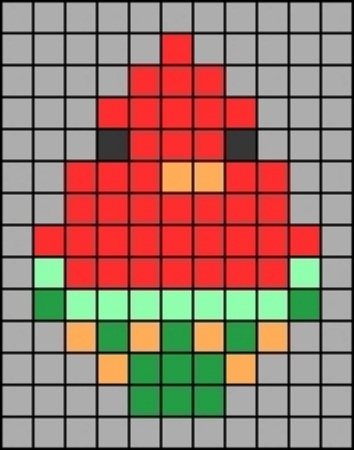 Adolescents starting their first Perler bead activities must be matched with activities of the appropriate level.
Beginners can look forward to a design by Jello12335, who shares an appealing pattern recommended for little ones.
11. Kawaii Watermelon Slice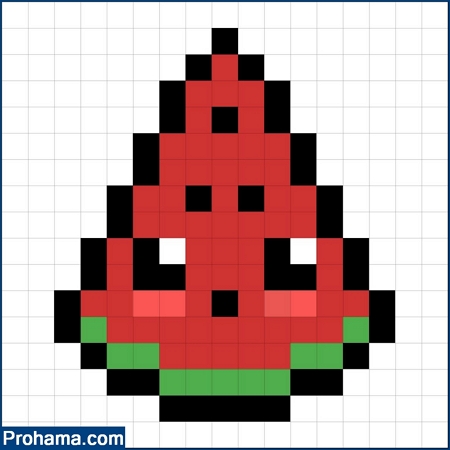 A proper kawaii watermelon can be found on ProHama, where the artist does an excellent job of making the most irresistible slice of watermelon.
Any object can be made more adorable; you just need to look at these kawaii Perler bead patterns.
12. Horrified Watermelon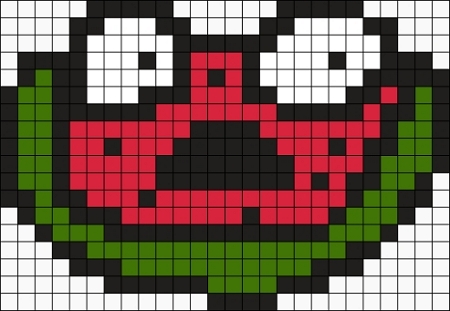 It's natural for a watermelon to have such a horrified reaction when seeing his kin being chopped or blended.
Having no arms or legs, the fate of this watermelon by bubblepuff is sealed.
For truly spooky designs, don't turn your back on these Halloween Perler beads patterns.
13. Mario Mushroom: Watermelon Edition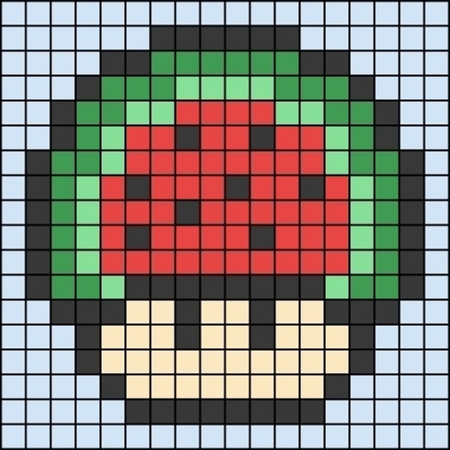 What sort of power-up would eating this watermelon mushroom (by Chica2020) provide Mario?
Along these Mario Perler bead patterns, let's discover the different abilities and get to know Mario's friends.
14. Let's Chill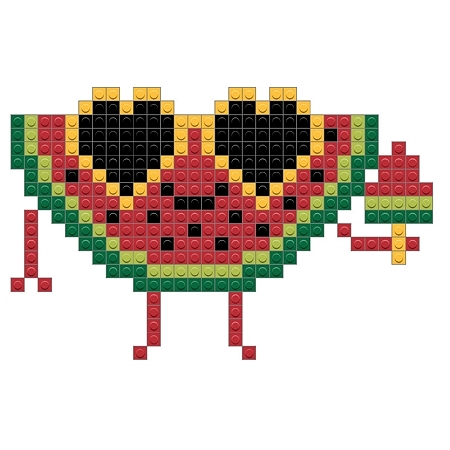 Wearing a light outfit is essential during the summer—a bit of advice taken to heart by this watermelon shared by hopperprime8.
Aside from wearing breathable clothing, the watermelon cools itself down with a popsicle.
Here's the perfect activity when it's too hot to go outside: summer Perler bead patterns.
5 Watermelon Perler Bead Crafts
Did you know, with the right imagination, Perler beads can be turned into usable crafts?
Here are five inspirational watermelon Perler bead crafts.
For a balanced diet, you must include other food Perler beads—not just watermelon.
15. Watermelon Coasters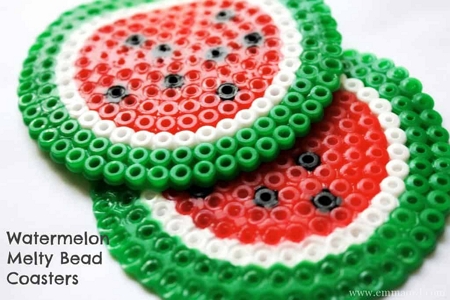 That cold glass of watermelon is condensing pretty quickly under the unforgiving heat. Emma Owl has the perfect solution: coasters.
Say goodbye to those countertop stains that are known to induce migraines.
Good news!—a variety of designs can be made by checking out our list of Perler Bead coasters!
16. Watermelon Bracelet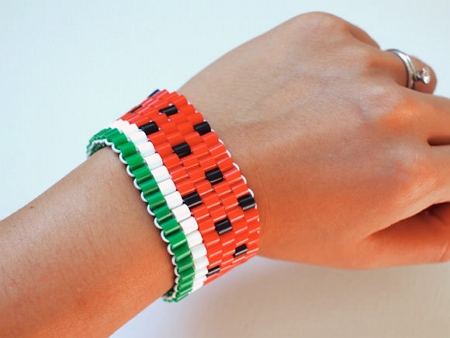 There's no such thing as having a bracelet that's "too lame."
In fact, this bracelet by Handmade Charlotte gives the wearer powers, as they will be reminded to stay hydrated. Magical!
I get it—watermelon is simply the best fruit there is. Display your love for the fruit by making these incredible watermelon Perler bead earrings found on Betchay's Craft's channel.
There are three variations, each with a design catered to your preference.
18. Fruit Basket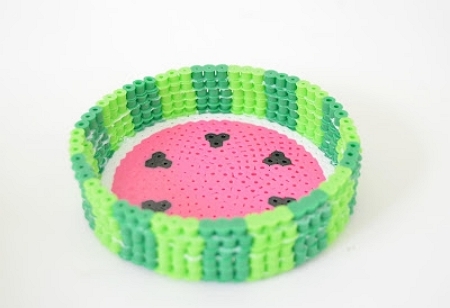 Declutter your work desk or kitchen countertop by making Vikalpah's watermelon fruit basket—made entirely of Perler beads.
Both aesthetic and functional, this is an amazing craft for those seeking a DIY solution to their messy workspace.
19. Kawaii Watermelon Keychain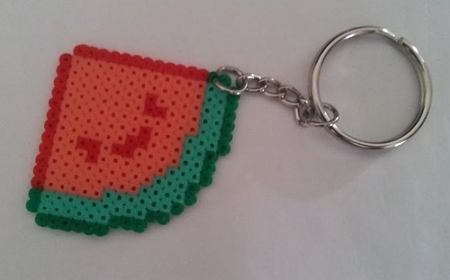 Not everything must serve a functional purpose. Some crafts are made because you can stare at them for hours and not be bored—like NuBererer's kawaii watermelon key chain.
Water You Waiting For?
Watermelons, with their revitalizing sweetness, couldn't come at a better time—along with these Perler bead crafts.
Whether you're creating watermelons Perler beads for fun or have more functional crafts in mind, these will surely make anyone forget the spikes in temperature during the summer.
Let's create more crafts here: