Halloween is fast approaching and we adults look and ask the same thing: "What Halloween-themed activity will the kids do?" It has to be scary, fun, and unique.
We understand your dilemma here at CKC and that's what this list is for. Find the coolest and orangest pumpkin Perler beads below.
Before we head on to the list, you also have to check out these easy Perler bead patterns that I'm sure the kids will enjoy as well.
What you'll be needing:
20 Pumpkin Perler Beads
1. Pumpkin with a Witch Hat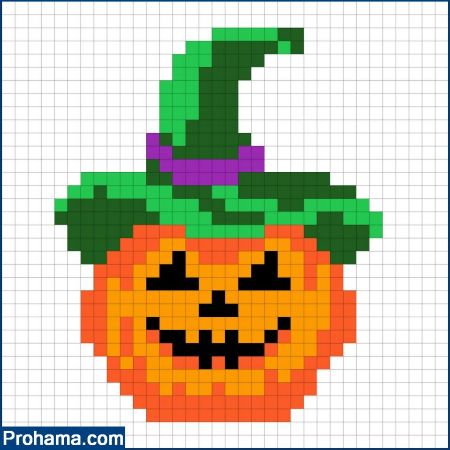 Two staple Halloween characters in one go? That's what I'm talking about!
In this pattern, you won't just get a pumpkin but a witch as well. It's like hitting two birds with one stone.
Fan of anything Mickey and Disney? (Aren't we all?). Crafty Francium will teach you how to make this adorable Mickey Mouse pumpkin Perler beads in this easy-to-follow video tutorial.
Mickey Mouse isn't the only character that's magical. The whole Madrigal family is gifted with enchanting powers which you would also feel in these Encanto perler beads patterns.
3. Little Pumpkin Banner Beads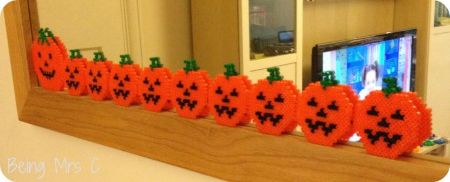 Planning on throwing the best Halloween party ever? You're definitely going to need these pumpkin banners.
It's not your ordinary paper decor because it's made with beads entirely. This will show that you put a lot of thought and effort into your event.
4. Minecraft Pumpkin Perler Beads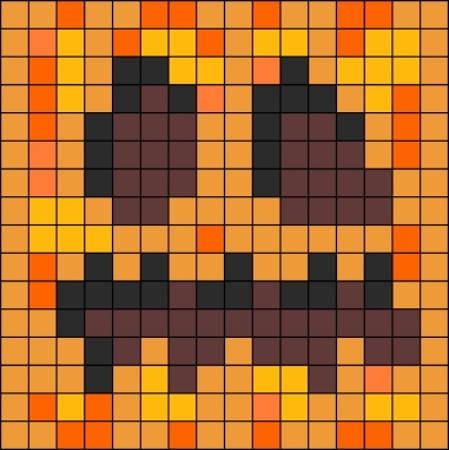 Aside from Roblox, Minecraft is another game that kids these days can't get enough of. Making this Minecraft Perler bead pattern by Soggy_Enderman will be a memorable experience for your kids.
It's not Halloween without jack-o-lanterns. That's where these jack-o-lantern crafts come in handy. 
5. Pumpkin Faces Made from Perler Beads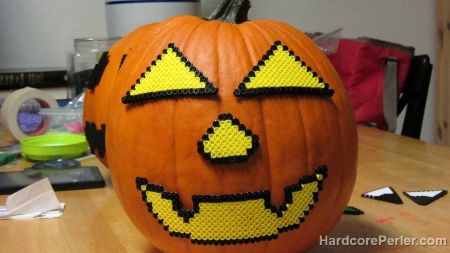 Carving pumpkins has been an annual tradition for a lot of families. Why not change it a little this year by creating the faces with beads?
This project is kid-friendly because you won't be needing any sharp objects to create your happy pumpkin.
6. Jack O Lantern Candle Holder Perler Beads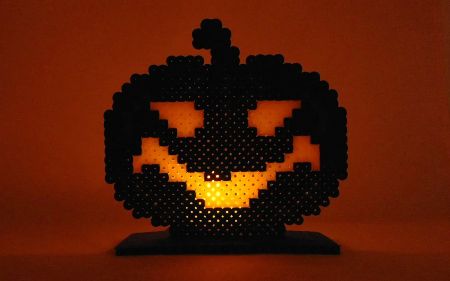 Adding light to your pumpkin perler beads can do wonders. It will make it look more realistic and creepier just like this pattern by Krysanthe.
Wondering how you could use the Lumos spell in other projects? Find answers in these Harry Potter perler bead patterns.
7. Pirate Pumpkins Pattern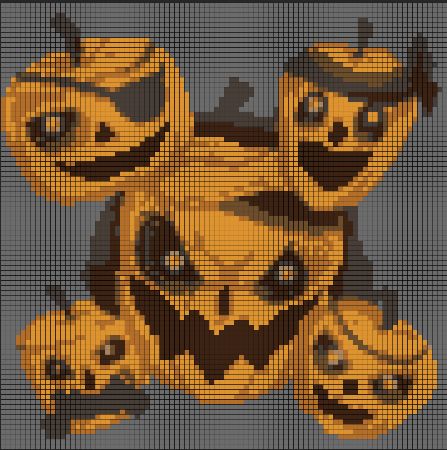 One pumpkin for Halloween won't be enough. But I'll bet that five ghoulish ones will do the trick.
Beware! This pattern by dracula will be challenging not just because of its complicated design but also because of the characters that it features. It's best for kids aged 10 and above.
8. Barely Ripe Pumpkin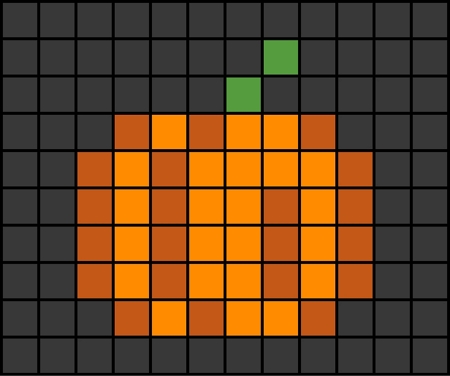 Considering its size, this baby pumpkin by pineappl57 is still half its way to maturity. But a tiny pumpkin goes hand in hand with the small fingers of your little ones.
9. Jack-O-Lantern Pattern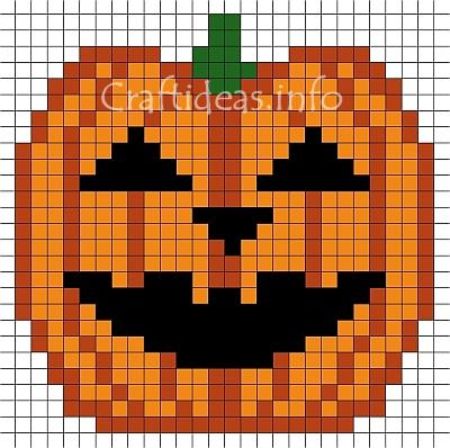 Want to keep it simple but effective? This traditional jack-o-lantern pattern will be a great project to celebrate Halloween. Both avid perler beads makers and first-timers will enjoy making this pattern.
10. Angry Pumpkin Perler Bead Pattern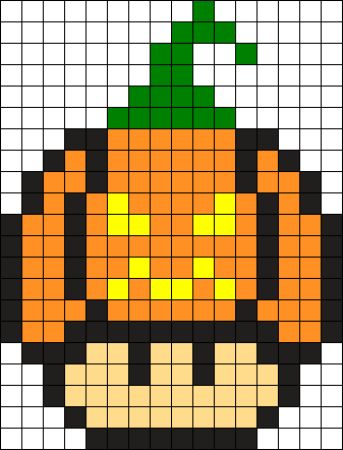 This pumpkin Perler beads by Tashar_h may look angry but it still is one of the cutest patterns out there. The little mushroom with the pumpkin hat is far too cute to scare anyone.
Let's create anything and everything Halloween-themed! Just like these Halloween painted rocks which will be a hit with your kids.
11. Square Pumpkin with Bats Perler Beads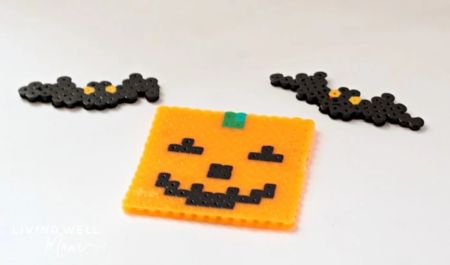 Bats + pumpkin = the perfect Halloween combination!
Plus, this pumpkin by Living Well Mom has an unusual and unique shape that makes this pattern even cooler. These three will be essential for your Halloween-themed art projects.
12. Three Pumpkin Emojis Pattern

Can't wait for Halloween? If you're feeling excited and thrilled and can't wait for the end of October, then this pattern from nicole_j_c will be perfect for you.
These pumpkins show different kinds of emotions. Learn more about feelings and emotions through these emoji Perler bead patterns.
Destination Creativity had a great idea to combine two of our most loved holidays—Halloween and Christmas. You can use this pattern as a decor for both occasions.
Want more crafts that are spooky but kids-appropriate? This Nightmare Before Christmas perler beads will be perfect.
14. Smiling Jack-O-Lantern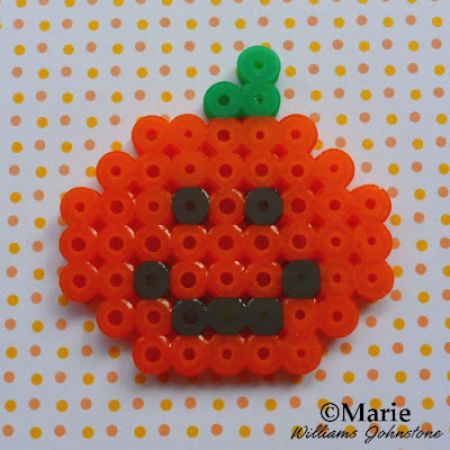 Little kids will love this pattern because it isn't scary to look at. On the contrary, this pumpkin is adorable.
Here are paper bag puppets that your kids will like as well.
15. Stardew Valley Pumpkin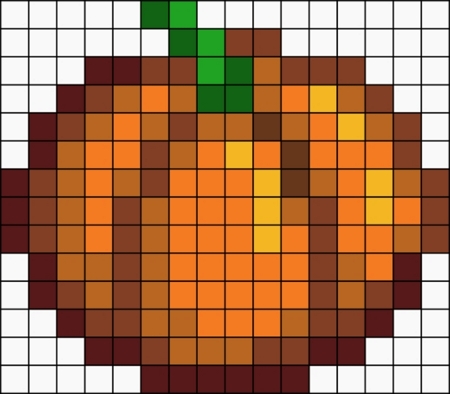 Overgrown pumpkins are an anomaly in the real world. But not in Stardew Valley.
These bad boys—a pattern of which is shared by Shaoworkshop—can grow up to nine times the size of a regular pumpkin!
16. Mini Jack-O-Lantern Patterns

Make it Halloween every day with these adorable jack-o-lanterns. You'll be able to carry them around and use them as a keychain and decor all year round.
These patterns are too cute to handle! Follow it up with these kawaii perler bead patterns.
Destination Creativity knows how to make the coolest jack-o-lanterns and they'll show you how in this video. You'll even have an option to create a dark-eyed pumpkin or a glow-in-the-dark one. They've got it all!
18. Classic Pumpkin Pattern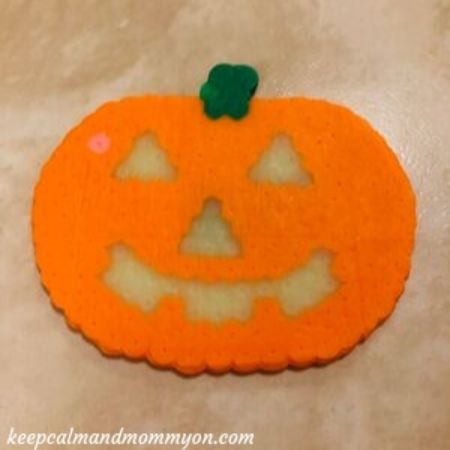 This classic pumpkin by Keep Calm and Mommy On will always be in demand every Halloween. It's fun and easy to do that perler bead lovers of any age can easily create.
Learning how to draw will be a great skill a kid could have. Teach them to be artistic while they're young through these easy animals to draw for kids. 
19. An Assortment of Pumpkins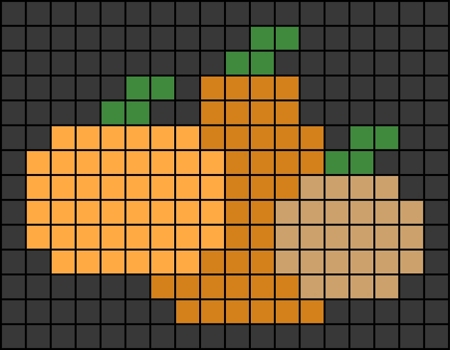 Just like our fingerprints, no two pumpkins are identical. Embrace the diversity of these crops by making rstring5's three types of pumpkin patterns!
If you haven't had enough of these gourds, head on to our pumpkin drawings!
20. Linus Great Pumpkin Bead Pattern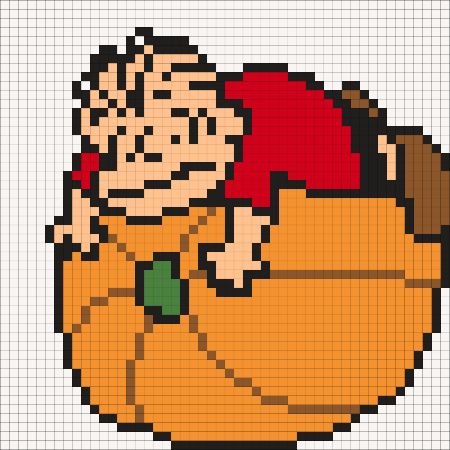 Can you imagine how much fun it would be if we could create a big pumpkin made of Perler beads as big as this? That's the dream! But in the meantime, making this pattern shared by ILikeChocolateMilk will be fun, too.
Linus loves dogs and we do, too. You'll find the coolest dog Perler beads patterns here.
21. Ominous Pumpkin

Don't be fooled by the glittering atmosphere, because this pumpkin is far from being honest.
Judging from its blackened stem, this pumpkin by Sadia has been eaten by corruption.
22. Thanksgiving Pumpkins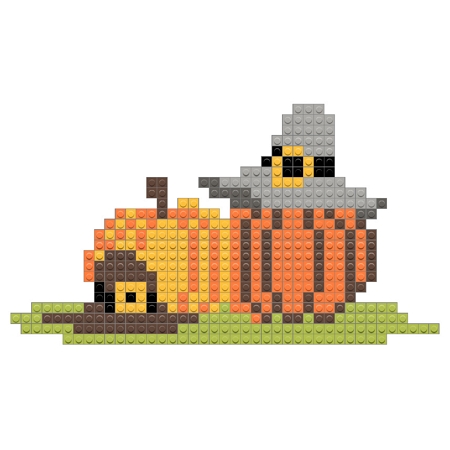 Let's all remember the blessings that the fall season brings upon us.
This pattern by beetent really sets the mood of Thanksgiving by sharing a pattern of pumpkins wearing a Pilgrim's hat.
Have a FUNtastic Halloween!
We all look forward to the end of October because of all the yummy treats that we get and the costumes that allow us to be whoever we want. Now, there's another reason to love Halloween—these pumpkin perler beads.
Want to do more artsy projects? Listed below are some activities that will be perfect for you and your kids: