Something sweet, cold, and cute is coming your way. This post is all about our favorite dessert, ice cream! Find the coolest ice cream perler beads patterns that will help in beating the summer heat below.
Whether you're team strawberry, vanilla, or mint chocolate chip, you'll find the perfect pattern for you. Ice cream won't just bring you joy during a hot summer day but will serve as a great project for the kids no matter the weather, too.
Going to Disneyland soon? These DIY Mickey ears will come in handy.
Art Materials You'll Need:
13 Ice Cream Perler Beads
1. 3D Ice Cream Corn Perler Beads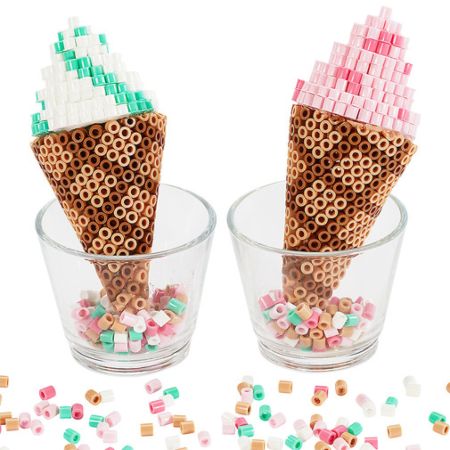 Wouldn't it be cool to always have ice cream on hand whenever and wherever you want? There'll be no need to wait to finish the meal!
This vanilla and strawberry-inspired project from Perler won't melt and looks too cute to eat.
It's at the top of the best treats out there.
2. Little Ice Cream Cone Pattern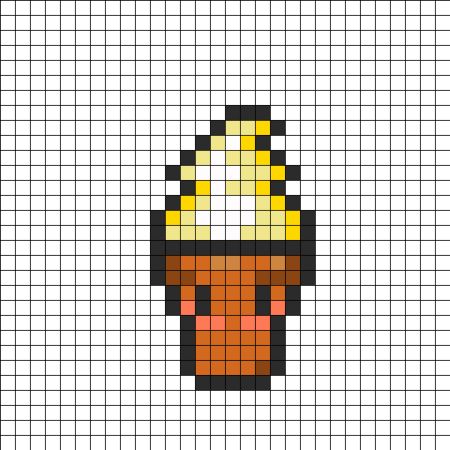 Here's a classic soft serve sundae from jiska on Kandi Patterns to sweeten the spot.
Kids will like making the swirly design at the top.
Feel like you're in Antarctica with these penguin crafts.
3. Strawberry Ice Cream And Flan Perler Bead Pattern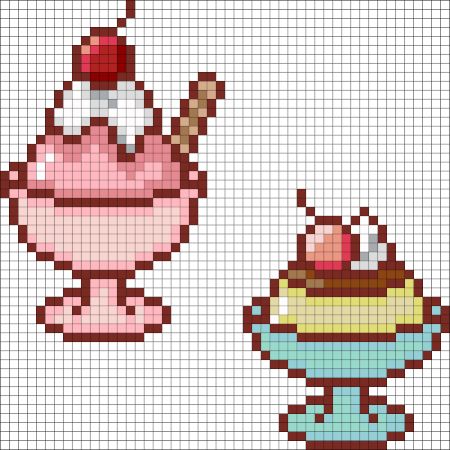 Ice cream with whipped cream and cheery on the top will seal the deal.
This ice cream pattern from Killer on Kandi Patterns will be a bestseller for your child.
4. Chocolate Ice Cream Pattern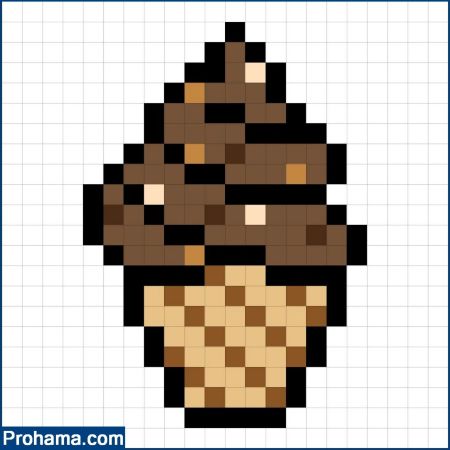 For all the chocolate lovers out there, this pattern from Prohama is for us.
This ice cream is irresistibly good because it's made with chocolate ice cream, sprinkles, and syrup-inspired beads.
It will be an awesome treat for the kids for being good.
5. Mint Ice Cream Perler Bead Pattern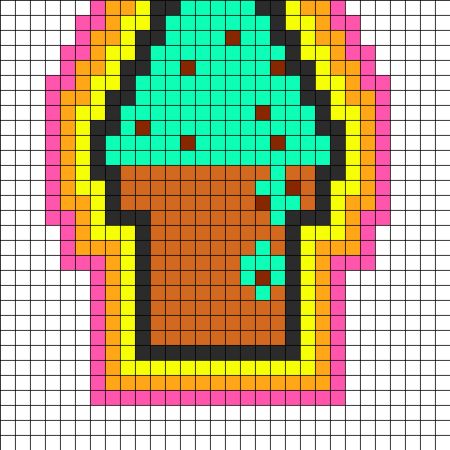 The debate about whether mint ice cream is good or not will end once and for all because this pattern from lillyann261488 on Kandi Patterns has got the answer.
The verdict? It's a great ice cream flavor especially once chocolate sprinkles are added to it.
The colorful outline of this pattern makes it more unique as well.
6. Magnetic Ice Cream Perler Beads
The best crafts deserve a space on the fridge and this pattern from Crafting MIX will earn its own spot.
Watch the video tutorial to create an adorable magnetic perler ice cream your kids can proudly display in the house.
7. Ice Cream Trio Pattern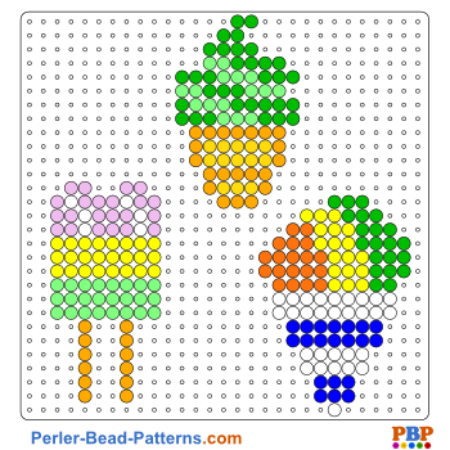 Why choose just one when you can create them all?
A popsicle, soft serve, and shaved ice patterns will satisfy the artistic and sweet tooth cravings of the kids so check out this guide from Perler Bead Patterns.
Catch 'em all with these Pokemon perler beads.
8. Happy Strawberry Ice Cream Pattern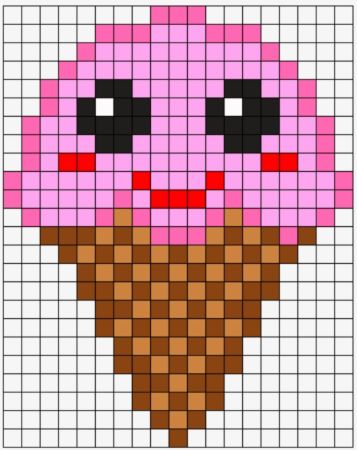 Is your child feeling a bit down lately?
Make this ice cream pattern from Seek PNG to brighten up their day.
The cute eyes and sprinkled cheeks will make them smile right away.
9. Yummy Ice Cream Perler Beads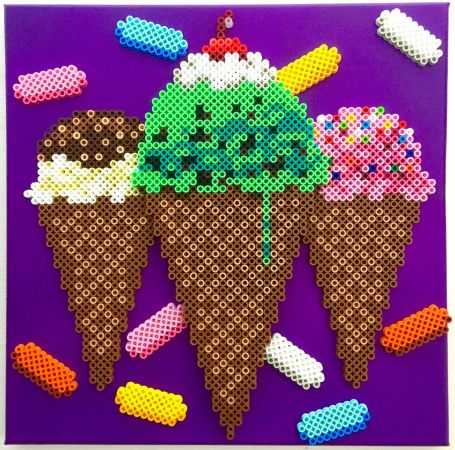 These ice cream perler bead patterns from Pixel Art Shop look too real that you could almost taste them.
They've got all the prettiest ice cream colors available too like white, green, and pink.
10. Rainbow Popsicles Pattern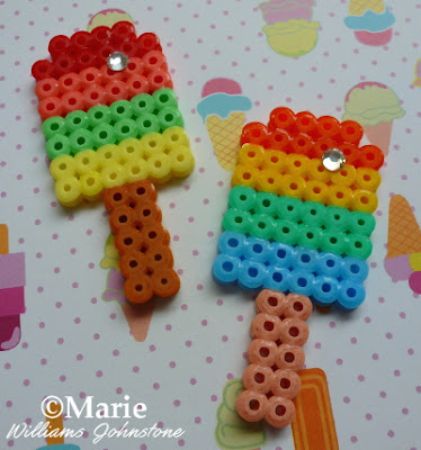 Rainbow ice cream probably tastes awesome. After all, it's made out of different yummy and unique flavors.
Get ideas on how to create colorful ice cream perler beads from Crafty Marie.
Check out these rainbow crafts for kids for more colorful projects.
11. Creepy Ice Cream Cone Pattern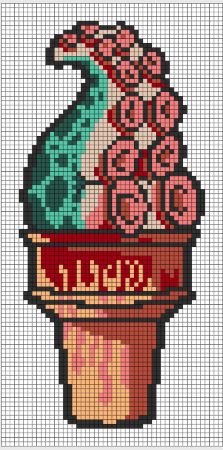 Spice it up a little and add this creepy octopus-themed ice cream from Bracelet Book to your to-do list.
It's a completely different kind of ice cream perler beads so I'm sure your kids will have a lot of fun while making this.
12. Cool Ice Cream Eating an Ice Cream Pattern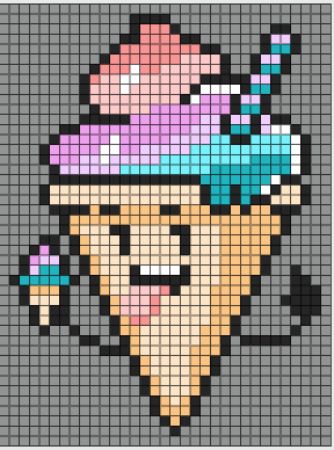 We all know that ice cream is cool but this particular ice cream from Bracelet Book is the coolest.
After all, it's not every day that you see an ice cream eating a smaller version of ice cream.
8 Kawaii Ice Cream Perler Beads
13. Cute Ice Cream Perler Pattern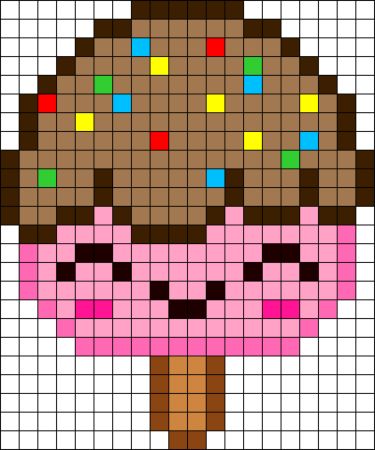 You know we can't resist cute and bubbly patterns such as this one from sima753 on Kadi Patterns.
This features an adorable strawberry popsicle with chocolate syrup and sprinkles.
I'm sure your kids will be craving some ice cream once they're done with this project.
14. Ice Cream Sundae Perler Earrings
Look pretty cool with these beautiful ice cream earrings from and1chewy.
Learn how to craft your next favorite jewelry by watching the video.
Give a thoughtful gift to your friend and learn how to make friendship bracelets.
15. Melting Vanilla Ice Cream Pattern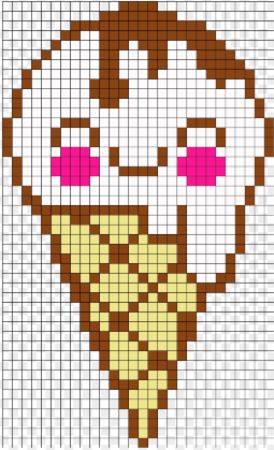 This adorable vanilla ice cream pattern from PNG Find will melt all your troubles away.
Doing this won't just be a fun bonding activity with the kids but will also be relaxing, too.
16. Fun Ice Cream Pattern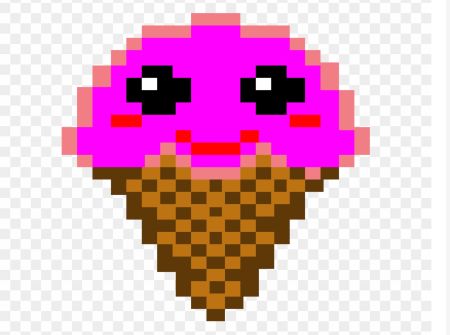 Make your ice cream pattern stand out by using glow-in-the-dark perler beads.
Clip Art Max will show you how it's done correctly through their easy-to-follow guide.
17. Ice Cream Cat Pattern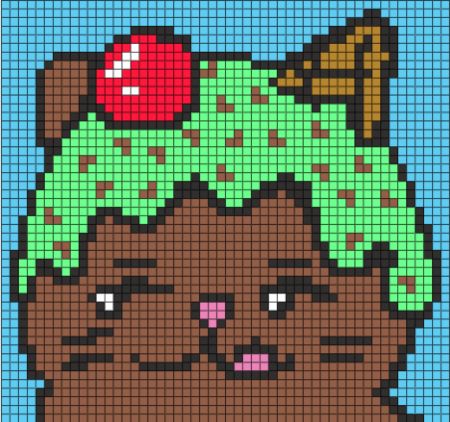 Have you ever seen a cat that loves ice cream?
This pattern from Bracelet Book will give you an idea of what it will look like.
Meow! More cat crafts for kids are available here.
18. Unique Ice Cream Perler Necklace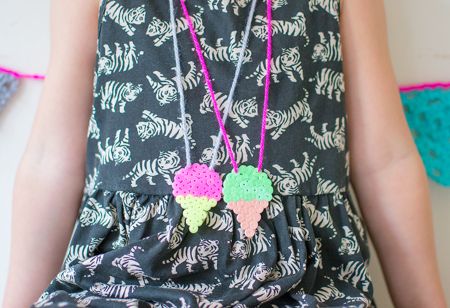 Your lovely earrings from #15 will look great with this ice cream necklace from Let's Do Something Crafty.
Check out all the cool ways on how to create and style these fashionable perler beads jewelry through this tutorial.
19. Popsicles Perler Bead Pattern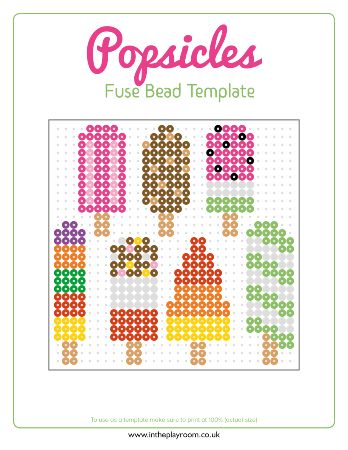 There are a lot of popsicle patterns to choose from in this tutorial by In the Play Room.
They've got your classic, watermelon, and triangular-shaped popsicles all in this complete pattern guide.
Aloha! Here are some easy Stitch drawings for kids.
20. Frog Ice Cream Perler Bead Pattern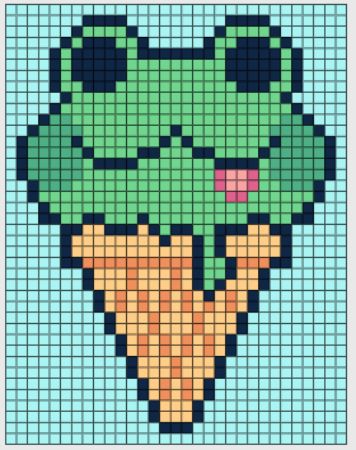 Love ice cream and frogs? This color green ice cream pattern from Bracelet Book will be a win-win!
This hybrid pattern will combine the head of a frog and a cone.
Two things that don't seem to work together but just work right in this pattern.
I Scream for Ice Cream
These ice cream perler beads will be a hit with your kids. The patterns are colorful, fun, and easy to do.
No matter the season or weather, these patterns will be perfect to let the kid's creative juices flow.
Prepare for more yummy-inspired crafts below: