Create a new tradition and special activity with the kids through art. Start by doing these amazing pineapple drawings.
Making artwork is a super fun bonding activity for parents and kids.  It's a great way to enhance a child's creativity with the parents guiding them as they explore their own unique style.
It will be an enjoyable activity for parents and kids to spend quality time together while learning and creating something cool at the same time.
These cute food drawings will be a cool way to add some flavor to their sketchbook.
Before We Start Making Art…
Here are some art materials to help you get started with drawing pineapples:
6 Easy Pineapple Drawings
1. 4-Step Pineapple Drawing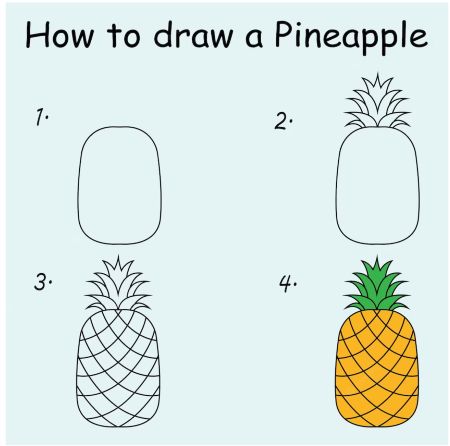 Drawing a pineapple is fun and easy as can be seen in this tutorial from Freepik.
Start by drawing an oval shape for the body, add a crown of leaves at the top, then draw diagonal lines across the body.
Don't forget to color the sketch, too!
2. Spiky Pineapple Drawing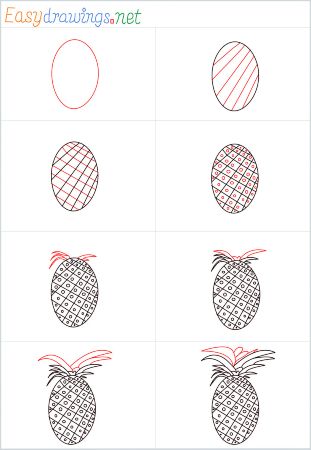 Get ready to add some extra spice to your drawing because we're going to learn how to draw a spiky pineapple.
Add some edgy spikes on the body of the pineapple by drawing some diagonal lines and circles just like this guide from Easy Drawings Net.
Let's welcome the new and exciting season with these spring crafts for kids.
3. Fun Pineapple Drawing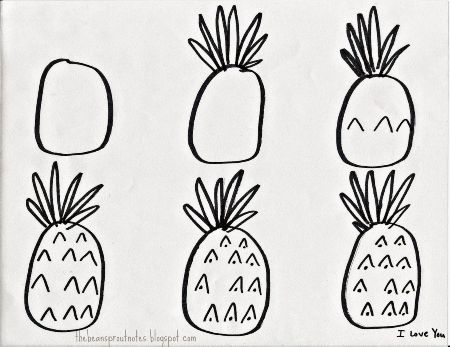 The kids will enjoy making this pineapple drawing because it's quick and easy to do.
Everybody can draw this pineapple from The Bean Sprout Notes like a pro: from preschoolers to elementary children.
4. Simple Pineapple Drawing
Your child's artistic skills will level up a notch thanks to this YouTube video from Paper Pen.
It's going to teach them how to draw a funky pineapple that's both entertaining and informative.
These bee perler beads patterns are not only adorable and fun but will also teach kids about their importance in the ecosystem.
5. Easy Pineapple Sketch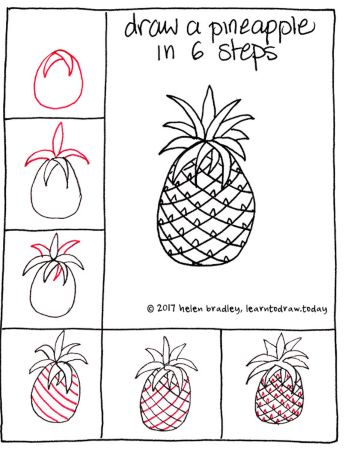 Drawing a pineapple is a piece of cake even if the child is just starting out in terms of exploring and doing art.
Follow this informative guide by Learn to Draw Today and you'll have yourself a magnificent pineapple in no time.
6. Pineapple on a Table Drawing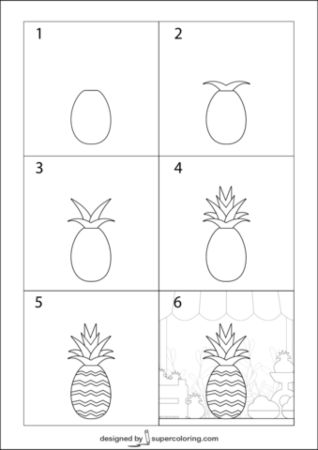 Using a different background for your pineapple drawings will mix things up in your sketchbook.
Along with using different colors, lines, and textures, adding a different background will make the kid's drawings look phenomenal.
Check out this cool drawing from Super Coloring for inspiration.
7 Cute Pineapple Drawings
7. Pineapple with Pink Bow Drawing
Drawing this adorable pineapple drawing topped off with a sweet little bow will brighten up their day.
Let Bonbon drawings show you how it's done through this Youtube tutorial.
This pineapple isn't the only one that looks amazing in bows. Check out these Hello Kitty perler bead patterns for your next project.
8. Yummy Pineapple Drawing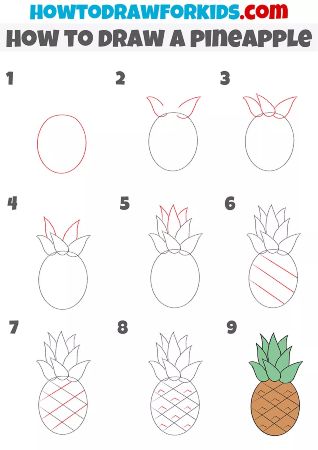 Not only are pineapples delicious, but they're also packed with beneficial nutrients like vitamin C and bromelain.
Pineapples have got it all. Just like this drawing tutorial from How to Draw for Kids which will teach you how to draw a pineapple from the first to the last step.
9. Pineapple with Floaters Drawing
Drawing this fun and playful pineapple is the perfect way to get into the summer spirit.
Check out this drawing tutorial of Draw So Cute featuring an adorable pineapple wearing its best summer outfit.
These summer perler bead patterns will be perfect to keep the kids entertained during the break.
10. Adorable Pineapple Drawing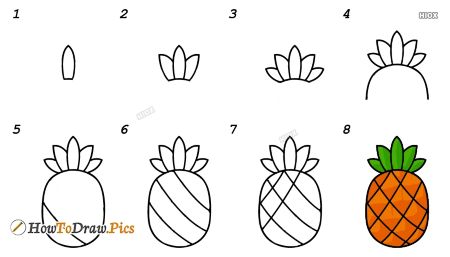 Follow these eight easy steps from How to Draw Pics and voila you'll see an adorable pineapple drawn on your paper.
This great pineapple drawing will bring a touch of glamor and awesomeness in your pineapple drawing collection.
11. Cool Pineapple Drawing with Sunglasses
Adding sunglasses to their pineapple drawing will be a fun way to put some personality and flair to the drawing.
Need proof? Check out this video tutorial from Draw So Cute.
You'll also get tips and tricks for your drawing in this video.
12. Funky Pineapple Drawing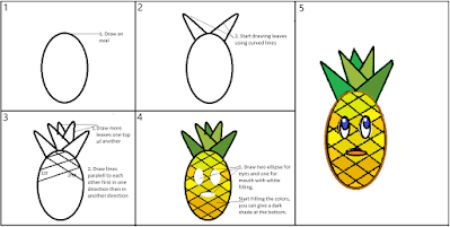 Your child will find this drawing of a pineapple from Drizzling Colors Art interesting and cool.
It's not your ordinary pineapple drawing because it's made from the software paint but can also be drawn traditionally using a pen and paper.
13. Pineapple Cartoon Character Drawing
With just a few simple steps, kids can create this adorable pineapple character by watching this helpful video from Draw With Ian.
Their creativity and talent will shine with every pencil stroke they make in doing this project.
4 How to Draw a Pineapple: Step-by-step Guide
14. Awesome Pineapple Drawing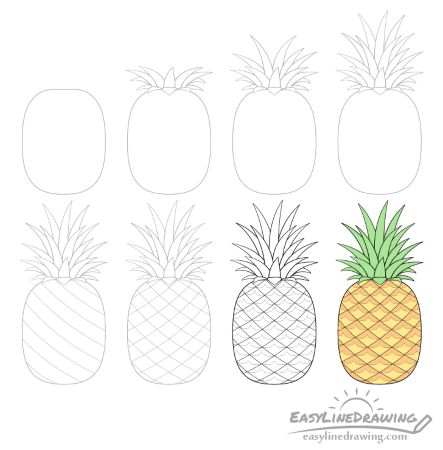 You wouldn't want to miss out on all the fun by not doing this drawing tutorial from Easy Line Drawing.
The step-by-step guide makes it easy for kids to follow and draw.
15. Tilted Pineapple Drawing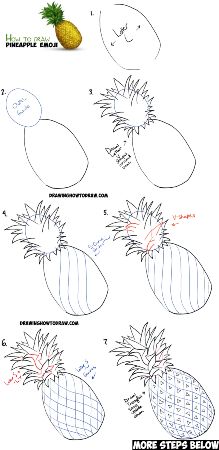 Our next project will feature a tilted pineapple drawing to give the kids different perspectives and angles for their sketches.
Drawing How to Draw will teach you how it's done with the guide provided above.
Kids will be able to bring their favorite characters to life in these easy Lion King drawings.
16. Realistic Pineapple Sketch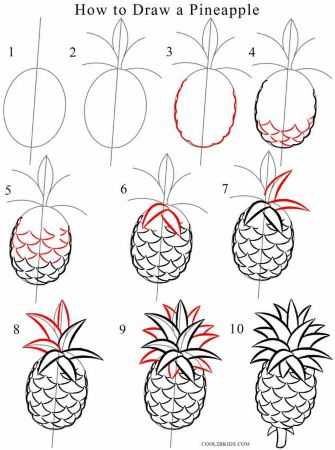 Get ready to create a stunning pineapple drawing courtesy of  Cool 2 B Kids that will have you feeling like a pro in no time.
In just 10 straightforward steps, you'll create this phenomenal pineapple drawing.
17. Cool Pineapple Drawing
Challenge their creative skills by drawing this pineapple drawing from EloMelo Drawing.
Following the steps given in the video will make the project less intimidating and more fun.
Can't get enough of the creatures from Bikini Bottom? Make sure to check out this list of the best Spongebob perler beads.
Bonus: Spongebob's Pineapple House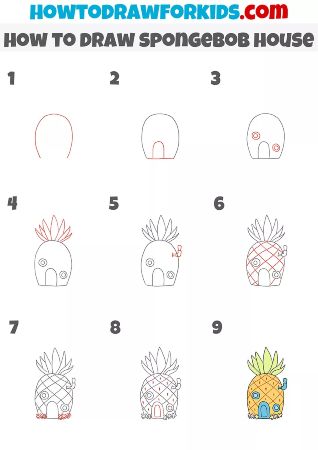 Who lives in a pineapple under the sea? Spongebob Squarepants!
It will be really cool to live in a pineapple like Spongebob but because there isn't a pineapple big enough to house humans (yet), this drawing tutorial from How to Draw for Kids will be a fun activity to do in the meantime.
Pineapple Drawings for Everybody!
Drawing pineapples will be a blast for both parents and kids.
Not only does it allow kids to express themself through art but it also strengthens the bond between the parents and the kids through the time they spent teaching and collaborating on the artwork.
So what are you waiting for? Grab some paper and pencils and let the pineapple party begin!
More fun and educational activities are coming your way: