We are getting closer to the spookiest time of the year: Halloween! Halloween reminds kids of scary things like creepy ghosts and zombies, but one of the most common symbols of Halloween is the jack-o'-lantern.
Preparing for Halloween should be an exciting process for kids, so here are 21 jack-o'-lantern crafts that kids can make at home.
12 Easy Paper Jack-O'-Lantern Crafts
Most of these jack-o'-lantern crafts are easy to make and only require basic materials like construction paper, scissors, and glue, while others require adult supervision since they involve carving real pumpkins.
1. Hanging Jack-O'-Lanterns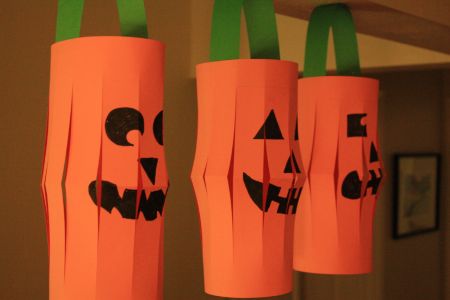 Can't find any decorations to make your home spookier this Halloween? Marin Mommies has you covered with these paper jack-o'-lanterns that you can hang throughout your house.
All you need is orange and green construction paper, a black marker or paint, and some kind of adhesive. Hang these bad boys anywhere you like – the wall, a chandelier, and even the ceiling!
2. "Pick-a-Face" Jack-O'-Lantern Craft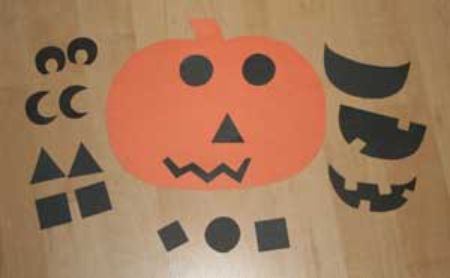 This is a convenient and easy option for preschool children and a reliable way of honing their scissor skills.
Download free templates of the pumpkin, its eyes and nose, and mouth from All Kids Network and help your kids cut out the shapes for this jack-o'-lantern craft.
3. Stuffed Paper Jack-O'-Lantern Craft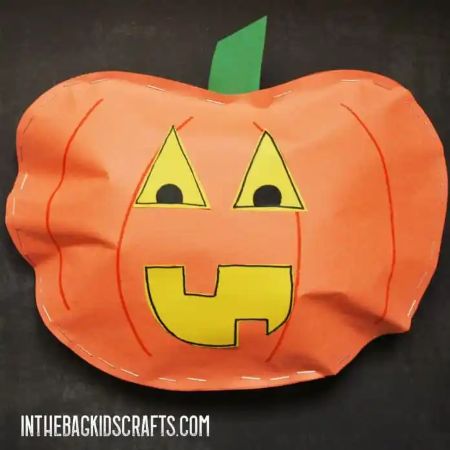 Need to shred and recycle those old documents that are just taking up space in your filing cabinet? This jack-o'-lantern craft by In The Bag Kids' Crafts requires you to fill two pieces of construction paper that have been stapled together with paper scraps.
The paper scraps will add volume and depth to this simple 2-dimensional paper jack-o'-lantern. Besides, your kids will love tearing apart and crumpling paper!
4. Paper Jack-O-Lantern Pumpkins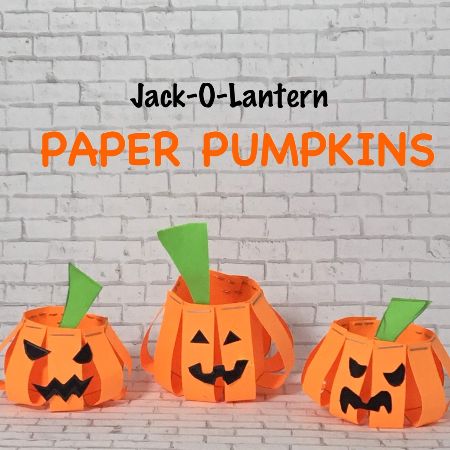 The Joy of Sharing "joyfully" shares their tutorial for mini jack-o'-lanterns that can also be used as finger puppets. Toddlers will be amused with this one – just don't make it too spooky!
5. Tissue Box Jack-O'-Lantern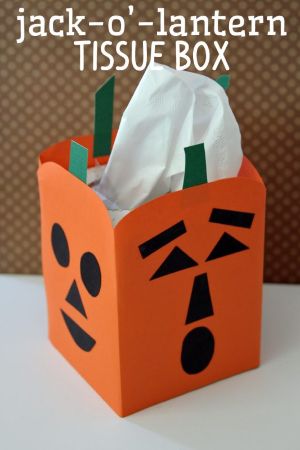 This friendly and easy-to-make jack-o'-lantern craft serves as Halloween decor and a tissue box holder. Make and Takes provides clear step-by-step instructions on how to make this tissue paper holder.
You just need colored construction paper, a tissue box, scissors, and glue to put this fun halloween craft together.
6. Toilet Paper Roll Jack-O'-Lantern Pumpkins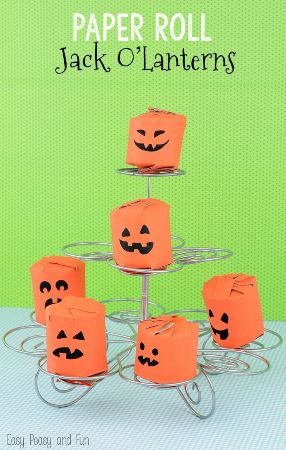 Before you throw away those empty toilet paper rolls, take a look at this adorable jack-o'-lantern craft. Repurpose those empty rolls into cute and creepy jack-o'-lanterns. These are perfect decorations in any part of the house. Nifty and wasteless!
Need more ideas on what to do with those empty paper rolls? Check out these other super simple toilet paper roll crafts.
7. Halloween Jack-O'-Lantern Mask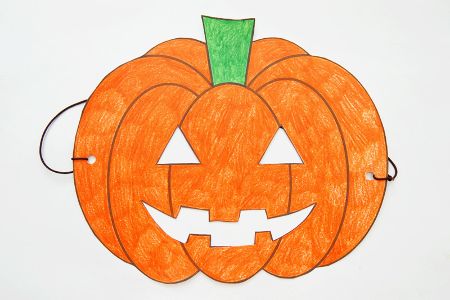 Is your kid in need of a mask for their upcoming class Halloween party? The website First Palette provides a jack-o'-lantern mask template that you can print out quickly and for free. Let your kid design the mask with their favorite colors, too!
8. Jack-O'-Lantern Magazine Collage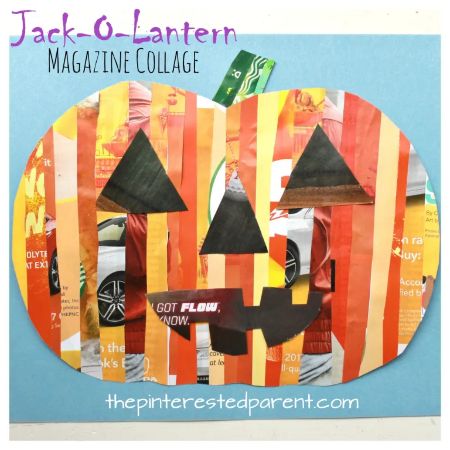 I'm sure you have plenty of old magazines lying around the house. A magazine collage is an artistic way of creating a DIY paper jack-o'-lantern craft. You and your kids might be surprised by what colorful pieces you can create with this method.
Vibrant but simple, this pumpkin collage only requires three materials: magazines, scissors, and glue! The Pinterested Parent also provides useful pumpkin templates to which you can glue your colorful ideas to.
9. Origami Jack-O'-Lantern Pumpkin
This artful craft requires a little bit more finesse than your usual paper craft because it involves origami, the art of folding paper. But don't fret because Pink Stripey Socks will guide you and your kid through the whole process of making this jack-o'-lantern paper craft.
You'll want to use origami paper, but any type of orange construction paper will do. Alternatively you can always look into origami kits that are specifically made with children in mind.
Don't forget to use black markers to create cute (or spooky) faces. Origami will undoubtedly increase your kid's motor skills!
10. Folded Paper Jack-O'-Lantern Craft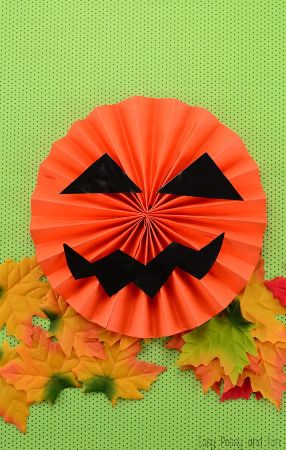 Here's another easy way to make a paper jack-o'-lantern brought to you by Easy, Peasy, and Fun. You can hang these on walls, windows, or doors. All you need for this jack-o'-lantern craft is some letter-sized or A4-sized orange paper, glue, and a little bit of folding skills.
Optionally, you can use a plain white piece of paper and paint it orange!
11. Paper Pumpkin Jack-O'-Lantern Craft
Follow this tutorial from Easy Kids Craft to create this amazing and straightforward DIY jack-o'-lantern craft that's great for toddlers and preschoolers.
Materials that you need include orange construction paper, scissors, a stapler, a black marker, and a ruler.
12. DIY Jack-O'-Lantern Pumpkin Garland
Create this DIY jack-o'-lantern pumpkin garland from Lauren Fairweather to decorate with. This is an easy and pleasant craft that you and your kids can do together in preparation for Halloween!
4 Jack-O'-Lantern Preschool Projects
Here are some other DIY jack-o'-lanterns that are made with materials other than paper. Some of these crafts require more effort to make than their paper-based counterparts, but they're still tons of fun for the kids.
13. Popsicle Stick Jack-O'-Lantern Craft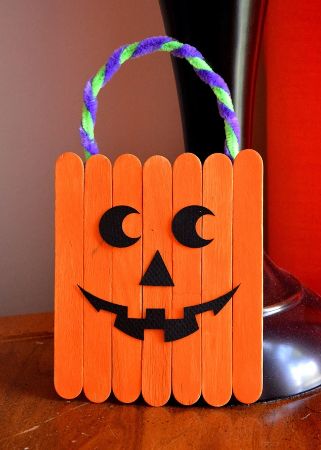 Here's a really easy DIY jack-o'-lantern craft by Glue Dots Blog kids as young as toddlers can virtually do on their own.
This activity calls for popsicle sticks, pipe cleaners or yarn, orange paint, and Removable Dots (these will make it easier for little hands to stick the popsicle sticks together).
14. DIY Jack-O'-Lantern Luminaries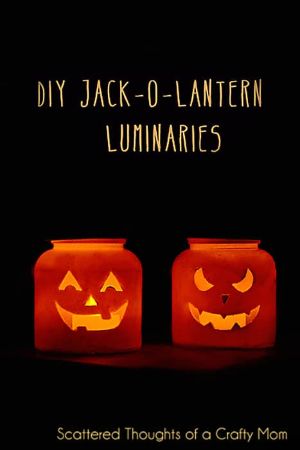 If you've got unused mason jars lying around, this small DIY craft by Scattered Thoughts of a Crafty Mom will light up your Halloween season nights. Children will definitely think this is a cool jack-o'-lantern craft!
You'll need a small glass jar, orange acrylic paint, and sticky paper to draw and cut out the templates for the eyes and mouth.
Add a tea light inside the jar to light up your luminarie and BAM – easy and instant Halloween decor!
15. Painted Jack-O'-Lantern Shirt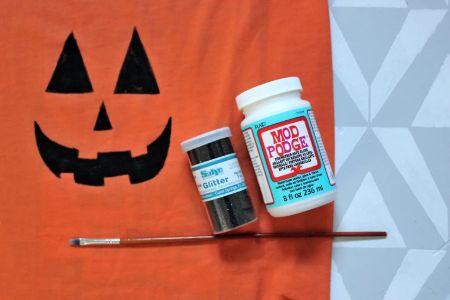 Consider the Peel found an artistic way of transforming an orange shirt into a jack-o'-lantern with a paintbrush, black paint, Mod Podge, and a pen.
You and your kid will have a blast making this Halloween craft. You could even create a matching pair of jack-o'-lantern shirts this upcoming Halloween!
Using clothing for crafts is so much fun. Learn how to tie-dye a shirt for endless hours of family fun. I also share the best shirts for tie dye projects!
16. Jack-O'-Lantern Balloon Piñata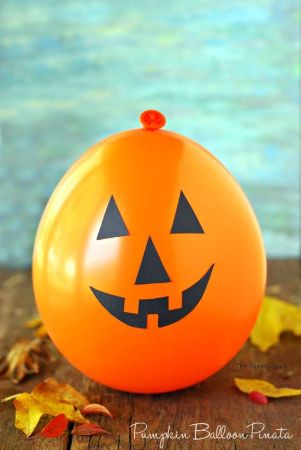 If you're organizing a kids Halloween party this year, this jack-o'-lantern craft is perfect for you. This balloon piñata by The Gunny Sack can be filled with assorted chocolates and candies for a fun Halloween celebration!
Will the kids be tricked or treated with their favorite sweets? They'll know once they start popping these balloons!
5 Jack-O'-Lantern Crafts Made With Real Pumpkins
While paper crafts and other DIY Halloween projects are great, nothing can beat the authentic jack-o'-lantern made with a real pumpkin.
These crafts should be done under the supervision of adults as they involve tools that are potentially dangerous to children.
17. Owl Jack-O'-Lantern Craft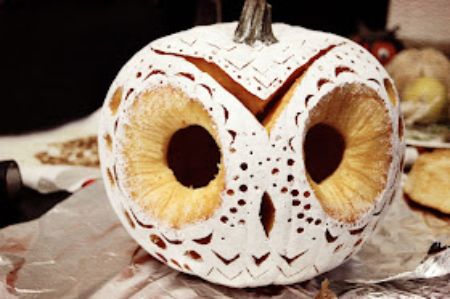 This fall craft is one of my personal favorites because it doesn't look as spooky as the traditional jack-o'-lantern. Besides, why would you go with tradition when you could have a cute owl-themed jack-o'-lantern like this one from Our Little Burrow?
While the pumpkin carving should be done by an adult, kids will absolutely have fun coloring and designing this look of this jack-o'-lantern craft.
18. Chalkboard Paint Jack-O'-Lantern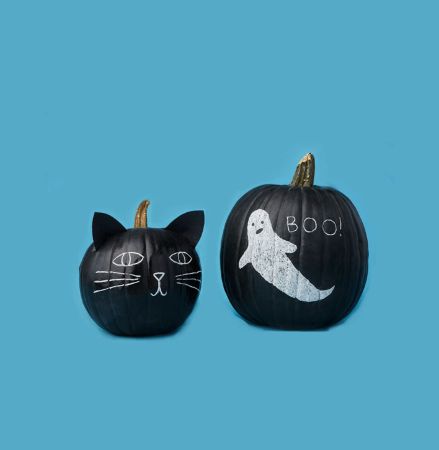 Don't have the time, energy, or patience to carve a pumpkin this Halloween? Thankfully, chalkboard paint exists!
Avoid making a mess with this unique jack-o'-lantern craft by Real Simple that only requires chalkboard paint, chalk, and newspaper. A black jack-o'-lantern is, in my opinion, very aesthetically pleasing and fitting for the season.
19. Lollipop Jack-O'-Lantern Craft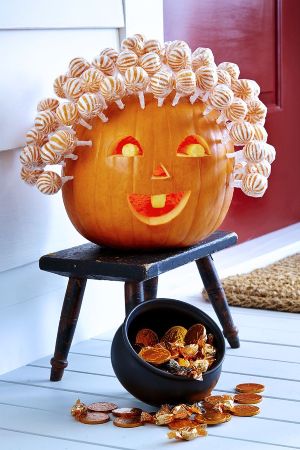 Create a multipurpose Halloween decoration with this lollipop jack-o-lantern craft that looks like it has crazy hair by Woman's Day.
For this project you need a pumpkin (of course), carving tools, and assorted flavored lollipops.
Giving out candy this Halloween will be a fun and unique experience with this jack-o'-lantern!
20. Traditional No-Carve Jack-O'-Lantern Craft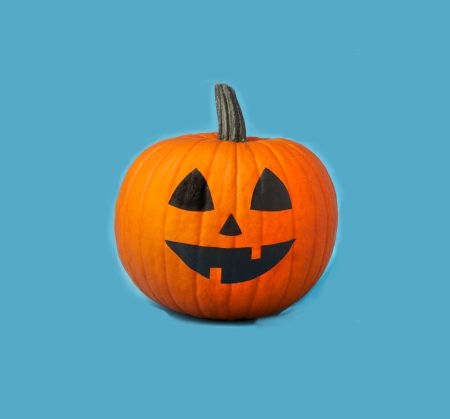 This list would not be complete without the traditional jack-o'-lantern. This one shared by Real Simple doesn't require carving, making it a much simpler and safer jack-o'-lantern for preschool-aged kids.
You only need a pumpkin, Mod Podge, black tissue paper, and a foam brush.
21. Squash Jack-O'-Lantern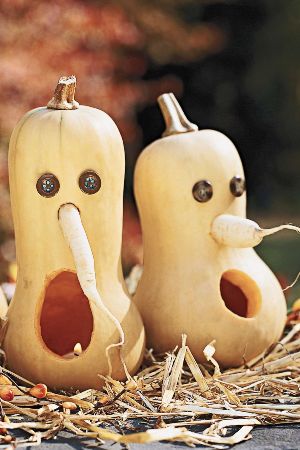 Celebrate diversity by making a jack-o'-lantern from a squash instead of a pumpkin! That's right, you can make jack-o'-lanterns out of things other than a pumpkin.
This is a valid alternative if you live in areas that don't have pumpkins readily available, or if your local pumpkin patch is out of good options.
Or if you just simply feel like making a jack-o'-lantern out of a squash.
Halloween Jack-O'-Lantern Crafts for Kids of Every Age
Whether you make a paper jack-o'-lantern or one made with a real pumpkin (or perhaps a mix-and-match of all of the above), your children will no doubt enjoy these jack-o'-lantern crafts.
No longer will they be scared of Halloween; instead they'll look forward to the excitement that is everyone's favorite spooky season!
Keep the party going with these other Halloween-themed craft ideas: