Toddlers and preschoolers experience tremendous intellectual, social, and emotional changes in a short period of time, and making these duck crafts is entertaining, mentally-stimulating, and fun for both kids and parents!
I've put together a list of 14 duck craft ideas that are not only suitable for older kids, but are also great for preschoolers and toddlers to do with a grown up!
Cute Duck Craft Ideas for Kids of All Ages
1. Cupcake Liner Duck Craft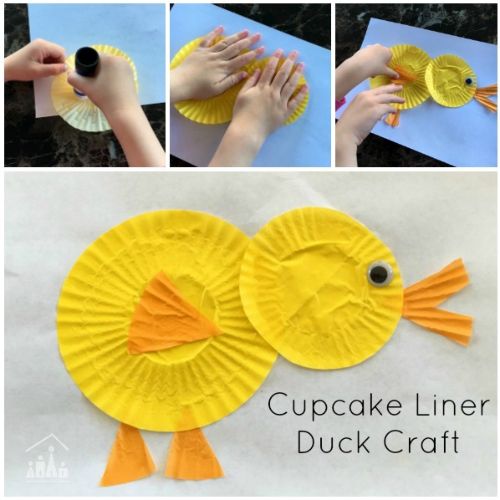 Photo Credit: Craft Kids at Home
Your kids will love this fun and relatively easy activity. With the use of yellow and orange cupcake liners, googly eyes, scissors, and glue, they can make a cute cupcake liner duck craft in minutes!
You can find detailed step-by-step instructions from Crafty Kids at Home.
2. Duck Hat Craft
This duck hat craft project is a great activity for playdates or a kid's party.
The kids will need poster boards in yellow, orange, blue, black, and white, along with scissors and glue. Pre-cut everything to let the kids work on their own.
Check out the video tutorial above by Simple Craft to learn how to make this duck hat craft with your kids.
3. Egg Carton Duck Craft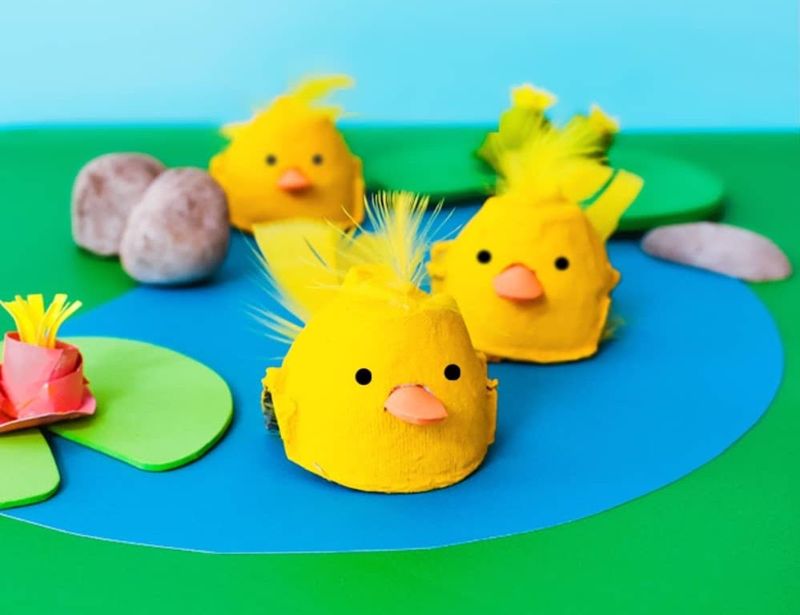 Photo Credit: Barley and Birch
Here's an inexpensive yet fun duck craft. Recycle egg cartons and turn them into cute ducks! Simply paint an egg carton yellow, stick on a feather and a beak, draw its eyes, and it's done!
Read Barley and Birch's easy-to-follow instructions to learn how to make this egg carton duck craft.
4. Footprint Duck Craft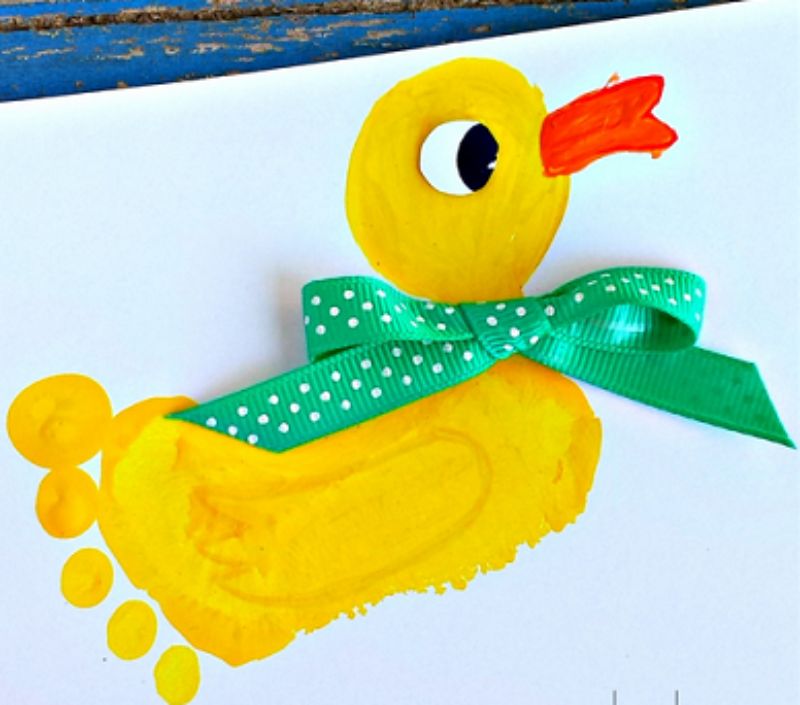 Photo Credit: Crafty Morning
Here's a great craft activity for toddlers. This footprint duck craft is a great keepsake of your child's growing years.
Paint or dip your child's feet in yellow paint. Trust me – they'll adore getting a little messy! Next, press it on paper and let the paint dry. Your child can then draw the duck's head and beak.
Make this craft every year to see how much your child has grown!
Crafty Morning's step-by-step instructions show how to make this footprint duck craft.
5. Cardstock Finger Puppet Duck Craft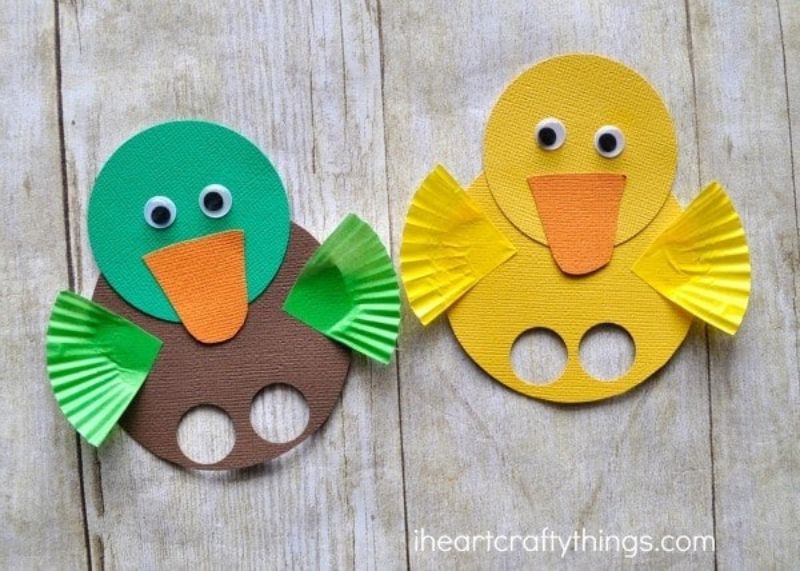 Photo Credit: I Heart Crafty Things
I Heart Crafty Things shares an easy-to-follow tutorial for a cardstock finger puppet duck craft made with cardstock paper, a hole puncher, cupcake liners, googly eyes, glue, and scissors.
This is a quick project that is perfect for toddlers and requires minimal adult supervision.
6. Handprint Duck Craft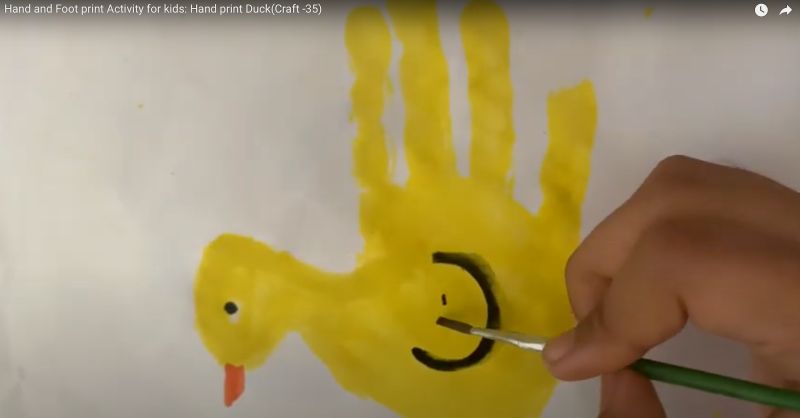 Photo credit: Art Book Kid's Adventures
This handprint duck craft is a perfect match to the footprint duck craft!
This is also a good opportunity to remind everyone to use non-toxic paints for any kid's craft, such as this non-toxic Crayola Washable Kids Paint from Amazon.
Watch Art Book Kid's Adventures simple video tutorial and see how this handprint duck craft can easily be made by your toddler or preschooler.
7. Origami Duck Craft
The art of paper folding may test your child's patience, but it'll get easier with practice. That's why this craft is most suitable for older kids.
This origami duck craft is a great way to introduce your kids to paper folding because it's an entertaining and inexpensive activity. All they need is yellow paper!
Watch the video tutorial above from Paper Crafts 1101 to get started.
8. Paper Plate Duck Craft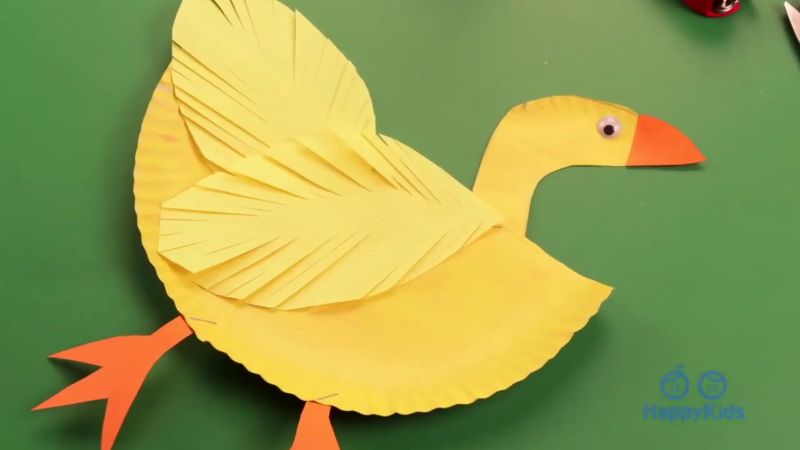 Photo Credit: HappyKids' DIY
Give a boring paper plate an upgrade by turning it into a beautiful duck!
This activity requires a grownup's help because it involves a lot of cutting. Aside from a paper plate, your kids will need yellow and orange construction paper, googly eyes, scissors, and glue.
Watch the video tutorial from HappyKids' DIY to learn how to make this paper plate duck craft with your kids.
9. Paper Plate Duck Mask
This paper plate craft is less intricate than the previous one. Kids love masks, and this paper plate duck mask will make your kids sing "quack, quack, quack!"
This video tutorial seen above from School Craft will teach kids how to make a simple paper plate duck mask.
10. Paper Plate Duck Pond Craft
Here's yet another paper plate craft that kids will love! With the use of magnets, kids can make their ducks "swim" in a pond, which guarantees hours of endless fun.
The materials needed for this duck craft are paper plates, yellow, green, and orange construction paper, googly eyes, scissors, glue, and a magnet.
Full disclosure: This craft may take 30 minutes to make and requires help from an adult.
Watch Craftpiller's video tutorial above and see how this paper plate duck pond craft is made.
11. Paper Bag Duck Puppet Craft
Photo Credit: I Heart Crafty Things
Kids love home puppet shows because they're fun and entertaining, and grown ups love them because they're inexpensive!
All kids need is a paper bag, yellow paint, a paintbrush, orange cardstock, yellow cupcake liners, googly eyes, and glue.
While the kids can decorate these paper bags to their heart's content, an adult should do the cutting.
Check out this easy tutorial from I Heart Crafty Things to get started on your very own paper bag duck puppet.
12. Popsicle Sticks Duck Craft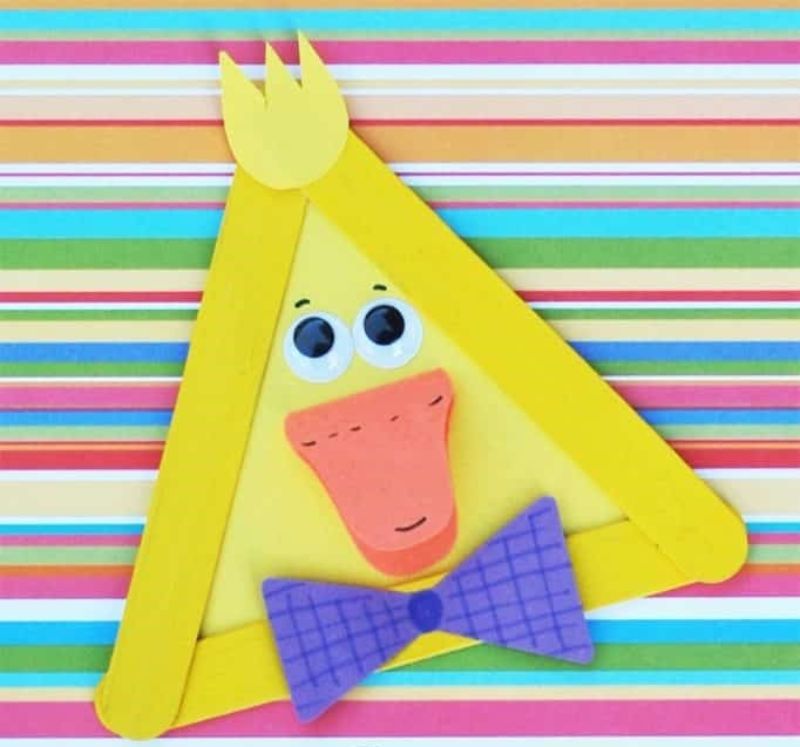 Photo Credit: In The Bag Kids Crafts
This is a great activity for Easter and Spring – or just about any day of the year. Plus, popsicle sticks are a favorite craft material because they're accessible and cheap!
Even though it may look simple, this duck craft is most suitable for older kids.
And while the materials list for this craft is longer than usual, most of the materials can be easily found in the home or purchased online for a reasonable price.
The step-by-step instructions and materials list can be found within this In the Bag Kids' Crafts blog post.
13. Felt Finger Duck Puppets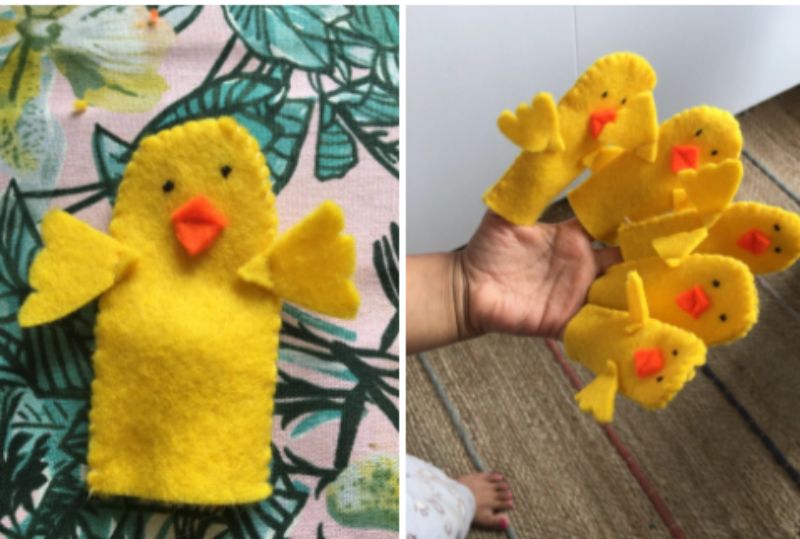 Photo Credit: The Haberdashery Hoarder
Finger puppets are a favorite amongst kids, especially when used during story time!
This duck finger puppet craft requires sewing skills, so it's most suitable for an older kid who has already learned to hand stitch or for an adult to make for younger kids to play with later on.
You can get the step-by-step instructions for these adorable finger puppets from The Haberdashery Hoarder.
14. Pom Pom Duck Craft
And finally, I thought I'd sneak in a craft for the grown ups, too! This video tutorial by Henry Le, a pom pom artist, teaches us how to make our very own duck pom pom balls with yarn.
Now, fair warning, this craft requires the use of some very specialized crafting tools like a clover pom pom maker, clover mini scissors, tweezers, and a C-2 (2.75mm) crochet hook, so make sure you have all the necessary materials before getting started.
If you'd rather leave the pom pom making to the pros, there are ready-made ones available on Amazon, like this set from Carl & Kay's Pom Poms. They not only come in different colors and sizes, they come with googly eyes, too!
The Best Duck Crafts Ideas for Kids
This list of 14 duck crafts provides great fun and easy activities for kids to stay entertained and learn a few new crafting skills. Your kids will have a grand time making and playing with them, especially with your help!
For more enjoyable craft ideas, check out my post on 23 letter "D" crafts kids will be delighted to make.