Mermaids are wonderful and magical creatures! These half-human, half-fish creatures have been featured in various movies and books, the most popular being Disney's The Little Mermaid.
While meeting an actual mermaid might be impossible, there are ways to make these magical creatures a part of your home for your kids.
Turn your home into an undersea adventure with these 28 DIY mermaid crafts!
The crafts on this list are organized by skill level: easy, moderate, and hard.
And check out my post on jellyfish crafts for more maritime crafting goodness!
Easy Mermaid Crafts for Preschoolers
Let's start with some easy mermaid craft ideas that can be done by preschoolers with minimal to no help from a grown-up.
1. Mermaid Crafts for Wall Decorations
Creative Mom DIY, Arts & Crafts shows inexpensive ways to decorate a kid's room with mermaid tail silhouette cutouts using cheap and easy-to-find materials such as markers, scissors, glitter paper (or colored paper), and glue.
2. Origami/ Kirigami Mermaid Craft
Origami is the Japanese art of paper folding which focuses exclusively on folding.
Kirigami, on the other hand, is a variation that includes cutting on top of folding.
For this mermaid craft, you fold paper and cut when necessary to resemble a mermaid's shape.
This mermaid craft from Jenny W. Chan is another inexpensive craft idea that uses paper, scissors, and markers.
Paper folding can also help develop a kid's motor skills!
3. Paper Plate Mermaid Craft
Paper plates are a staple in kids' crafts, and using them for mermaid crafts is no exception.
This rocking paper plate mermaid craft by Red Ted Art utilizes the paper plate to make mermaids rock. The tutorial also provides links for printable mermaid templates so you can focus on crafting and not hunting down a template.
Of course, if you want to draw your own mermaid, this is entirely up to you!
Here's another paper plate mermaid craft from Red Ted Art that shows cutting and designing the paper plate in a certain way that makes a twirler instead of a rocker.
4. Pop-Out Mermaid Birthday Card
Have a birthday coming up or just want to send someone a personalized greeting card? Have kids make this pop-out mermaid themed birthday card idea from Tonni Art and Craft.
5. Toilet Paper Roll Mermaid Craft
Instead of throwing out empty toilet paper rolls, Easy Kids Craft shows us how to make an easy mermaid craft using them as the mermaid's body and decorating them with markers, yarn, and colored paper. Don't forget to use glue and scissors as well!
6. Egg Carton Mermaid Craft
Here's another mermaid craft by Scrapkraft that uses recycled materials such as an egg carton and a cereal box.
The egg carton's dimples (the part that holds each egg) are cut out, painted, and then stacked on top of each other to make the tail.
Instead of buying cardboard paper, just use a cereal box or another box you have to draw the mermaid's upper half.
7. Wooden Spoon Mermaid Craft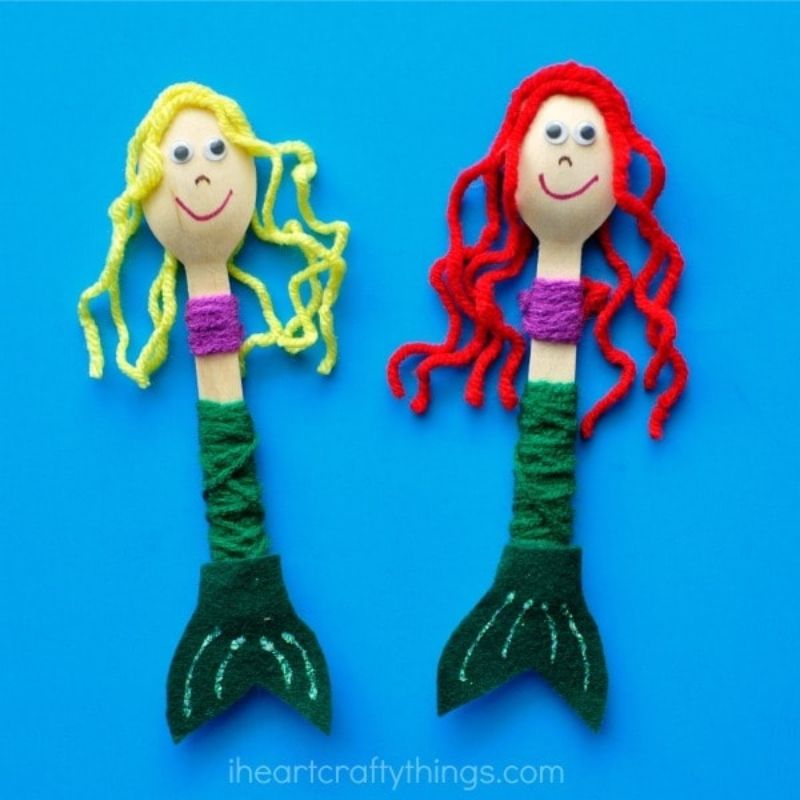 Photo credit: I Heart Crafty Things
If you have some wooden party spoons, here's another simple mermaid craft that uses the spoon as the body of the mermaid from I Heart Crafty Things that kids can do.
All you need are googly eyes, glue, yarn, scissors, felt, and markers to decorate and turn the spoons into these cute armless, mermaids!
8. Wooden Clothing Pins Mermaid Craft
For this craft from BeAFunMom, all you need are wooden clothing pins, glitter paper, colored pens, and some wool.
Just like the wooden spoon mermaid craft above, the wooden pins would serve as the base of the body while kids use the other mentioned materials to turn the pins into mermaids.
9. Pipe Cleaner Mermaid Craft
As shown so far, a lot of materials can be used to make mermaid crafts, such as pipe cleaners.
The pipe cleaners serve as the arms and main body. Other materials are, but not limited to, beads, markers, yarn, thread, scissors, and glue.
This tutorial by Hello, Wonderful shows us how to make mermaids from pipe cleaners and uses an artificial flower for the tail!
10. Mermaid Themed Mini Notebook
Your kids can take their own homemade mermaid themed mini notebook to school!
This tutorial from Peacock Kids shows how to make a mermaid themed mini notebook with card stock, paper, glue, glitter, and scissors for your kids to use.
11. DIY Mermaid Themed Pen
Decorate a pen to resemble a mermaid's tail to go with that mermaid mini notebook!
In this tutorial by CrazeeCrafts, kids can make a mermaid themed pen by using foam sheet, glue, and scissors.
12. Mermaid Bookmark
If your kids read a lot, how about a cute mermaid bookmark to remind them where they left off?
Red Ted Art shows how to make a lovely mermaid bookmark using card stock, sequin, glitter, scissors, and markers. It also includes a link to download a printable template.
13. Mermaid Themed School Supplies
Here are other mermaid themed crafts that double as school supplies.
Aloha Crafts shows six ways to spice up school supplies for kids such as an underwater mermaid design for notebooks, mermaid stickers, and a mermaid pen holder.
This tutorial also includes another take on a mermaid bookmark as well as using clay for pen toppers and a keychain.
14. DIY Mermaid Bracelets
This mermaid craft by Sunny Side Up shows how to make bracelets using sequin fabric, velcro, scissors, a marker, and glue. The sequin fabric makes it look as if the bracelets were made from a mermaid's tail!
15. Mermaid Seashell Necklace
Aside from sequin fabric to make accessories, seashells can also be used.
Freya Makes gives a tutorial on how to use seashells, some ribbon, and a bit of paint to make a simple mermaid themed necklace.
16. Mermaid Themed Dream Catcher
Have the sea itself guard your dreams with a mermaid themed dream catcher. Dream catchers are handmade objects used to catch bad dreams.
Red Ted Art uses sea shells, scissors, a hoop, wool, sea glass, craft wire, and ribbons in this DIY mermaid dream catcher tutorial.
17. DIY Mermaid Phone Case
Have your phone case become an accessory fit for the sea with this DIY mermaid themed shell phone case by GoldieBlox. All you need is a phone case to decorate with glue and sea themed charms.
18. DIY Mermaid Hair Clip
Feel like a mermaid with these mermaid hair clip crafts from Maria Dotz and Miss O Crafts.
Maria Dotz uses glue, shells, and an ordinary hair clip to make this mermaid shell clip.
Miss O Crafts uses faux leather, glitter fabric, tulle, fabric scissors, disappearing ink markers, a lighter (this should be handled by a grown-up), and either alligator clips or nylon headbands.
These hair clips go well with the wearable mermaid tail costume for kids (scroll down to number 27).
19. Mermaid Bag for Kids
This mermaid bag from Story 2 Sleep uses EVA foam, a bit of glue, and scissors to make a cute and tiny handbag for kids.
This can be used to store pens, markers, or various small accessories!
20. Mermaid Themed Pasta Shell Frame
Uncooked pasta is another material used for arts and crafts. Typically, pieces of pasta are glued to frames to make pasta shell frames.
This mermaid craft from Disney Family uses a variety of uncooked shell pasta, paint, glue, and a wooden frame to make a The Little Mermaid themed frame.
Moderate Level Mermaid Crafts (Grown-Up Help Required)
Here are mermaid crafts that can still be done by preschoolers but would require more help and supervision from a grown-up.
21. Mermaid Tail for Dolls
With a bit of fabric, you can glam up dolls with this hand-sewn mermaid tail (or with a sewing machine). This tutorial from TheEternalSnowKiss shows how to do just that!
22. DIY Mermaid Doll
Want to craft your own mermaid doll? CrazeeCrafts shows you how to make one by cutting and sewing some pieces of cloth together. You can even use cloth from old clothes your kids have outgrown!
23. Perler Bead Mermaid Craft
You've seen perler beads if you've been to a craft store. If you're new to perler beads, here's a quick tutorial by Faris to help you get started!
In this tutorial, Perler Bead Planet demonstrates how you can make a mermaid pattern with these beads.
WARNING: Be sure to supervise younger kids as these beads can be choking hazards!
24. Clay Mermaid Craft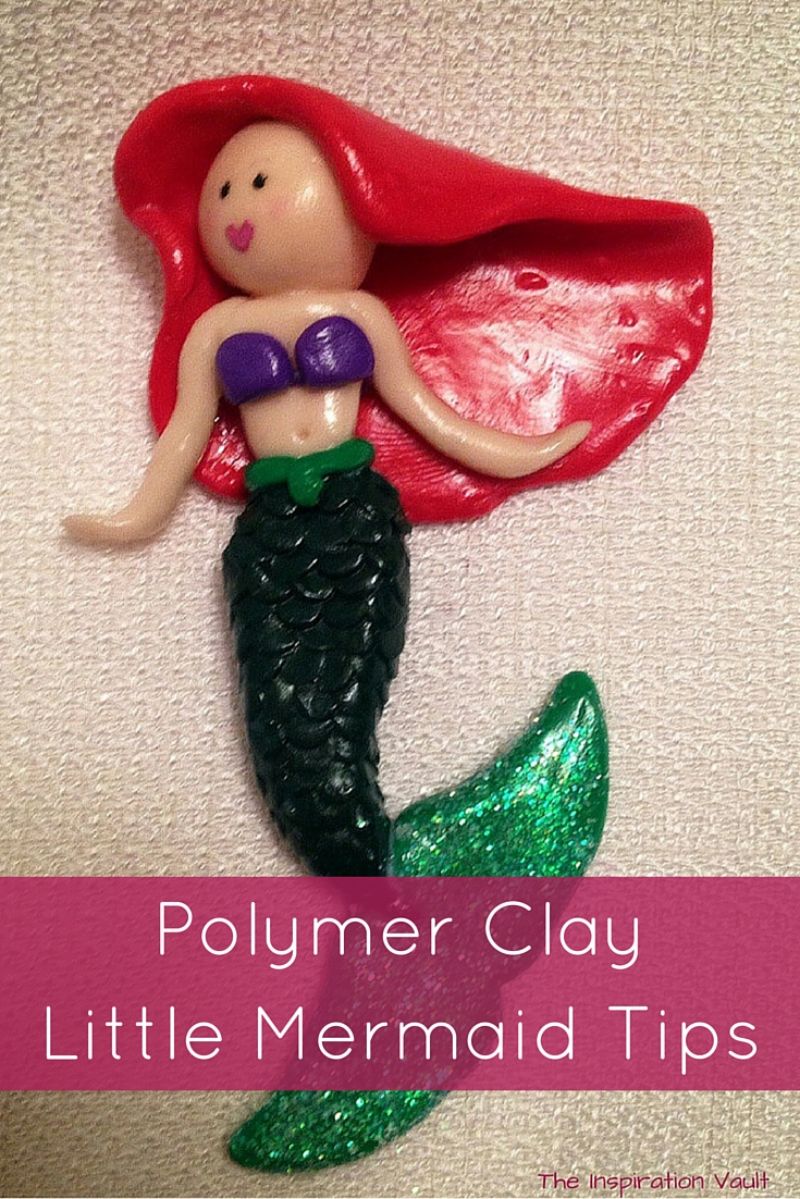 Photo credit: Elle Marie Home
Clay, another staple in crafting, can also be used to make cute mermaid crafts.
This detailed tutorial for making a clay mermaid by Elle Marie Home shows kids how to make a clay mermaid that can be used as a pen topper or keychain.
Molding clay helps develop kid's hand-eye coordination and motor skills!
25. Mermaid Tears
A bit of glue and a bit of glitter, and kids can capture a mermaid's tear!
This DIY mermaid craft from Dream Gem uses a miniature bottle, some glue, food coloring, and glitter to make a mermaid tear charm.
This mermaid tears charm can make for a lovely gift or accessory for kids!
26. Multi-Colored Mermaid Slime
Making slime is another cool crafting activity for kids! Making slime usually requires Borax, water, and glue mixed together. If you don't have Borax handy, an alternative is contact solution (you'll need baking powder if using contact solution).
Michaels shows how to make vibrant mermaid themed slime by mixing some glue, contact solution, baking powder, and food coloring.
This mermaid slime also doubles as a fun science experiment for kids!
Challenging Mermaid Crafts for Older Kids
These mermaid crafts can be made by older kids or adults.
27. DIY Mermaid Tail For Kids
Is Halloween coming up? Have a mermaid themed event?
Brooklyn Ave gives a tutorial on how to make a wearable mermaid tail costume with a welcome mat, fabric, old shoes, and cement glue so kids can become a mermaid.
While this can technically be sewn by hand, using a sewing machine is highly recommended!
28. Mermaid Home Decor Ideas
If you want an "Under the Sea" inspired decoration, Liyana DIY gives a tutorial on a mermaid themed decorative jar using a jar, water, sand, and some aquarium accessories.
Balloons can be used to make some wonderful decorations because they can be connected together to produce various shapes.
Here's a mermaid tail balloon decoration from Ask Me For A Balloon that can be used for parties!
Bring the Under the Sea Adventure to Your Home!
Go to school with mermaid themed school supplies, become a mermaid with a DIY tail, turn your dolls into mermaids, or make your very own mermaid dolls!
Some of these mermaid crafts can help improve hand-eye coordination and motor skills so, not only are they fun DIY mermaid crafts, they also have developmental benefits for kids!
What are you waiting for? Get your kids started on these mermaid crafts today!