Everyone loves Goofy— his trademark holler, comical expressions, and unique clothes make him a lovable Disney character. This is why I think it would be a great idea to share these drawings of Goofy that anyone can do.
Goofy has been making kids laugh since the 1930s. His character has stood the test of time and has been in countless cartoon shows, movies, and even video games.
Gawrsh! What are we waiting for? Let's gather our pencils and crayons and create fantastic Goofy drawings right away.
Enhance your drawing skills by doing these easy pokemon drawings, too.
Draw the Best Goofy Drawings Ever Using These Materials:
7 Easy Goofy Drawings
1. How to Draw Goofy
What better way to learn how to draw Goofy than by watching this tutorial from the artist themself?
Watch this video by 
Disney Parks
to get the best tips and tricks straight from Disney's Hollywood Studios.
2. Classic Goofy Drawing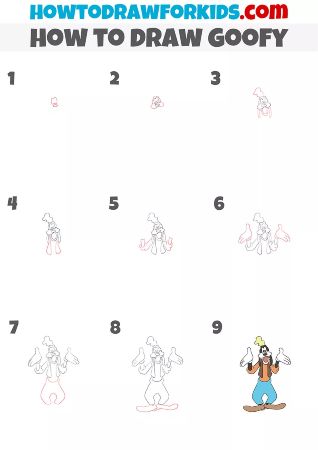 Goofy is a fun character to draw.
His tall hat, long sleeves shirt, and funky vest are some unique pieces that will hone your kid's talent in drawing clothes.
Plus, his facial expressions are also on point just like this drawing from How to Draw for Kids.
3. Walking Goofy Drawing
This drawing of Goofy shows how carefree and outgoing he is.
Draw with Sayali will show you how to perfect his big strides and warm persona.
4. Running Goofy Sketch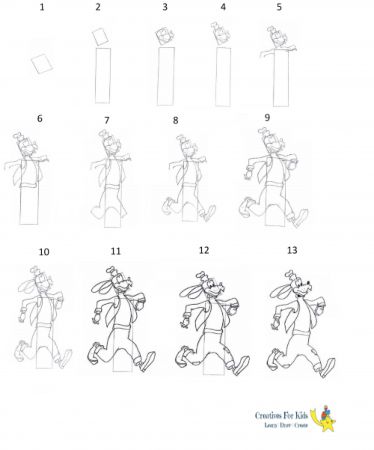 Rushing to do all these Goofy drawings in one go? You can't miss out on this action-packed sketch.
This drawing from Creatives 4 Kids features one of the original sketches of the famous Disney character.
5. Baby Goofy Drawing
We know Goofy as a silly character and a loving father. But wait 'till you see this Baby Goofy drawing from JX FUN Art.
It will give you a new perspective of Goofy which is incredibly adorable and sweet as well.
More kawaii perler bead patterns can be found here.
6. Cute Goofy Sketch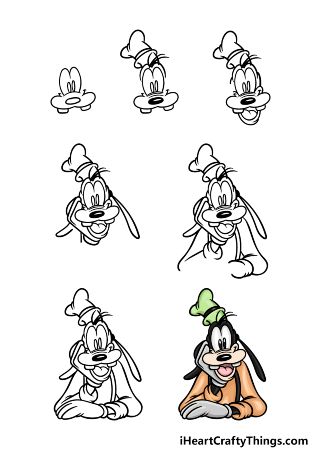 Have a go at this portrait drawing of Goofy from I Heart Crafty Things.
With this drawing, your kid will be able to practice drawing a different angle and side of this iconic Disney character.
7. Little Goofy Drawing
Fun fact: Goofy's character was originally an old dog and was called Dippy Dawg.
This drawing from Draw So Cute shows Goofy the way we know him now—a fun-loving, kid-at-heart, lovable character.
8 Drawings of Goofy
8. Warm Goofy Drawing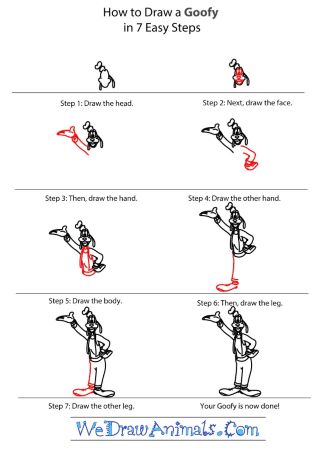 Here's a Goofy drawing from We Draw Animals that's showing his welcoming and warm side.
He's the life of the party and is fun to be around which can be clearly seen in this sketch.
9. Funny Goofy Drawing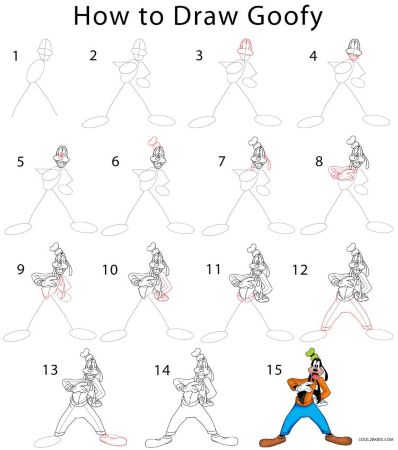 Goofy is full of antics and jokes which is why kids and his friends love him.
This drawing by Cool 2 B Kids captures Goofy's fun personality.
Hungry for more? Check out these cute food drawings.
10. Curious Goofy Sketch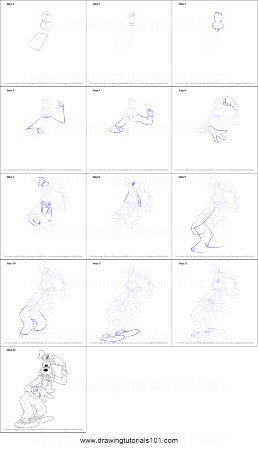 Don't know what Goofy drawing to do next? Follow it up with this sketch.
Show Goofy in a different light. Instead of his wacky poses, this drawing from Drawing Tutorials 101 will show the inquisitive side of him.
Make your BFF feel special by learning how to make friendship bracelets in this tutorial.
11. Detailed Goofy Drawing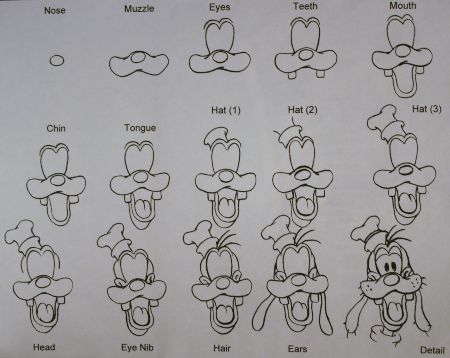 Be a Goofy expert and draw every detail of his face from his teeth to his eye nib.
Disleelandia captured it all and provided this very detailed and easy-to-follow Goofy drawing tutorial.
12. Dressed-up Goofy Sketch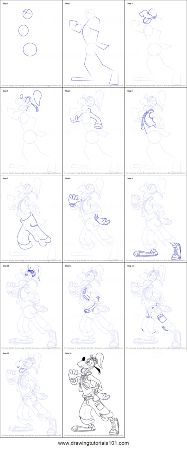 Level up Goofy's outfit (and your drawing skills) by doing this drawing tutorial from Drawing Tutorials 101.
Instead of his usual getup, this drawing features Goofy in fancy and lavish clothes.
Let's do something new and make these easy pirate drawings.
13. Goofy from the Goofy Movie Drawing
Goofy is a well-loved and famous Disney character that he starred in numerous shows and movies. He even got himself his own self-titled movie and a sequel.
Evie's DIY
's video will guide you into drawing him as inspired by A Goofy Movie.
14. How to Draw Max Goof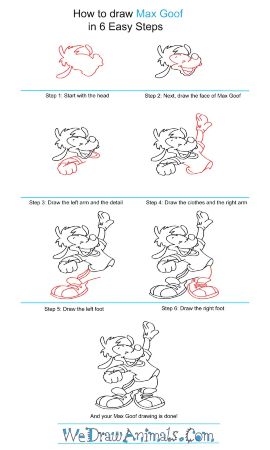 Goofy isn't the only member of the Goof family who's got the groove.
His son, Max, also knows how to boogie as seen in this drawing from We Draw Animals.
Get your game face on because we've got the best diamond painting kits for you on this list.
15. Roxanne from the Goofy Movie Sketch
Watch this video tutorial by Artimee to learn how to draw the beautiful Roxanne.
Draw her gorgeous hair, twinkling eyes, and cute button nose with the help of the video guide.
7 Mickey Mouse Club Character Drawings
16. Mickey Mouse and Friends Sketch
Call out the gang because we're about to do something amazing!
This video from ArtKid Channel includes drawing tutorials of Mickey, Minnie, Goofy, and a whole lot more!
Your kids will learn a lot of drawing techniques and styles in this single guide.
17. Classic Mickey Mouse Drawing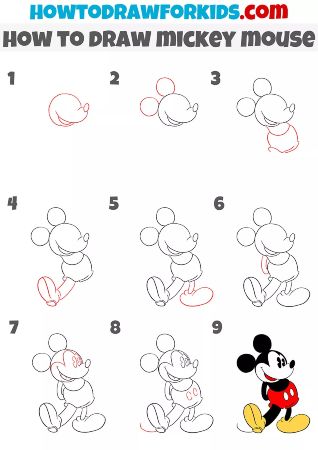 Goofy is also part of the iconic trio which includes Mickey and Donald Duck.
Draw Goofy's oldest and most loyal friend, Mickey, with the help of this guide from How to Draw for Kids.
Create more magical moments with your kids by doing these DIY Mickey ears.
18. Happy Minnie Mouse Drawing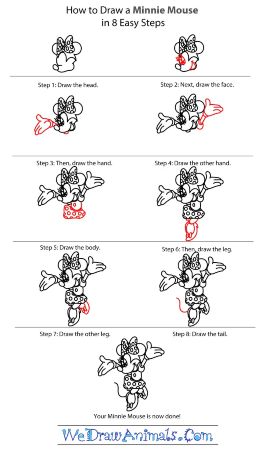 Tee hee! Minnie Mouse is here!
Don't forget to include this beaut drawing from We Draw Animals on your list, too.
M is for Minnie Mouse. More letter M crafts await you on this list.
19. Donald Duck Face Drawing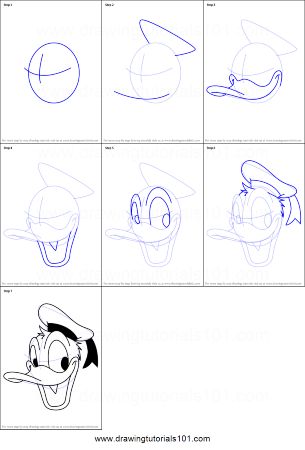 The amazing trio of Mickey and Goofy won't be complete without the ambitious Donald Duck.
Get helpful tips on how to draw Donald with this guide from Drawing Tutorials 101.
20. Pretty Daisy Duck Drawing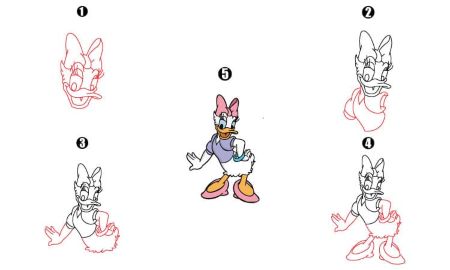 Goody, goody we've got a drawing tutorial of Daisy Duck from Cool Drawing Idea for you, too!
Practice drawing this fashionable duck to enhance your kid's artistic skills.
Catch the coolest duck crafts right here.
21. Adorable Pluto Drawing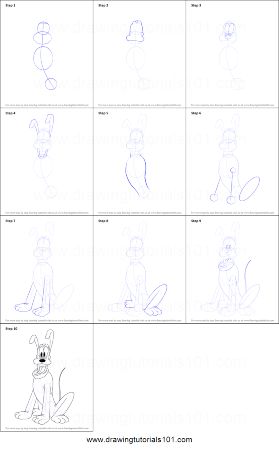 Aside from Goofy, Pluto is another lovable dog character from Disney.
He's the complete package for a pet. He's loyal, adventurous, and sweet as well.
Drawing Tutorials 101 has got you covered with this simple step-by-step drawing tutorial of Pluto.
22. Among Us Disney Characters
Add a little twist to your kid's two favorite things: Disney characters and Among Us.
Cartooning Cute Drawings had a brilliant idea of combining the two and made this epic drawing.
Great crafts are among us. Get the coolest Among Us perler beads here.
Fantastic Drawings of Goofy
Goofy is an iconic character who's not only one of Mickey's closest friends but is also a loving father to Max. His character stood the test of time and is loved by many because of his humor and kindness.
These drawings of Goofy will be a fun activity for you and your kids.
Get more art crafts and project for kids in the lists below: