Introduce children or celebrate your favorite team in Major League Baseball by making one of these baseball Perler beads.
The origins of baseball can be traced back to England in the 18th century, where bat-and-ball games were being developed before being brought to North America in the mid-1800s.
Today, baseball is played in many parts of the world, and it's considered the national sport of the U.S. Get pumped for this season by making one of these baseball Perler beads below.
3 Baseball Perler Bead Accessories
Here are some Perler bead accessories that will provide you with that competitive edge and allow you to score that home run.
While making Perler beads is done for leisure, there's nothing wrong with creating more complex designs, such as the ones in this 3D Perler bead pattern guide.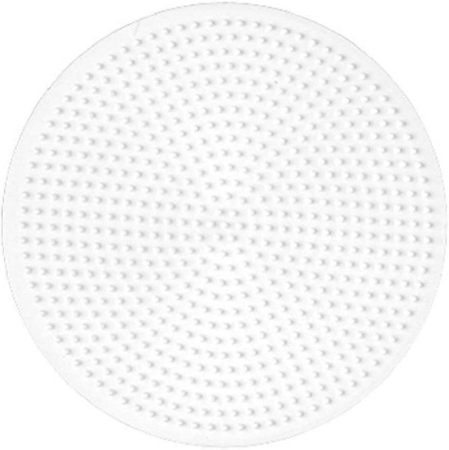 It's more difficult to assemble a baseball design on a square Perler bead pegboard than it is on a round one. It's doable, but why go through the hassle of figuring out the angles of the ball with a square pegboard when it's easier to just get this round pegboard?
See more patterns that use this pegboard in this list of circle Perler bead patterns.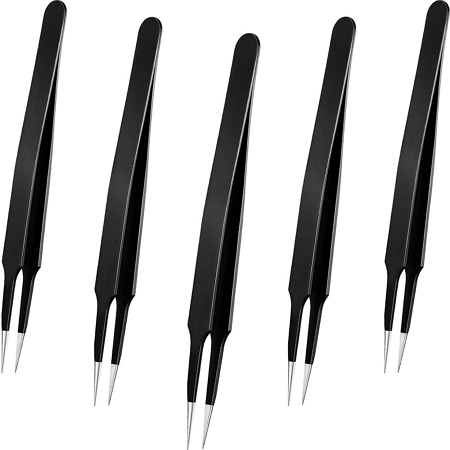 If you're having a hard time placing those fuse beads in the right order, perhaps a pair of Perler bead tweezers can do the trick.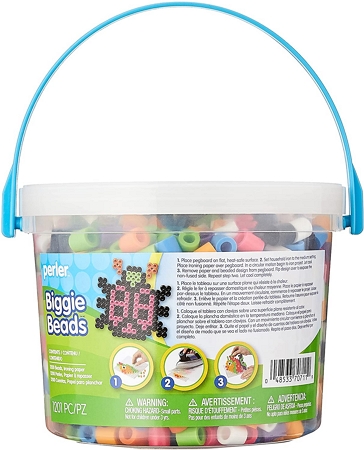 Give those Perler beads a much more solid appearance through these Perler "biggie" beads, which are a bigger version of the usual melty beads. One of the advantages of bigger beads is that they're easier to pick up, especially for little children who are just starting to develop their fine motor skills.
7 Baseball Perler Bead Patterns
Let's learn the basics of baseball by making these seven baseball Perler bead patterns, which include the equipment used in the sport. People who play or watch baseball regularly will no doubt appreciate having one of these designs to display.
4. Baseball Perler Bead Pattern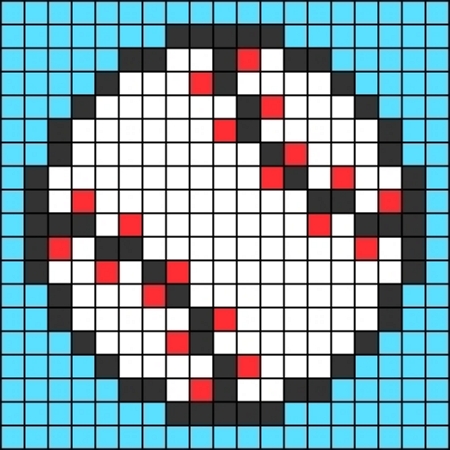 Completing a baseball design on a square pegboard is difficult but very doable, just as how halokiwi's design demonstrates. At the core of a baseball is cork encased in two layers of rubber.
The cork center is then wrapped around layers of yarn, which is covered in two pieces of animal hide, usually painted in white, and hand-stitched together with a red cotton thread.
5. Softball Perler Beads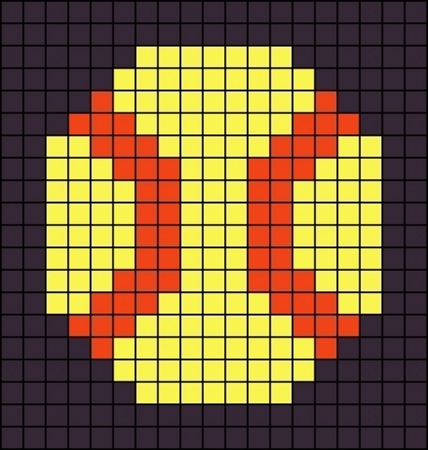 A softball is a type of baseball, usually used for training purposes or safety purposes when playing indoors. It has a distinct yellow-green color and it's typically made of synthetic material. It also differs in size and weight, being slightly bigger and heavier than the regular baseball.
Here's creative_1 showcasing the softball.
6. Round Baseball Perler Bead Pattern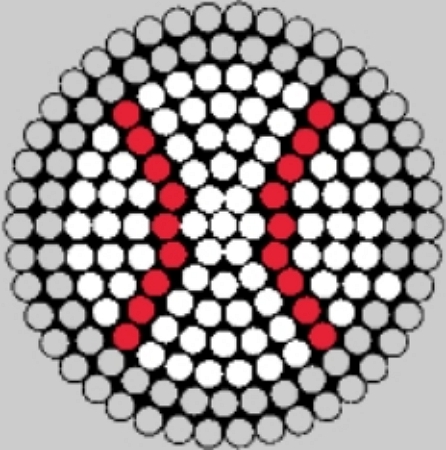 The baseball is made of a light material and has specific measurements that allow the pitcher to throw different types of pitches.
Here's a baseball pattern designed for the round pegboards shared by Nicky.
7. Baseball Glove Perler Bead Pattern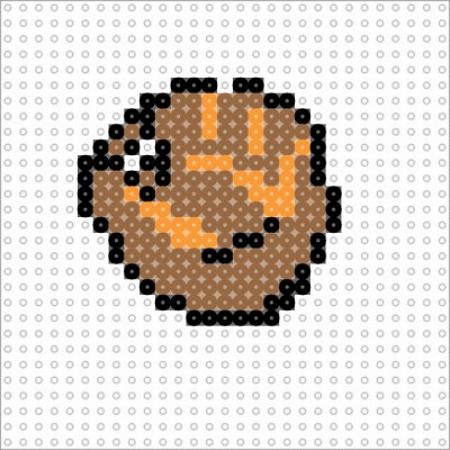 A baseball might be bouncy but it's heavy enough to cause some serious damage when thrown at very high speeds. Catching it can be hard on the hand, but luckily, kitsumeow has this baseball glove Perler bead pattern both for fielders and catchers.
Do you know what else acts as a cushion like this glove? Marshmallow crafts!
8. Baseball Bat and Baseball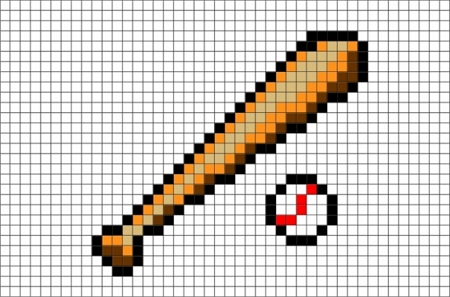 Cute Wallpaper demonstrates that designing a baseball bat and baseball on a square Perler bead pegboard is not a complex task.
For other easy tasks for children, check out these easy Perler bead patterns!
9. Baseball Cap Perler Beads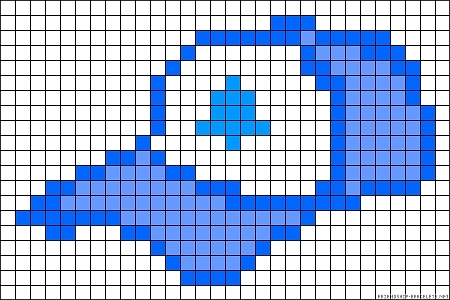 It's fairly obvious why baseball players wear a cap outdoors. MelanisticCoon shares a baseball cap worn by Dipper Pines from the cartoon show Gravity Falls.
If your children are cartoon enthusiasts (whose kid isn't?), then they'll love these Bluey crafts and PAW Patrol Crafts!
10. Baseball Batter Perler Bead Pattern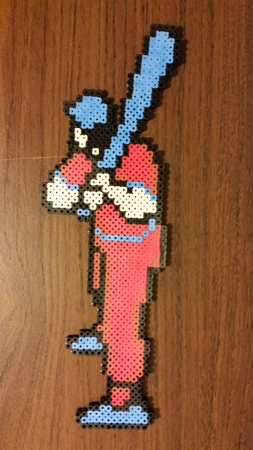 One of the most exhilarating moments in baseball is when the batter gets a home run and takes the lead in the game. It's arguably one of the best moments if the home run wins the game or even the season!
Here's jrfromdallas providing a pattern of a baseball batter, moments before they hit that crucial home run.
14 MLB Baseball Team Logos Perler Beads
Let's move on to some memorable and even emotional MLB logos and team logos that any baseball fan can proudly display.
Head on to our Mickey Mouse Perler beads or Pac-Man Perler Beads to see other iconic Perler beads designs.
11. MLB Logo Perler Bead Pattern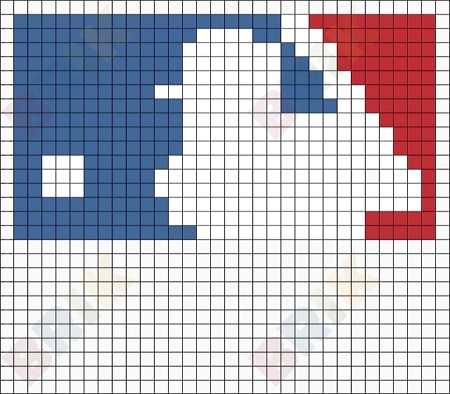 There's no better way to start a list of team logo Perler bead designs than with this MLB Logo pattern shared by Brik. Despite the curvy lines present in the MLB Logo, you know that the creator of the design has done a good job and has kept melty beads in mind when making the pattern.
12. Baltimore Orioles Team Logo Perler Beads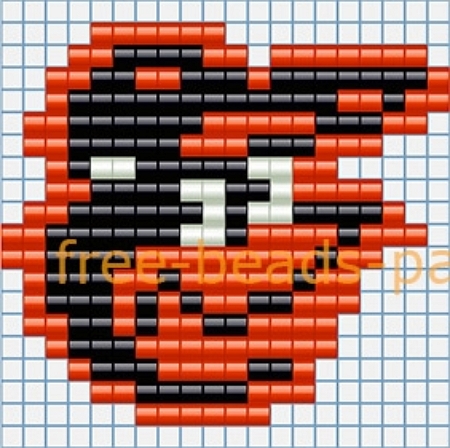 The Baltimore Orioles are one of the several MLB teams that feature a mascot as a design on their logo. Free Beads Patterns shares exactly how to create the logo for all the Baltimore Orioles fans out there.
13. Toronto Blue Jays Team Logo Perler Beads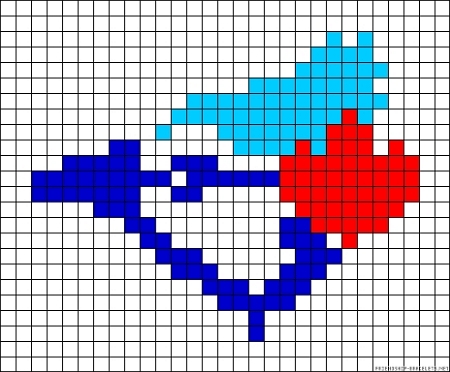 The logo of the Toronto Blue Jays, the only baseball team from Canada, is inspired by the bird of the same name. Here's a pattern from MartiNaD for those who resonate with the energy of this team.
14. St. Louis Cardinal Team Logo Perler Beads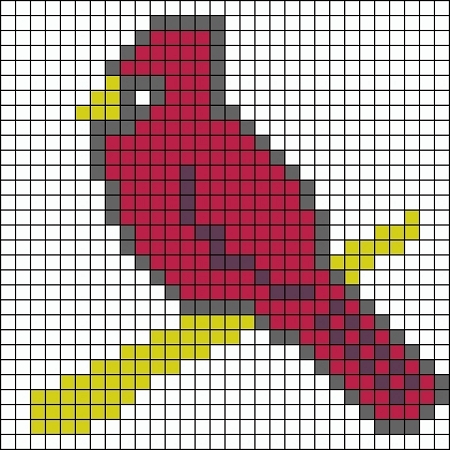 The St. Louis Cardinals is another one of those teams that has a bird on their team logo. The team enjoys strong support from loyal fans, evidenced by the consistently high attendances in the league. Here's hockeymegs showing us how to assemble the logo the right way.
Interested in birds? Try out these hummingbird drawings that are filled with fun facts!
15. LA Dodgers Cap Insignia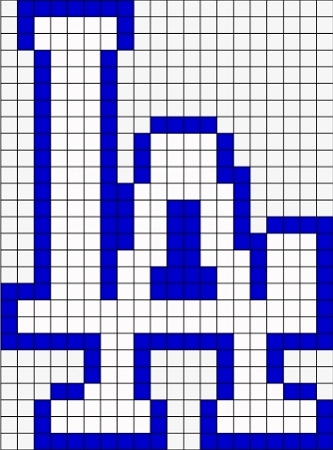 Cap insignias make it easy for fans to recognize and show their pride for their favorite baseball team. Here's PNGKit sharing the insignia of the LA Dodgers, whose home stadium is only second to the Oakland Athletic's in terms of capacity.
16. Boston Red Sox Team Logo Pattern
The popularity of the Boston Red Sox around the world is larger than any other baseball franchise. After all, the name of the team and its logo has been around for more than a century. Free Beads Patterns is here to share the iconic red socks logo of Boston's popular baseball team.
17.  Boston Red Sox Cap Insignia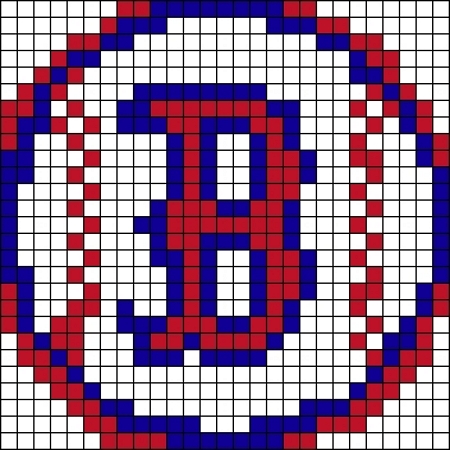 For a Red Sox fan looking for an interesting way to create the team's insignia, ameriblue has got you covered with this amazing pattern. Normally, it would just include the letter "B" and a blue outline, but in this design, they've stamped the insignia on a baseball.
18. New York Yankees Cap Insignia Perler Beads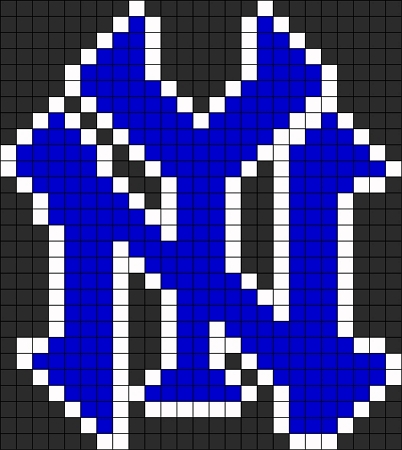 One of the fiercest rivals of the Boston Red Sox is no other than arguably the most successful baseball team in the U.S., the New York Yankees. Ashley302 shares a pattern that's recognizable even outside the U.S.
19. New York Yankees Team Logo Perler Beads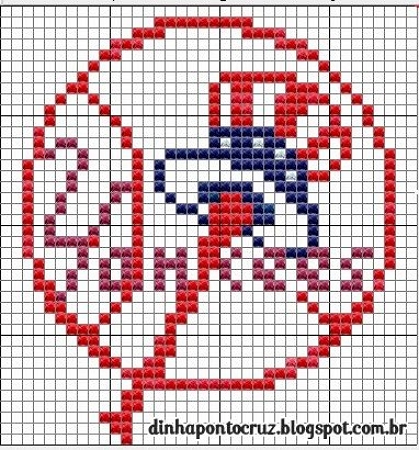 The New York Yankees have won 27 World Championships, which is a record in the MLB. Loyal fans would regret missing out on making the team's logo, courtesy of Dinha Ponto Cruz.
20. New York Mets Perler Beads Logo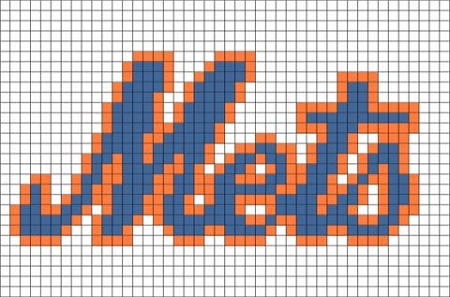 Besides the New York Yankees, the New York Mets is the other major league club based in, well, New York. Though overshadowed by the success of the NY Yankees, which is part of the American League, anyone who watches a New York Mets game wouldn't be disappointed, as its strong fanbase can attest.
Leo is here to share their pattern of the team's logo.
21. Miami Marlins Team Logo Perler Beads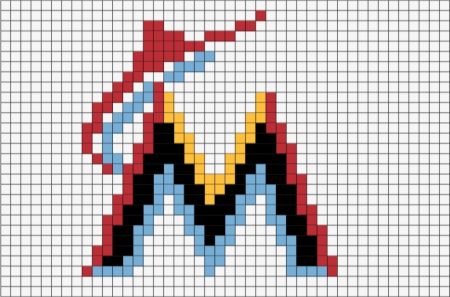 Fans of the Miami Marlins will rejoice when finding out about this team logo pattern shared by PNGKey. Though the team is consistently ranked at the bottom of attendance teams in the MLB, for the Miami Marlin fan, there's no denying that the logo is far cooler than the other ones out there.
22. Milwaukee Brewers Team Logo Perler Beads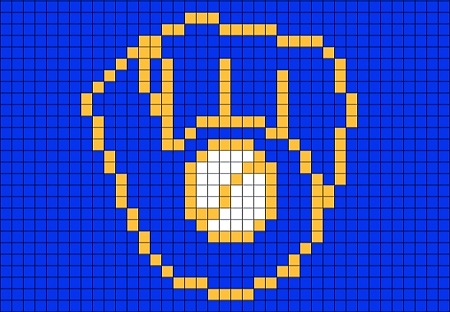 Among all the team logos in the MLB, the Milwaukee Brewers' logo is the one that won't make you doubt that it's a baseball team. Leo shares another incredible pattern for all the Brewers fans.
24. Chicago Cubs Team Logo Perler Beads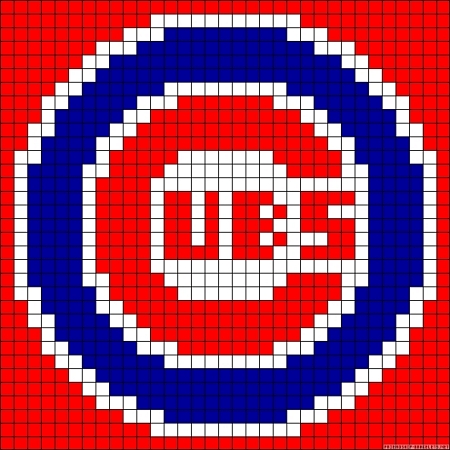 In 2016, The Chicago Cubs, who share the city with the Chicago White Sox, ended a 106-year World Series championship drought. But the franchise has other notable accomplishments to boast about, such as being the first to win a back-to-back championship back in 1907 and 1908.
Loyal fans wouldn't even dare to switch to other teams despite the record droughts in the MLB. Here's xeric1 for those whose hearts belong to the Cubs.
Hit Home Run with These Baseball Perler Beads
Whether you're a fan of a specific baseball team or just a baseball enthusiast in general, making baseball themed Perler bead patterns is a great way to introduce the sport to children or commemorate your favorite MLB team.
For more Perler bead fun, head on over to our other posts: