Japan's rich culture has enriched the lives of people all across the globe. We've have them to thank for anime, camera phones, instant noodles, and of course, sushi! You'll find the best sushi perler bead patterns here.
Sushi is a worldwide phenomenon. There are over 4,000 sushi restaurants in the US alone. We just can't get enough of this delicious dish.
Learn how to draw sushi with this beginner-friendly tutorial.
The Art Supplies You'll Be Needing:
I know that you're excited to get started in making these projects with your kids. But first things first. Listed below are some of the materials that we've used in making the crafts that I know will be helpful to you as well.
8 Easy Perler Bead Sushi Patterns
1. Sushi Perler Bead Pattern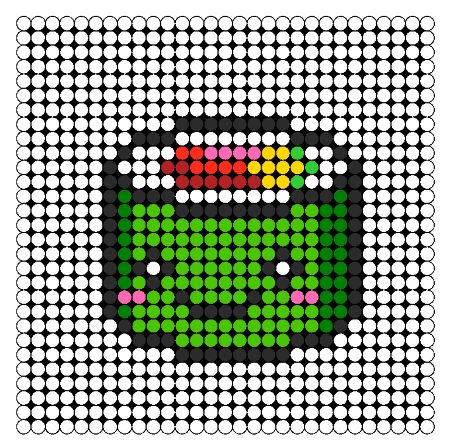 This cute little sushi pattern is ready to welcome you to this list. Its colorful toppings and cute smile are all it takes to convince you that you need to do this pattern with your little ones.
Ready for some fun under the sun? Check out these summer perler bead patterns.
2. Cute Onigiri Sushi Perler Beads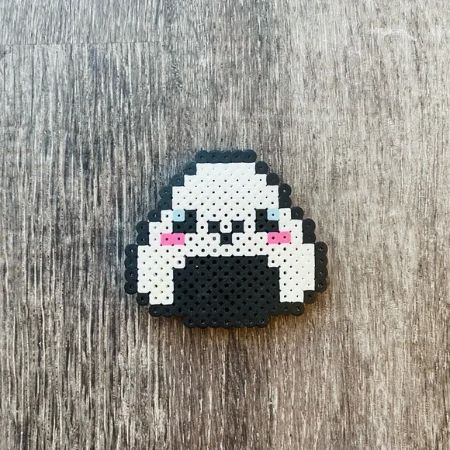 Onigiri or rice balls are made with steamed sushi rice that's wrapped in dried seaweed. The fact that it's triangular makes it really cool, too.
Do your kids love singing and dancing to Baby Shark? This list of perler bead shark patterns should be part of your to-do list.
3. Crab Sushi Perler Bead Pattern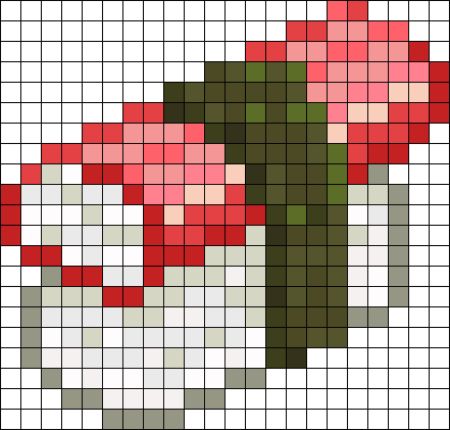 Are you craving some nigiri sushi? This nigiri recipe by Dog is a must-try!
Don't worry if you don't have the ingredients to make one yourself because you can make this perler pattern instead (they're equally mouthwatering).
4. 3D Sushi Perler Beads
5. Soy Sauce for Sushi Pattern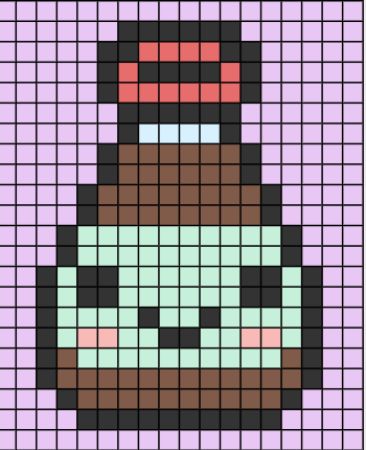 Sushi and soy sauce are the perfect duo. Soy sauce is an important part of Japanese cuisine, especially for sushi. This cute soy sauce bottle is crucial for your sushi perler beads.
Spread your wings and fly while making these pretty butterfly perler bead patterns.
6. Maki Sushi Perler Beads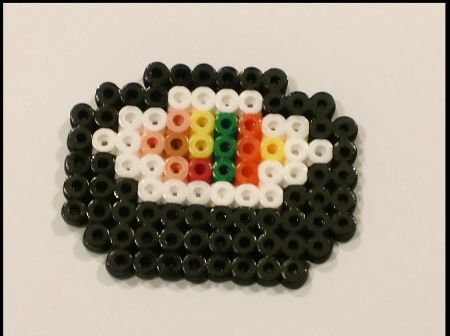 Maki sushi comes in different fillings. Whether you like raw fish, cooked fish, or vegetables as fillings, maki sushi will always taste amazing.
Winnie the Pooh teaches us how to be good and loyal friends. Here are the best Winnie the Pooh perler beads that are best created with your best friends.
7. Smiling Sushi Perler Bead Pattern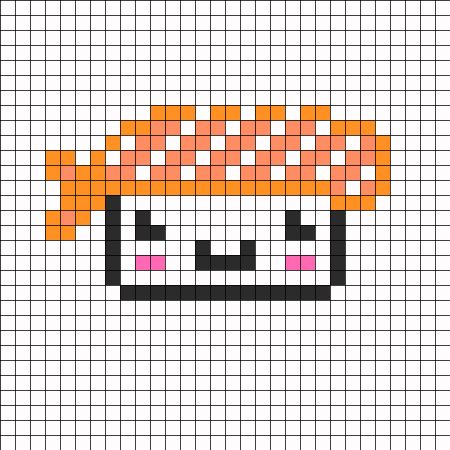 This cute sushi looks like a man with a bandana. Your kids will like that this pattern can be interpreted in two ways. All you need is a little imagination.
Step up your game by creating these My Little Pony perler beads patterns with your children.
8. Yellow Sushi Perler Bead Pattern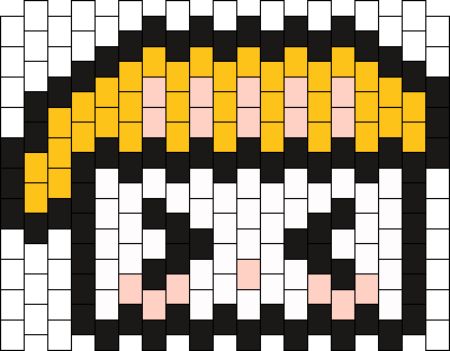 This sushi pattern will be easy to do even for beginners. It only needs five colors of perler beads and voila! you'll have a sushi with a funny face.
Here are other best-sellers when it comes to perler bead food patterns that you should try.
12 Yummy Sushi Perler Beads
9. 3D Nigiri Perler Bead Pattern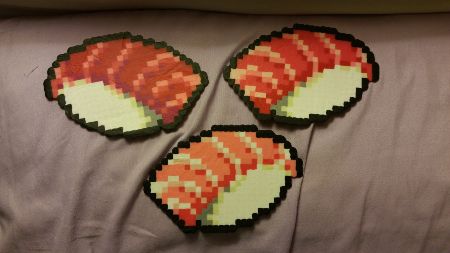 This 3D nigiri sushi looks like it came straight out of a video game because of its pixelized style. Gamers will love bringing this pattern to life.
These animal crossing perler beads patterns will be perfect if they're looking for more game-related projects.
10. Adorable Sushi Pattern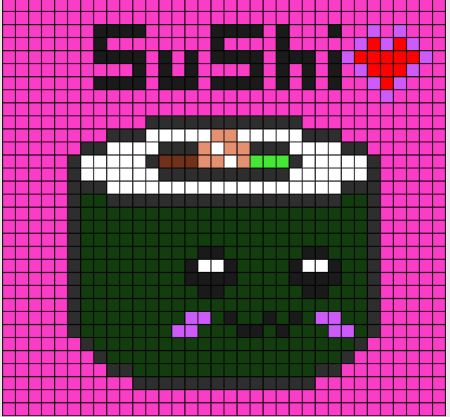 We all love sushi. It's delicious, appealing, and most of all healthy. It's rich in high-quality protein, omega-3 fatty acids from fish, vitamins, and minerals. So head on to the nearest restaurant and grab yourself a roll.
11. Funny Sushi Perler Beads
Different people have different sushi favorites. Some like sashimi, temaki, or maki. Nonetheless, they all belong to the big and yummy family of sushi.
This pattern has something in store for everyone.
12. Cute Sushi Perler Beads Keychain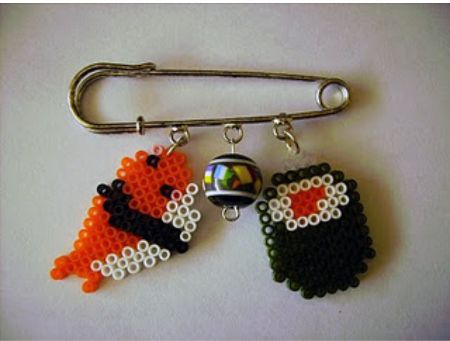 Wish you can have a pocket-sized sushi wherever you go? Your wish is my command.
These tiny sushi perler beads will work perfectly as keychains. Make sure that you've got this microfiber leather keychain that also comes in seven colors.
13. Hamster Sushi Perler Pattern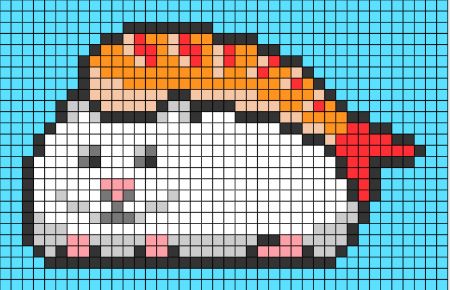 Combine a hamster and sushi and what do you get? An irresistibly cute perler bead pattern. I guarantee that you won't regret making this hamster sushi perler pattern because it's unique and is so fun to make.
14. 4-in-1 3D Sushi Perler Beads
Create a veggie roll, tamago, salmon, and tempura sushi in one sitting through this video tutorial. In this video, Lightning Rocket Creates shares the secret recipe on how to make these four patterns easily.
15. "They See Me Rollin'" Sushi Pattern
They see me rollin' and they just can't get enough. When it comes to sushi, we'll always want another roll and another because they're so good.
16. Sushi Perler Beads with Googly Eyes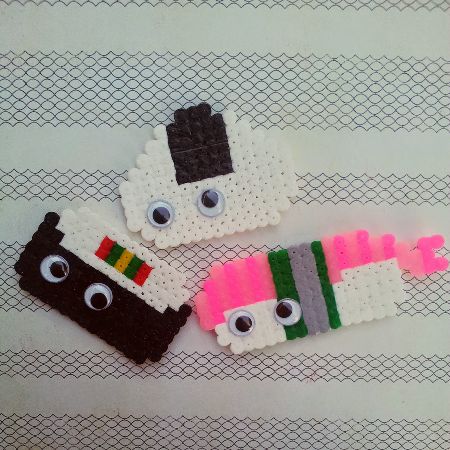 Adding some googly eyes to your sushi perler beads make all the difference. They'll look cuter, funnier, and more alive.
Get some googly eyes for your crafts here.
17. Pusheen Cat Eating Sushi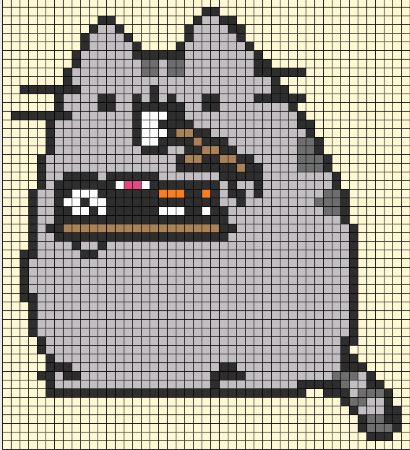 One of the cutest cats on the internet is known to be a food lover. Pusheen is always eating some cake, ice cream, and also sushi. We can't blame you Pusheen, because we can't get enough sushi, too.
Great cat crafts for kids are compiled just for you so head on to this post.
18. Sushi and Ramen Combo Pattern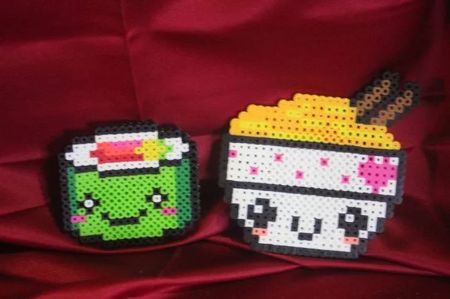 Another Japanese food favorite is ramen. The soft noodles and hot broth is best paired with some sushi. These two combined will give you an unforgettable and authentic Japanese culture immersion.
19. Egg and Shrimp Sushi Earrings Pattern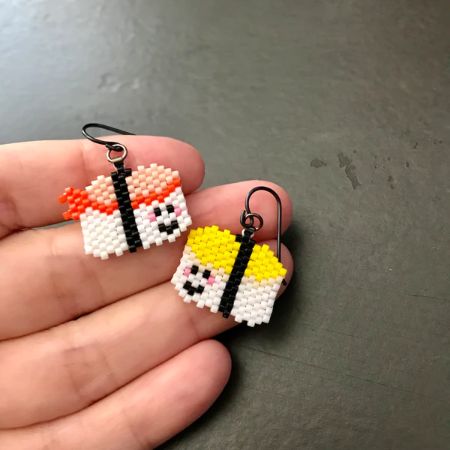 Do you love accessorizing? These cute earrings will be one of your most daring and unique pieces. Expect to receive a ton of compliments while wearing these egg and shrimp sushi earrings.
20. Sushi on Tray Perler Beads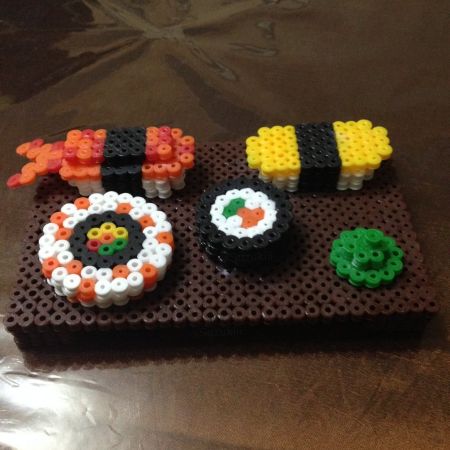 Make the experience more authentic by including a tray on your list. This pattern will give you the whole experience because it includes a sushi, wasabi, and even a tray pattern that holds all the pieces together.
The Most Authentic Sushi Perler Beads
Sushi is an essential part of Japanese cuisine and culture that has been shared with the world. These sushi perler beads patterns will give you a taste of that culture while getting an unforgettable bonding experience with your kids in the process.
Craving for some more craft projects? Check out the lists below: