Get to know more about the interesting creatures that live in the vast oceans by following one of the seahorse drawings below!
Although the term seahorse is derived from the animal's head shaped like that of a horse, this adorable creature is actually considered a fish. They're typically found in shallow, weedy waters.
Seahorses are small but have a lot of interesting details that will excite beginner and experienced artists alike. Anyone who is looking to improve their drawing abilities or is just interested in learning more about seahorses has come to the right place!
I've listed different types of seahorse drawings, ranging from simple ones that little children can practice with to more detailed ones that will push an experienced artist's abilities to the limit!
3 Seahorse Drawing and Coloring Books
Here are some drawing and coloring books related to seahorses that will enhance any beginner's creativity and stimulate their imagination.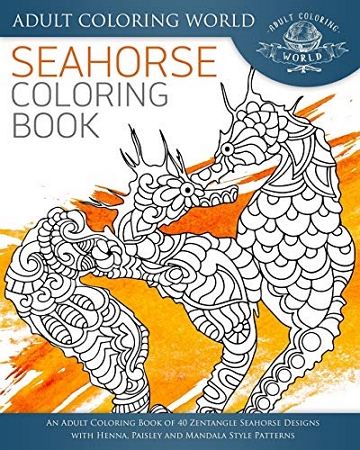 Expand your creative skills through this seahorse coloring book, which is suitable for both adults and children.
This coloring book contains plenty of seahorse designs with henna, paisley, and mandala patterns, which will be mesmerizing to look at once filled with magical colors.
If you want your little ones to get into something more unique, then allow them to try out these rock painting ideas for kids.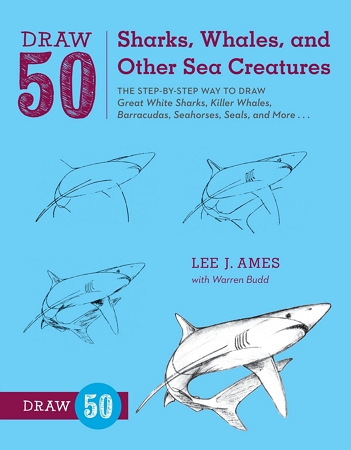 If you're planning to draw seahorses, might as well draw other ocean creatures.
The best way to start is by getting this step-by-step book on how to draw 50 sea creatures. That's right, 50! Anyone who gets their hands on this will surely be busy for the weeks to come.
If you truly love the ocean, then there's no reason not to make these ocean crafts.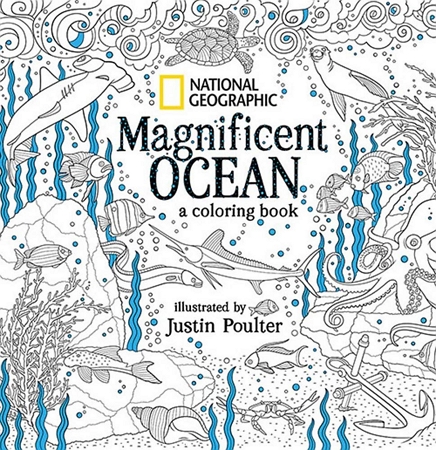 If you'd rather color different sea creatures and environments, then this Magnificent Ocean coloring book is right up your alley!
The pages of this book are filled with 50 different black and white illustrations, each one as intricate and beautiful as the next.
This is the perfect option for those seeking to enhance their creativity and ability to bring to life their drawings.
Visit the ocean through these amazing Moana crafts.
6 Easy Seahorse Drawings for Kids
There's no shame in starting with the basics. In fact, I encourage beginners to start with these so they won't be overwhelmed. These seahorse drawings are simple and quick, and even an ideal choice for children.
If you're looking for kid-friendly drawings, then check out some easy animals to draw for kids!
4. Draw an Easy Seahorse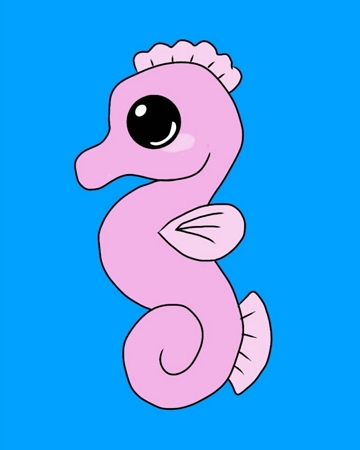 Lohit Art keeps it simple with their purple seahorse drawing.
Their written tutorial makes it easy and educational for children as they use alphabet characters and numbers to complete this seahorse drawing.
Seahorse fact #1: These creatures have the ability to change their color within minutes, which allows them to camouflage with their surroundings and hide from predators easily.
Octopuses have a similar camouflaging ability. If you're interested in drawing other sea creatures, then head on to our octopus drawings list!
5. Easy Seahorse Sketch for Kids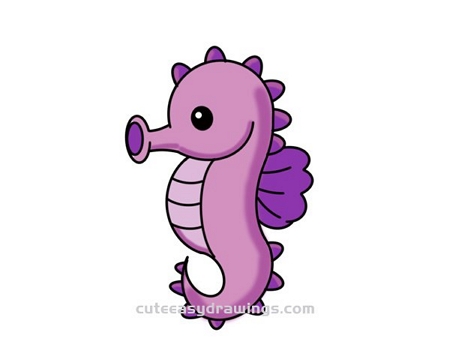 Cute Easy Drawings shares another easy seahorse sketch that children will enjoy drawing.
The color of the seahorse in this drawing is purple, but encourage your little ones to decide what color their seahorse will be.
Seahorse fact #2: Despite their fin's ability to flutter 35 times per second, seahorses are one of the slowest swimmers in the world, with some species averaging about 5ft per hour.
That's super slow, like turtles! If you love turtles, then head on to our other webpage and make these turtle Perler beads.
6. How to Draw a Seahorse with Number "3"
Starting a drawing from an alphabet character or number is one of the easiest ways to remember how to draw something.
Cute Doodle's channel shares a video tutorial that demonstrates exactly that. They start from the number "3" and proceed to draw the rest of the seahorse from that number.
Here is a guide on how to draw a pig, where I've listed items with similar techniques such as this seahorse drawing video tutorial.
7. How to Draw a Seahorse Tutorial for Kids
Seahorses appear so majestic that, if it wasn't for their size, they could be mistaken for dragons.
That's what Art for Kids Hub's drawing reminded me of, at least, with their awesome seahorse video tutorial, which any beginner can easily follow.
Get to know different types of dragons with these dragon Perler bead patterns.
8. Drawing Horsea from Pokemon
The world of Pokemon is filled with any creature you could possibly think of.
In my opinion, one of the cutest ones is Horsea, which is a seahorse-type Pokemon. Learn how to draw this adorable Pokemon by following ResiMania ART's video tutorial.
Try to catch 'em all by making these Pokemon Perler beads.
9. Sea "Unicorn" Drawing
Is the seahorse limited to the shape of a horse? HTDraw tells us that it's not, and any imaginative mind can create a unique seahorse like the sea unicorn from their drawing tutorial.
This unicorn seahorse can be as colorful as your children's imagination will allow, so encourage them to create different versions of this.
Colorful things can be very appealing to many children, so here are some rainbow crafts they can do to excite their imaginations!
5 How To Draw a Seahorse Step-By-Step
Here are six seahorse drawing guides with a clear step-by-step visual aid.
10. How to Draw a Cute Seahorse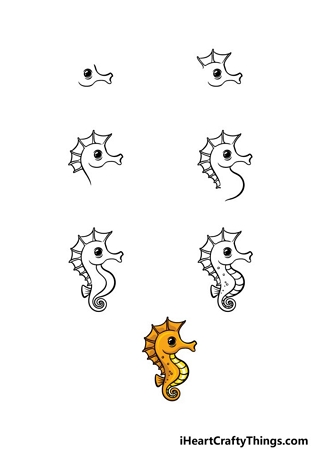 I Heart Crafty Things delivers an easy drawing that has a cartoon style. This seahorse won't be mistaken for another animal because of its horse-like head.
Seahorse fact #3: Somewhat similar to marsupials, male seahorses have a pouch in which they keep the females' eggs until they hatch.
Get to know one of the most adorable marsupials out there by making these koala drawings.
11. Simple Seahorse Sketch
Here's another easy-to-follow step-by-step seahorse drawing tutorial, shared by Art Projects For Kids, which shares some helpful tips and tricks on drawing in general.
For example, the vertical and horizontal lines on the paper act as a reference point for beginners to easily locate each component of the seahorse.
Seahorse fact #4: Seahorses are quite small, yet they spend most of their day constantly eating to stay alive.
Seahorses and hummingbirds have a lot more in common than you might think, like their size and their behavior of constantly eating. Learn more by checking these hummingbird drawings out.
12. Step-By-Step Drawing of a Seahorse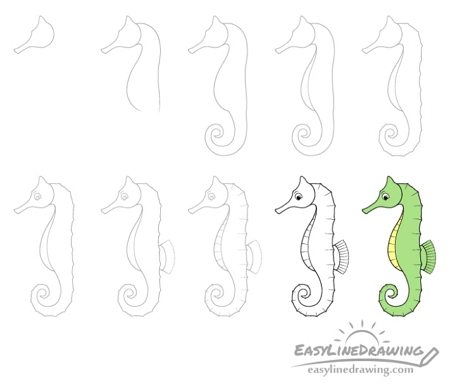 Easy Line Drawing tells us the importance of going slow and proceeding step by step through their seahorse drawing.
Their approach here is very methodical, starting with the seahorse's head, followed by its body, and so forth.
13. Adorable Seahorse Drawing in 9 Steps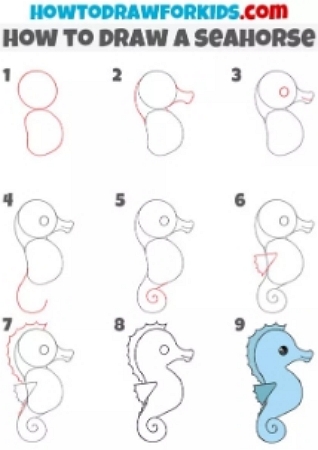 How To Draw For Kids teaches us how to draw an adorable seahorse in nine simple steps.
Seahorse fact #5: Seahorses can eat up to more than 3,000 brine shrimps per day.
14. How to Draw a Seahorse in 13 Steps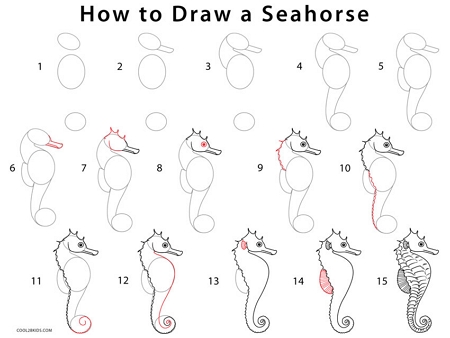 Here's a detailed step-by-step guide on how to draw a seahorse, courtesy of Cool2BKids.
To make the drawing easier, they start with simple outline shapes from which they add little details, such as the snout and fins. Those outlines act as a sort of training wheels, so to speak, to be removed after the details are fleshed out.
Seahorse fact #6: Newborn seahorses are called fry.
5 Drawing a Detailed Seahorse
Novice artists who love to elevate their game should look towards these next five detailed seahorse drawings.
15. Draw a Seahorse the Easy Way
It's important for beginners to not be overwhelmed by the complexity of detailed designs.
Thankfully, Paulette Friedel's channel has a video tutorial that guides the viewer through each step of the way on their seahorse drawing guide.
16. How to Draw a Seahorse
This video tutorial by drawstuffrealeasy's channel is another great choice when looking at seahorse drawing tutorials. Each body part of the seahorse is succinctly explained within the guide.
The artist leaves the seahorse black and white, suggesting that it's up to the viewer what final touches they'd like to add.
17. Detailed Drawing of a Seahorse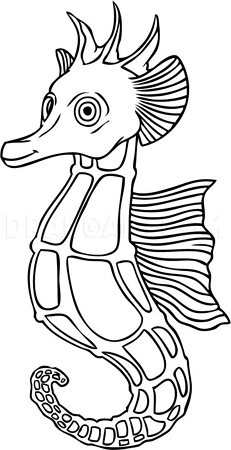 Drawing a cartoon doesn't necessarily mean that the drawing is simple, as this seahorse drawing from Drago Art indicates.
The style is reminiscent of a cartoon seahorse, yet it's filled with small details that will no doubt be appreciated by experienced artists.
18. How to Draw a Detailed Seahorse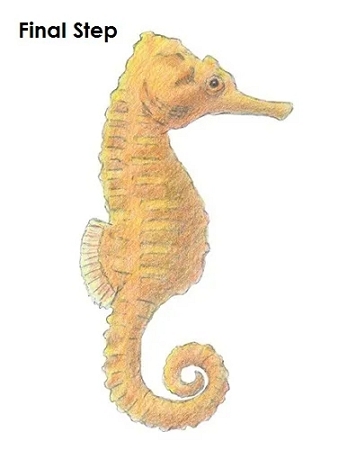 Here's an excellent seahorse drawing tutorial by How 2 Draw Animals.
Each step of this seahorse guide has an in-depth explanation of what to do and what to avoid. Even beginners who are bold enough to sketch this seahorse will be satisfied and surprised by how amazing the guide is.
And if a written tutorial is not enough, they also have an accessible video guide that's just as detailed.
19. Detailed Seahorse Sketch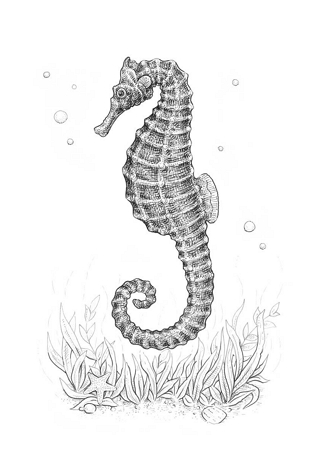 Envato Tuts+ shares an amazing sketch of a detailed seahorse in its natural habitat.
This is a great option for those who love to sketch drawings in black and white. The guide is divided into two parts, one for the seahorse and the other for the environment.
Amazing Seahorse Drawings!
These seahorse drawings are stunning to look at and the guides are quite easy to follow, even the more complex designs.
For more inspiring drawings to recreate, here are some suggestions: