What unique projects could we create with hexagon Perler bead patterns? Let's discover below!
Constructing Perler bead designs on a hexagonal pegboard offers different challenges than those encountered with a square pegboard.
But this also opens up different possibilities—a great way to stimulate the imagination.
The following hexagonal designs will facilitate the entry to harder, more complicated patterns. Whether you're seeking to overcome new obstacles or simply want to relax, the designs below (animals, characters, and even nature) will satisfy the desire to create Perler beads.
Hexagon Perler Bead Materials
Perler beads: basic units for constructing projects. It's easy to deplete the storage, so best stock up!
Hexagon pegboard: this is the canvas for Perler beads. Grab it quickly, if you don't have it already!
8 Hexagon Animals
We love designing animals, here! (See our animal Perler bead patterns)
And though designing on hexagon may be new for some, these critters won't be able to escape from our activities!
1. Tiny Yet Colorful Bird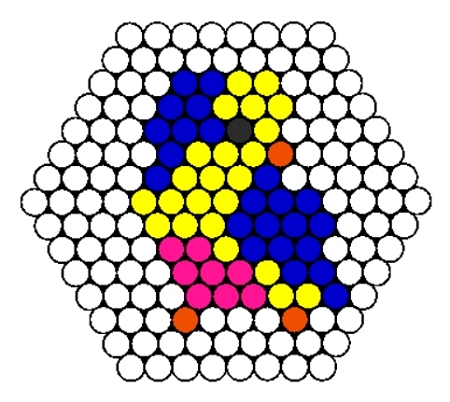 Parakeets make for a wonderful pets. They make for an even nicer Perler bead activity.
Assembling the feathers of this bird by PolarRiotz is child's play. What I'll challenge you to do is to make a parakeet that you can call your own, by choosing your preferred colors.
Don't miss out on these Perler bead birds.
2. King of the Jungle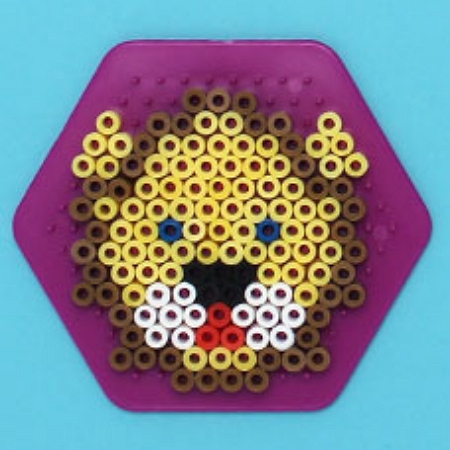 Allow the lion to reclaim its throne in the jungle by making this lion pattern by Craft Project Ideas. The imposing mane on this lion will scare away any who dares depose it.
If you think the lion doesn't deserve the royal spot, you might want to consider these tiger drawings.
3. The Easiest Butterfly Template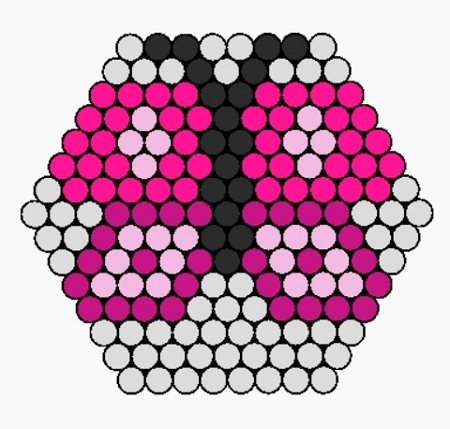 Spotting butterflies that are too pretty to be real is a rare occurrence. That's why I suggest replicating this pattern by stephanie1239.
Let it be your template—experiment with different colors and styles that suit your liking.
Need more inspiration? Look no further than these butterfly Perler bead patterns.
4. Keyring Owls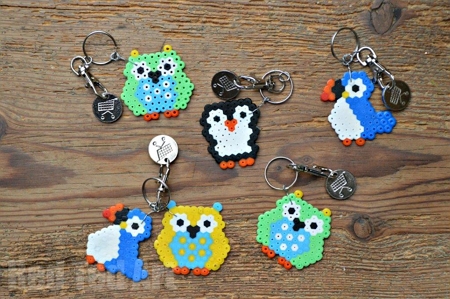 Many Perler bead projects are ignored once completed, to be discovered under the couch after a couple of months. But not this craft by Red Ted Art.
Now you can have a companion attached to your keys with these keyring birds projects. Simply follow the guide and designs found on their page.
5. Ducky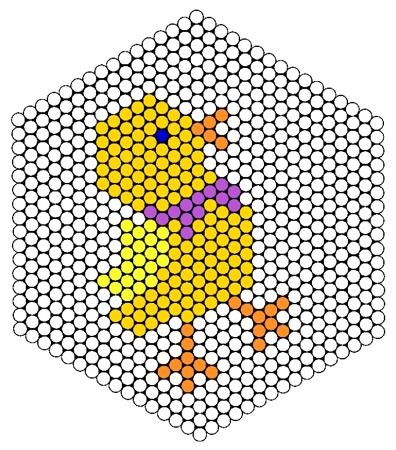 Baby ducks are some of the cutest birds out there. This pattern by RobotFrog21 is not one of them, and probably one of the ugly ducklings you often hear about.
But I'm sure this little fella will turn into a beautiful swan.
6. Small Owl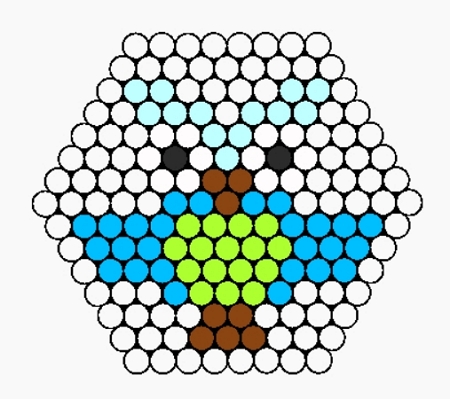 If you're one of the mysterious types, or like Harry Potter, then the owl might be the animal for you. Here's chesterpiggy's pattern of a simple blue owl.
Sc-hoot over to our owl Perler beads for more!
7. Floral Fox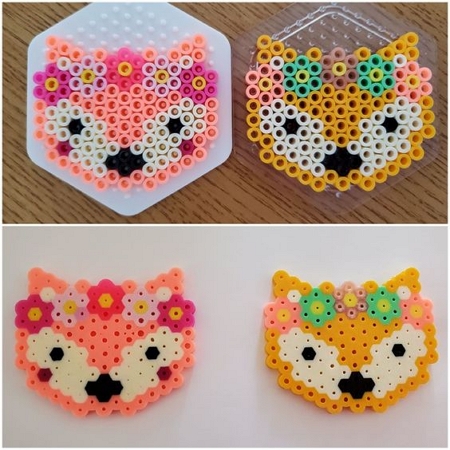 I've never imagined a fox wearing a flower wreath headband would look so adorable. We've got Heather Santos to thank for this unique pattern.
8. Pichu from Pokemon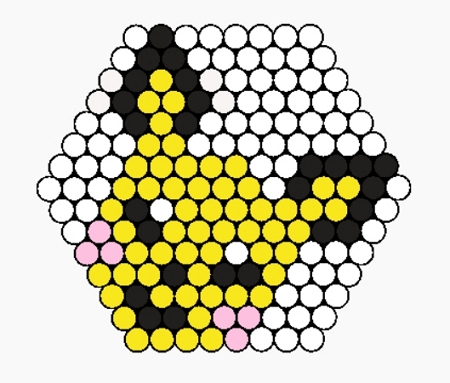 Pokemon collectors can't wait to add a new entry to their Pokedex. Pichu is a fairly common Pokemon, but here's dragonsparkles's pattern if this is a missing link in your team.
4 Shapes in a Hexagon
Not to be confusing, but here are patterns that feature different shapes made in the hexagon pegboard.
9. Triforce from The Legend of Zelda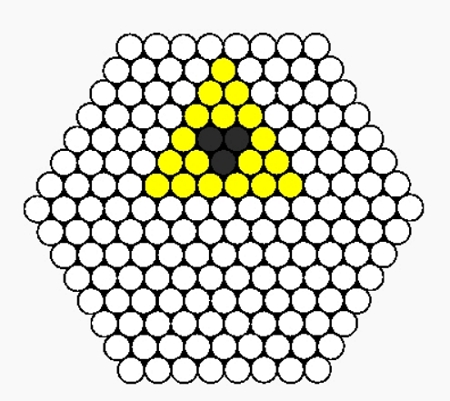 Would you believe me if the ultimate source of power can be found within this triangle? Well, it is—in The Legend of Zelda franchise, at least.
Any child with a tinge of imagination won't be hard to convince of such a thing. So here's Kandi_Kid12's Triforce pattern.
If this mission was a success, I suggest taking on more at Legend of Zelda Perler beads.
10. Spinning Top Project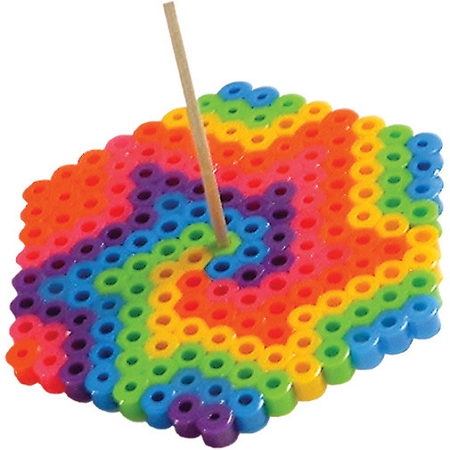 What happened to the good ol' days when we made whatever's on hand?
Perler tests our resourcefulness with their spinning top design, which requires filling up the entire hexagon pegboard.
The challenge, I think, lies in producing mind-bending patterns—which I leave up to your imagination.
11. Dice? You Bet!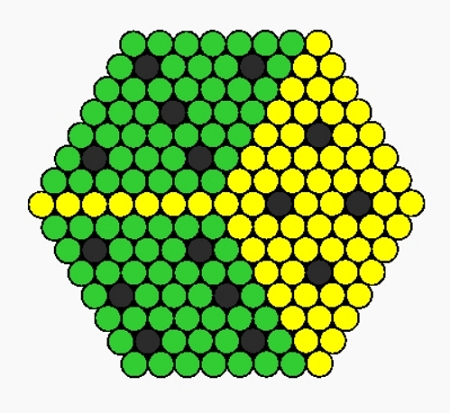 The world will be a better place if we learn to see from different perspectives.
Let's put an effort to see all sides, just like what JinxyJess did on this dice—three sides of which can literally be seen thanks to the power of perspective.
12. Google Chrome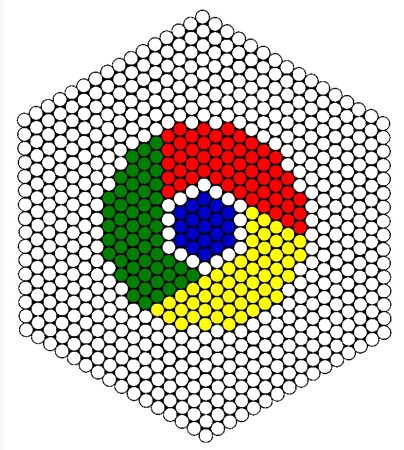 Google Chrome—one of the portals of the Internet. At the center of this design by ermionedeverne is a hexagon that replicates the canvas.
6 Hexagon in Nature
Finding geometric patterns in nature is a mystery that's equally beautiful as it is chilling.
13. A Bunch of Flowers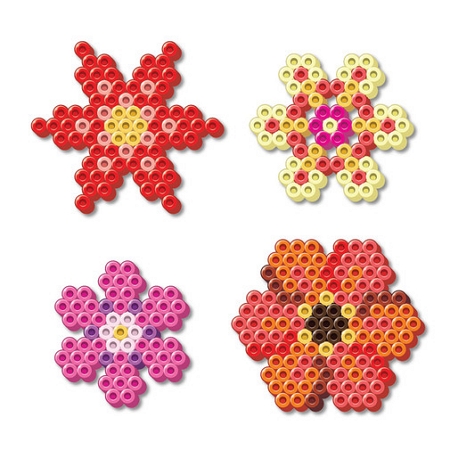 Even with the difficulties presented by a hexagon pegboard, endless possibilities can nevertheless take form.
With their four floral patterns, Perler delivers that idea so effectively.
Create a bouquet with these Perler bead flowers.
14. Beehive: 'Nuff Said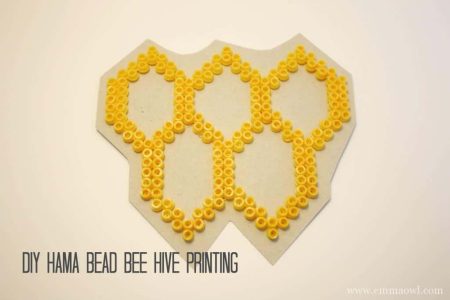 Bees are wonderful, intelligent insects—have you seen their honeycombs?
A hive, without a doubt, will beat me in a test of geometry and teamwork.
Here's a thoughtful craft by Emma Owl, reminding us to care for the little ones that are important to the ecosystem.
Here are some bee Perler beads to build your colony.
15. Spinning Globe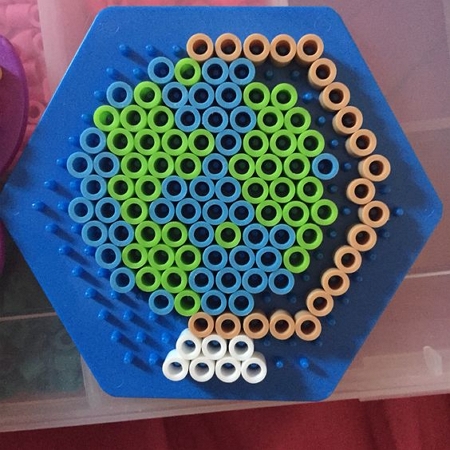 As a lover of geography, this globe by Amanda Ch'ng is a personal must-do.
With such a small canvas to work on, they still manage to fit in a transatlantic view in this design—a remarkable feat, if you ask me.
16. Snowflake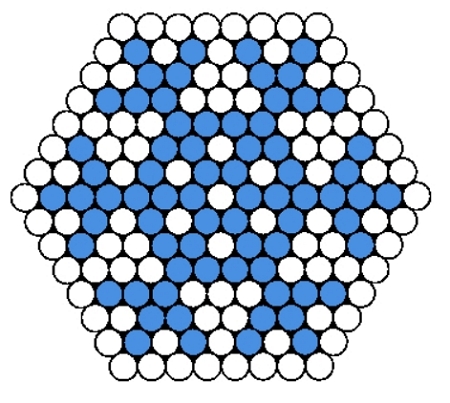 Besides honeycombs, snowflakes are another proof of nature's beauty. A closer look at a snowflake gives us a glimpse of its hexagonal mystery—an arrangement of symmetrical water crystallization.
That no two snowflakes are alike simply complicates the puzzle. Thankfully, there's no need for rocket science to create a snowflake pattern—just take an example from TAL3892.
17. Spider Cobweb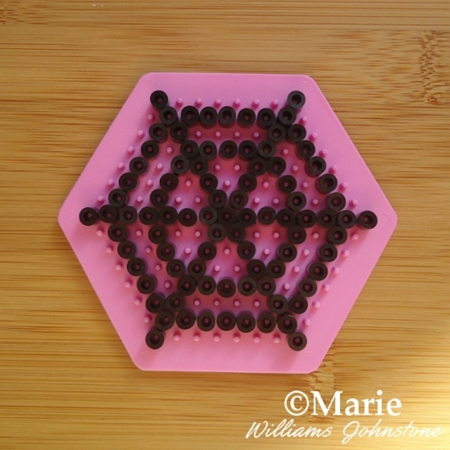 Hexagon in nature is appearing more frequently than you thought, huh? Here's another example—a cobweb from Just Halloween Crafts.
There's an explanation for this phenomenon: the Fibonacci sequence—a name that sounds more like a mafioso than a mathematical headache.
6 Various Hexagon Patterns
Let's make the most out of our hexagon pegboards, shall we?
18. Tasty Snacks and Treats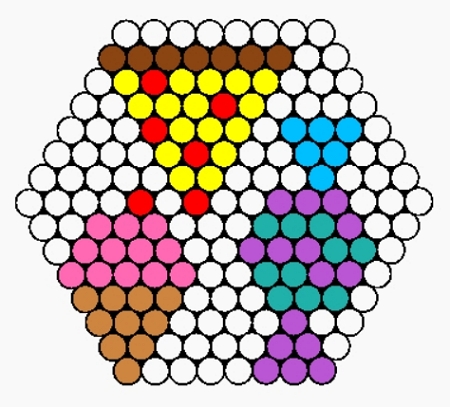 Feeling like ordering pizza? Or indulging in ice cream on a hot day? Maybe you just went trick-or-treating?
All of those fit perfectly in this set by neonsprinkles.
19. Chocolate Muffin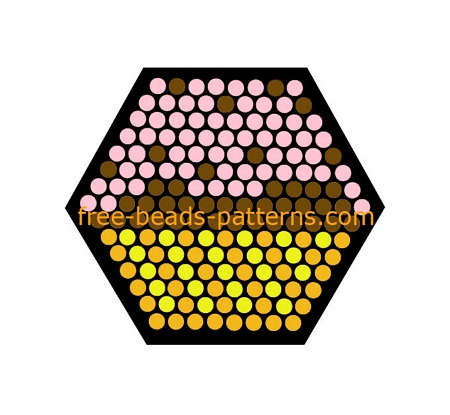 The cupcake wasn't included in the last item? No worries, Free Beads Patterns has got you covered!
Satisfy cravings in these food Perler bead patterns!
Assemble the Avengers through these kawaii patterns found on Achai's channel.
These are inspired by the Tsum Tsum product line by Disney—which are very adorable, to say the least.
Without supervillains, there are no superheroes: create some with these Marvel Perler beads.
21. Santa Claus Riding Rudolph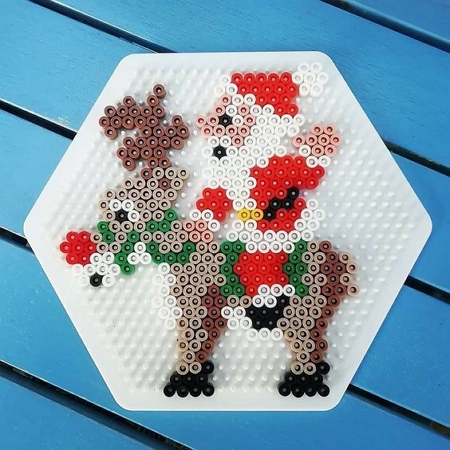 To see that any pattern can be made, simply examine this Santa and Rudolph pattern.
Don't be naughty and make these Santa Perler beads!
22. Artful Frida Kahlo
An art enthusiast can commemorate one of Mexico's greatest artists through EastDulwich's pattern—which evokes joyful colors reminiscent of the artist's style.
23. Sleeping Beauty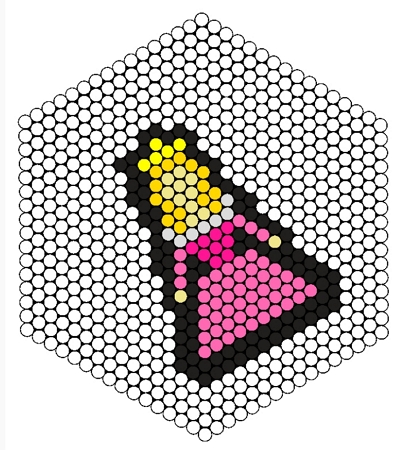 Don't sleep on this Sleeping Beauty pattern; though it might look simple, the minimalistic aura imbued by RobotFrog21 is quite evocative.
Widen Your Horizons with These Hexagonal Patterns
We saw the plethora of possibilities that can be made with a hexagonal pegboard. Combined with the alluring mystery found in nature, these hexagon Perler bead patterns will surely make your activity meaningful.