These easy tiger drawings will make you bow to the true king of the jungle.
It's time to settle the debate about which apex predator has the claim to the feline throne. Though the lion's popularity is undeniable, it's clear to many tiger lovers that the striped cat far outclasses the former in size and appeal.
If you're unconvinced about the cool characteristics of the tiger, or just simply want to draw some easy tigers, scroll below to find some of the easiest tiger drawing along an interesting fact or two about the largest feline.
Materials for Drawing
Pencil Kit: Using a regular pencil is fine. But if you're determined to take artistic skills to the next level, it's crucial to know the difference between different types of pencils – which this affordable kit will provide.
Sketch Pad: Compile drawings easier in a portable sketchbook, which comprises 100 pages of acid-free paper.
6 Tiger Cub Drawings
Toddlers have to start somewhere. Fittingly, why not start with some easy drawings of tiger cubs?
Alternatively, here are some easy animals to draw for kids.
Tigers can be fierce creatures in the wild, a trait that could scare children. Make the tiger's image cuter and kids will have no problem starting their animal sketches.
In that light, I suggest this adorable tiger face drawing shared by Cute Drawings's channel.
Drawing is an enjoyable leisure activity for children. Kids who find drawing a chore should try drawing in groups—as the saying goes, "The more the merrier!"
Draw a very simple tiger alongside the kids at Art for Kids Hub, a channel full of drawing guides with children!
3. How to Draw a Baby Tiger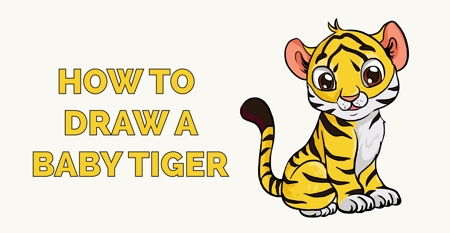 From the moment a cub is born up until 17 to 24 months of age, it will stay with its mother. It will learn to hunt, stalk, pounce, and climb by playing with its mother and siblings.
That's an important reminder that play is not an optional part of our lives; it's essential. Here's Easy Drawing Guides tutorial on how to draw a baby tiger.
It's easy to forget that our pets are just smaller, domesticated versions of the tiger.
Toddlers who are young enough to discern the difference can draw this tiger-cat mix shared by Cartooning Club How To Draw's channel.
Related: 28 Cat Perler Beads Patterns for Kids
I understand that sometimes novice artists need a little more challenge to level up. Here's HTDraw's detailed cub drawing that will put your artistic skills to the test.
Tiger cubs can't hunt on their own until two years of age. So they rely on their mother's skills to survive.
Likewise, many preschoolers need the assistance of adults on drawings and crafts. Don't hesitate to help your little ones with their projects, and Easy Drawings's tiger cub drawing.
9 Tiger Drawings for Beginners
There's no wrong way to start a drawing. Whether you begin with a line, shape, letter, or number, it's all part of the learning process and creativity development.
So encourage your little ones to scribble anything on paper.
Here's another tiger drawing shared by Doodle Art Time's channel.
8. Tiger Drawing for Young Artists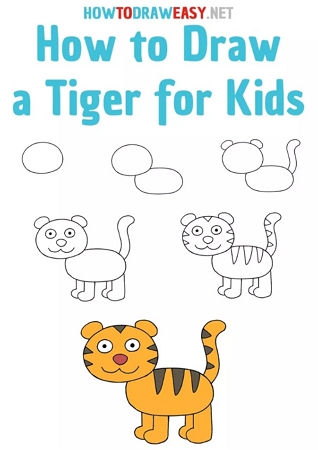 It's easy for children to think of drawing as an exciting activity if the image they're imitating is something they usually see on TV.
How To Draw Easy's tiger is something kids see on a regular basis. Probably.
9. Easy-Peasy Tiger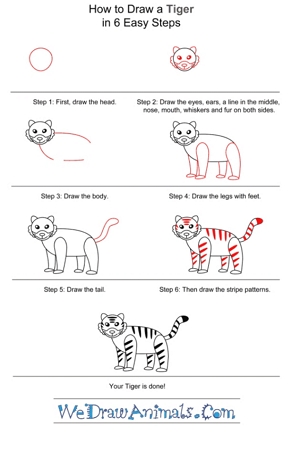 Don't be too concerned if your animal drawings look like inorganic robots with appendages screwed to their bodies. As I said, every mistake contributes to the learning process.
We Draw Animals's tiger looks like a toy figurine, but it doesn't matter as long as your little ones are developing their skills and having fun.
10. Draw a Cartoon Tiger in Nine Steps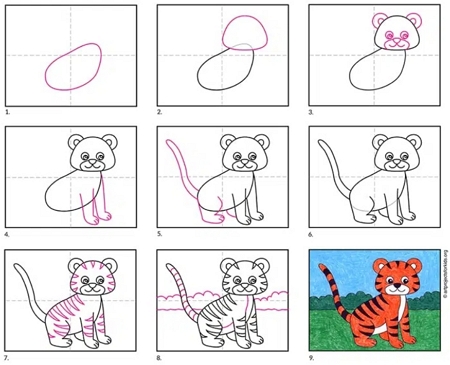 A drawing technique that can be applied when outlining is to divide your canvas into four quadrants and begin drawing from there—just like what Art Projects For Kids's uses in many of their sketch tutorials.
Here's another cartoon tiger drawing, brought to you by How To Art Club's channel.
The video tutorial goes at a slow pace, but don't hesitate to pause or rewind to review to parts you missed.
On fruitful hunting bouts, tigers can eat as much as 40 kilos of meat in one week. Sometimes prey don't come easy, so these obligate carnivores must store as much energy they can before the next hunt.
The tiger on UCIDraw's video tutorial looks like it just had a feast.
A popular method of drawing is starting from a letter or shape. KUCH SIKHO delivers a video tutorial that begins a tiger drawing with its legs—drawn as an inverted letter "Y".
Follow the guide to see how to proceed next.
14. Basic Tiger Drawing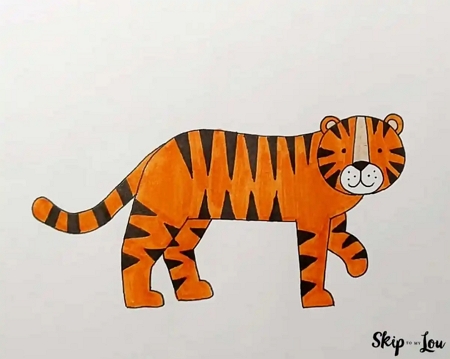 Skip To My Lou shares a straightforward tiger sketch. The lines in this tiger are drawn cleanly; I suggest using a ruler if you like smooth lines.
Test your drawing skills through this roaring tiger sketch shared by How2DrawAnimals. Don't get intimidated by the complexity of this sketch, as the instructor breaks down each part of the tiger for the viewer.
As always, the video settings can be adjusted to half or even a quarter of the normal speed—allowing for an accurate replication of the sketch.
4 Cute Tiger Drawings
Cute drawing may be endearing, but it doesn't always mean simple. Don't worry, though, as the charm of these felines will captivate you and your children.
It's astonishing that the big and scary tiger—an animal on top of the food chain—are a distant relative to the domestic cat—a pet that becomes grumpy if it doesn't meet its daily 15-hour sleep.
Whether an apex predator or a cuddly house cat, both are treated as kings in their respective habitats. Learn step by step provides a video tutorial of a cat and tiger fusion.
The biggest of tigers can grow up to 150 inches, or 12.5 feet—twice the size of a 6-foot human; but will you run away if that tiger happened to be as cute as Draw So Cute has drawn it?
I doubt it.
18. Kawaii Tiger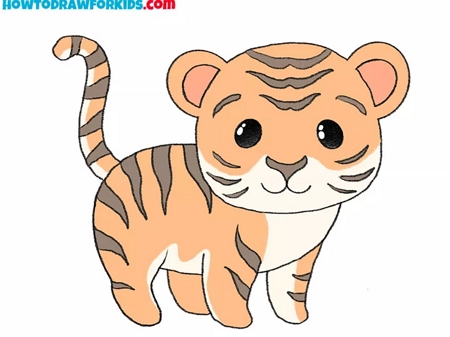 The black stripes are a trait unique to each tiger. The tiger's vertical lines help with camouflage—especially in the tall grass, where it patiently stalks the next prey.
Tigers as adorable as this variant by How To Draw For Kids should try their best to hide in the grass because many children will go hunting for this cuteness.
19. Kawaii Cartoon Tiger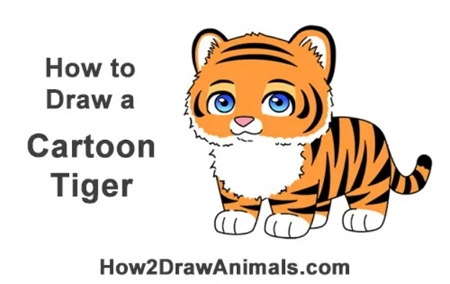 Characters or animals with bigger heads and eyes than usual are usually called kawaii or chibi. It's a technique—an effective one—that appeals to children.
I'm not gonna lie, as an adult, I'm also captivated by the kawaii charm. Here's How2DrawAnimals's cute chibi tiger that will melt your heart.
Related: 30 Kawaii Perler Bead Patterns to Melt Your Heart
Go Get Them Tigers!
I wouldn't be surprised if you've been converted into a tiger enthusiast after reading about tigers and making tiger drawings.
There's a vast resource of animal drawings out there; I'll direct you to just a few of them: