Have you been naughty this year? Ho-ho-ho, don't worry! There's still time to redeem the stubborn moments you (or your little ones) had this year by creating these Santa Perler beads!
The patterns below include designs of Santa Clause, reindeer and elves, Santa's workshop, and characters dressed as Santa – all of which are suitable for children waiting for Christmas morning to arrive.
First, let's look at the required materials needed to make the patterns below, and some kits that will facilitate your Christmas Perler bead workshop.
Materials Needed for Santa Perler Beads:
3 Santa Perler Bead Kits
Here are several Santa Perler bead materials if you like the convenience of kits or the reduced hassle of searching for patterns online.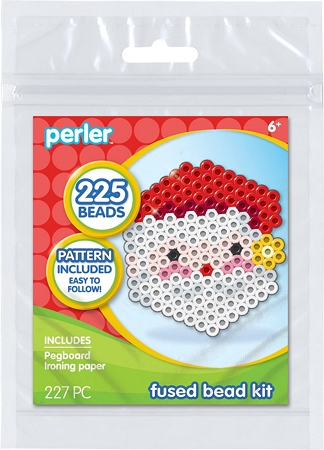 Showing a gesture of good behavior doesn't have to be grand. Making a small craft like this one from Perler is noticeable enough for Santa. Of course, remind children that they should behave properly all the time, not just when promised a gift by Santa.
This kit already includes a pegboard, and around 230 fuse beads that will form the face of Santa Claus once assembled and ironed out.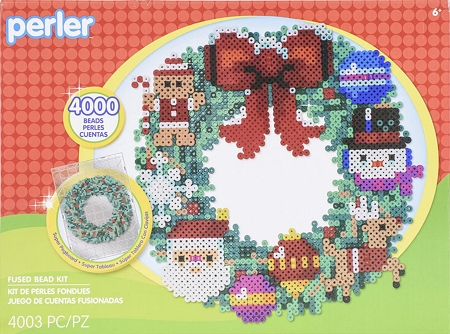 Are you looking instead for a fuse bead kit designed to be a front-door decoration? Then a Christmas wreath Perler bead kit such as this one is perfect.
Far from the traditional wreath (which can be refreshing for many), the craft displays different festive figures—a gingerbread man, a snowman, Rudolph, Santa.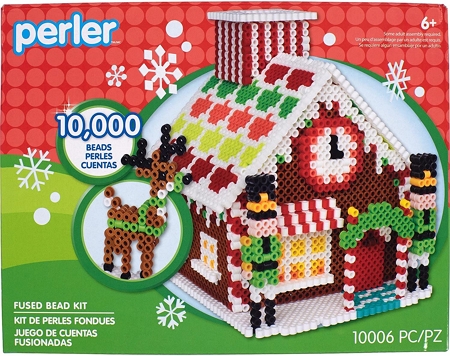 Giving this 3D Santa Toy Shop as a Christmas task is a boon for many Perler bead hobbyists.
The most well-behaved of children will have earned this Santa's Workshop gift—a rewarding project that they'll enjoy building during the winter break.
7 Santa Perler Beads
Let's get on the Santa Perler bead patterns you've been longing for.
Santa Claus is a simple man who wears simple clothing: Santa's hat paired with a red coat, a belt with a golden buckle, and a pair of green gloves and black boots.
Creative World's channel doesn't make it any more complicated than that.
5. Jolly Santa Claus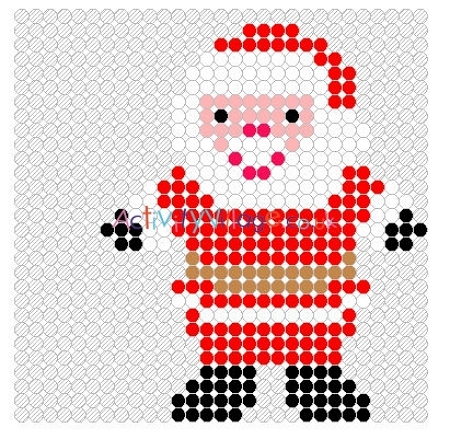 Activity Village nails the look of Santa, who's happy to deliver presents to the children on his list.
Has anyone actually seen Santa Claus? Maybe he isn't as burly as we think.
Laceys Crafts shares a lean yet strong Santa—one that's more likely to fit in tight chimneys, and capable of getting out of them.
7. Santa Carrying a Bag of Goodies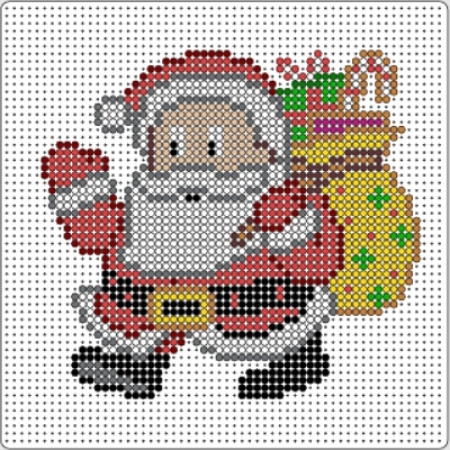 We love Santa Claus for his generous nature. Perler Bead Patterns shows him ready to hand treats to anyone who asks for it.
8. Another Santa Pattern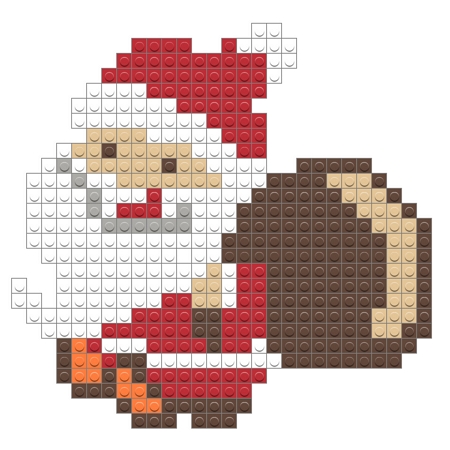 It's sometimes not surprising to see that Santa's beard covers almost half his body, like this pattern by wrestlersanalyze. Santa's a busy man.
Traveling from the North Pole to each of our homes takes precious time, so he has very little time to groom himself. And, it's not like anyone sees him regularly, anyways—except for his small group of reindeer and elves.
9. Waving Santa Claus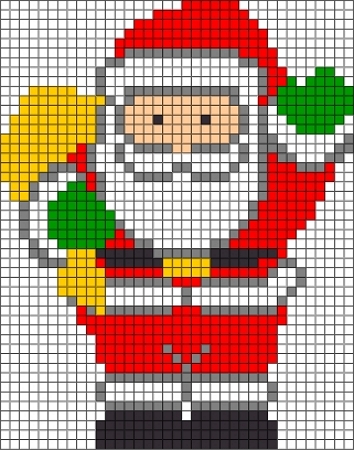 Here's huntergirl's pattern of Santa Claus, who's ready to receive the wave of impatient children coming his way.
10. Santa and the His Chimney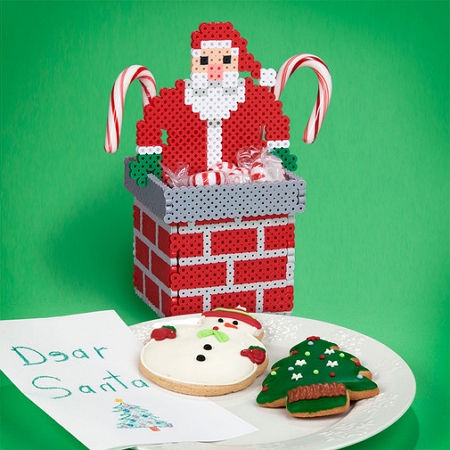 It turns out that Santa and Harry Potter have a lot more in common than you think. You see, the chimney is a little-known symbol that links "our earthly world to a supernatural one".
Many old folklores on witchcraft—which later inspired modern witchcraft stories like Harry Potter—describe witches as entering homes through chimneys to deliver treats to children.
See Perler's fuse bead project of Santa being caught in the act of entering a chimney.
And don't forget to check our list of Harry Potter Perler beads.
6 Santa's Little Helpers
The name Santa's Little Helper is inspired by the pet greyhound from The Simpsons.
Given the gigantic responsibility given to Santa, he clearly needs requires help for many of his tasks. Here are some of his assistants.
Traveling far distances requires a vehicle. Living at the North Pole, Santa chose the most natural vehicle available: a sled and reindeer. (Although wolves would've been the cooler choice.)
Meg's channel shares a tutorial on how to make Rudolph, plus an additional Christmas tree already surrounded with presents.
12. Santa and His Reindeer Squad
Sleighing on ice sounds fun. But Santa figured that flying through the air with his sled is way more exciting.
Come and join Santa in his mythical adventures by following Perler's project, complete with the template and bead requirements.
13. Rudolph the Red-Nosed Reindeer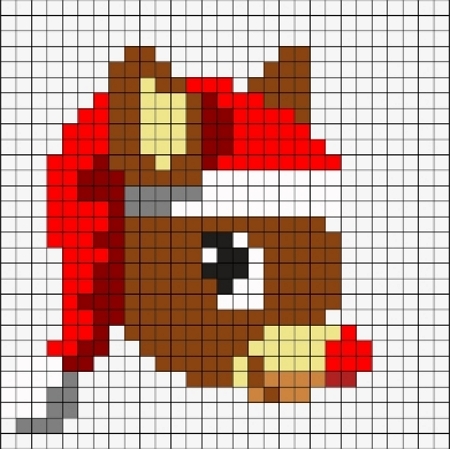 Everyone loves making fun of Rudolph's adorable nose. NicePNG shares this pattern with all those who find Rudolph's red snout as charming as his docile personality.
Sven, the moose from Frozen, has a completely different personality. Head on to our list of Frozen Perler Beads to make him and more!
For a small yet slightly challenging pattern, here's Laceys Craft providing a cute reindeer design.
Tired of the same 2D designs? Level up with these 3D Perler bead patterns.
Here's another cool choice that gamers, especially Super Mario enthusiasts, will find interesting. Created by Frost's Entertainment, this Reindeer Yoshi will take you on a nostalgic trip.
16. Santa's Workshop Elf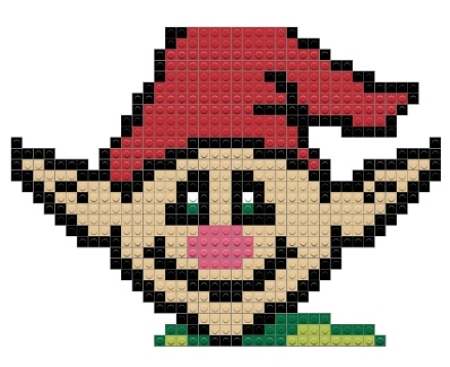 SusanGuinto has sighted one of the many little helpers of Santa. Like Rudolph, this elf has a red nose caused by the unforgiving environment of the North Pole.
4 Popular Characters Dressed as Santa
Many popular characters have adopted Santa's outfit during Christmas time. Here are just a few of them.
17. Minion Santa Cosplay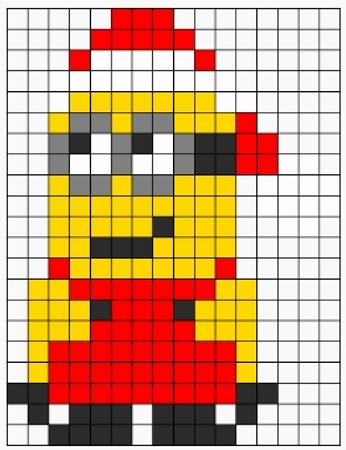 If you've watched any of the Despicable Me installments, you'll know that these Minions are too silly. Here's awesomephoebe's pattern of a Minion cosplaying as Santa. (Or Mrs. Santa, I can't quite tell.)
Can't get enough of these yellow creatures? Here are more Minion Perler bead patterns.
18. Baby Yoda with a Santa Hat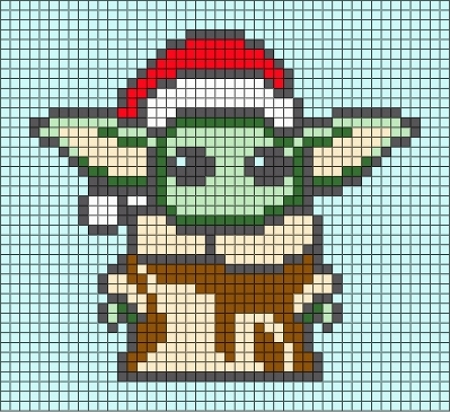 One of The Mandalorian's selling points is the force-wielding Grogu.
Prepare for the third season of the show by making these Baby Yoda Perler beads and Star Wars Perler Beads patterns.
19. Super Mario Santa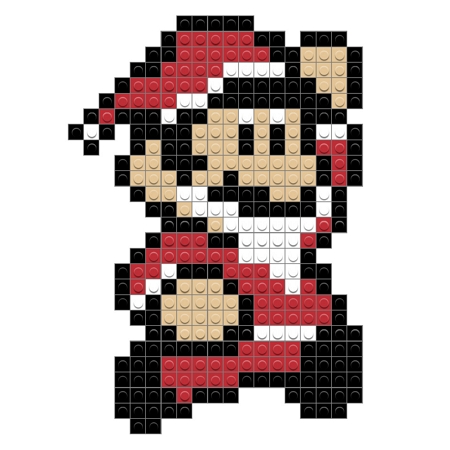 As no one has seen Santa in person, Mario could very well be him. Indeed, he goes up and down pipes and has chosen a unique animal to ride—just like Father Christmas himself.
SusanGuinto is here to corroborate on our farfetched hypothesis with their pattern.
Simply visit our list for more Super Mario Perler Bead patterns!
20. Hello Kitty Santa Claus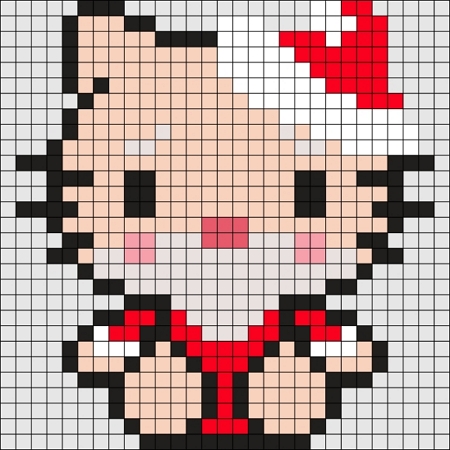 Hello Kitty's wholesome appearance allows her to cosplay whoever she likes—and it suit her regardless. Even a cosplay of Santa Claus is too adorable, as seen by gelflingelf's pattern.
There's a bunch of Hello Kitty Perler beads waiting just for you.
Extra Santa Workshop Project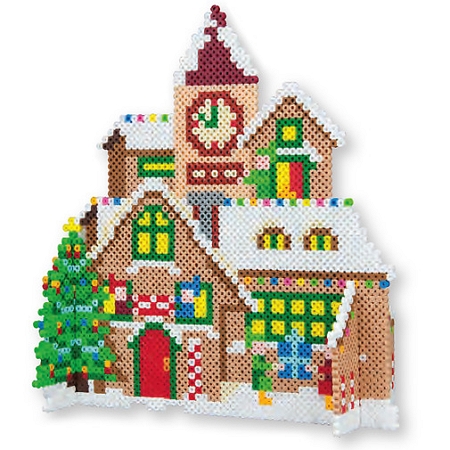 Anyone would be stunned to see Santa's Workshop. Perler makes the dream come true with their amazing Santa's Workshop Perler bead project.
Ho-Ho-Ho, See You Next Christmas!
I hope you've enjoyed these Santa Claus Perler bead patterns. Remember to always behave properly throughout the year so Santa won't forget you when he delivers his presents next year.
Here are our other related Perler bead projects: