Scarecrow may spook crows, but your little ones will feel the opposite of spooked after making a scarecrow craft below!
Scarecrows are commonly seen on farms, but they've made their way into spooky ghost stories and movies, making them a perfect Halloween craft.
Now, making an actual scarecrow is a task in itself and might be too difficult for kids, so I've compiled a list of cute scarecrow crafts for kids that are perfect for both Halloween and Thanksgiving.
20 Scarecrow Crafts for Kids
The first few scarecrow ideas on this list are paper crafts that are great for toddlers and preschoolers to try. But before getting started, get your hands on some raffia because a number of these crafts use it.
1. Scarecrow Shapes Activity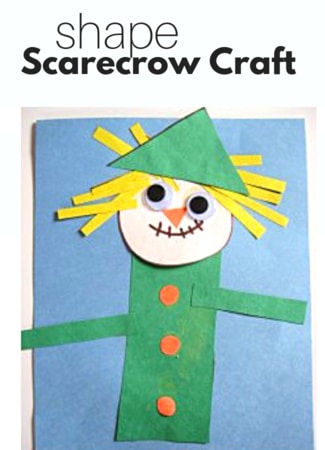 Here's an educational scarecrow craft for toddlers to help them identify shapes. No Time for Flash Cards uses basic crafting materials and adds googly eyes to make this friendly scarecrow approachable.
Cut the paper into identifiable shapes so your little one builds and learns at the same time. Educational and fun!
Here's a scarecrow craft preschool kids will enjoy making. Using twine or hay, as well as some common craft and household items, Maestra Mom shows kids how to make this simple scarecrow craft.
It's easy and inexpensive. How great is that?
Make a scarecrow out of a toilet paper roll like this one from DIY Kids Craft.
Even though there's a lot of precise cutting and folding with this one, your kids can get involved if you prepare all the smaller pieces first, like the scarecrow's hat and face, and let them glue everything on.
For more exciting crafts using empty toilet paper rolls, here are 20 toilet paper roll crafts my kids and I have had a lot of fun with!
Brown paper bag crafts are a really great project for toddlers and preschoolers because it gives them more ownership of the craft than other activities that require a lot of help from a grown-up.
Simply cut different colored construction paper into various shapes and let your kids express their creativity on a blank canvas.
Sam from Simple Everyday Mom provides a video tutorial and template of this paper bag scarecrow craft. Just scroll down and enter your email address at the bottom of the page to access the template.
Little Dreamers Education shares a really fun sensory activity with their clothespin scarecrow craft. This paper craft targets children's five senses with its use of color, paper, and clothespins.
The video tutorial beautifully walks you through all the materials you need and how to put this scarecrow together.
Don't end the fun here, though. Check out this compilation of clothespin crafts for more ideas and inspiration! 
Here's a scarecrow idea that will teach kids all about how your body moves shared by You're So Creative.
All you need are split pins, a hole puncher, and raffia to bring this dancing scarecrow to life! I love this craft because it's easy enough for toddlers, but still challenging enough for older kids, too.
The best thing is that you're provided with templates for the head, body, and limbs!
This simple scarecrow craft by Jodi involves a few folds and a little glue – that's it! Let your kids get as involved as you'd like, but this one is seriously so easy for even a toddler to try (with a little help from an adult, of course).
Here's another seriously easy activity to do with your toddlers: homemade playdough! Try it out and see how creative your family can get.
Here's another simple scarecrow craft by EHowArtsAndCrafts that's a sweet twist on the traditional scarecrow. This one will be less about the process and more about the end game, but your kids should enjoy it just the same because, who doesn't love candy?
Check out this interesting scarecrow craft preschool kids will have fun playing with shared by Artsy Paper Craftsy. Even though it involves a lot of folding and cutting, there's not much more to it than that!
Make this as an accessory for a Halloween costume or as a fun toy to play with on Thanksgiving day to keep little ones busy and out of the kitchen.
I Heart Crafty Things is the king of kids' crafts, so it's no surprise that they share a fun twist on the traditional paper plate craft with their scarecrow paper bowl craft.
This is one you can get as creative or as simple as you want with it. I like to provide all sorts of materials for my kids and see what they choose to use to bring this scarecrow to life.
Red Ted Art is another big player in the kids craft game, and they've outdone themselves with this adorable scarecrow corner bookmark craft.
This would be a really fun addition to your daily story time or bedtime routine. Surprise your kids with this cutie or turn it into a fun bonding experience on your next craft day!
Looking for a unique craft idea for the whole family? Check out this list of homemade instruments that are fun to make and play with!
If your kids want to make a larger scarecrow than what's been featured so far, then Childcareland has you covered with their interactive scarecrow craft.
With some basic tools and large sheets of construction paper, kids will have a lot of fun making a life-size scarecrow!
13. Scarecrow Felt Box

There's a reason dressing dolls or figures is an entire market of children's toys. Getting dressed is a fundamental aspect of learning how to be independent!
Help foster independence while also teaching your kids all about different clothing items with this unique sensory scarecrow busy box craft by Teach Me Mommy.
Check out these other Thanksgiving sensory bin activities you can do this holiday season.
14. Recycled Scarecrow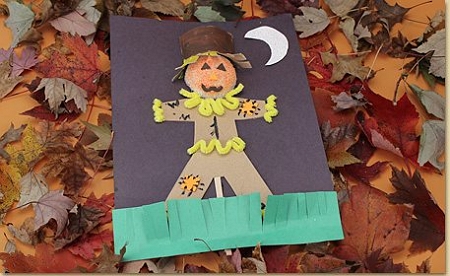 A farmer shouldn't go out of his pocket to create a scarecrow—a ragged shirt, a worn-out broomstick, and an old hat will do.
The same can be said for these scarecrow crafts. An easy project that makes use of upcycled materials can be found in Craft Project Ideas's guide!
Here's a fun scarecrow idea shared by CraftISH Corner that involves the use of empty Pringles cans. I really love crafts that upcycle things you'd normally throw away after one use because it teaches kids how to be resourceful.
Our Kid Things shows us how to make cute scarecrows out of popsicle sticks! This is another scarecrow craft that requires a little more finesse than most toddlers or preschoolers are capable of, but is nonetheless one that they'd enjoy helping out with.
And for even more inspiration, check out this compilation of popsicle stick crafts we had a lot of fun with!
Create a different kind of puppet to accompany all those fall children's stories this holiday season with this scarecrow craft shared by Easy Kids Craft.
All you need are popsicle sticks, a glue gun, paint, twine, and a few googly eyes. As with any tool that could cause potential harm, I highly recommend a grown-up help with the glue gun.
This scarecrow craft by Glued to My Crafts is a simple project that will keep little ones busy for an entire afternoon.
With a few wooden craft spoons and raffia, you'll have fun puppets your kids can play pretend with and that you can use during the next story time!
19. Straw Placemat Scarecrow Craft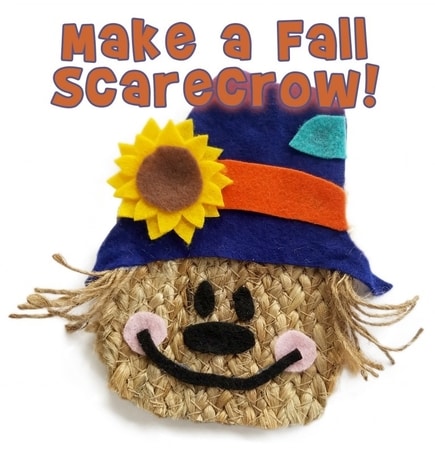 This scarecrow placement looks complicated, but it's actually really easy to make! These would make a cute addition to any Halloween or Thanksgiving themed-decor.
All you need to make this one are straw placemats, felt, twine, and the free printable template provided by Woo! Jr.
Crows may see it as the most horrendous thing in the world, to be avoided like the plague, but these scarecrow puppets made by kagitvs will definitely be your children's next best toy!
Instead of driving to the toy shop, a trip to the craft store will be much more meaningful—especially once this project is finished.
Vibrant Scarecrow Crafts to Brighten Up Halloween
These scarecrow crafts for kids will surely keep them busy this Halloween and holiday season!
Get more ideas and inspiration for seasonal activities with the other craft lists: