Awaken your children's fine motor skills and creativity by making these seasonal and cheerful gingerbread man crafts.
These gingerbread crafts will engage your tiny tots in activities like classic paper crafts and creating their own play dough!
What are you waiting for? Let's bring these gingerbread men to life!
If you're interested in other winter crafts, I suggest these cool snowman crafts to make indoors!
12 Gingerbread Man Craft Ideas
Here are some gingerbread man craft ideas that will inspire you during the festive season!
1. Gingerbread Man Collage
Prepare whatever buttons, craft crystals, googly eyes, and cutouts from previous crafts because you'll be having an exciting time personalizing your own gingerbread man.
Shared by Fun Learning For Kids, this activity allows children to discover their creativity.
Can't get enough of pasting ordinary things and transforming them into art? Try out these nature collage crafts!
2. Gingerbread Stamp Activity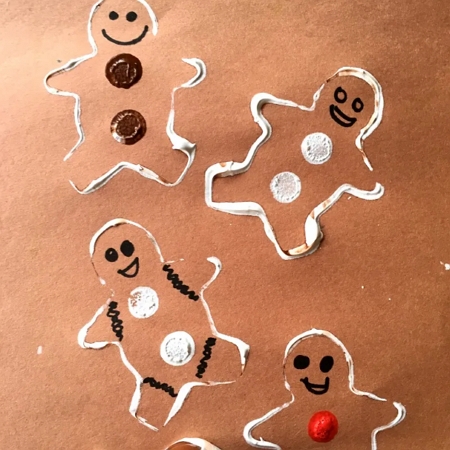 Check out this painless craft idea brought to you by Simple Play Ideas. A gingerbread man-shaped cookie cutter is required for this craft.
Crafts like these are what make DIY crafts special, not cookie-cutter (pun intended).
Your little ones might find their next best friend in these Toy Story crafts.
3. Paper Bag Gingerbread Men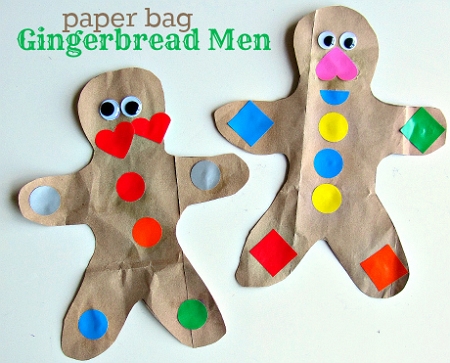 We've got plenty of paper bags to reuse and recycle at home, and No Time For Flashcards has the great idea of turning them into a gingerbread man craft.
For another paper bag craft you can make, I suggest following this video tutorial made by Fun Activities For Kids.
Not only are your children developing their fine motor skills through cutting and pasting, but they'll also stimulate their imagination through play pretend.
I recommend visiting this list of paper bag puppets for more inspiration.
Haven't we ever wondered if the gingerbread man gets lonely? He won't be anymore once you make this gingerbread man and woman project, delivered to you by CraftISH Corner's video tutorial.
6. Grinch Gingerbread Man
We often see the gingerbread man as friendly and cheerful, a trait handed down to him by his creators.
Simple Everyday Mom turns our image of the tenderhearted gingerbread man around with this Grinch-erbread man, who doesn't like it when his neighbors become too merry.
For more Christmas-themed projects, head on to our Nightmare Before Christmas Perler beads.
7. Gingerbread Man Felt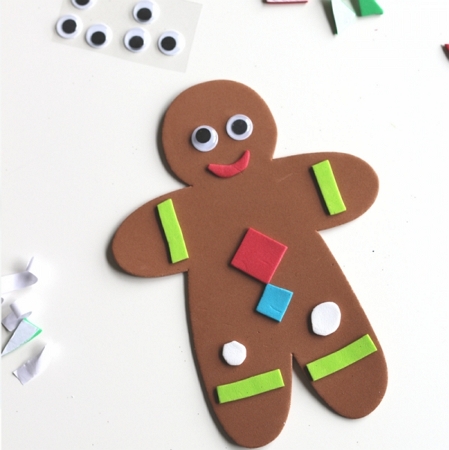 Gingerbread man may be soft, but none can be softer than this gingerbread man created with craft felt by No Time For Flashcards
Don't let that felt go to waste and make these incredible felt crafts now!
8. Rocking Gingerbread Man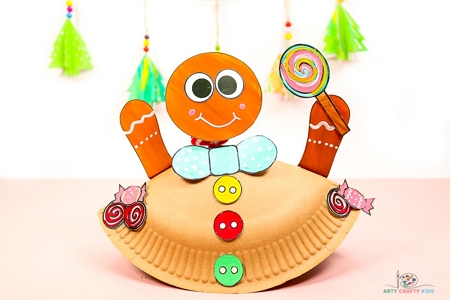 I love crafts that leave me surprised. One of them is this rocking paper plate gingerbread man—an original idea brought to you by the innovative people at Arty Crafty Kids.
9. Cardboard Gingerbread Man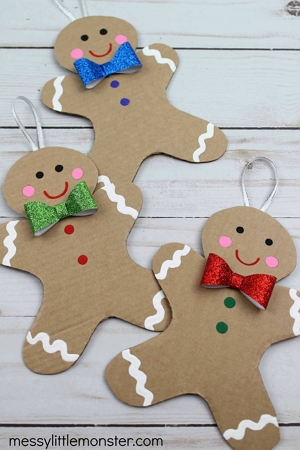 One of the aspects that make the gingerbread man so easy to recreate is its stubby arms and legs. That's captured perfectly in this craft by Messy Little Monster.
Imagine the horrific image of the gingerbread man if it had fingers and toes.
Did that spook you? No…? These spider Perler bead patterns surely will.
10. Paper Roll Gingerbread Man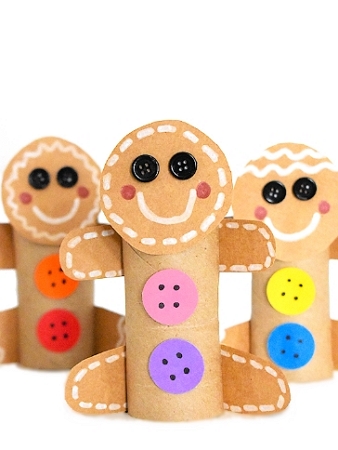 Our Kid Things teaches us the value of making our environment greener by reusing empty toilet paper rolls and transforming them into these lively gingerbread man craft.
Empty toilet paper rolls will never run out of stock in our homes, so be sure to check out these toilet paper roll crafts.
11. Craft Stick Gingerbread Ornament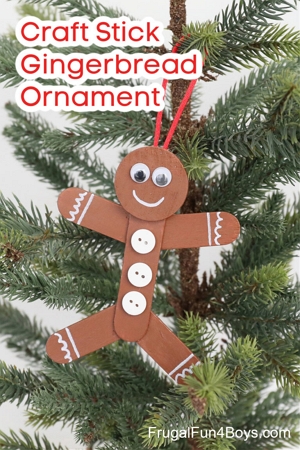 It's heartwarming to see our children's crafts on display. Frugal Fun 4 Boys shares a craft stick gingerbread ornament that can be hung on the Christmas tree and that will become a source of inspiration for your tiny tots.
See what else you can make with craft sticks in this list of popsicle stick crafts.
12. Popsicle Stick Gingerbread Man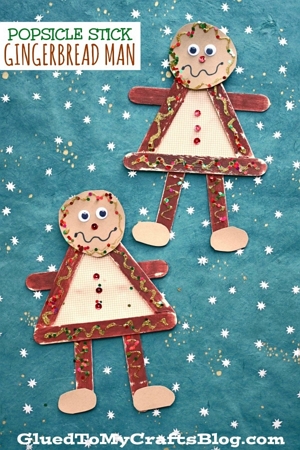 Glued To My Crafts Blog creates their version of the gingerbread man by including a triangular body made of craft sticks and a pair of feet—so it's not too awkward for these little guys to stand.
4 Gingerbread Man Play Dough
As our easy homemade playdough guide proves, a mix of salt, flour, and water can become a kid's craft, too!
I've listed a selection of gingerbread man play dough, some of which use simple salt dough ingredients, while others are scented with spices.
Note: none of the gingerbreads in this section are edible.
13. Gingerbread Man Salt Dough
For a basic salt dough craft, check out Amy Latta Creations's guide. After they're done hardening the salt dough, the second fun part begins—painting.
With these types of crafts, I find it best to use acrylic paint, as it adheres better than other types of paint.
14. Easy Salt Dough Christmas Ornaments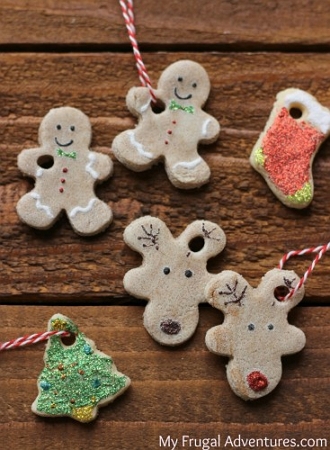 Salt dough ornaments are not foreign to experienced crafters.
Beginners who'd love to try their hand at these types of crafts should follow My Frugal Adventures's guide, in which you'll find a painless tutorial that will instantly beautify your Christmas tree.
15. Gingerbread Men Ornaments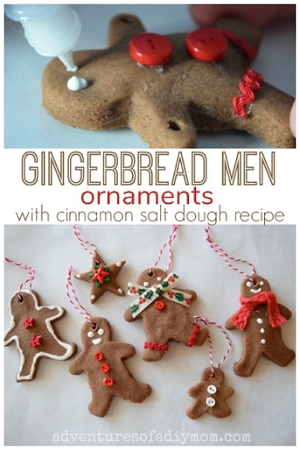 Not all gingerbread men are created equal. Some have scarves; some have buttons; while others still have leg bands. That's the kind of diversity that Adventures of a DIY Mom promotes in their gingerbread men made with cinnamon salt dough.
16. Gingerbread Scented Playdough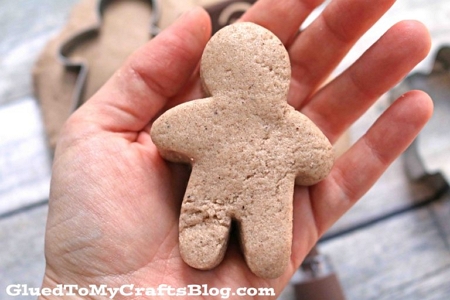 These gingerbread men playdough are not only great to train the motor skills of your little ones, but they're also a great overall sensory experience.
Glued To My Crafts Blog has got another recipe for you.
For more sensory activities, check out our winter sensory bins.
2 Edible Gingerbread Man Cookies
It's the recipe most of us have been waiting for: edible gingerbread man cookies!
I've listed just a couple for you and your children to enjoy.
17. Gingerbread Man and Other Winter Cookies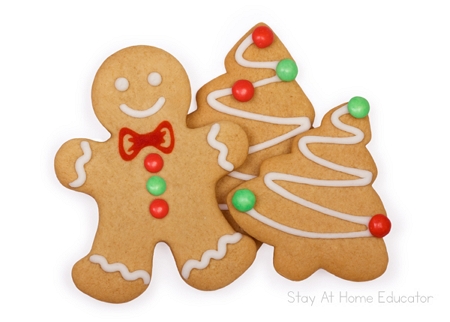 Gingerbread man wouldn't feel very festive without the company of cookies shaped like a Christmas tree and candy canes.
Stay At Home Educator has the perfect recipe for those seeking to create these seasonal cookies.
18. Soft Gingerbread Cookies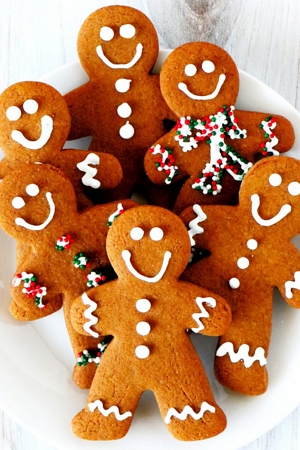 If you like luscious, soft gingerbread cookies, then this recipe from The Anthony Kitchen is right up your alley.
They teach you how to create the most delicious cookie, giving small tips and tricks that come a long way in baking the perfect gingerbread man.
5 Gingerbread Man Art Ideas
The gingerbread man is not only crafted or baked, but he can also be drawn or painted!
Here are five gingerbread man art ideas on how to recreate him on canvas.
19. Handprint Gingerbread Man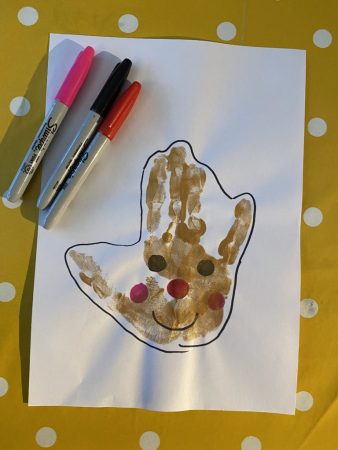 Handprint arts are so engaging for little children. Follow The Gingerbread House's guide on how to create your very own gingerbread man handprint.
Learn more handprint activities in these turkey handprint crafts.
20. Footprint Gingerbread Men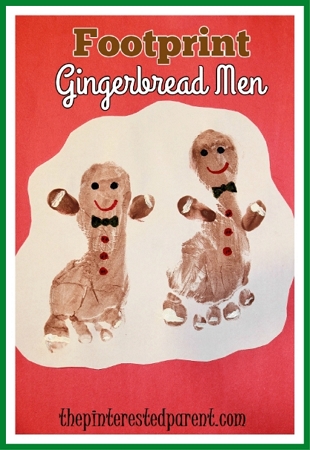 The handprint's counterpart is no other than the footprint. If you dig deep enough, you'll find hidden gems like this one from The Pinterested Parent.
21. Fingerprint Gingerbread Man Saltdough Ornament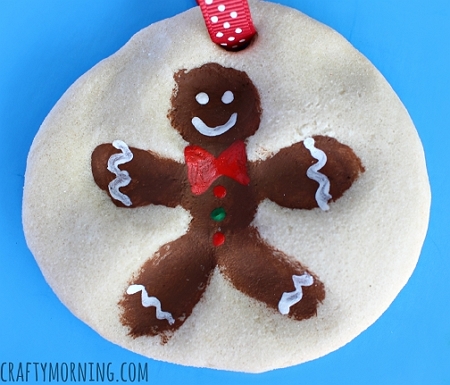 Handprint art can never be too messy for children. After all, it develops their fundamental skills. But if you're having a hard time cleaning paint from their hands, then this thumbprint art by Crafty Morning might interest you.
Find similar crafts that can be hung on your Christmas tree in these snowmen handprint ornaments.
Would your children rather draw the gingerbread man than craft him? No worries, Draw So Cute's channel always has a drawing for you.
Try your hand at these easy fox drawings!
23. Gingerbread Felt Sewing Project
Are you seeking a craft that's lasting and memorable? Sugar, Spice, And Glitter has an amazing guide for those who have the hobby of sewing.
Note: sewing must always be done by an adult.
The Perfect Man is Quiet and Sweet
I hope these gingerbread man crafts and baking recipes have made your and your children's afternoon a little bit sweeter.
Here are some other lists that you might want to check out: