Ice play is an amazing sensory activity that will keep you and your children busy all year round.
What makes ice play more exciting is that it joins both art and science, so these activities are fun and educational!
So, empty those freezers and prepare some towels because a whole lot of ice and water is coming your way with these 19 ice play activities!
Warning: Small ice cubes can be a potential choking hazard for small children. Also, I recommend wearing protective goggles for activities that require breaking ice as small shards may fly into little eyes.
10 Ice Sensory Play Ideas for Toddlers
The following are easy ice play activities that are perfect for tactile sensory play because they involve a lot of holding and experimenting with ice.
1. Ice Boat For Toddlers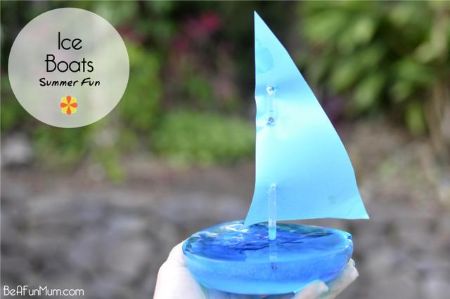 Kids are fascinated with objects floating on water – that's why they get so distracted with their rubber ducky during bathtime.
This ice boat craft will entertain and keep them busy until it eventually melts. Your children will learn that ice is less dense than water and why it floats!
You can mold the ice in as small or as big a container you'd like your boat to be! Just make sure you have a space big enough for your boat to float on (or chuck it into the water next bathtime!).
Be A Fun Mom shares their instructions on how to make this ice boat.
2. Ice World for Preschoolers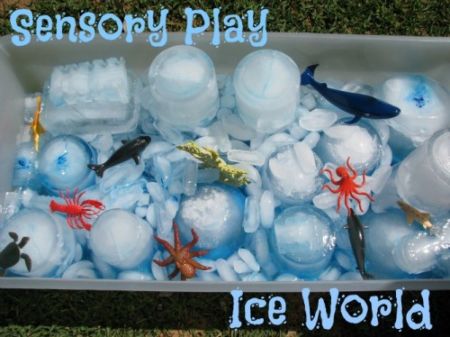 As a child, I always imagined what the distant arctic wastelands looked like. It turns out you can easily recreate it in your backyard with a lot of ice and sea creature toys.
And by a lot of ice, I mean an entire tub of ice. Learning 4 Kids recommends using containers of different shapes and sizes to make the ice world more interesting.
Let your children experience the vastness of the ocean and its unique creatures with these other ocean crafts.
3. Ice Treasure Hunt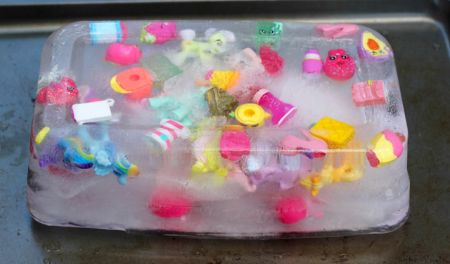 Ice play is all about having fun and tactile sensory play. This ice treasure hunt will provide you and your preschoolers with both, and it's easy to do, too!
Simply fill a container with water, add your children's favorite small and plastic toys, and freeze it.
What I love about this ice treasure hunt by The Inspired Home is that they gave their children many options to melt or break the ice.
4. Elsa's Frozen Hands Activity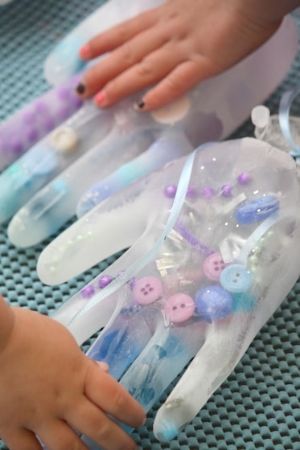 My niece couldn't stop talking about Elsa's ice-bending powers when Disney's Frozen first came out. Fans can now imitate Elsa's abilities by forming these frozen hands created by Happy Hooligans.
Ultimately, this is an easy ice play activity that requires you to fill latex gloves with beads, plastic crystals, pipe cleaners, buttons, and other colorful items.
Both adults and children love Disney, so I've compiled a list of Baby Yoda crafts for fans to enjoy.
5. Ice Chalk Activity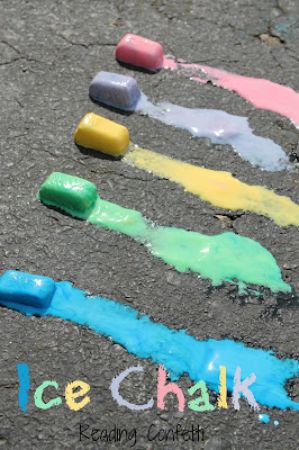 Ice chalk?!
Cool your children down during a hot summer day with this unique ice chalk idea.
Don't know how to get your hands on ice chalk? Reading Confetti has you covered with 7 different ways to make ice chalk.
6. Ice Painting Activity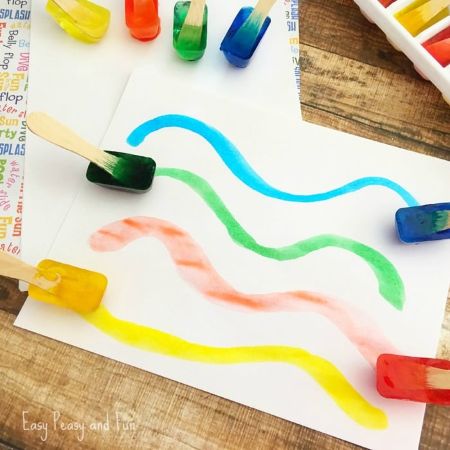 Now that you've mastered how to make ice chalk, you can now engage your kids in other painting activities.
You might be asking yourself, why would I need to paint with ice when I can easily paint with tempera or acrylic?
Well, it's all about that sensory play experience! Sure, you can use other paint, but it's way more fun and educational with ice paint.
Easy, Peasy and Fun make it very easy to create ice paint. You just need an ice cube tray and some food coloring.
And for other unique painting crafts, look through this compilation of rock painting ideas for kids.
7. Frozen Dinosaur Eggs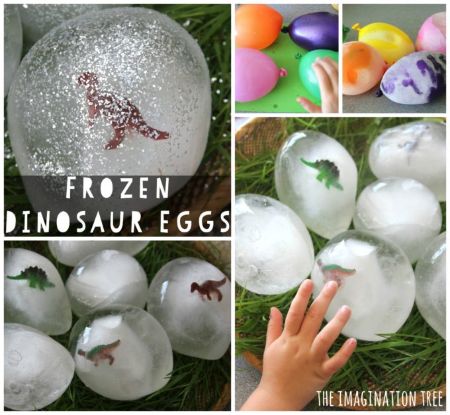 Let's travel back in time to the Ice Age when dinosaurs supposedly went extinct. Or pretend that you're in the present and that you've discovered ice fossils of old dinosaurs!
Either way, your children will have loads of fun with these frozen dinosaurs created by The Imagination Tree. Simply fill balloons with water and your favorite dinosaur figure and then freeze until ready.
8. Ice Cube Smash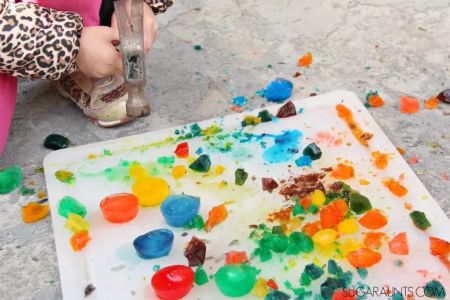 It's not sufficient for children to only develop fine motor skills – it's also crucial that they train their gross motor skills, too. That's exactly what your kids will develop through this activity by The OT Toolbox.
It's as simple as making colored ice cubes and letting your children smash them to bits with a hammer or large rocks.
9. Frozen Sand Ice Sensory Play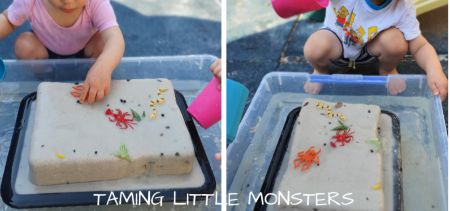 Live near the beach? Then try this frozen sand sensory bin idea from Taming Little Monsters.
It's similar to the ice treasure hunting activity except with this ice play activity you'll get an extra sensory tactile experience.
10. Halloween Melting Ice Activity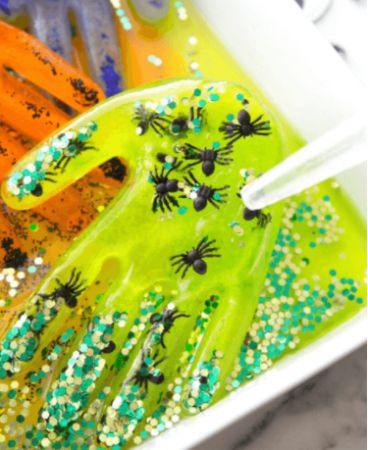 Here's a Halloween-themed ice play for toddlers for the scariest time of the year.
Little Bins For Little Hands makes this activity educational by teaching kids about the melting point of water.
Watch out, though, because if you leave this ice on the counter overnight you might find yourself with a "swarm" of spiders, which is never a pleasant sight.
4 Ice Activities for Toddlers and Preschoolers
11. Ice Lantern Balloon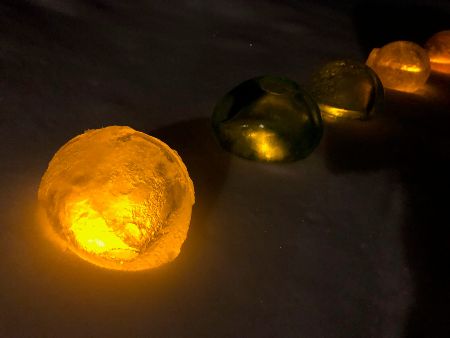 These ice lantern balloons look great during the winter when the daylight is short and the days are almost always cloudy.
Little Bins For Little Hands has the full guide on how to make these ice lanterns along with educational information regarding the different states of matter.
In it, they use large white balloons and apply food coloring to the water.
Place them in your backyard or your front yard to make your winter days more lively.
12. Plastic Cup Ice Lantern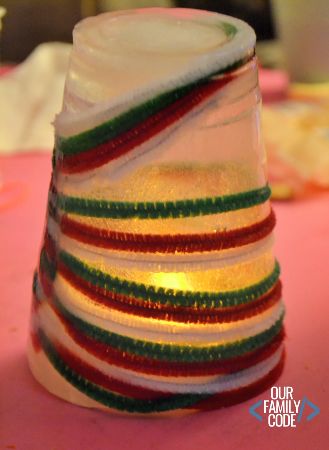 Here's an ice lantern made by Our Family Code that will sit perfectly on your windowsill (well, until they melt, of course).
Check Our Family Code's website for detailed instructions on how to make this ice craft.
They suggest using a battery-operated tea light because a regular tealight candle would obviously melt the ice.
13. Ice Ornaments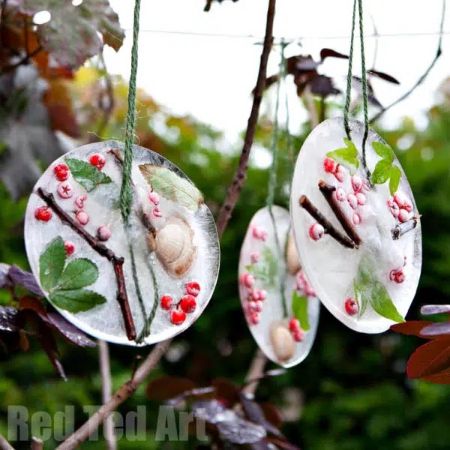 Here's another interesting ice play activity by Red Ted Art to elevate your outdoor holiday decor.
I suggest you take a nature walk in preparation for this craft, as we did in our nature collage article. Hollies are the perfect ornaments to freeze because they represent the winter season.
Naturally, use what's available to you! You can use any type of evergreen leaf or flower that persists during the winter.
14. Freezing Flower Activity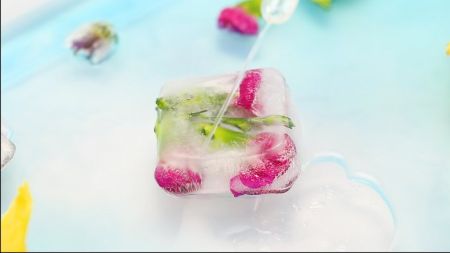 Here's a similar ice play idea for preschoolers and toddlers that makes use of flowers and is more suitable for the spring season, when flowers are in bloom.
Little Bins For Little Hands suggests filling up squeeze bottles with warm water to melt these frozen treasures.
Looking for more Spring-related crafts? A list of Spring crafts is available on this site!
5 Ice Play Experiments
These last 5 ice play ideas are a little more educational than your typical ice sensory play activity because they involve experiments! These will no doubt enhance children's creativity and cognitive skills.
15. Frozen Color Mixing Experiment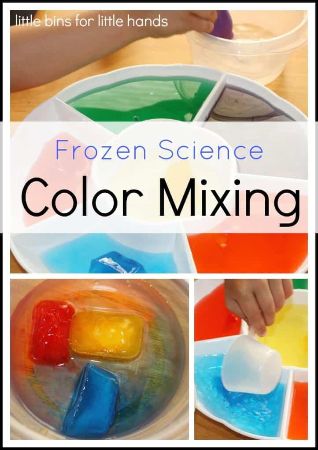 Stimulate your children's visual skills and imagination by creating different colors with this colorful activity (just like these rainbow crafts).
Give kids the freedom to experiment with primary colors and discover what happens when you combine red, blue, and yellow food coloring.
I agree with Little Bins For Little Hands when they say that even little experiments are key for children's growth in many areas.
16. Melting Ice Experiment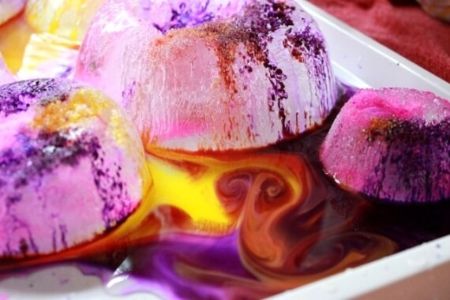 If your kids have ever been curious about why salt is dumped on icy roads, then you should definitely try this experiment.
Not only will it teach them about salt's interaction with water, but they'll also enjoy the blending of mesmerizing colors.
Artful Parent talks about how salt forms irregular pathways for the liquid watercolor or food coloring to flow through.
17. Melting Brain Ice Sensory Play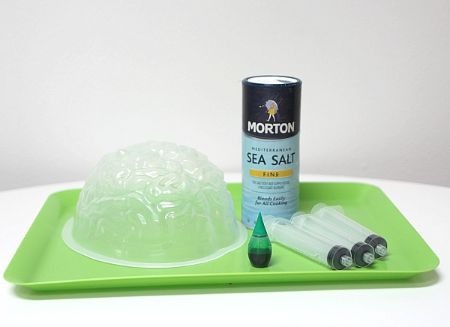 I wasn't kidding when I said ice play is a fun activity that you can do at any point of the year.
This melting brain ice sensory experiment by No Time For Flash Cards, for example, is an ice play idea that you can try during the Halloween season.
Or, any time your kid wants to dissect a human brain. You just need a brain mold and food coloring and you're all set.
Are you interested in more spooky Halloween crafts? Then check out these DIY skeleton crafts or these Halloween painted rocks for kids!
18. Ice Fishing Experiment For Kids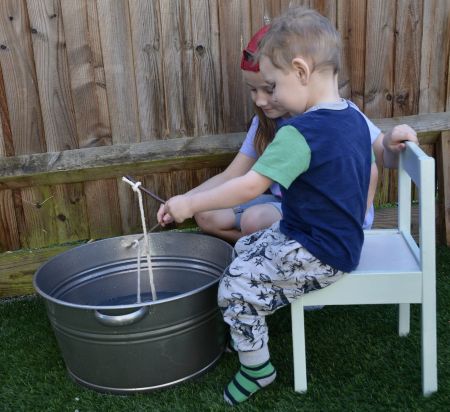 Playing pretend is one of the things kids enjoy the most! Try this experiment with your kids so they can pretend to live in Antarctica and go ice fishing.
By following Science Sparks experiments, your children will also enhance their observation skills. In the experiment, they try to figure out whether ice melts faster in hot or cold water.
19. Glowing Ice Cubes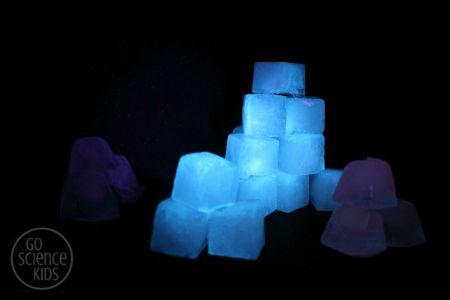 If you're a fan of the Marvel Cinematic Universe, then you'll immediately see the resemblance between these glowing ice cubes and the Tesseract.
This is such a fascinating ice play experiment by Go Science Kids that shows how one simple ingredient can turn ice cubes into glowing ice cubes.
Visit their website for a complete explanation and tutorial of this experiment (hint: you're going to need a UV flashlight).
And, if your kids are fans of Marvel, I know they'll be excited to see a list of Spider-Man crafts, too.
Ice Play Activities and Experiments for Any Time of the Year
You can make these ice play crafts and activities all year long! They're fun and, more importantly, very educational because they allow for tactile sensory play and observation.
Which of these ice play activities did you and your children enjoy most? Let me know in the comments.
And for other DIY crafts, check out our guides for homemade instruments and homemade playdough.