Get ready to embark on an exciting journey into the world of easy airplane drawings for kids!
Drawing airplanes will be a delightful and engaging activity that will allow children to unleash their creativity and imagination.
With just a few simple steps, kids will learn how to create their own unique and colorful aircraft designs. The sky's the limit.
So what are we waiting for? Let's dive in and learn how to draw one aircraft at a time.
Fall in love with these heart perler beads patterns.
Before We Proceed…
8 Fun Airplane Drawings
1. Flying Airplane Drawing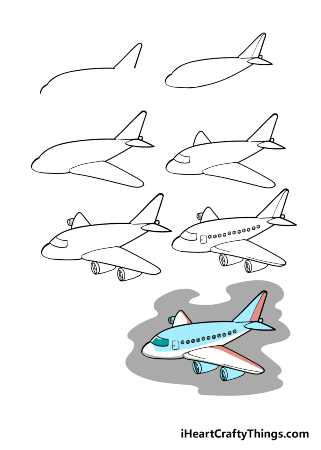 This drawing tutorial from I Heart Crafty Things will help us in our ascent to our very first project.
Sketching this will be a great way to give the kids a taste of what the other aviation drawings are lined up for them.
2. Cool Airplane Drawing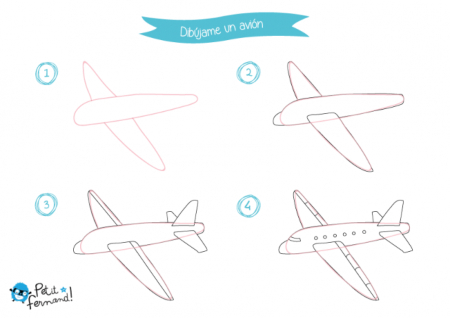 Keep it simple and cool with this drawing tutorial from Petit Fernand.
Your child will be amazed by how easy and quick they'll be able to draw a plane in just four steps.
3. Easy Airplane Drawing from the Number 7
For kids who are seven years old or those who are turning seven, this airplane sketch from Wow Drawing will be the perfect activity for them.
Watch the video and learn a new skill in under a minute.
Spread the love through these Valentine's Day crafts for toddlers.
4. Paper Airplane Drawing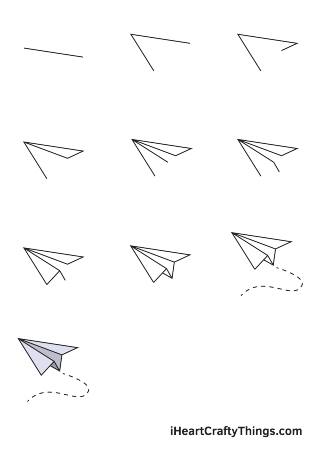 Turning paper into an airplane is super fun.
But wait until you try this drawing tutorial from I Heart Crafty Things.
The kids will equally enjoy doing both of these amazing crafts.
5. Adorable Airplane Drawing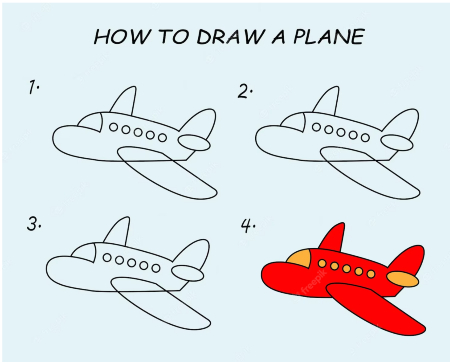 Join us for another epic airplane drawing adventure and this time it's courtesy of Freepik.
Your little one will get a lot of tips and ideas on how to perfect their sketches thanks to this tutorial.
Explore the beautiful Mushroom Kingdom through these Mario perler bead patterns.
6. Yellow Airplane Drawing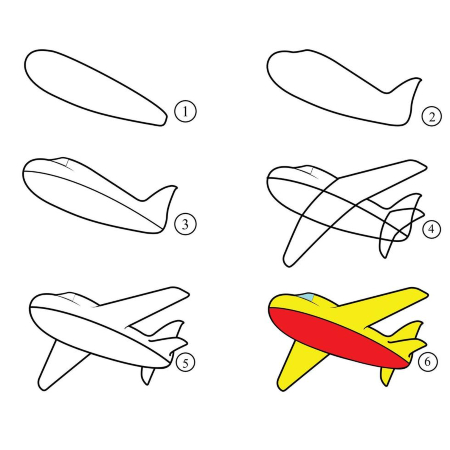 Learn how to draw an airplane from a different perspective such as the way we see it from the ground.
Check out this tutorial from Vecteezy to add to their airplane drawing collection.
7. 3D Airplane Drawing
Your child can proudly check off learning how to draw a 3D airplane on their bucket list thanks to Samia Drawing Academy's video tutorial.
Aside from the 3D plane, the video also offers other techniques on how to draw a plane such as a basic, simple, and realistic.
8. Cute Airplane Drawing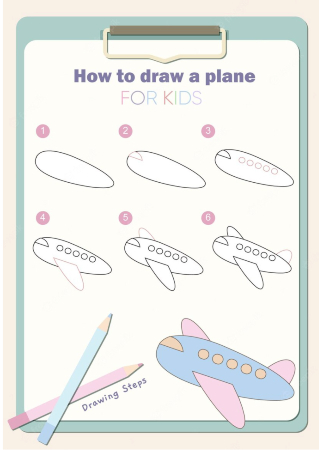 The kids will absolutely adore this drawing guide from Freepik.
The strokes and colors chosen for this sketch make it look super cute and pretty.
Experience cuteness overload while creating these super kawaii perler bead patterns.
6 How to Draw an Airplane: Step-by-Step
9. Cartoon Airplane Drawing
Learn the art of defying gravity with wings through this epic airplane tutorial from How to Draw Easy.
From the airplane's sturdy wings, to its glossy windows, everything your kid will ever need to draw a realistic airplane can be learned in this tutorial.
10. Airplane Drawing with the Numbers 373
Let Doodle Art Time teach your kid a new trick in this informative video tutorial.
There'll be no stopping them from creating a magnificent airplane once they know how to write the numbers three and seven.
Make the outdoors more exciting and educational by doing these camping crafts for preschoolers.
11. Epic Airplane Drawing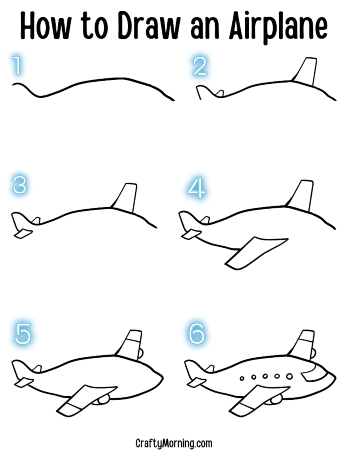 Soar high up in the sky with this airplane drawing tutorial from Crafty Morning.
The curved top of the plane makes it look like it's cruising in the clouds.
This will be a nice sketch to add movement and life to the kid's drawings.
12. How to Draw an Airplane for Kids
Are your children going on their very first airplane ride soon?
Drawing this airplane from Art for Kids Hub will make them more excited about the experience and trip.
Make the holiday even more special by sharing these Nightmare Before Christmas cupcakes with the whole family.
13. Airplane Front View Drawing
Freepik knows how to create an amazing airplane drawing that will take the horizon by storm.
The best thing about it is that it provides a very detailed step-by-step instructions so the kids won't get overwhelmed in recreating this artwork.
14. Advanced Airplane Drawing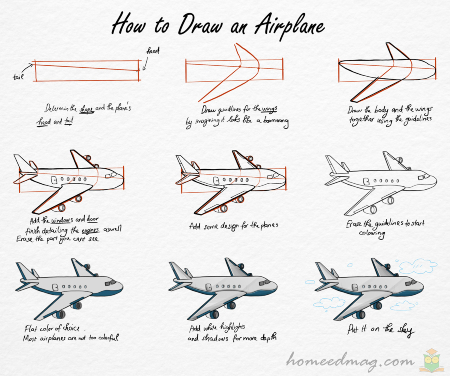 Take it to the next level and draw this spectacular airplane drawing from Home Ed Mag.
Completing this challenging sketch will be one of the greatest achievements of the kids when it comes to art.
Take a break and discover how to draw a coffee cup in the meantime.
7 Other Cool Vehicle Drawings
15. Jet Fighter Drawing
Want to know how you can turn your aircraft sketches into something that's even cooler?
You'll love this idea from Art for Kids Hub's idea.
Watch this great tutorial to learn how to draw epic jets that are ready for battle.
16. Cool Train Drawing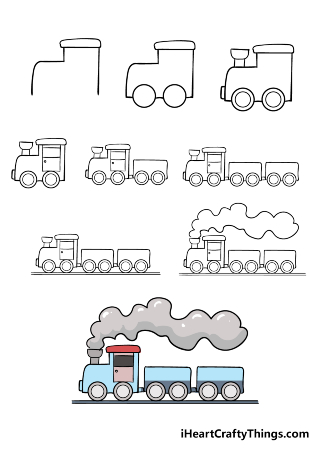 Choo choo! All aboard!
Add knowing how to draw a train to your kid's skills.
I Heart Crafty Things has this awesome tutorial that will make learning it easier and more fun.
17. Sail Boat Drawing
Does your kid love boats as much as they love planes?
This drawing tutorial from Cutest Drawings will be a treat.
Watch the video until the end to learn how to perfect the art of drawing ships.
18. How to Draw a Rocket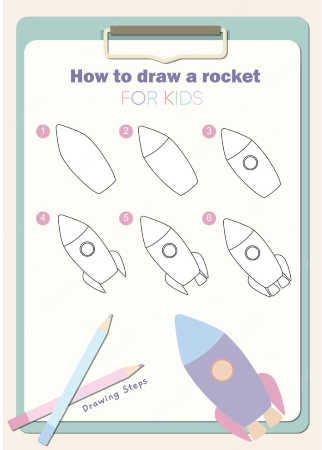 In 3…2…1 blast off!
Fasten your seatbelts because we're in for a memorable ride thanks to this rocketship drawing tutorial from Freepik.
Enter a magical world with these Disney perler bead ideas.
19. How to Draw a Race Car
Fast-track the time of your little one becoming an artist by trying out this cool race car drawing from 17 Drawing Studio.
Mastering how to draw different types of vehicles will improve their artistic skills effectively.
20. Classic Car Drawing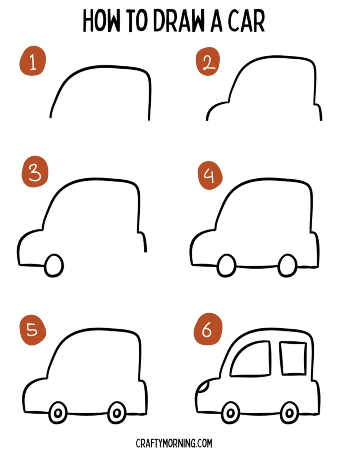 Learn a new skill in under five minutes courtesy of this tutorial from Crafty Morning.
Choosing this activity will lead to an enjoyable and productive day for the kids.
Hop along and join in the fun of creating these easy kangaroo drawings.
21. Yellow School Bus Drawing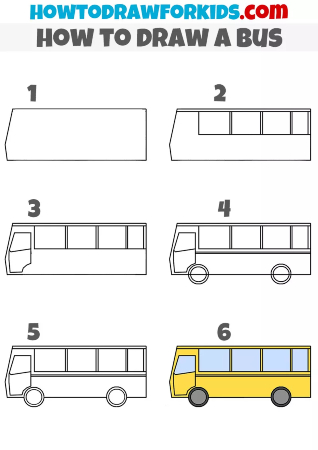 Our list won't be complete without this iconic yellow school bus drawing from How to Draw for Kids which the kids are very familiar with.
Draw this at home, car, or even in the yellow bus itself.
Up, Up, and Away!
Congratulations on completing these easy airplane drawings for kids!
You've discovered the best techniques to bring epic airplanes to life on paper.
Continue to explore and experiment with different airplane designs, colors, and details. And the kids will be a pro in no time.
More amazing crafts await you in the lists below: