Mooove over, folks because we've got the biggest, most creative, and coolest cow perler beads you'll find on the internet.
Cows are part of our daily lives whether we are conscious of it or not. We benefit from them through their meat, milk, and company so it's important to teach the kids about this sweet endearing animal. You can start by making these cow perler beads together. You'll find 17 incredible cow perler beads patterns below that showcase the different aspects of cows.
Plus, I'll throw in some fun facts about cows that your little ones (and even you) will find fascinating.
Don't forget to try out these easy perler bead patterns, too.
First Things First: The Materials
Let's do these crafts ready and well-equipped. Make sure that you have all the materials listed below before you make your next perler project.
1. Cow on Grass Pattern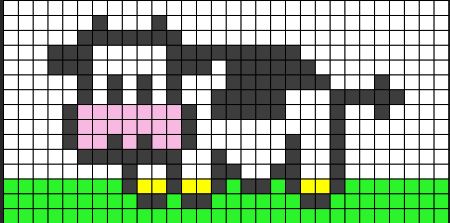 This cute little pattern will be a nice way to jumpstart your cow crafts. It's fun and beginner-friendly that even your kids can do it alone (although making this pattern together will be a great bonding activity).
Trivia#1: Did you know that cows that have names produce more milk? What's the name of your cow craft?
2. Calf Perler Bead Pattern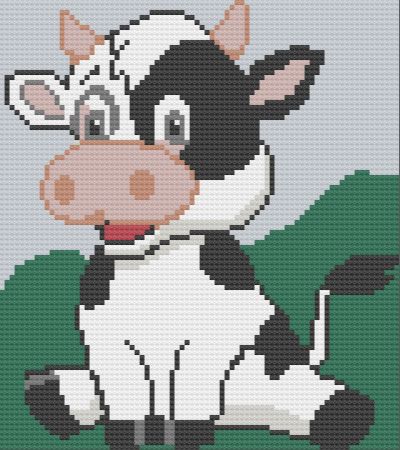 Cows can be seen as serious creatures eating one patch of grass at a time. But they too have a playful and carefree side. This smiling calf is suitable for more advanced kiddos who have prior experience making perler crafts.
Satisfy your food cravings with these perler bead food patterns.
3. Cow with Background Perler Bead Pattern
Hang up this project to instantly brighten up a room. Looking at the green grass, fluffy clouds, and beautiful flowers will give you calm and peace. Plus, the different colors will be a fun sensory play for children.
Teach your kids about emotions (the fun way) with these emoji perler bead patterns.
4. Big-Eyed Cow Pattern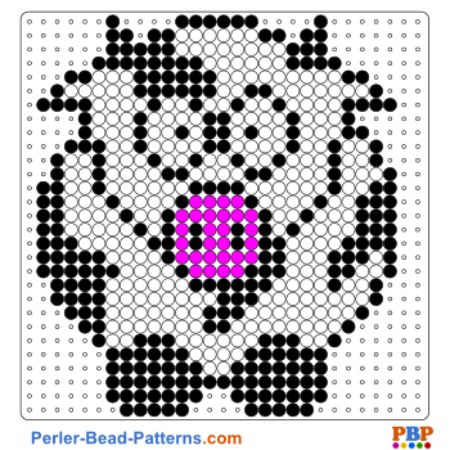 Enjoying these cow perler crafts? That's not a surprise at all. These crafts are made to be fun and satisfying to unleash your creative side just like this big-eyed cow pattern.
Trivia#2: Did you know that cows can almost see in 360 degrees?
5. Cute Perler Bead Cow
Are you a visual learner? Let Lacey Crafts lead the way to your newest craft. She'll show you how she made the pattern from start to finish in this easy-to-follow tutorial. Plus, the video will teach you how to iron the project.
Watch this Youtube video to know how you can smoothly make this cool cow perler bead craft.
6. Blue Cow Perler Beads Pattern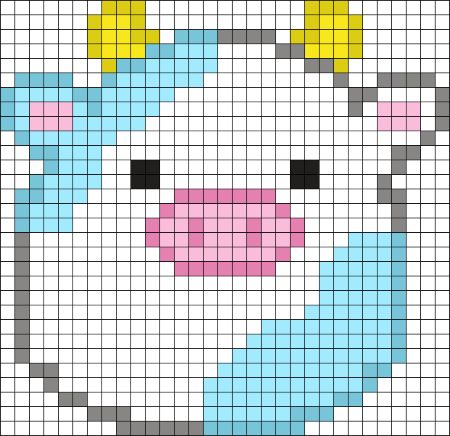 I bet this is the first time that you've seen a blue and white cow—and it's magnificent. This craft is unique and undeniably super adorable. If you're thinking of mixing it up, this craft will be the perfect project for you.
Are you a certified fur parent? Try out these dog perler beads patterns.
7. Cow Earrings Perler Beads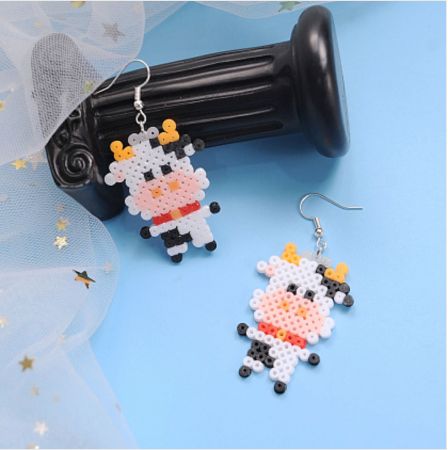 Accessories will not only level up an outfit but will also give confidence to their wearer. They're a great way to express oneself and to stand out from the crowd as well. Wear these charming earrings everyday or for special occasions.
Make sure you have fun crafts prepared to keep the kids busy like this summer perler bead patterns.
8. Kawaii Cow Perler Beads
Does your kid love to play Harvest Moon? Learn how to do a Harvest Moon cow-inspired pattern from this video by  FiloPixie. Making this pattern will give them enough off-screen time while still enjoying the game.
Trivia#3: Did you know that cows are good problem solvers?
9. Sitting Cow Perler Beads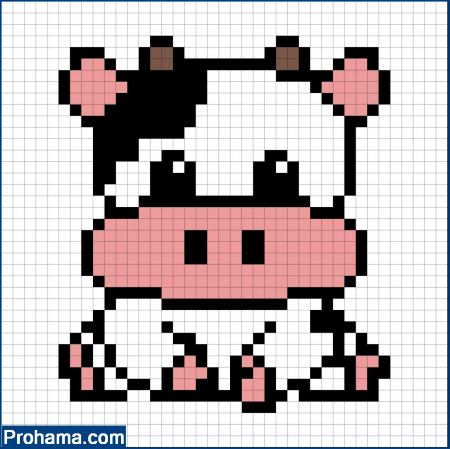 Even with just four colors of perler beads, you'll be able to make this cute cow craft. Here's a quick and simple pattern that will entertain your kids and would be the perfect activity to pass time in the airport, park, or hospital.
Add a homemade clay too to have a lot of options for your trip. Here is a complete tutorial on how to make homemade playdough.
10. Strawberry Cow Perler Bead Pattern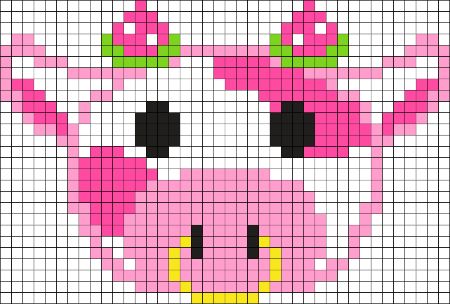 Strawberry milk is cool, but wait until you see this strawberry-inspired cow. It's cute, funky, and unique. Brownie points for being a nice addition to a pink-themed room, too.
Looking for more animals that are color pink? Check out these pig perler beads patterns.
11. Hello Kitty Cow Perler Bead Pattern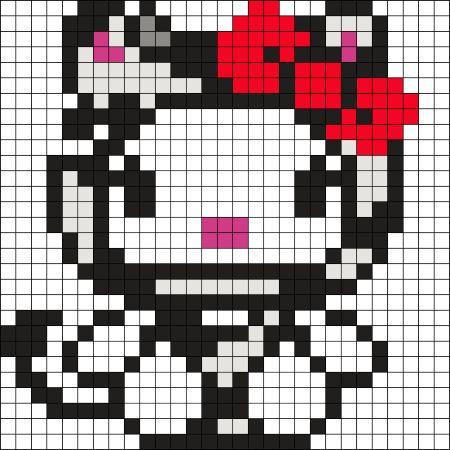 There's no doubt that Hello Kitty is one adorable and lovable character. But adding her into a cow costume makes her even more irresistible. Calling out all the Hello Kitty fans out there. This pattern is for you.
Can't get enough of this Japanese character? Here are Hello Kitty perler bead patterns for you.
12. Simple Cow Perler Beads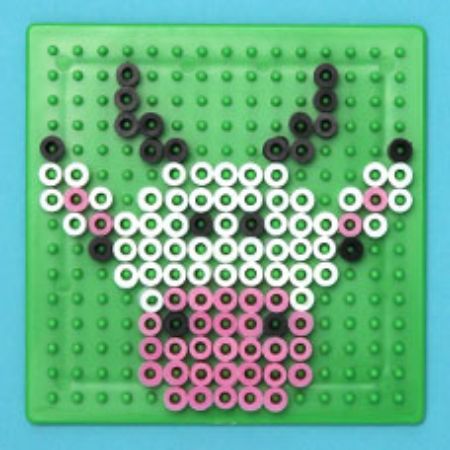 There's no need to be intimidated if you're just starting out in making perler bead crafts because there are a lot of patterns that are easy and fun to do—such as this one. You'll get the hang of making these projects by doing one easy project at a time until you become a pro and make more complicated projects.
Trivia#4: Did you know that cows are excellent swimmers?
13. Spooky Cow Bead Pattern

If your kids like scary and spooky things, then they'll like this witch-inspired pattern. With this craft, there's no need to wait for Halloween because this pattern will give them all the thrill they need. Plus, this pattern will be a hit for fans of the musical Wicked.
Magical creatures await you in this post about unicorn perler beads.
14. Realistic Cow Pattern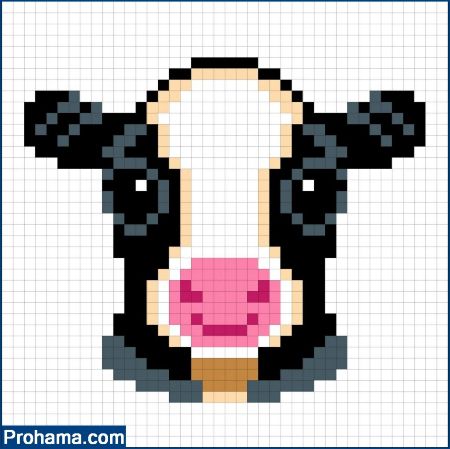 Say goodbye to gloomy days because this cow pattern will cheer you up no matter the weather. If you're not a fan of motivational quotes but still need a little push in the morning, this smiling cow will do the trick. Seeing this will be a nice reminder that everything will be okay in the end.
Why not try out these elephant perler bead patterns for a memorable activity with the kids?
Keep Calm and Love Cows
Black, white, brown, or red whatever their color may be, cows are simply the best. Have a wonderful time making these with the kids while also educating them about the importance of animals through these cow perler beads patterns.
Got no idea what to do for your next perler bead project? You'll find something to your liking below: