I smell something amazing on the works for us. That's right, our next project will be all about burger drawings.
Burgers top the list when it comes to our favorite fast food. There are around 75 burgers sold every second globally. That's about 2.36 billion burgers in a year! There's no doubt everyone loves burgers.
Find below the best, cutest, and yummiest drawings of burgers your kids can easily do.
Craving for more? Here are cute food drawings you should also try out.
Art Materials You'll Need:
9 Cute Burger Drawings
1. Adorable Cheeseburger Drawing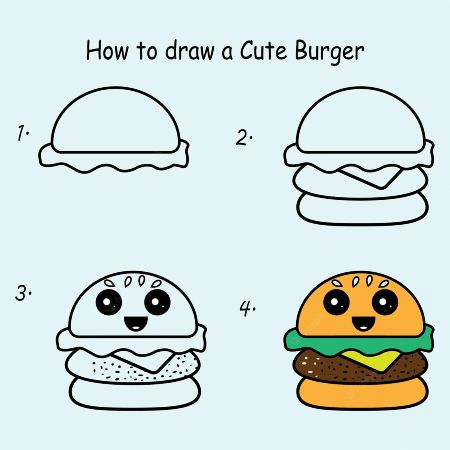 Doing this adorable burger drawing from Freepik will be a great way to start off the list.
In just four easy steps, your child will be able to draw this yummy burger from scratch.
Check this list out if you want to know how to draw a train.
2. Funny Burger Drawing
Let's complete the burger with some lettuce, tomatoes, and cheese.
Not only will they make the burger yummier but will also add color to the drawing.
This video by Let's draw LEGO will let you in the secret of how to draw this great burger.
3. Cute Burger with Lettuce Drawing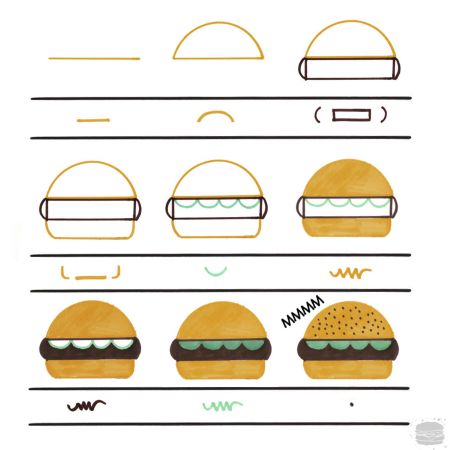 This drawing guide from Everything Burger will teach the kids about art layering.
The buns, patty, and lettuce look more 3D and realistic because of this technique.
Spread the love through these Care Bear perler beads patterns.
4. Hamburger Cat Drawing
Can't decide whether to draw a cat or a burger?
If these are the two favorite things of your kids then you're in luck. Draw So Cute combined the two to create the hamburger cat.
Check out these cat crafts for kids, too.
5. Burger with Hearts Drawing Tutorial
This burger drawing from Winnicorn will show just how much we love burgers.
This easy-to-follow tutorial even includes adorable floating hearts.
The holiday season is upon us and what better way to prepare for the celebration than by making these perler bead Christmas ornaments with the kids?
6. Burger with Egg Drawing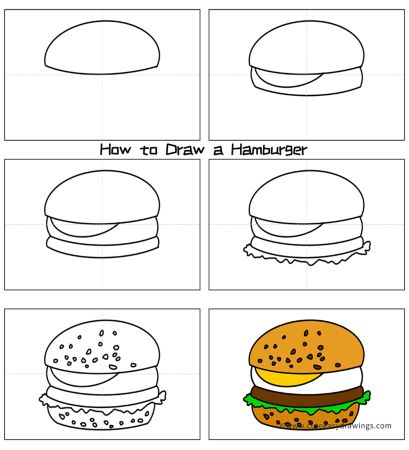 Easily level up your burger drawing by adding an egg to it.
Cute Easy Drawings will show you how to expertly draw an all-in-one hamburger.
Choo choo! Know how to draw a train by checking out this list.
7. Happy Burger and Fries Drawing
Let's make it a super combo meal and add some fries to our drawings.
Watch this informative video from Cartooning Club Junior to learn more.
Do your kids love Minecraft? These Minecraft perler bead patterns will be a hit.
8. Winking Cute Burger Drawing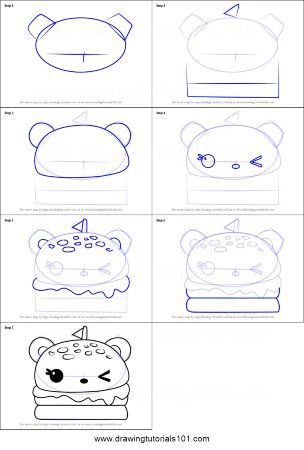 Another super adorable burger drawing is coming our way courtesy of Drawing Tutorials 101.
Its little wink, flag, and ears make it a drawing must-try.
Cuteness overload! Here are kawaii perler beads patterns that I'm sure you'll also like.
9. Pusheen Cat on a Burger Drawing
You've seen Pusheen Cat eating ice cream, and pizza, now it's time for some burgers.
No one will be able to resist this drawing of a Pusheen burger from Poccnn Small.
Plus, it's also easy to draw. Just follow the steps shown in the video tutorial.
5 Yummy Burger Drawings
10. Simple Burger Drawing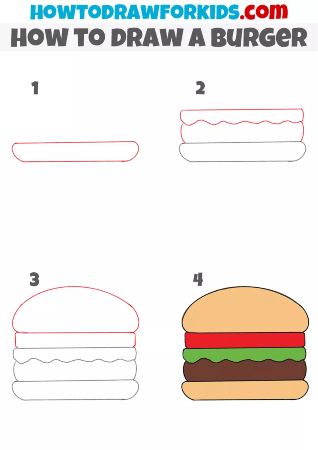 Looking for a simple burger drawing that they can do in one go?
Choosing this tutorial from How to Draw for Kids will be a great idea.
All it takes is four easy steps to complete the drawing from top to bottom buns.
11. Easy Burger Drawing
Add this easy burger drawing from How2Draw Easily to your list.
It will be a nice addition to the kids' to-do list because it won't take a lot of time for them to perfect the drawing.
Let's try out these easy taco drawings as well.
12. Cheeseburger Deluxe Drawing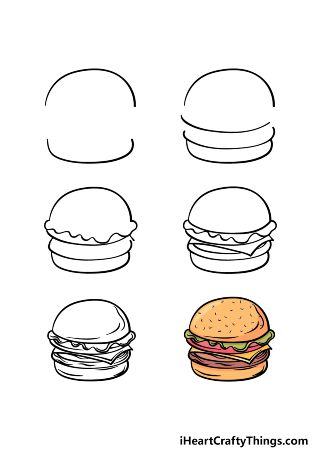 This drawing from I Heart Crafty Things will teach the kids how to add depth and dimension to their drawings.
It may take some time to do this drawing like a pro so make sure to try the other burger drawings first.
Scare the nightmares away with these DIY dream catcher crafts for kids.
13. Burger King Whopper Burger Drawing
There's no need for a trip down to Burger King because we'll be making our own version of their famous Whopper burgers.
Create a hyper-realistic drawing of the classic food with the help of this video tutorial from Peggie Neo Art.
14. Realistic Burger Drawing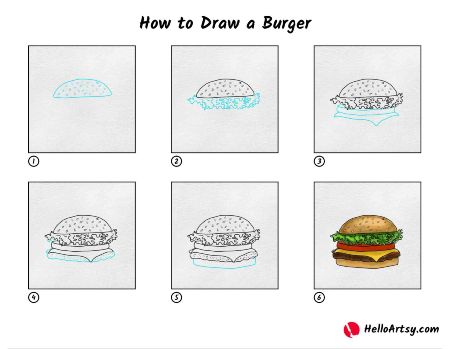 Enhance your child's drawing skills by letting them try out this challenging guide from Hello Artsy.
Drawing the burger with texture may be more challenging but the final output will be amazing.
Support your little artist and fashion designer by knowing what white cotton items to tie dye.
7 Fast Food Drawings
15. French Fries Drawing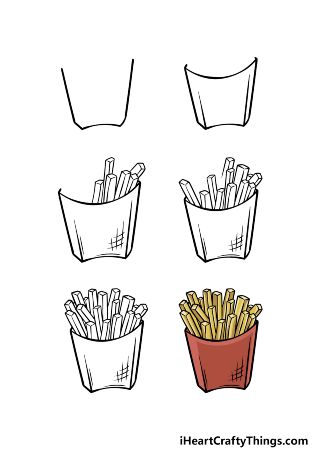 Burgers and fries make the perfect fast-food combo.
So we can't make this burger drawing list without a french fries drawing tutorial, too.
Follow this drawing guide from I Heart Crafty Things to perfect your craft.
16. Strawberry Sprinkled Donut Drawing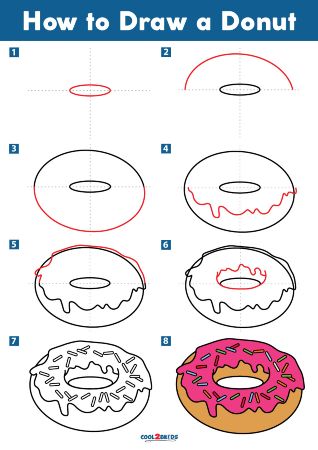 Another fan favorite when it comes to fast food is donuts—they're filling, sweet, and yummy as well.
Whether you like chocolate, strawberry, or glazed donuts, this tutorial from Cool 2 B Kids will come in handy.
More letter d crafts await you on this list.
17. Step-by-step Taco Drawing Tutorial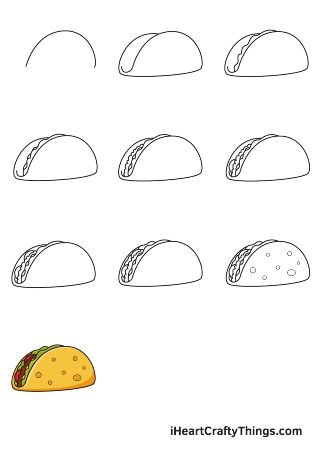 The best thing about Tuesdays is tacos.
Good thing I Heart Crafty Things created this drawing tutorial so we can have tacos even on Monday, Wednesday, or Friday.
You'll love these easy taco drawings we've prepared for you.
18. Strawberry Milkshake Drawing

We've done a lot of great food drawings and it's time we pair them with a refreshing drink.
Check out this milkshake tutorial from Easy Drawing Guides.
This milkshake drawing will also look great with other food so make sure to check out this list of cute food drawings.
19. How to Draw a Fried Chicken
Your child will enjoy watching and following the step-by-step tutorial on how to draw a fried chicken from Tyo Story's video tutorial.
This tutorial will be perfect if your kid loves drawing and eating fried chicken.
It will be a great skill to know how to draw different food, especially their favorite ones.
20. Hotdog Sandwich Drawing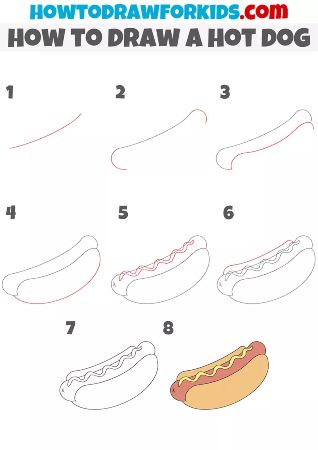 We have something in store for everyone on this list.
For those people who prefer hotdog sandwiches instead of burgers, this drawing guide from How to Draw for Kids is for you.
It's an easy guide that even beginners will enjoy making it.
21. Ketchup Bottle Drawing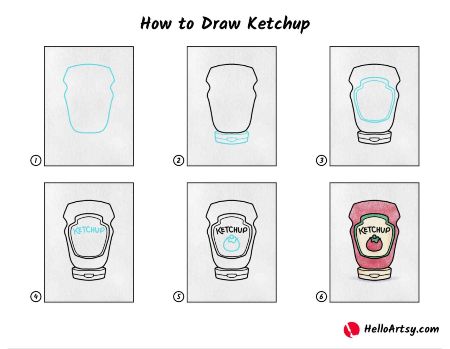 Are you team ketchup, mustard, or mayonnaise on hamburgers?
Ketchup fans will find this drawing helpful.
You'll need this tutorial from Hello Artsy to complete your burger drawings.
Burger Drawings for Everyone
Burgers are part of our day-to-day lives. From childhood to adulthood, it has been part of our meals.
These burger drawings will be a fun and tasty activity for the kids.
Find more interesting and fun activities for your little artist below: