Care Bears, prepare to stare…and get creative. Here are the best Care Bear perler beads for fans of every generation.
Growing up with Care Bears has been a blast. I remember watching every episode of the show on television and collecting all the plush toys of the characters as much as I can.
Watching Care Bears was entertaining but also very informative. I learned a lot about friendships, loyalty, and forgiveness through the show which is why I'm glad to know that the next generations can also watch Care Bears with its latest show.
Every kid wants to do some Care Bear-related crafts now that the show has become popular again. That's why I decided to make a list dedicated to Care Bear perler bead patterns.
Get ready for more epic adventures with these easy perler bead patterns.
The Materials
A lot of  preparations and materials are needed for perler bead activities. Good thing I've compiled the things that I've used in making  these crafts so you won't have to look for them because they're all right here.
21 Care Bear Perler Bead Patterns
1. Friend Bear Perler Beads Pattern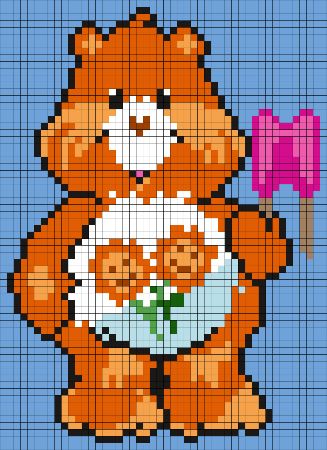 You know you've got the best pal with Friend Bear. They're sweet, caring, and loyal— which checks out all the boxes when it comes to being a great friend.
Learn how to make friendship bracelets for you and your BFF here.
2. Tenderheart Bear Perler Beads
Tenderheart Bear is a naturally-born leader. He always remains calm when there's a crisis and guides the other bears on what to do. Care-a-Lot is a wonderful and safe place thanks to the hard work of Tenderheart.
Child&Time's video will show you how you can make this pattern while watching the show.
3. Love Bear Care Bear Perler Bead Pattern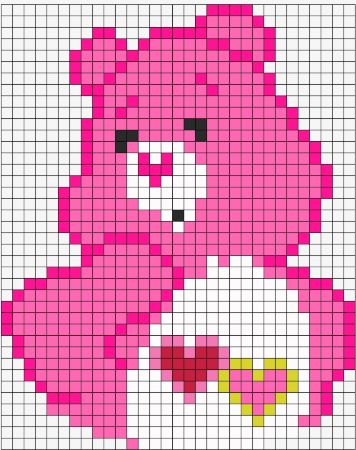 Love is in the air whenever Love Bear is around. Her presence alone can make any Bear at ease and happy. She's like the little Cupid of the bunch.
These Valentine's Day crafts for toddlers will be a nice activity, too.
4. Harmony Bear Colorful Perler Bead Pattern
Let's hear it for Harmony (literally!) Harmony uses her angelic voice to unite and strengthen the relationship between the Bears which is why her name is perfect for her character.
5. Cheer Bear and Funshine Perler Beads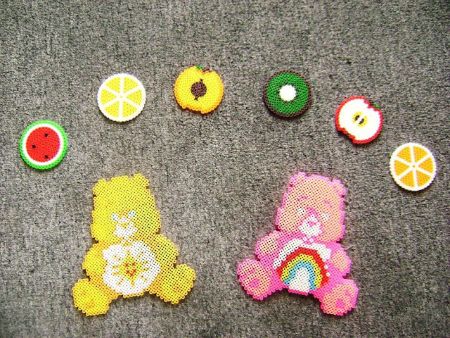 Cheer Bear and Funshine are the two Care Bears that have the most awesome powers. Cheer Bear can create rainbows while Funshine has the ability to create sunbeams. Together, they're unstoppable.
6. Pink and Blue Care Bears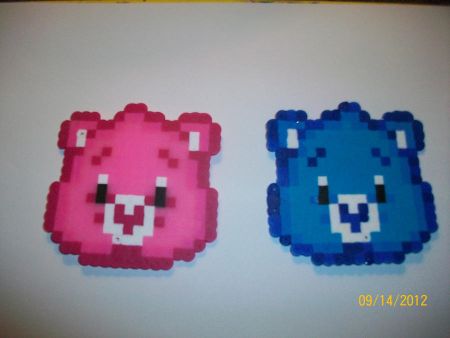 A sweet pink Care Bear and a cool blue Care Bear will be a nice addition to your collection. They're also great for beginners because the patterns are fairly easy.
Make something magical with the help of this post about mermaid perler bead patterns.
7. Share Bear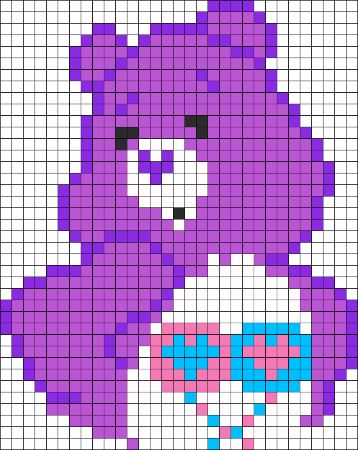 Sharing is caring as exemplified by Share Bear. She's the most selfless out of the bunch and would gladly give her time and things to others making her a good role model for kids.
8. Good Luck Bear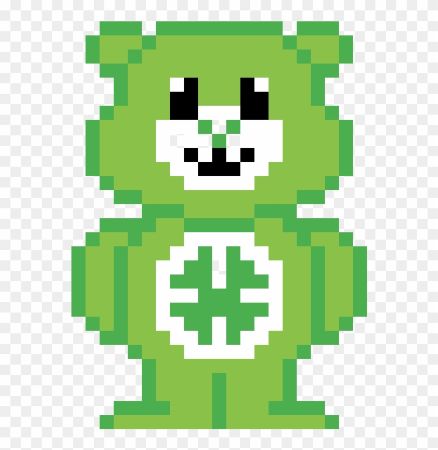 Having Good Luck Bear as a friend is great not only because of his attraction to good luck but also because he's dependable and caring.
Dive into the waters and make these crab crafts.
9. Grumpy Bear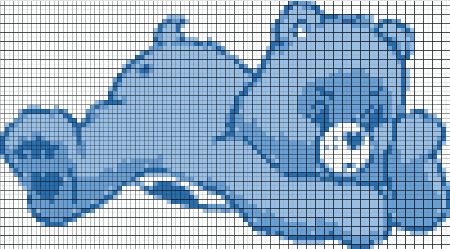 What do Snow White and Care Bears have in common? That's right, they both have a Grumpy.
Grumpy Care Bear may practice tough love but know that his intentions are always pure and heartfelt.
10. Good Luck Bear with a Pot of Rainbow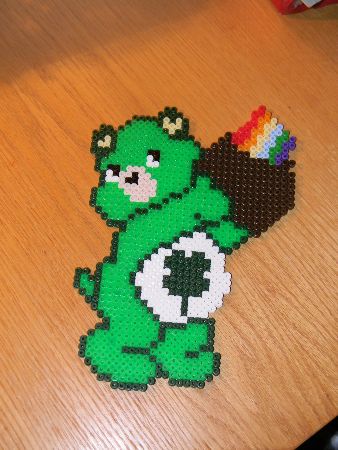 This pattern is for those who need an extra boost of luck. You'll drive out all the bad luck away with Good Luck bear and a rainbow pot. You'll be invincible.
11. Wish Bear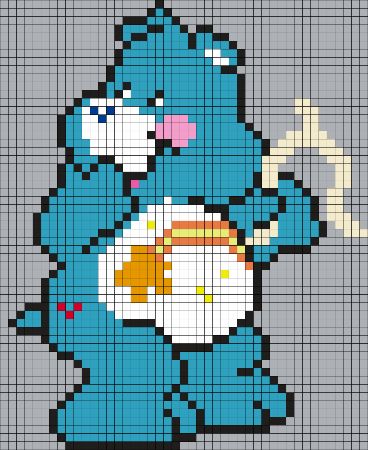 Your wish just came true through this cute Wish Bear pattern. This pattern will be a ton of fun to create with your kids.
You'll also learn how to draw Paw Patrol characters with this guide.
12. Trick-or-Sweet Bear Perler Beads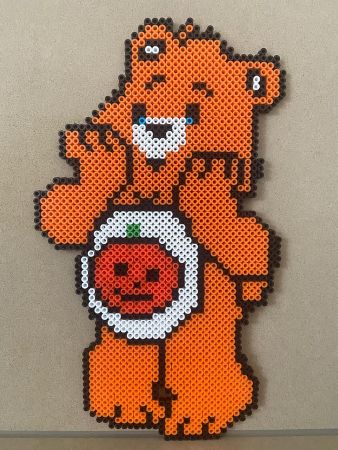 Completing this pattern will be a treat. Hurry and make this pattern before Halloween comes.
Unleash your creative side and try doing these Halloween painted rocks.
13. Love-a-Lot Bear Perler Pattern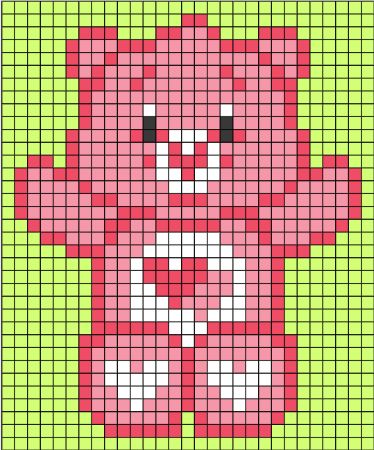 I think what the world needs right now is someone like Love-a-Lot. If we all have the same outlook in life as her, then the world will be a better place without a doubt.
14. Friend Bear Perler Bead Pattern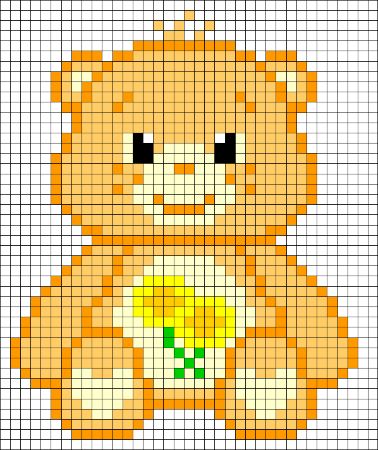 You've got a friend in me… and Friend Bear. All Care Bears are great to be around but you'll feel a different kind of fun and connection with Friend Bear because of their genuineness.
15. Tenderheart Bear Perler Bead Pattern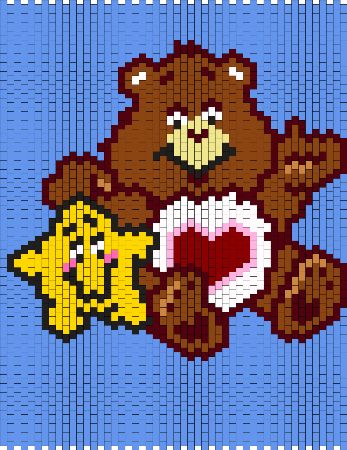 A Tenderheart pattern is cool but throw in a starbuddy and it will be cooler. Starbuddies have helped the Care Bears in their adventures numerous times so this list won't be complete without adding one.
16. Gentle Heart Lamb Perler Beads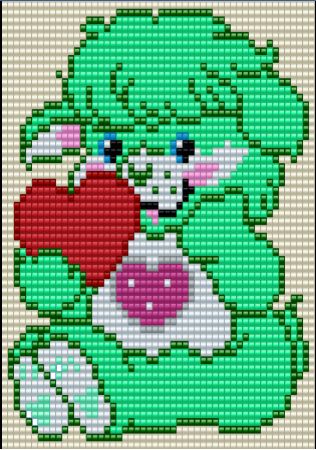 Is your kid a little shy when meeting new people? Then they'll totally get Gentle Heart Lamb. This character is sweet and soft-spoken so it will be nice for them to create this pattern.
17. Happy Cheer Bear Perler Bead Pattern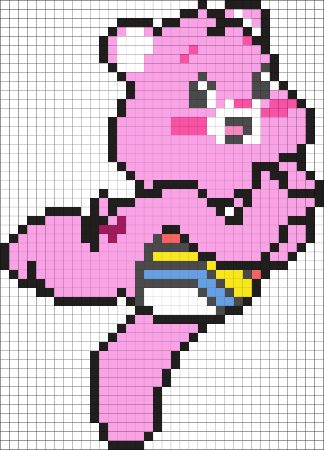 If your kid is feeling down lately, then this Cheer Bear pattern will help them break out of the slump. The positive and joyful characteristics of this Bear will be able to put a smile on anyone.
18. Bedtime Bear Pattern
I promise that you won't snooze with this perler bead pattern. It's exciting to make and will keep you up throughout the project.
This video by Draw pixel art will show you how this pattern is done.
19. Lotsa Heart Elephant Perler Beads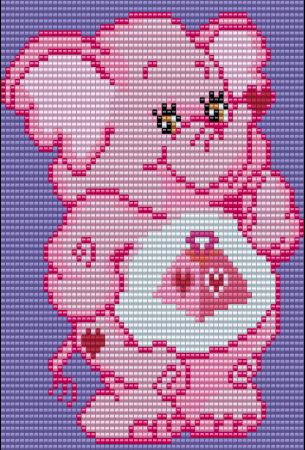 It's always fun to be around cousin Lotsa Heart Elephant because you'll feel loved and appreciated around them. Which is why they're always welcome in Care-a-Lot.
20. Tenderheart Bear Pattern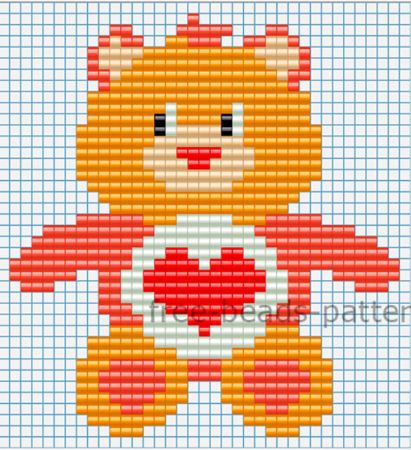 Here's another perler bead pattern of Tenderheart. He has a pure heart and is a crowd favorite so one pattern of him won't be enough.
21. Rainbow Heart Care Bear and Cheer Bear Pattern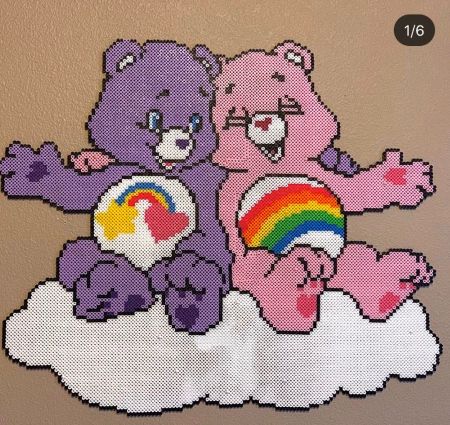 These two best friends are enjoying each other's company while sitting on a cloud. You'll also feel the same way once you've finished making this epic pattern.
BONUS: DIY Belly Badges
Your kids will feel like a true Care Bear with these Belly Badges. Create a sun, cloverleaf, or rainbow. The sky's the limit!
Care Bears' video will make you one step closer to making these badges.
Let's Do the Care Bears Countdown
I hope that you have fun making these Care Bear perler beads as much as we had. Making these patterns was entertaining and enjoyable just like watching the show.
Why stop there when you can make more perler beads crafts like the ones below: