The time has come to share one of your favorite childhood experiences with your kids. You've probably been looking forward to this day since the moment you learned you were expecting!
Introduce your children to the wonderful Wizarding World we all know and love with these 21 easy Harry Potter crafts for kids that will help them get to know the great characters, spells, and magical items from the book and film series.
8 DIY Harry Potter Characters and Creatures
1. Simple Harry Potter Costume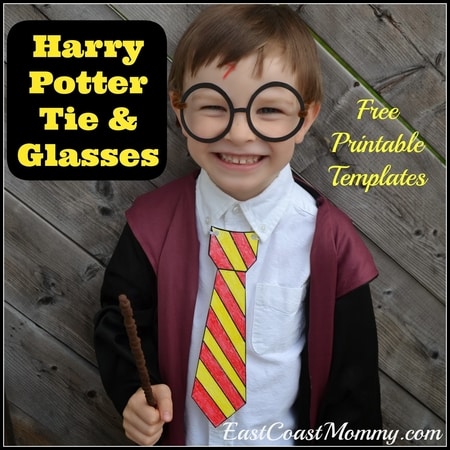 Turn your kid into a Hogwarts student with East Coast Mommy's simple DIY Harry Potter costume. It's such an easy costume to make because they even provide templates for the tie and glasses.
Don't just stop with one house, either. Let your kids color the tie to match their favorite house colors!
2. Harry Potter Rock Painting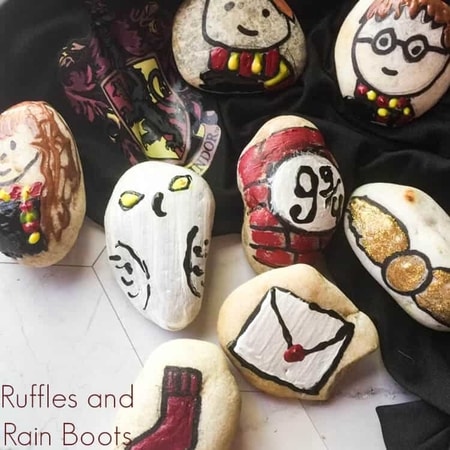 Rock painting is fun and inexpensive, and this Harry Potter art idea from Ruffles and Rainboots is no exception.
This is a cool way to introduce the world of Harry Potter and unleash creativity at the same time. The best part is that the materials are pretty easy to get: fabric paint, paintbrushes, large smooth rocks, and Mod Podge.
For even more rock painting inspiration, check out these other rock painting ideas for kids!
3. Harry Potter Bookmarks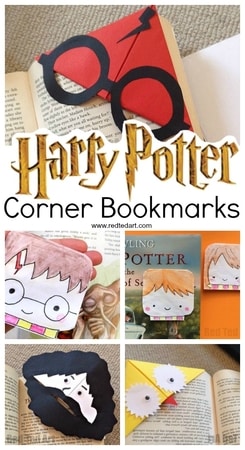 "Yer a bookmark, Harry!"
Bring the magic to any book your kid reads with these corner bookmarks courtesy of Red Ted Art that can be easily made using common craft materials found at home.
4. Toilet Paper Roll Basilisk
The Wizarding World uses empty toilet paper rolls to bring Salazar Slytherin's basilisk to life. Besides toilet paper rolls, you'll need split pins, washable tempera paint, adhesive putty, and some common arts and craft supplies.
Toilet paper rolls are a great crafting material because they're easily accessible and versatile – you can make so much with them! Check out these other toilet paper roll crafts you can do with your kiddos.
5. Dumbledore Beard Craft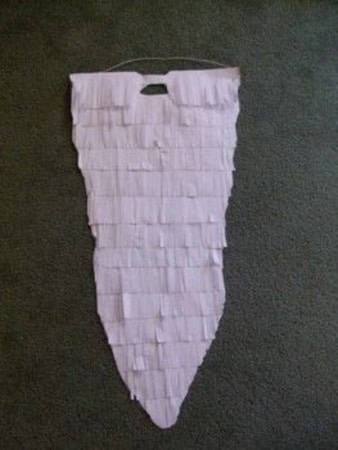 Let your child's dream of becoming Dumbledore himself come true this Halloween with this easy-to-do paper craft by Cut Out + Keep.
This is a fun Harry Potter craft that a toddler or preschooler can help put together and feel proud to wear!
6. Pom Pom Hedwig
Kids can bring Harry's loyal companion, Hedwig, to life. Yarn Necklaces shares an easy-to-follow tutorial  for large pom poms to make Hedwig with that only requires yarn and a pom pom maker.
They also share an alternative DIY pom pom maker made from cardboard to save you a trip to the craft store. I appreciate creators who provide alternative replacements for specialized tools you'll probably only use once.
7. DIY Mandrake Craft
Don't worry, these Mandrakes won't knock anyone unconscious when pulled out of their pots. Laura shares a really easy-to-make mandrake just for kids that will make them feel like they've truly part of the Wizarding World.
Make these to watch with Harry Potter and the Sorcerer's Stone or as a companion as you read the second installment of the Harry Potter book series.
8. Harry Potter Planter Craft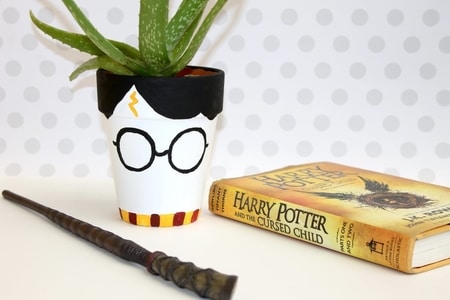 Give those dull plants a makeover by turning their pots into "Potters" with this fun and creative tutorial by Pop Sugar.
You may have a lot of fun with this one, but the outline of Harry is definitely simple enough for kids to do on their own, too.
11 Harry Potter DIY Crafts for Magical Items
9. DIY Harry Potter Wand
Would this list be complete if it didn't include the most important item a wizard should own?
No need to run to the store for specialized craft materials for this Harry Potter craft because Paperfunpro provides a nice DIY wand tutorial made entirely out of paper and a few dabs of glue.
10. Luna Lovegood's Spectrespecs
Luna's one my favorite characters from the franchise, and Epic Productions shows kids how to make her Spectrespecs featured in Harry Potter and the Half Blood Prince.
This is the perfect prop for any young Harry Potter fan who wants to dress up as one of the most lovable characters in the series.
11. Mad Eye Moody's Magical Eye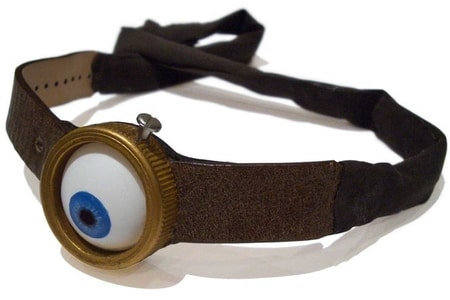 Instructables teaches us how to make Mad Eye Moody's magical eye with a wonderfully detailed tutorial that includes everything you need.
While this eye won't actually allow you to magically see through everything, it's still is a fun prop to add to a Mad Eye Moody Halloween costume.
12. DIY Hogwarts Acceptance Letter
Is your little one turning 11? Then make them their own Hogwarts acceptance letter using this tutorial by Go Jo! She even provides the templates and fonts on her website to make the experience as authentic as possible.
Is there a better way to celebrate your 11th birthday as a Harry Potter fan than getting your acceptance letter to Hogwarts?
13. Harry Potter Remembrall
While this won't exactly show that something has been forgotten, this DIY remebrall by HufflePuffNextDoor is still cool to have.
To make this Harry Potter craft, you'll need ribbon, polyester filling, a fillable plastic ball, paint and food coloring, a paintbrush, and wire cutters (optional).
14. Monster Book of Monsters Sticky Notes Cover
Another favorite magical item from the film series is The Monster Book of Monsters.
Create a less dangerous (and dare I say cuter?) version of this iconic prop by turning it into a sticky notes cover following Demi Siriusly's video tutorial.
Don't stop the monster party here. Explore these other monster crafts that are too darn cute to spook your toddlers.
15. DIY Quill Pen
Kids can do their homework like the young wizards and witches do at Hogwarts with this DIY quill. Aurel and Asia share two different ways to create this essential Wizarding World tool.
Just grab some feathers, a glue gun, and some typical craft materials, and you're one step closer to owning your very own DIY quill!
16. DIY Golden Snitch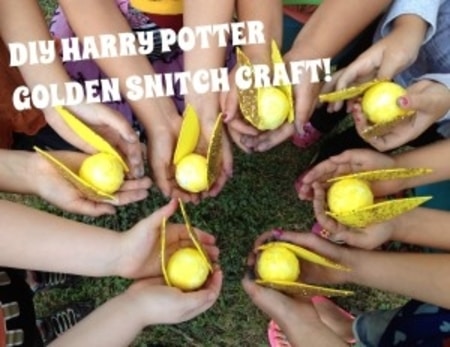 Cupcakes and Lace shares this easy DIY golden snitch craft with us that's too cool not to try!
Even though this craft requires some materials you probably have to take a trip to the craft store for (like craft foam and a styrofoam ball), it's actually pretty simple to put together.
17. Origami Harry Potter Sorting Hat
While this origami Sorting Hat by Easy Origami and Crafts won't be snarky, talkative, or burst out song, it's still a fun and challenging craft brave kids can do to refine their fine motor skills and attention to detail.
18. Harry Potter Potion Slime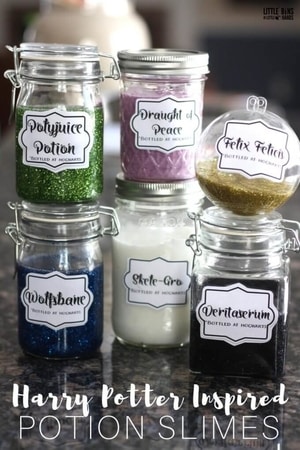 How about a Harry Potter craft idea that doubles as a sensory activity? Little Bins for Little Hands shares a fun activity for potion slime to do with your kids.
You'll need liquid starch, a few empty jars, and some easy-to-find crafting and baking materials you might have handy at home.
Use food coloring and glitter to create different types of potions for a more magical experience!
19. DIY Harry Potter Quidditch Broom
This broom won't respond when you say "up," but your kids will love making their own quidditch broomstick to ride around at home, like this one by Everything Channel.
You don't even need an actual broom. All you need is a long branch, pine straws, and duct tape. That's it!
2 Bonus DIY Harry Potter Crafts for the Adults
20. Clay Harry Potter Basilisk Fang
Leaky Honeydukes shares this video tutorial for a basilisk fang made from clay, tin foil, a rolling pin, and clay cutting tools.
While this Harry Potter craft is best for an adult to make, there's no harm in letting your little one help out along the way!
In fact, you can let them create their own version of this advanced craft by first making some homemade playdough together!
21. Thumbtack Dragon Egg
Dragons eggs are probably the coolest magical item from the world of Harry Potter, and Simply Potter has a really neat tutorial to make one of your very own.
All you need are thumbtacks, paint, paintbrushes, and a styrofoam egg.
Fun and Magical Harry Potter DIY Crafts for Future Potterheads
These 21 Harry Potter arts and crafts ideas and activities will provide a special and memorable experience for you and your kids. So what are you waiting for? Get started today!
Want more arts and crafts projects based on books? Then let your little ones try their hand at these Dr. Seuss crafts.
And check out these other Halloween-themed crafts lists to help get your kids and home ready for Halloween: