Welcome the friendly neighborhood superhero into your home with these easy Spiderman drawings. Spiderman is a cool superhero not only because of spiderwebs coming out of his wrists but also because he's a regular teenager with typical teenage problems. That's what makes him relatable.
Spiderman is a worldwide phenomenon. Since his creation in the 1960s, he's reached the top spot of being the world's favorite superhero. Even beating Batman, Iron Man, and Superman.
Without further ado, let's explore and join Spiderman in his thrilling adventures with these drawings.
Level up your drawing skills by learning how to draw planets.
Art Materials You'll Need
It's important to have the proper materials to do any job well. You'll find the things that my kids and I use whenever we have art projects which I think will be useful for you, too.
11 Easy Spiderman Drawings
1. Standing Spiderman Sketch
Travel back in time with this iconic Spiderman suit in the 60s. The combination of red and blue with a spider in the chest makes him recognizable all over the world.
Watch this video by Easy Drawing Guides for a step-by-step drawing tutorial of the iconic suit.
Open your horizon to new things. Give these best diamond painting kits a try.
2. Christmas Spiderman Drawing
Here's a Spiderman drawing by Art Land ready to spread cheer and keep the neighborhood safe during the holiday season.
Drawing Spiderman with a Santa hat and Christmas lights (instead of his usual spiderwebs) will put the kids into the spirit of giving.
3. Spiderman with Spiderweb Drawing
Superheroes have unique abilities and powers that help them save the world from evil. What's great and unique about Spiderman is that he got his superpowers from a bite of a radioactive spider.
Join Cartooning Club How to Draw as he draws Spiderman swinging from one to place another using spiderwebs.
4. Spiderman with the Vibranium Shield
He is worthy!
Spiderman is a good person making him worthy of Captain America's shield. He's a good friend, a caring nephew, and a fearless superhero.
Use this video tutorial from Wow Crafts as a reference in making your epic drawing.
5. Spiderham Drawing Tutorial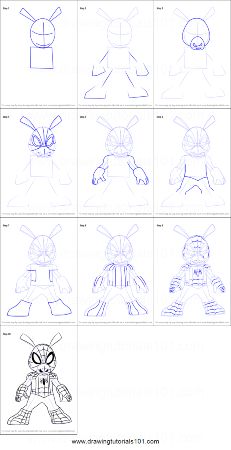 Spiderham is a one-of-a-kind character. After all, it's not every day that you see a spider turned pig turned superhero save people from the bad guys.
Check out this cool guide by Drawing Tutorials 101 to get useful tips on how to draw him.
6. Lego Spiderman Illustration
Lego has partnered up with iconic characters in the past so it's no surprise that it will team up with Spiderman.
Fans of legos and Spiderman will have a great time drawing this mash-up from Let's draw LEGO.
Have fun creating these Legend of Zelda perler beads patterns with your kids.
7. Spiderman Climbing a Wall Sketch
Sticking on walls is another cool superpower Spiderman has. This skill allows him to watch over New York without alerting the bad guys.
Be on guard and save this video from LAY DISNEY & FRIENDS – PlayDoh & Coloring for Kids to have a helpful guide in drawing Spiderman.
8. Spiderman in Action Illustration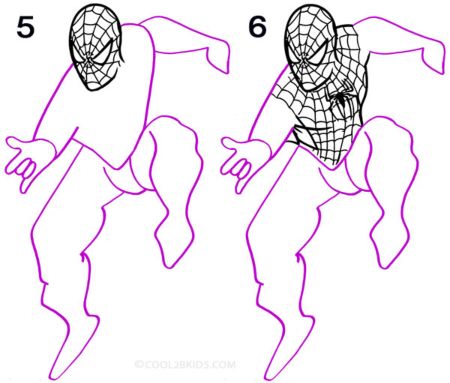 Look up! It's Spiderman.
Spiderman doesn't have wings to fly but his spiderwebs allow him to travel from one building to another quickly and it looks like he's soaring up in the sky.
Know how you can achieve this epic drawing with this guide from Cool 2 Be Kids.
9. Miles Morales Drawing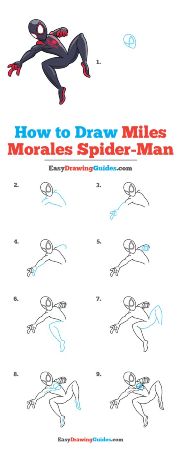 In an alternate universe, there's no Peter Parker but there's a Miles Morales who's equally courageous and selfless.
Achieve an awesome Miles drawing through this handy tutorial by Easy Drawing Guides.
Check out these Batman perler beads patterns.
10. Ghost Spider Drawing
I personally like Ghost Spider because she's the epitome of a strong woman character.
Her suit which has a combination of pink, black, and white is a major plus point, too.
Magical Swag's video will guide you on how to draw Ghost Spider step-by-step.
11. Spiderman Noir Sketch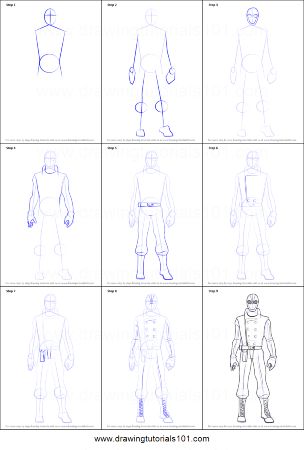 Spiderman Noir is the opposite of Peter Parker. He's dark, mysterious, and secretive.
Explore how drawing different colors and accessories can change a character's aura with the help of Drawing Tutorials 101's guide.
Get spooked with these Hocus Pocus perler bead patterns.
7 How to Draw Spiderman (Step-by-Step Guide)
12. Cute Spiderman Drawing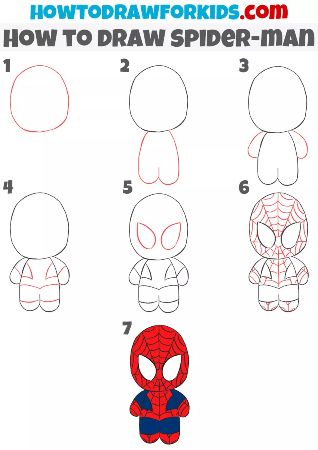 Making chibi superheroes makes them look cuter just look at this great example from How to Draw for Kids.
Plus, the chibi style is easier to draw especially for those who aren't very familiar with drawing the character.
13. Spiderman Mask Drawing
Spiderman's mask is crucial in hiding his identity. By wearing this mask, he's able to do his job as a superhero well without endangering the people close to him.
Get the iconic look with this tutorial by Cartooning Club How to Draw.
14. Upside-Down Spiderman Drawing
Hanging upside down is dizzying except for Spiderman. He can stay in this position all day (and night) long.
Copying this drawing from Art.Simple. will give your little one the chance to be creative and daring.
15. Chibi Spiderman Drawing Tutorial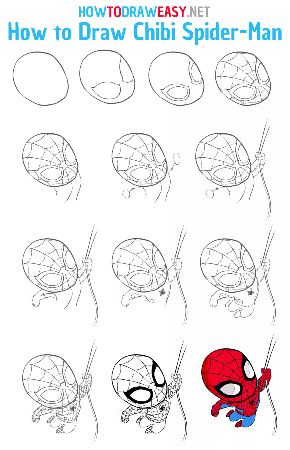 Spiderman isn't worried about traffic because he can swing from one place to another using his spiderwebs.
Experience the thrill and excitement of web transportation by drawing Spiderman using this tutorial from How to Draw Easy.
16. 3D Spiderman Sketch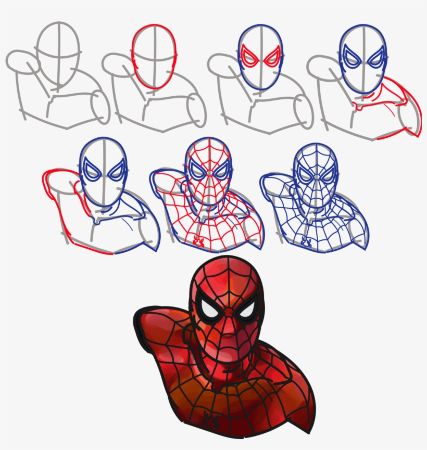 Let's take it one step at a time in completing a Spiderman drawing.
It will be better to master the head and bust first before proceeding to the more challenging parts to draw like the body.
Nice PNG has got your back with this detailed guide.
17. Among Us Spiderman Drawing
Spiderman is looking a little sus.
Combine the two things your kid loves the most through this Among Us Spiderman edition drawing by Fun Art Projects How to Draw.
18. Adorable Spiderman Mask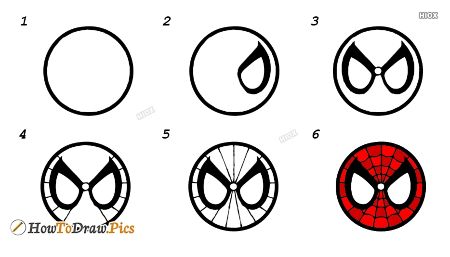 Get creative and draw this adorable Spiderman mask from How to Draw.
This version of the mask looks cuter and will be perfect for your kid's developing art skills.
I bet that you'll enjoy making these kawaii perler bead patterns. 
Bonus: Spiderman Villains Drawings
What's a superhero without his archnemesis? Find the five most famous villains in the Spiderman universe.
19. Green Goblin Drawing Tutorial
Green Goblin is what nightmares are made of. He's menacing, creepy, and strong.
Plus, William Dafoe's portrayal of this character in the movie is to laud for.
Have this iconic green villain in your sketchbook with this tutorial by League of Joy – How to Draw.
20. The Sandman Drawing
Sandman's backstory is heartbreaking, especially the reason why he's breaking the law.
Which is why he'll have the spotlight for our next item on the list.
Catch this drawing by Wayne Tully Art to get an accurate depiction of this supervillain.
21. Doctor Octopus Drawing Tutorial
Doc Ock is a genius villain who used science to gain more power and wreak havoc in the community. His mechanical arms are frightening and dangerous, too.
Draw For Fun's drawing perfectly captures the menacing evil scientist.
22. How to Draw Venom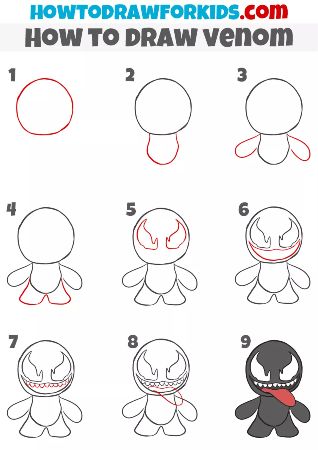 Spiderman's relationship with Venom is complicated. Some even see him as an anti-hero. You be the judge of him. Do you think Venom has good intentions?
Regardless if he's a hero or not, this drawing of Venom by How to Draw for Kids will be a good drawing practice for the kids.
Here comes the train. Learn how to draw a train with this tutorial.
Coolest Spiderman Drawing for Kids
"With great power comes great responsibility"- Uncle Ben
Seeing your kids excel in arts means that you've got the responsibility to further enhance it. These amazing Spiderman drawings will be great practice for them. Who knows, maybe your kid will be the next da Vinci.
Up, up, and away! Get more ideas for your next art projects below: