Are you ready to have a barking good time with some irresistibly cute puppy drawings?
Your kids are up for a fantastic treat if they're like me who's a proud fur parent and animal lover.
Our collection of adorable puppy illustrations is here to inspire their creativity and put a smile on their faces.
What are you waiting for? Grab their favorite pencils and coloring materials and let's get started on these exciting projects.
Jam along with these homemade instruments.
Tools for Success
7 Easy Puppy Drawings
1. Obedient Sitting Puppy Drawing
It may take some time to perfect the art of drawing puppies but it's definitely possible.
It's just like a puppy learning a new trick as seen in this tutorial by I Heart Crafty Things.
2. Stretching Puppy Sketch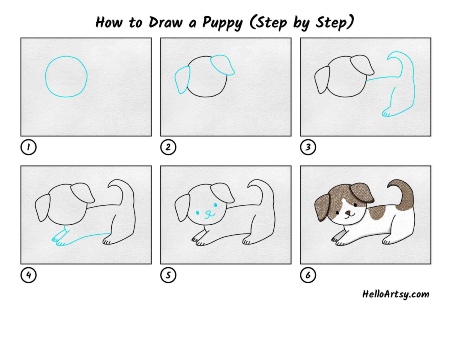 Enhance and stretch out the artistic skills of the kids with this pawsome drawing guide from Hello Artsy.
The brown and white puppy is super adorable and super easy to do as well.
Your child will also have a lot of fun creating these Paw Patrol crafts.
3. Puppy with Wagging Tail Drawing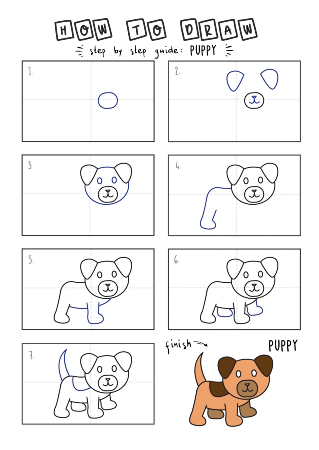 Puppies wag their tails to show that they're happy and content.
The kids will also be delighted to follow and create this puppy drawing from Rainbow Printables.
4. Puppy with Water Bowl Drawing
Puppies need a lot of food and water to grow up healthy and happy.
Good thing Art for Kids Hub included a tutorial on how to draw a water bowl for your child's puppy drawing.
This will add a nice touch to their artwork.
5. Easy Puppy Drawing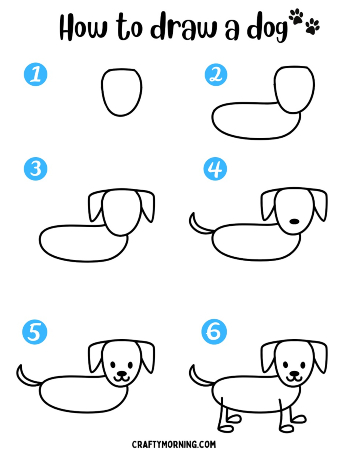 Crafty Morning has the perfect puppy drawing for kids who are just getting into the world of art.
It features a simple drawing that will teach them a trick or two about sketching animals effectively.
Create something magical and out of this world with these unicorn crafts.
6. Puppy Waving Drawing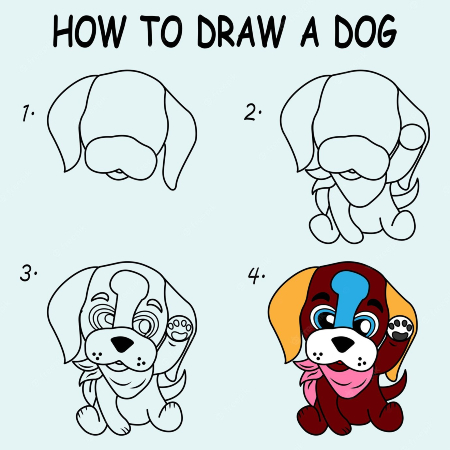 Say hi to this adorable and colorful puppy drawing entry from Freepik.
This drawing will encourage the kids to think outside the box and use their wild imaginations to put their creative ideas into paper.
7. Tongue Out Puppy Drawing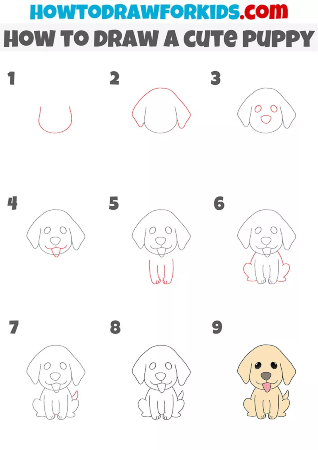 You wouldn't want to miss out on this epic puppy sketch tutorial from How to Draw for Kids.
The drawing captured the playfulness and fun nature of puppies in just nine easy steps.
Hungry for more? Don't worry because we've got the best crafts that will satisfy your artistic cravings starting with these perler bead food.
9 Step-by-Step Puppy Drawings
8. Cute Puppy Sketch
Capture the captivating eyes of puppies with the help of this tutorial from Easy Drawings.
After all, puppies are best known for their irresistible eyes that no one can say no to.
Beep beep! Watch out because the best monster truck drawings are heading our way.
9. Puppy Holding a Bone Sketch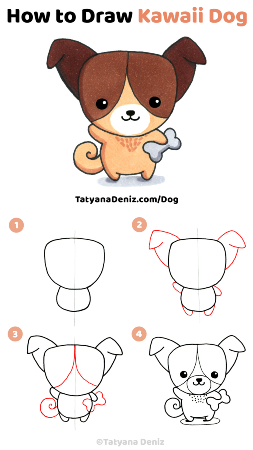 This kawaii drawing of a puppy from Tatyana Deniz will be a fantastic treat for kids who have a soft spot for dogs.
Check out the unique ears of the puppy, too.
This will encourage kids to try out different styles and techniques for their other sketches.
10. Happy Puppy Drawing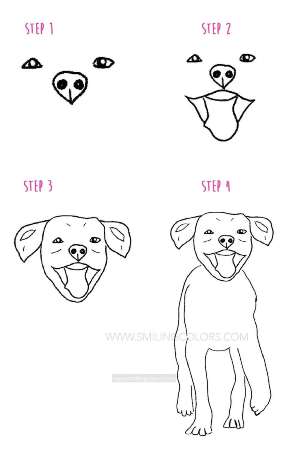 Drawings are more captivating if the artist effectively captured a strong emotion.
Smiling Colors did just that with this delightful puppy drawing.
Its eyes are expressive enough that you'll instantly know the puppy is happy just by looking at the eyes.
11. Charming Puppy Drawing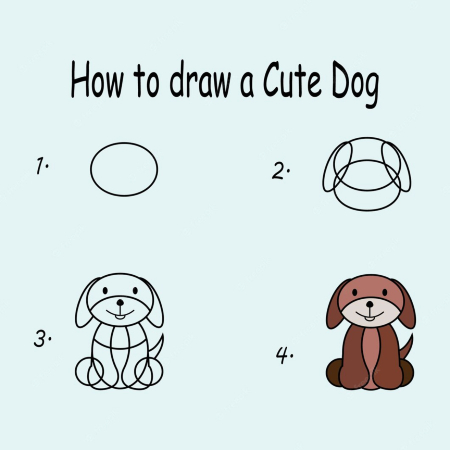 Trust the process and follow the squiggly lines to create this brown puppy drawing from Freepik.
It may be a bit tricky at first but the step-by-step tutorial will be very helpful in doing the project.
Beat the summer heat with these watermelon perler beads crafts.
12. Kawaii Puppy Drawing
Watch this video tutorial from HappyART and get inspired to draw this charming little puppy.
I'm sure that the kids will like drawing this not just once but many times over.
13. Adorable Puppy Dog Eyes Drawing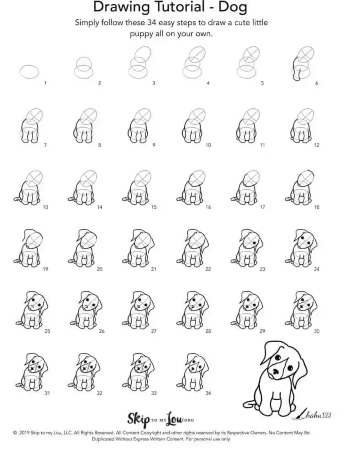 I know what you're thinking. A 34-step puppy drawing tutorial?
It may be a lot but I promise that it's worth it.
Skip to My Lou created a very detailed guide to help the kids every step of the way in drawing this kawaii puppy.
14. Corgi Puppy Drawing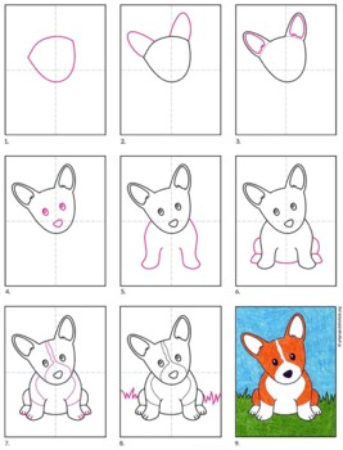 Corgis are one of the most beloved dog breeds because of their fun personality and cute features.
Lucky for us, Teachers Pay Teachers created this easy-to-follow drawing guide to help us draw our very own version of a corgi puppy.
15. Patient Puppy Drawing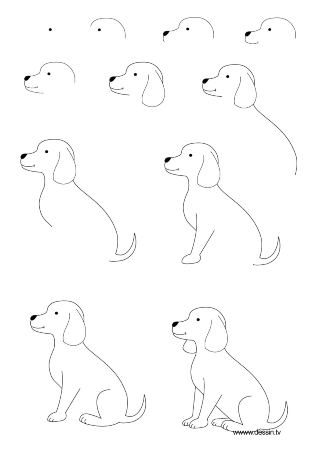 Doodling is also a great practice for budding young artists.
Take it from this sketch by The Draw Bot.  Notice how precise each pencil stroke is in this sketch.
The kids will get a lot of ideas for their future drawings through this tutorial.
16. Cute Puppy Drawing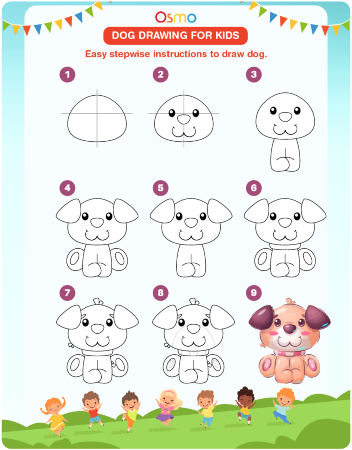 Our last but definitely not the least puppy drawing on this list that your child should try out is this one courtesy of Play Osmo.
It features a different technique and style of how to draw a puppy by adding more texture and character to it.
5 Baby Animal Drawings
17. Simple Kitten Drawing
It's raining cats and dogs on this list.
Pair up the kid's puppy drawings with this kitten sketch from Family Realms.
Super kawaii Hello Kitty perler beads await you on this list.
18. Baby Elephant Drawing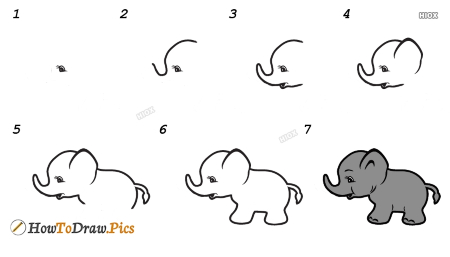 Elephants are humongous and magical creatures so it's hard to imagine that they could be this tiny when they're young.
Let How to Draw Pics teach the kids how to draw a glorious baby elephant through this comprehensive tutorial.
19. Cute Baby Sea Lion Drawing
Sea lions are just dogs that live in the water.
So I couldn't resist adding a drawing tutorial for sea lions especially this cute one from Draw With NONU.
20. Baby Bird Sketch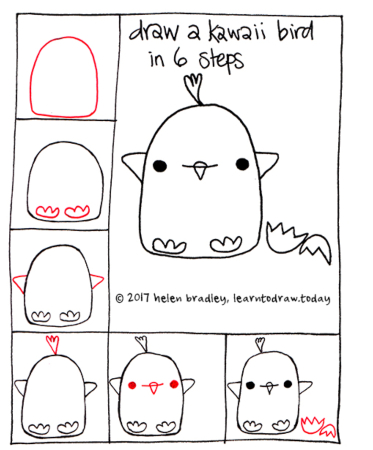 A little birdie told me that you'll like this cute baby bird drawing from Learn To Draw.
Follow the six simple steps to recreate this newly hatched bird ready to take flight.
Try out these awesome perler bead bird crafts, too.
21. Baby Bunny Drawing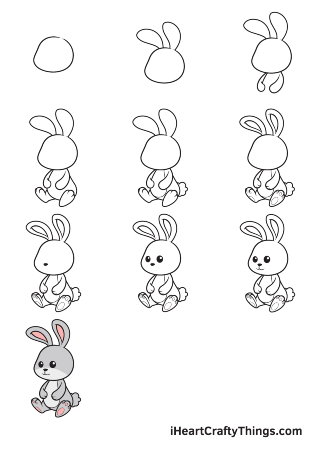 Hop along with us and let's get our creative juices flowing with this fun drawing tutorial from I Heart Crafty Things.
Whether the kids would like to draw an actual bunny or a stuffed animal, this sketch will be ideal.
Puppy Drawings that Will Steal Your Heart
Get your daily dose of cuteness and art activities in this list of puppy drawings for kids.
Whether you're a dog lover or a cat lover, I'm sure you'll find something on this list that will warm your heart and inspire you to create art.
More fun and adorable drawing tutorials await you on the lists below: