Hop, jump, and munch with us as we learn how to do these easy bunny drawings.
Bunnies are one of the most loved pets around the world and it's not hard to see why. With over 49 domesticated breeds of bunnies on six continents, they still remain true to their nature. All bunnies are adorable, fluffy, and intelligent.
Whether you're thinking of having a pet or just want to learn how to draw a bunny rabbit, this list is made for you.
Want to level up your wardrobe? Here's a comprehensive guide on how to tie dye a shirt.
Things You'll be Needing for Your Drawings
10 Easy Bunny Drawings
1. Tiny Bunny Drawing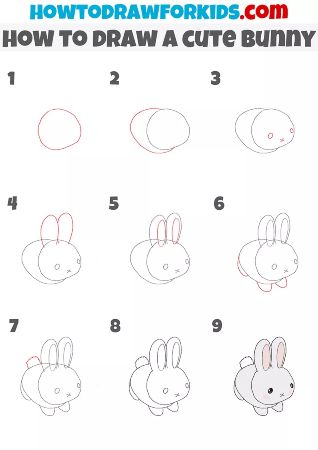 Prepare yourself because this bunny drawing from How to Draw for Kids will give you cuteness overload.
Its fluffy ears and round tail will turn you into a heart-eyed emoji.
2. Cool Bunny Drawing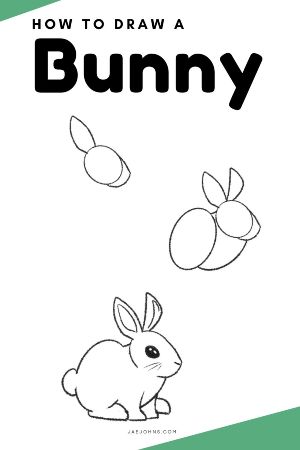 If you're teaching your kids about the different kinds of animals, this bunny should be part of your list.
Jae Johns' drawing shows the different features of a bunny to help kids easily distinguish the animal: its big ears, whiskers, and tail.
3. How To Draw A Rabbit From Numbers 200
Make drawing and learning about rabbits more engaging with this video from Jelly Draw Arts.
It shares how you can turn the number "200" into a cute rabbit using a handy marker and a dash of imagination.
4. Happy Rabbit Drawing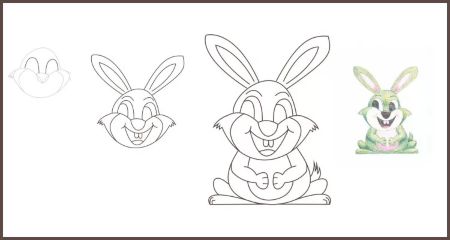 Did you know that a bunny's teeth never stop growing? That's why chewing hay is important to keep their teeth short.
In this drawing from Tina Lewis Art, the happy bunny's teeth are highlighted.
B is for bunnies. Find more letter b crafts in this post.
5. Bunny in an Egg Drawing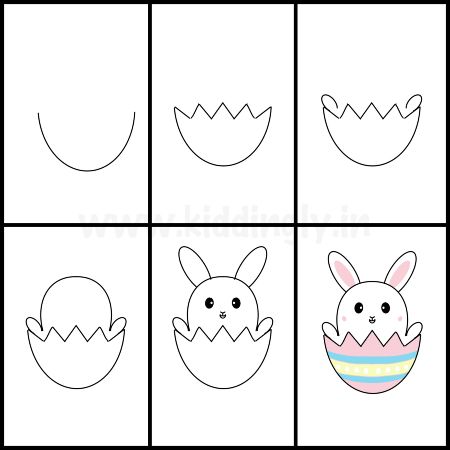 It may not be Easter but this drawing from Kiddingly will give you an e(gg)xiting treat!
Following this guide won't just give you a drawing of a rabbit but a colorful Easter egg, too.
6. 5 Dots Rabbit Drawing
Looking for an art project that will enhance the kids' creativity and imagination? This rabbit drawing from
J B Patel
will be perfect!
The video will teach you how to draw a sitting rabbit looking at its favorite treat starting with just five dots.
7. Fun Rabbit Drawing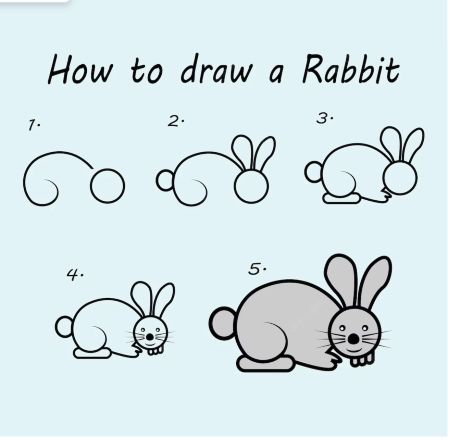 Ready, set, go!
Go with this drawing from Freepik if you want to depict your bunny mid-action.
This bunny drawing will go well with your kid's own storybooks or as puppets.
8. Bunny Ears Drawing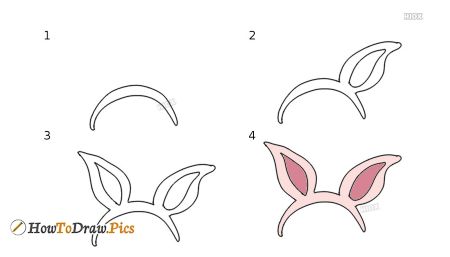 You can make anyone or anything look irresistibly adorable with this bunny ears-inspired hair band from How to Draw Pics.
Add this to your kid's drawing of themself, their friends, or even to their favorite cartoon character.
Everything will look 100% cuter with these bunny ears on.
9. Simple Bunny Drawing
We all know how rabbits go loco for carrots!
This drawing from rena lo shows how much these little munchers love the orange vegetable by sketching a bunny hugging a carrot.
10. Bunny with Different Faces Drawing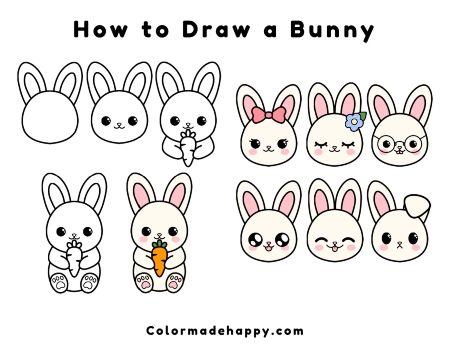 Let your bunnies portray different emotions by following this guide from Color Made Happy.
This tutorial shows a happy, sleepy, and curious bunnies.
Whatever bunny look you need for your drawing, this guide has got it for you.
8 Cute Rabbit Drawings
11. Kawaii Bunny Drawing
If you think that bunnies can't get more kawaii then this tutorial by Mofukawa will change your mind.
This bunny drawing is super kawaii with its squinting eyes and rosy cheeks.
Your kids will like these cool farm animal crafts.
12. Blue-Faced Bunny Drawing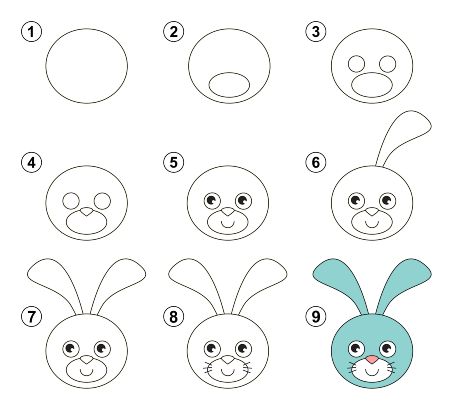 Master drawing the face of a rabbit with this helpful guide from Family Realms.
Learn how to perfect the big bunny ears, diamond-shaped nose, and little whiskers in this nine-step tutorial.
13. Cute Bunny Face Drawing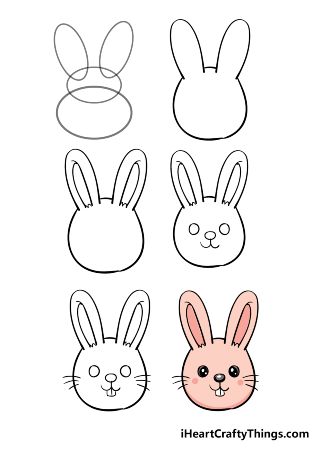 Here's another way of drawing a bunny face courtesy of I Heart Crafty Things.
Choose this drawing if you'd like your bunny character to look younger and more feminine.
14. Bunny and Butterfly Drawing
This drawing from 
Taposhi arts Academy
reminds us of the beauty of mother nature. Your beautiful bunny drawing will never be lonely because it will be accompanied by a magnificent butterfly.
Watch the video tutorial to learn how to do these two cuties.
15. Big-Eared Bunny Drawing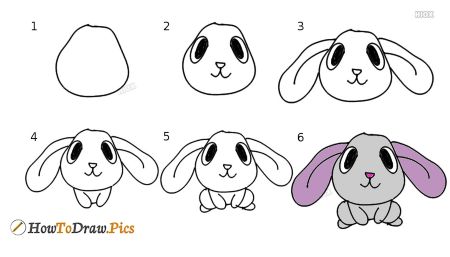 This adorable rabbit is all ears for the best bunny drawings you've got.
How to Draw Pics captured the curiosity of the little animal with its big eyes and ears in this drawing.
Fun fact: Did you know that bunnies are smart creatures? No wonder they're always curious.
16. Adorable Bunny Drawing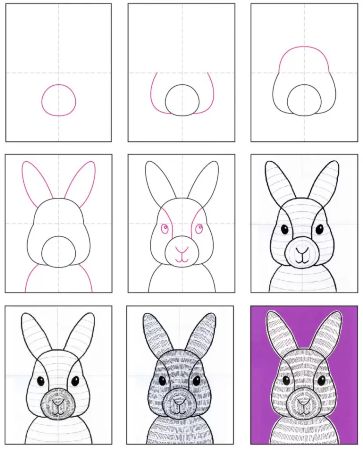 Adding texture to your bunny drawing will make it look more authentic and lifelike as seen in this drawing of Art Projects for Kids.
Using different techniques like shading and coloring will effectively do the trick.
Level up your crafts with these 3D perler bead patterns.
17. Rabbit with Carrot Drawing
Drawing journey knows how to draw a cute bunny and they're ready to let you in on their secret.
Head on to their video to learn how to draw this carrot-loving rabbit like a pro.
18. Easter Bunny Drawing

If your child's favorite holiday is Easter because of how much fun Easter egg hunting is, then this drawing from Drawing How Tos is a must-try.
They'll learn how to draw their favorite animal and holiday in one go thanks to this straightforward guide.
5 Famous Bunny Drawings
19. Bugs Bunny Drawing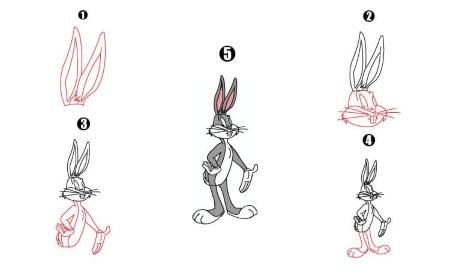 What's up, Doc?
Bugs Bunny is one of the most famous bunny characters all over the world so this list of bunny drawings won't be complete without him.
Save this tutorial from Cool Drawing Idea's for your reference because it will be helpful in your next project.
20. Judy Hopps from Zootopia Drawing
Let's all welcome the first-ever rabbit officer of the Zootopia Police Department, Judy Hopps!
Judy Hopps is a great role model for children because she's ambitious and kind. Kids can learn a lot from her.
Watch this video by EasyDrawingTutorials after watching Zootopia to let your kids have the full experience.
21. Thumper Drawing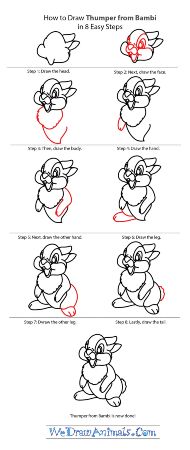 Practice drawing Thumper with this tutorial from We Draw Animals. He's a sweet little guy and I'm sure that kids will enjoy drawing him.
Feel the heat in these summer perler bead patterns.
22. The White Rabbit Drawing
"I'm late! I'm late! For a very important date!"
Don't miss out on this super adorable drawing of the White Rabbit by
Draw So Cute
. This video tutorial will help you have an on point drawing of this timeless character with his fancy clothes, glasses, and clock.
23. Snowball from the Secret Life of Pets Drawing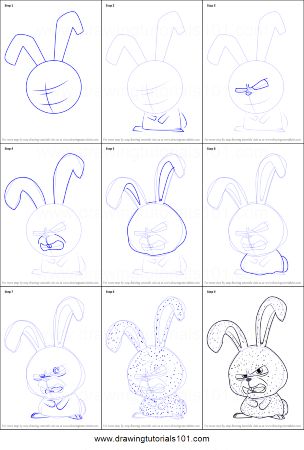 Snowball shows a different side of bunnies. They're portrayed as being a super cute evil mastermind.
Your child will learn how to draw a different expression on their bunny drawings with the help of Drawing Tutorials 101.
Easy Bunny Drawings
These easy bunny drawings will make your kids like these small adorable creatures even more.
They're fun and simple to do so your kids will have a blast making them.
A lot of fun projects await you in the lists below: