Fire trucks are only ever seen or heard when there's an emergency. However, these blaring vehicles (also called fire engines) are often shown in cartoons, so children become acquainted and obsessed with them.
Light up your children's creativity by making these 19 fire truck crafts that are easy enough for toddlers and preschoolers to do!
5 Easy Fire Truck Crafts For Toddlers
These are 5 fire truck crafts young children can easily do with the guidance of an adult and that only require basic materials such as scissors, glue, markers, and other materials commonly found in your home.
1. Fire Truck Handprint Art Craft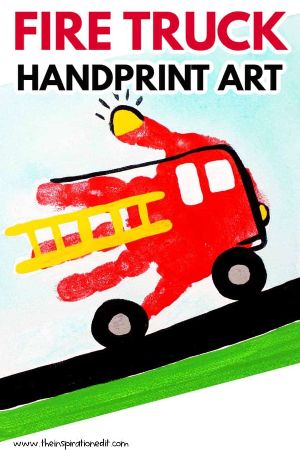 Handprint art is a popular activity. While it might be messy, it's easy to do and very interactive.
The Inspiration Edit only uses red acrylic paint, paper, and a paintbrush for this fire truck handprint painting. The rest of the fire truck's details are up to your toddler!
If you prefer a less messy option, try using washable tempera paint.
Speaking of paint, check out these toddler painting ideas for more handprint art inspiration.
2. Easy Popsicle Stick Fire Truck Craft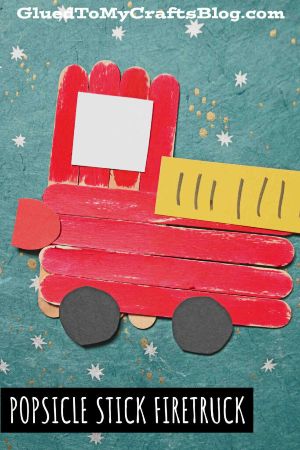 Popsicle stick crafts are super convenient to make, and this popsicle fire truck is no exception. Engaging your children in crafts is a great way to improve their fine motor skills, and this craft is a great way to do that.
Popsicle sticks are the main component of this fire truck craft. Follow Glued To My Crafts tutorial, which lists the other materials required to make your fire truck more detailed.
For other interesting popsicle stick activities, check out these 15 incredibly easy popsicle sticks crafts.
3. Five Little Firefighters Handprint Craft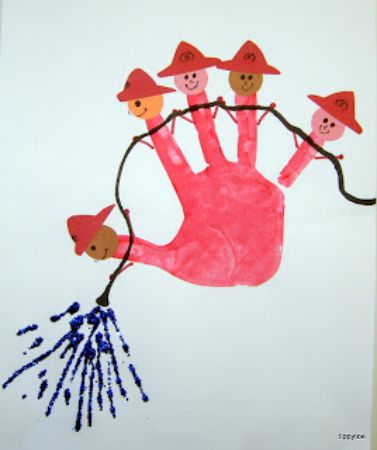 While fire trucks are cool, they are ineffective without the firefighters who operate them. Allow your children to create five firefighters with this handprint. This craft demonstrates the versatility and simplicity of handprint art for kids.
The heads and hats of the firefighters are made by cutting up circles from colored construction paper, and the hose is simply drawn with a black marker. Use blue glitter to create the spouting water!
Tippytoe Crafts also included a popular short poem to read while doing this firefighter craft for preschool-aged kids!
4. Footprint Fire Truck Craft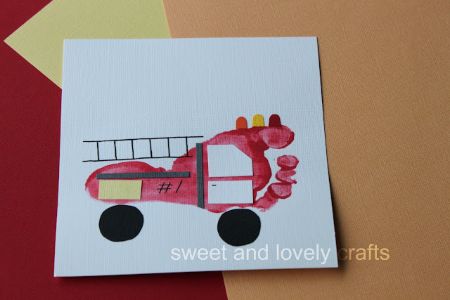 This handprint art is a perfect activity for toddlers because what toddler wouldn't enjoy an excuse to get a little messy? Allowing children to express their creativity in different ways can be helpful for their self-esteem and early development.
Visit Sweet And Lovely Crafts for more instructions on how to make this fire truck footprint art.
5. Paper Cup Dalmatian Craft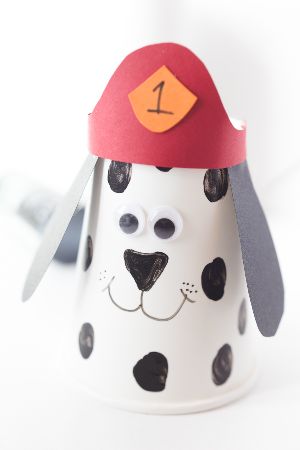 Did you know Dalmatians historically served as guides for horses and firefighters? They've since then become the unofficial mascot for firefighters in the U.S.!
Made To Be A Momma provides detailed instructions on their site to create these protective and diligent companions to accompany your children on their quest to quell boredom.
5 Fire Truck Crafts With Printable Templates
Below, you'll find fire truck crafts with printable templates. Don't worry – all of the templates provided are downloadable and, more importantly, free.
6. "F is For Fireman" Firefighter Craft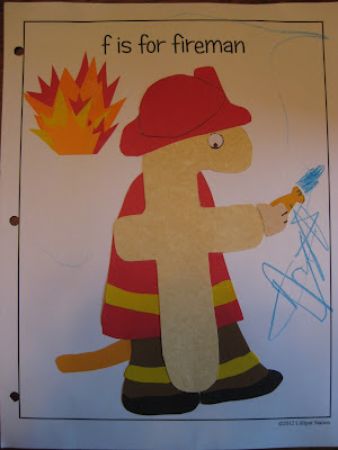 Introduce your little ones to the alphabet by making this letter "F" is for firefighter craft. Not only will they learn a new letter of the alphabet, but they'll also get acquainted with one of the most honorable duties out there.
Lilliput Station is kind enough to include a printable template for this activity. Your kids have the option to simply color the fireman template or cut out the letter and shapes to paste on to a piece of paper and color.
Looking for more letter "F" crafts? You can find more in our list of fantastically fun letter "F" crafts.
7. Five Little Firefighters Paper Craft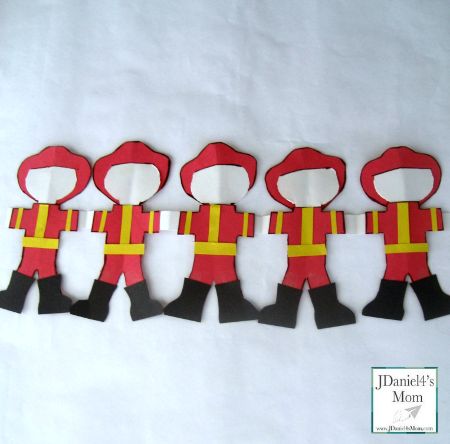 Just like how it takes a team of firefighters to put out a fire, it requires a team composed of you and your little ones to make this paper firefighter doll chain. This paper craft gives you a chance to teach your children about the importance of teamwork and unity.
Follow the detailed instructions provided by JDaniel4's Mom. There, you'll also find a template for this craft and a variation of the Five Little Firefighters Song to sing along with.
8. Printable Fire Truck Craft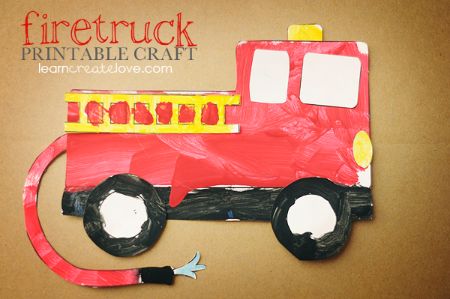 If, for some reason, you need to distract your children for half an hour, then this is the perfect fire truck craft for you. Print out this simple fire truck design for a straightforward activity that will keep your little ones busy.
All you need is some colored paint and safety scissors. Let your kids cut up the fire truck or do it yourself if they're too young to handle any type of scissors.
Here is the printable template provided by Learn Create Love for your convenience.
9. Fire Truck Collage Craft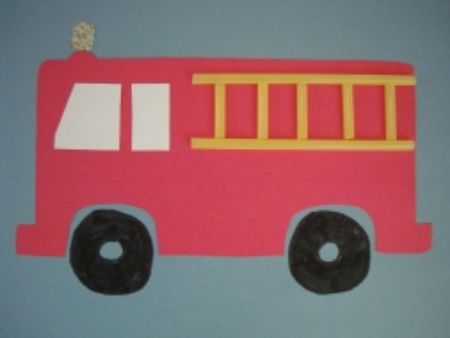 Collages are a simple activity that enhances your toddler's fine motor and sensory skills.
I recommend using colored glitter for this craft because that will cultivate young children's creativity by enhancing their awareness of colors, which is important for development.
Go to Busy Bee Kids Craft to download the printable template.
10. Tissue Box Fire Truck Playset Craft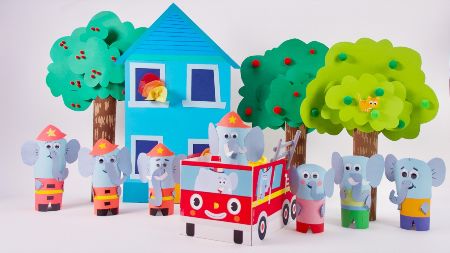 Who needs to purchase playsets when you can easily and cheaply create them at home?
It's time for your kids to save that iconic cat hanging from a tree with this fun toilet paper craft by Super Simple. They share an in-depth guide that will hook you and your children instantly.
By repurposing tissue boxes and toilet paper rolls, they're able to create and design this cute fire truck with little elephants. Templates of the fire truck, fire, and cat are all available on their website.
They have a simple version which only includes the fire truck and the cat, and a more detailed version with firefighters.
Recycle more empty toilet paper rolls by making these 20 super easy toilet paper roll crafts for kids.
4 Fire Truck Crafts That Will Kindle Your Kids' Imagination
11. Firefighter Hat Craft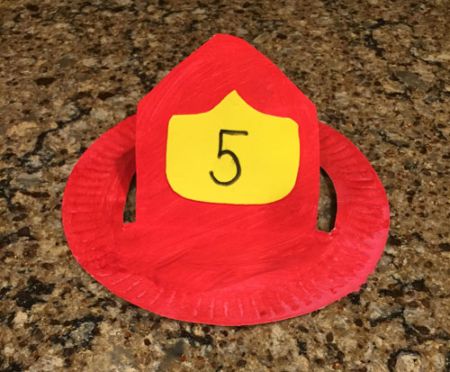 If your children have dreams to become a firefighter one day, or if they're invited to a kids' firefighter themed party (or they simply want to play pretend), then cultivate their imagination by making this firefighter hat craft.
This craft only requires the humble paper plate, some red paint, and yellow craft foam. Write your kid's lucky number on the yellow construction paper badge!
12. Fireman Picture Activity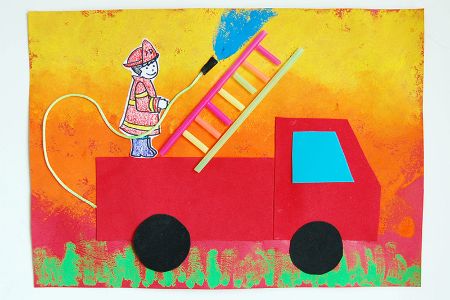 Extinguish your children's temper tantrums with this brilliant fire truck craft. It's one of my favorites because it's simple and the fires look really cool.
The flames are created by applying paint with a kitchen sponge. Simply dip the sponge in yellow paint, then gradually intensify the colors of the flames by applying orange paint. First Palette also added a plastic straw ladder, a piece of string for the hose, and some grass at the bottom for detail.
For more sensory activities, check out this compilation of thanksgiving sensory bin ideas that are great for little hands.
13. Fire Truck Cookies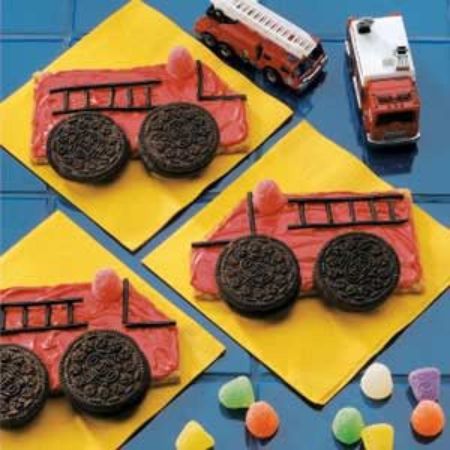 Here's a breath of fresh air from the usual paper crafts. These fire truck cookies will surely get your little ones fired up from the sugar high.
Taste Of Home specifies the ingredients for this unique fire truck craft on their website such as Oreo cookies (yum), graham crackers, shoestring licorice, and red gumdrops. This project is not too complicated and your children can participate in the mixing and assembling of the fire truck cookie!
14. Fire Truck Box Craft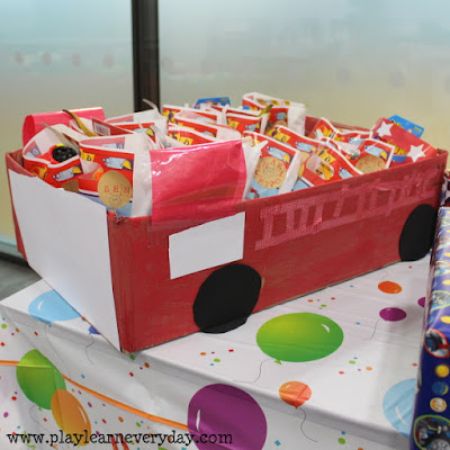 This is a 2-in-1 fire truck craft that you can easily make with a large cardboard box. Your children can use it as storage for their favorite snacks, or they can use it to pretend like they're firefighters driving an awesome fire truck.
You'll need lots of red paint for this one. To complete the project, you'll also have to get yourself some black foam sheets, contact paper, and red tissue paper. For more details, follow Play & Learn Every Day's comprehensive guide on making this fire truck box.
4 More Fire Truck Ideas That Preschoolers Can Make
Here are 5 more fire truck ideas that preschoolers can ignite their imaginations with. Some may find these crafts too complicated for toddlers, but they're nothing an older child can't handle.
15. Egg Carton Fire Truck Craft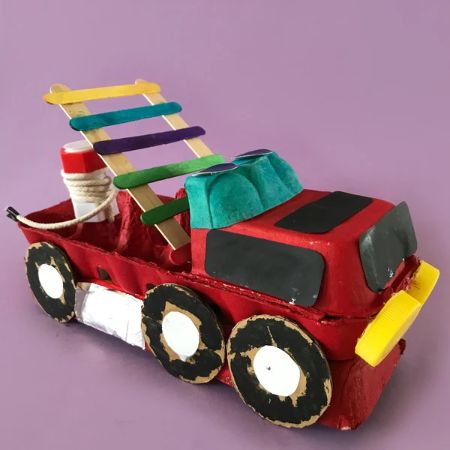 If you've got an extra egg carton you're going to recycle or compost, then hold up! You should first check out this egg carton fire truck craft.
With just a few basic materials, you can transform an egg carton into this creative fire truck that your kids will have fun playing with. Mini Mad Things also encourages you to upcycle other materials, such as plastic bottle caps and string. You will also need wooden craft sticks to bring this fire truck to life.
16. Cardboard Fire Truck Craft
This toy looks like a budget version of Red, the fire truck in Pixar's film, Cars. Whether you agree or not, there's no doubt that this fire truck craft is very easy to make. Additionally, you get to repurpose a cardboard box!
Moms Town suggests you either cover the box with red paper or apply red paint to it. You'll also be needing construction paper (black, white, and blue), and blue and yellow craft foam. The full guide is available on their website.
I'm sure your kids (and perhaps even you!) are fans of Disney, so check out our baby Yoda crafts from Disney's The Mandalorian.
17. Simple Egg Carton Fire Truck Craft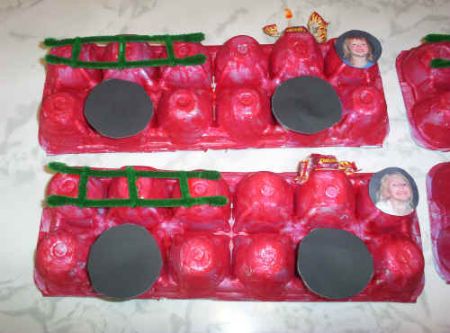 Egg cartons are popular for making fire truck crafts because they conveniently form the body of the vehicle. If you don't have a lot of time to spare for a big craft project, then make this simpler version of the fire truck shared by DLTK.
To make things easier, they've included a free printable template of the ladder and the wheels of the fire truck.
18. Fancy Fire Truck Craft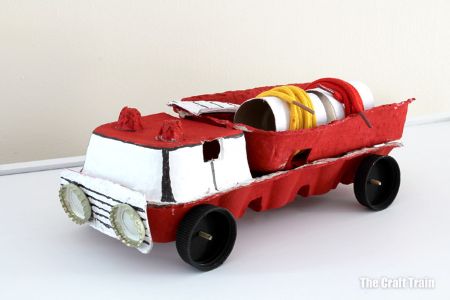 This is a more sophisticated type of fire truck craft with functional wheels. Attach a string on the fire truck's front so your kids can pull it around your home or backyard.
The Craft Train provides you an opportunity to recycle an egg carton, a toilet paper roll, and some plastic and glass bottle caps.
You also need acrylic paint (red, white, and black) to color the truck, and a couple of bamboo skewers to act as the fire truck's spool. Get all the instructions you need on their website.
Sometimes You Just Need A Spark Of Creativity
Douse your children's boredom with these 18 fire truck crafts that you can easily make at home.
The materials required for these crafts don't need to be expensive, as demonstrated by several of the crafts that use recycled items.
Plus spending time with your children by making these crafts will not only benefit them, it'll also help you destress you if you're feeling a little burned out.
Looking for less fiery crafts? Cool yourself down with some refreshing ice cream crafts instead!