Peacocks are perfect for kids' crafts because these vibrant birds allow children to experiment with different colors and materials.
While the bird is generally blue in color, that won't stop kids from exercising their imaginations. So, without further ado, here are 18 easy peacock crafts that toddlers and preschoolers can do!
6 Simple DIY Peacock Crafts
The first 6 crafts are simple peacock activities that toddlers and preschoolers can do with the help of an adult.
1. Peacock Letter "P" Craft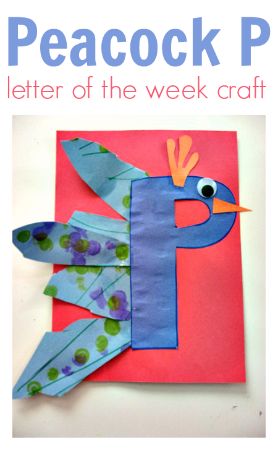 One of the best ways for your toddlers to become familiar with the letters of the alphabet is by creatively making colorful crafts and activities that will leave an impression.
They can easily learn the letter "P" by making this peacock craft by No Time For Flash Cards. Their website shares full instructions on how to make this. Don't forget to glue on googly eyes for a fun effect.
2. Paper Peacock Craft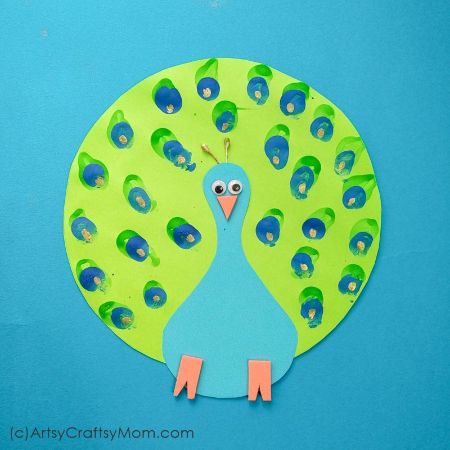 It's easy to skip the basics and forget that they're an important foundation for your kids' development, so make this straightforward paper peacock craft to improve your children's fine motor skills.
This craft by Artsy Craftsy Mom involves cutting, pasting, and applying some colors, which makes it a perfect activity for growing toddlers.
3. Peacock Puppet Craft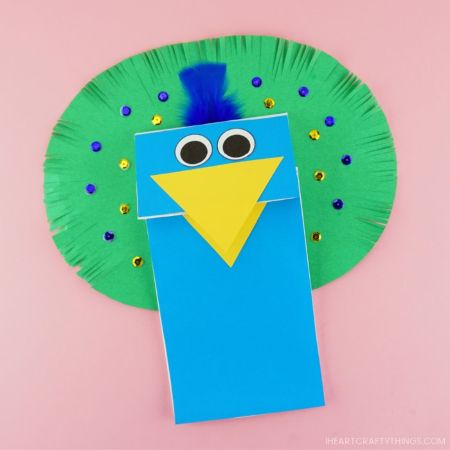 Paper bag puppet crafts will almost always produce a square-shaped figure for your characters, and that's okay because the beauty is in the colors and details.
Your kids can play pretend with this puppet craft made by I Heart Crafty Things. They list colored sequins among the materials you need to make your peacock even prettier.
Of course, you can make different kinds of animals and characters with a paper bag, so we've compiled a list of paper bag crafts for you and your kids to enjoy.
4. Paper Plate Fingerprint Peacock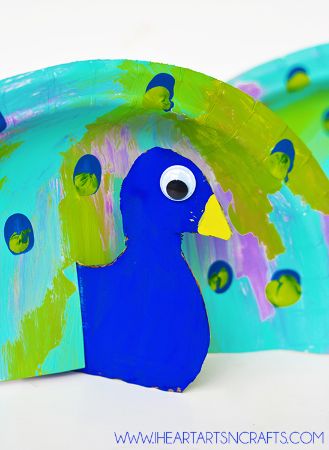 The paper plate has many uses outside of dinner time, such as crafts like this simple peacock paper plate activity that will keep your preschoolers busy.
I Heart Arts 'N Crafts lists two main materials for this craft: cardboard and paper plate.
5. Peacock Handprint Art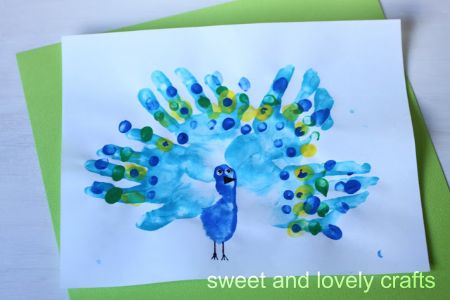 Handprint crafts are one of the most fun and engaging activities toddlers can do because it's simple and results in surprisingly good art.
Sweet And Lovely Crafts shows us how to create a peacock made with handprints. They use watercolor paint to create the peacock feathers and a paintbrush to create the body.
Speaking of handprint art, we share a bunch of ideas for turkey handprint art you and your children can make this coming Thanksgiving!
6. Peacock Chalk Art Activity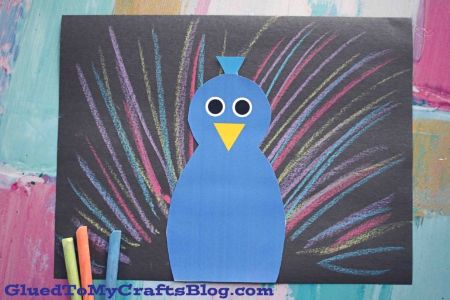 I'm sure most kids are fairly acquainted with chalk. If they aren't, then this is the perfect moment to introduce it with this peacock chalk activity from Glued To My Crafts Blog.
What's nice about peacock crafts is that you can make their feathers any color your children want! Heck, you don't even have to do this on a piece of paper – go crazy on the driveway!
6 Peacock Activities For Kids
Below are 6 peacock activities that will enhance your kids' creativity through upcycling and the use of different materials.
7. Heart Peacock Craft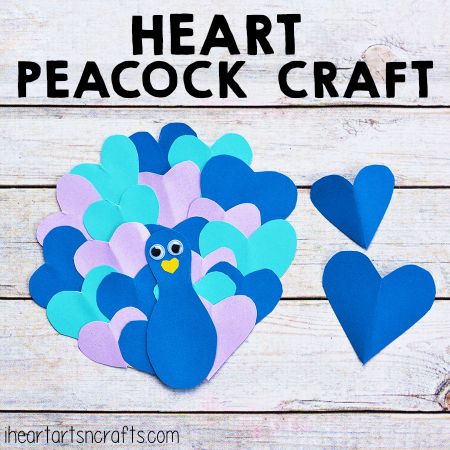 Teach your kids how to cut heart shapes with this heart peacock craft from I Hearts 'N Crafts. It's a cute activity that conveniently repurposes heart shapes for the peacock's feathers.
They've used shades of the color blue for their peacock, but the limit of colors only exists in you and your children's imaginations. So, make this craft together and enhance your kids' creativity along the way!
8. Paper Peacock Activity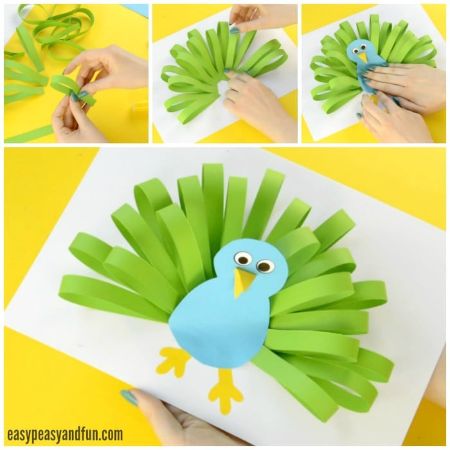 Here's an activity by Easy, Peasy and Fun that will help children practice their fine motor skills through the repeated folding of paper strips.
Easy, Peasy and Fun uses a glue stick to paste the peacock's feathers together. Make the feathers more colorful by using a variety of colored construction paper, too.
9. Paper Doily Peacock Craft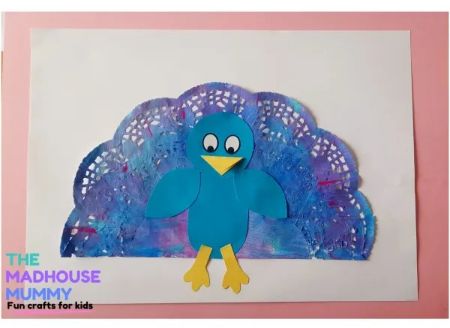 I always love crafts that include paper doilies as the main material. They're easily accessible and look effortlessly fancy on crafts because of their texture.
The Madhouse Mummy simply applied some paint on their paper doily to create this peacock feather craft.
I've seen paper doily used in other animal crafts, which are listed in our farm animal crafts for kids.
10. Upcycled Cup Peacock Craft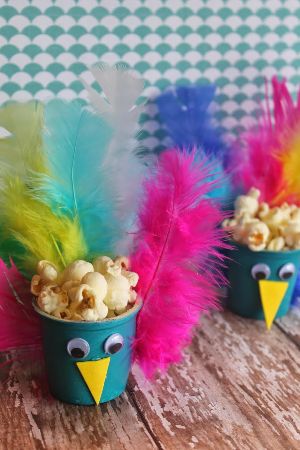 Make a pretty popcorn holder by doing this upcycled peacock cup from Divine Lifestyle.
Divine Lifestyle uses a paint and primer mixture to color the cups, but finish this cute and useful project off with some craft feathers and googly eyes as well!
11. Toilet Paper Roll Peacock Craft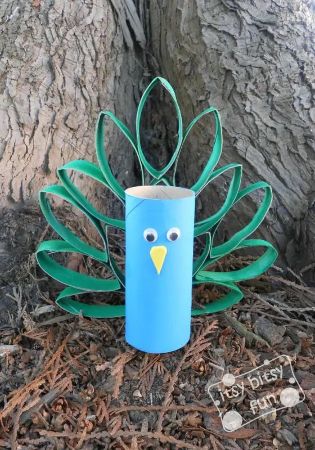 Everyone has toilet paper in their home – that's a fact – so you really shouldn't have any reason NOT to make this toilet paper roll peacock craft.
Itsy Bitsy Fun made this craft almost entirely out of toilet paper rolls (four, to be exact).
Here at Cool Kids Craft we enjoy upcycling toilet paper rolls, so we made a list of our favorite toilet paper roll crafts for you to make, too!
12. Origami Peacock Activity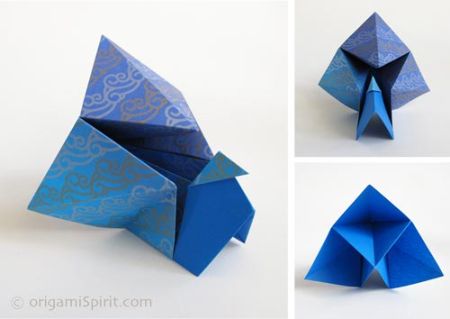 Origami is one of the most elegant crafts that exist. While somewhat difficult at first, nothing will be impossible with regular practice. So, introduce your children early to this magnificent activity.
Origami Spirit provides a detailed video tutorial that'll allow you and your kids to easily follow along during the whole process of making origami peacocks.
If you're unsure where to start with origami, we have a great guide for origami kits and ideas for kids to get you started.
6 Other Creative Peacock Crafts Ideas
The next 6 peacock crafts make creative use of different materials that are easily accessible in and around your home.
13. Peacock Leaf Craft Activity
If you've got a backyard with trees, this is a perfect craft to make on a crisp Fall day! If you don't, then it's a perfect time to take a stroll through the park with your kids.
Collect a bunch of fresh and dried leaves next time you go outside so you can recreate this peacock leaf craft by Happy Bee Art and Crafts. Full instructions are detailed in the video tutorial.
14. Peacock Feather Craft For Kids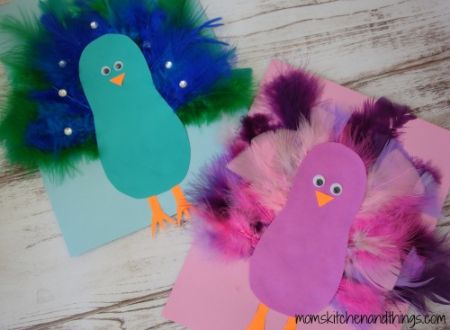 Watch out because these soft craft feathers might tickle your nose! Other than that, this is an excellent peacock feather craft with an added sensory experience for the little ones.
Crafty Morning provides clear instructions on their site.
15. Pipe Cleaner Peacock Craft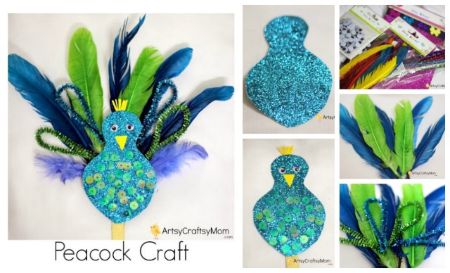 All that glitters is not always gold, like this pipe cleaner peacock craft. This is an adorable craft that you and your children can spend time making together.
Artsy Craftsy Mom makes use of different materials for this wonderful peacock craft, including craft feathers, sequins, and pipe cleaners.
16. Seashells & Playdough Peacock Craft for Preschoolers
Help your kids make this impressive seashell peacock craft by Make Film Play. Not only do they use a seashell, but they also use playdough, which is a very popular material found in most homes with kids.
If you don't have any playdough handy, you can easily make homemade playdough with ingredients from your pantry.
Next time you visit the beach, remember to collect a couple of seashells along the way so you can make this peacock craft.
17. Popsicle Stick Peacock
Popsicle sticks are so versatile for kids' crafts. You can even collect and store previously used ice cream sticks so you have a stock of these for future use!
This craft is straightforward because it only uses popsicle sticks and paint. Watch Eazy Wizy's video tutorial to make this peacock craft.
If you want more popsicle stick crafts, make sure to look through these incredibly easy popsicle stick crafts for toddlers and preschoolers.
18. Handprint Peacock Puppet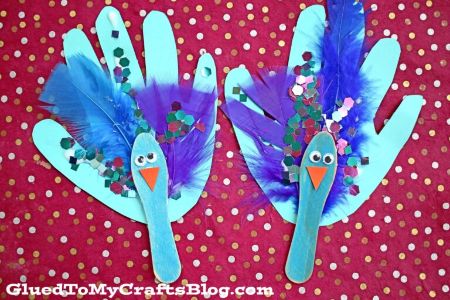 Try this highly engaging peacock activity by Glued To My Crafts with your little ones.
The craft consists of tracing out your kindergartner's hand on a piece of colored paper and glueing all sorts of glittery materials you can get your hands on onto it like sequins, craft feathers, glitter glue, and more.
Colorful Peacock Crafts and Ideas That Brighten Your Day
These vibrant peacock crafts will no doubt enrich your kid's visual skills and creativity. You'll definitely have fun doing each one with your kids!
For other bird crafts, we've got you covered with chicken crafts and duck crafts your toddlers and preschoolers will have lots of fun making.
And while you're at it, celebrate the holiday season early with these Thanksgiving sensory bin crafts and activities.