Thanksgiving is almost upon us, so let your children embrace this honored tradition with these easy Thanksgiving paintings! 
An important tradition in many countries, Thanksgiving is a festivity that expresses our appreciation and gratitude for fall's bounties.
Thus, crops such as pumpkins and corn are among the most prominent symbols associated with this holiday. I've included these autumn vegetables and other items related to Thanksgiving.
Many of these paintings are easy for children to replicate, while others contain challenges requiring a little more skill and finesse.
3 Drawing Essentials
Make sure you have the proper materials for any painting activity.
Don't worry if these materials aren't readily available at home, since below are three essential resources curated for your convenience.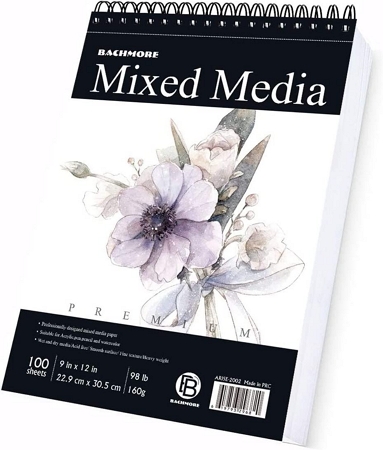 Any paper will do for a children's craft, but those who want to take their craft seriously and love having a compilation of paintings in one place should own this sketchpad. This 100-page sketch pad is made of thick and acid-free material, enduring the messiest of amateur and experienced artists alike.
See how much your painting skills have progressed once you've depleted this entire sketch pad.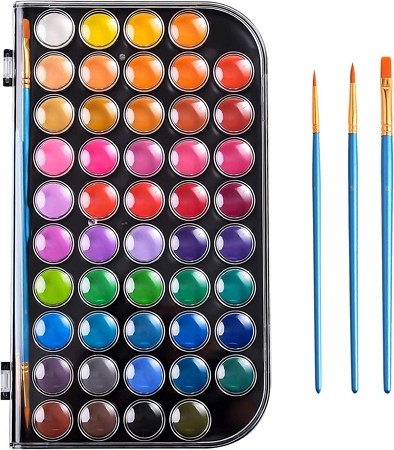 Try out this 48-color watercolor paint set that won't break your budget.
I assume you're familiar with the basics of mixing primary colors, but you won't have to worry about that with this set as there are plenty of pre-made colors, such as periwinkle or bubblegum—both of which I've just made up but perhaps unsurprisingly exist in this set, given the spectrum of colors.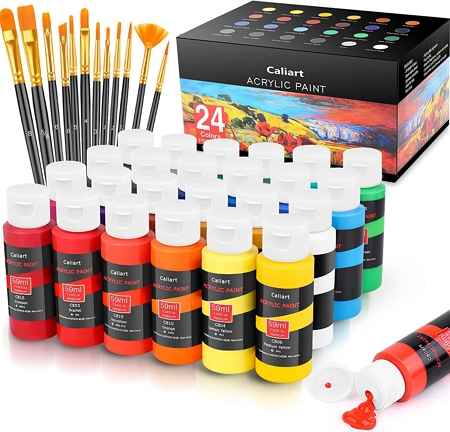 I recommend acrylic paint for intermediate artists. 
It's much easier to achieve the color you desire with acrylic paint than with watercolor. But this type of paint requires knowledge of basic primary and secondary color combinations.
4 Turkey Painting Activities
There's not a more iconic animal during Thanksgiving than the turkey.
These are drawings of turkeys before they become the succulent main course at Thanksgiving dinner.
Or try making these turkey handprint crafts!
Learn how to paint a turkey with radiating plumes just like the sun through this video tutorial by Createful Kids' channel.
Speaking of the sun, go on and bask in these sun crafts or space crafts for kids.
5. Watercolor Turkey Craft for Kids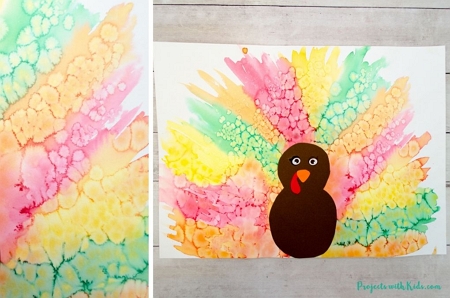 I enjoy art techniques that elevate crafts from regular projects to stunning ones. Projects with Kids has got me hooked with their watercolor turkey craft that involves the use of a universal cooking ingredient: salt.
Salt dough crafts — such as these snowmen handprint ornaments and homemade playdough — are a staple art project in many households, precisely because of their ease and availability.
6. Spray Painted Turkey Art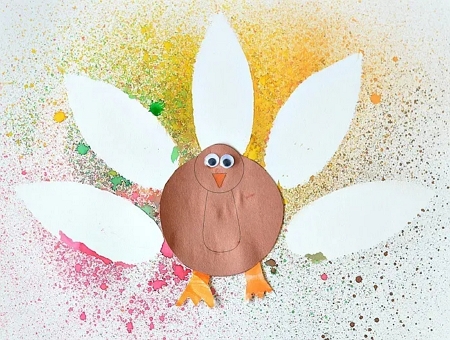 Fun Littles subverts our preconceptions of art and creates this surprisingly easy and exciting spray-painted turkey art.
For this craft, you'll need to fill up a spray bottle with watercolor paint and cut up leaf-shaped paper.
Deep Space Sparkle's channel transforms the turkey into a more seasonal animal by substituting fall leaves for its iridescent feathers.
7 Easy Pumpkin Paintings
Let's also show our appreciation for the bountiful harvest of vegetables by making these seven pumpkin paintings.
Create a different type of project with these paper mache pumpkins!
8. Painless Pumpkin Painting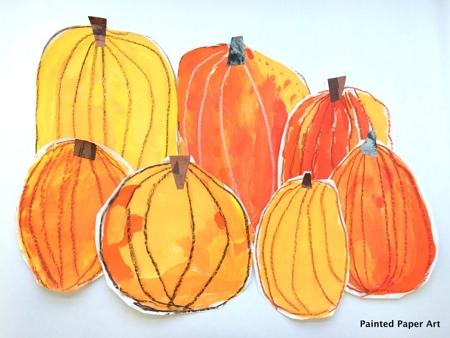 Not all pumpkins are created equally. Some have a smooth and shiny surface, while others are gnarlier than a witch's nose.
With their assortment of pumpkins, I believe Painted Paper Art is suggesting that it's okay to express your individual creativity, even if that means making mistakes along the way.
9. Harvest Pumpkin Watercolor Art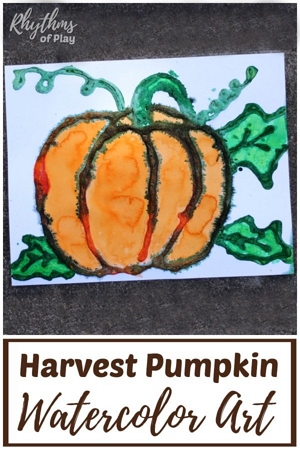 Here's a pumpkin from Rhythms of Play preschoolers will have a blast painting.
Like with some paintings, I recommend fleshing the outline first with a pencil, then proceeding with the painting when satisfied with the initial draft.
This comprehensive pumpkin painting tutorial by Tracie Kiernan's channel is a must-watch.
Note that the faux wood is just a part of the art and is painted on the canvas, and not actual fake wood. That's how impressive this pumpkin art is!
Take your color shading to the next level with this watercolor pumpkin painting.
Made by Paint with DAVID's channel, this video demonstrates how you can paint the pumpkin's subtle color change as it ripens.
If you've got a weekend to spare, then try to follow this relaxing video tutorial by Angela Anderson.
Each piece of this pumpkin painting is well-explained. So take a sip from your favorite beverage while you follow this incredible tutorial.
13. Fingerprint Pumpkin Project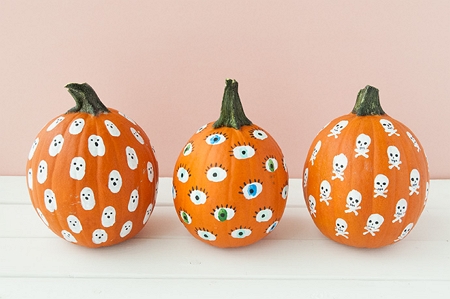 Children can't miss out on the easiest pumpkin painting project of all time. Handmade Charlotte shows us this painless pumpkin project, which is perfect for the Halloween season but also very engaging for a Thanksgiving activity.
Definitely don't miss out on these Halloween pumpkin Perler beads!
14. Pour Paint Pumpkins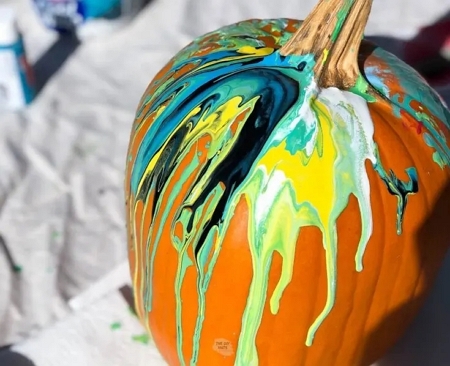 For a pumpkin painting that's effortless, here's The DIY Nuts guide on how to pour paint on pumpkins!
It might seem simple, but I'd say it's an underappreciated type of art that even toddlers can create.
4 Uncomplicated Corn Paintings
Here's another prominent crop during Thanksgiving — the indian corn. There's plenty of variations of indian corn that can be painted, so this is the part where your little ones' creativity will shine.
Don't forget to check out our indian corn crafts!
15. Watercolor Indian Corn Painting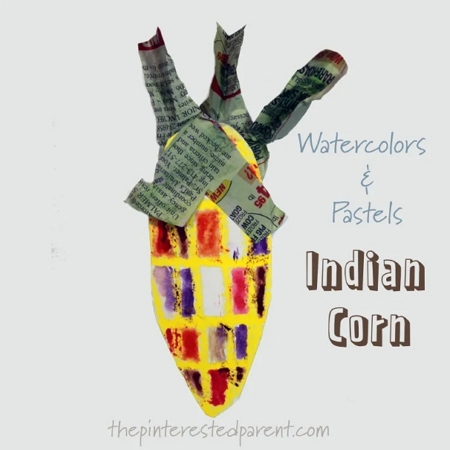 Engage your children in a fun activity involving painting little squares representing corn kernels. The Pinterested Parent instructs us to draw a corn shape, then adding perpendicular lines that create squares, akin to a multiplication table.
16. Indian Corn Painting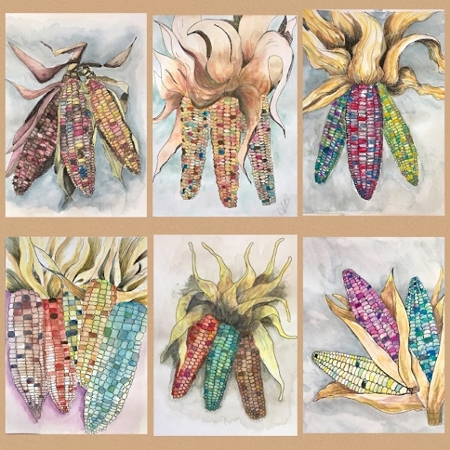 Get inspired by this collection of indian corn paintings by Art Room Britt, who showcases the art of their amazing students.
17. Painting with An Indian Corn Cob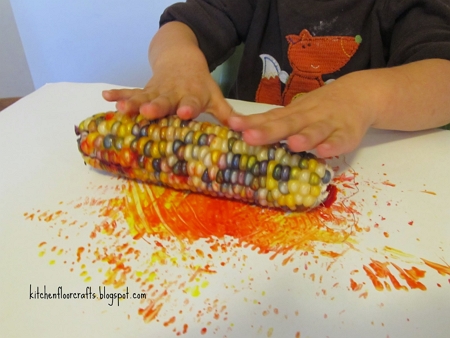 Kitchen Floor Crafts turns painting on its head by using an indian corn as a painting medium instead of a paint brush. See what beautiful chaos your little one can produce with this and several paint colors.
For a detailed and realistic video tutorial of a corn painting, Paint Academy's channel has got the right challenge just for you. What's interesting about the painting is the number of colors required to complete it — mostly primary colors.
5 Autumn Tree Paintings
The fall season leaves us with a reminder to appreciate the beautiful things in life, like the yellow-reddish tinge of the fall foliage.
Here are seven autumn tree paintings that are fresh and engaging.
19. Handprint Autumn Tree Painting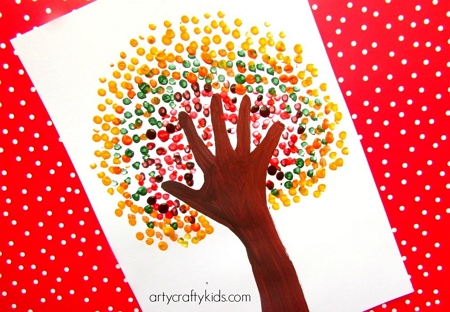 Handprints are easily one of the most absorbing crafts for kids. Combine it with a painting aspect, and your afternoon activity for your children is set!
Instead of paint brush, this project makes use of inexpensive cotton swabs.
Similar crafts can be found in this list of pom pom crafts!
20. Easy Tree Painting with Broccoli
One Little Project unleashed their imagination when they came up with the idea of using broccoli as a medium for painting.
At a closer look, broccolis do look like miniature trees after all!
Stay creative by making these food Perler beads!
There are as many techniques as there are beautiful trees during autumn. Here's one brilliant method shared by ART PLAY IDEAS's video tutorial.
22. Fall Leaf Salt Painting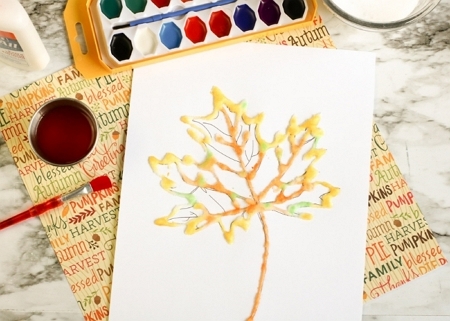 Preschoolers enjoy exciting art projects. Life Over C's has just the right activity for them.
This painting project asks the artist to draw a leaf outline and put glue on that contour. The activity proceeds by dipping a paint brush in water color and adding life to the leaf by gently hovering over it with the dipped brush.
See what spectacle you can create with by following this list of nature collages!
It's truly incredible how simple it is to make these stunning autumn projects. Take for example this video tutorial by Correa Art.
The painting starts with adding touches of yellow on the canvas, layering each autumn leaf with a darker shade until satisfied with the product.
It concludes by adding a branch, which forms the final layer.
Art Projects To Be Grateful For
I hope you've enjoyed these Thanksgiving art projects!
For similar activities with your little ones, check out these other guides: