Just as an apple a day will keep the doctor away, an apple drawing a day can go a long way in becoming inspired.
Jam-packed with fiber and nutrients, apples are a great starting point for beginners.
Whether you enjoy it in your muesli or as an afternoon snack, this ubiquitous fruit is sure to nurture the mind and stimulate your creativity.
Materials for Drawing
I've listed a couple of essentials for your activity (in case you ran out of materials).
9 Simple Apple Drawings
Let's pick our first apples in these nine basic drawings. These are kid-friendly apple drawings—including the simplest apple shape, apples with faces, and more.
1. Stages of an Apple
With Family Realms's step-by-step guide, we see the development of an apple drawing—starting with a circle (use a compass or a cup for the perfect circle), then gradually taking the shape of a simple apple.
In eight uncomplicated steps, this apple will be ready—to be snacked or cooked.
2. Granny Smith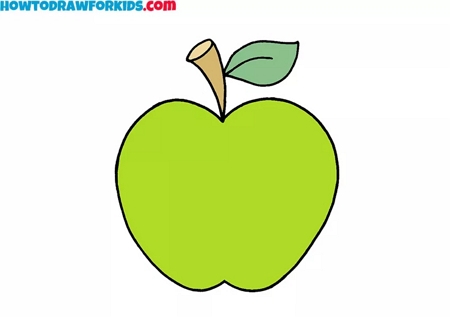 Whether in apple pie, sauce, or crisps, the Granny Smith apple is always there to satisfy us—serving as an appetizer in a salad or lending its tartness to cut that pork chop.
How To Draw For Kids lets us appreciate this apple, often overshadowed by other varieties.
3. Take a Bite of This Apple Drawing
Let's take a bite of this Granny Smith drawing by Hello Artsy, who does an excellent job of creating that bitten part.
This particular design draws our attention to its irregular shape, giving us some idea about depth and perspective.
4. Dissecting an Apple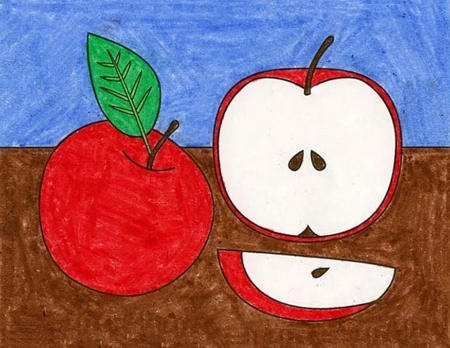 Organizing tasks into bite-sized pieces makes your projects much easier—a principle that can be applied to most things in life, including this drawing by Art Projects For Kids.
This makes the activity easier for you and the kids, who can easily digest lessons in a way that's not overwhelming.
5. Green Apple and Mr. Earthworm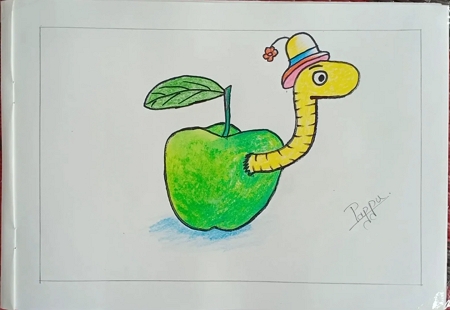 If overripe and grown in conditions that make it sweet, even the Granny Smith will invite a friendly earthworm.
But don't be disgusted, because this approachable Mr. Earthworm drawn by Draw With Pappu actually helps in composting, which is a great way to lessen carbon footprint—even if it's small-scale!
6. Bushel of Apple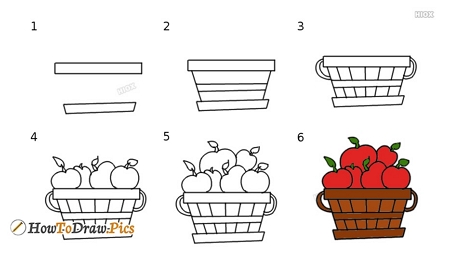 Have you ever gone apple picking? It's a great way to get in touch with nature, learn the source of our food, and help your local farming industry.
A bushel of fresh apples—drawn by How To Draw.Pics—are what you'll be taking home after a meaningful experience.
It's easy to refuse to draw an apple with a boring design. Make it more appealing to children by adding kawaii features on that apple's face, just like this drawing found on Funny For Kids's channel.
For more cute designs and a novel activity, look no further than our kawaii Perler bead patterns.
Even an incident as mundane as a falling apple can provide groundbreaking inspiration. Just look at Newton: it led him to open a universe of possibilities.
So let this drawing of a falling apple by Art For Kids Hub's channel imbue your little ones with unending curiosity.
9. Apple Core Drawing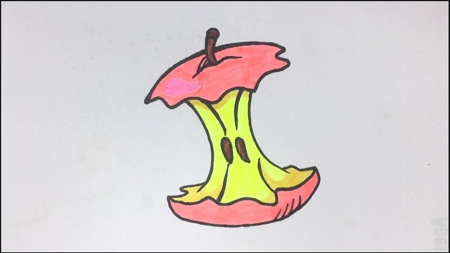 Sweet and juicy apples tend to end up like this drawing shared by Draw Swan. Take up the challenge and create this not-so-tricky design.
An Apple Orchard
Apple trees are not only good at producing apples; their apple blossoms also spruce up our garden landscapes.
To begin developing our apple orchard, we start with a single tree.
Let's look at this design found on skyphelia's channel. The drawing is a great starting point for beginners.
11. An Apple Tree Variant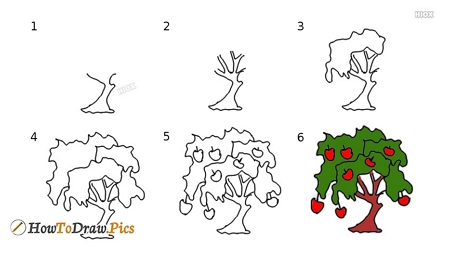 There is no single apple tree variety: every species has its characteristics, each beautiful in its own way.
I'm not sure which tree variety it belongs to, but this drawing by How To Draw.Pics  has one of the most uniquely shaped trunks I've seen among apple trees.
If you prefer a tree overcrowded with apples, then this drawing tutorial by Mishu Drawing Academy is the right one for you.
The fruits might be as large as pumpkins, but their size and shading are essential for not mistaking them as leaves.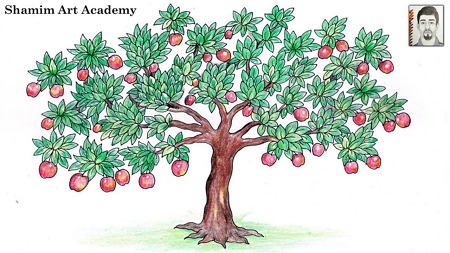 One of my favorite shapes of apple trees is like this one above, presented by Shamim Art Academy.
The tree's major branches are limited to no more than six; these extend horizontally, creating a wide-looking tree—a perfect ornamental addition to any garden landscape.
6 Organic Apple Drawings
Let's commence our organic apple drawings on the simpler side: Pratima Fine Arts And Crafts illustrates how to add some basic shadings to your designs, lending them a touch of realism.
Keep up with their fast-paced tutorial by simply cutting the playback speed in half or a quarter.
15. Apple: From Easy to Hard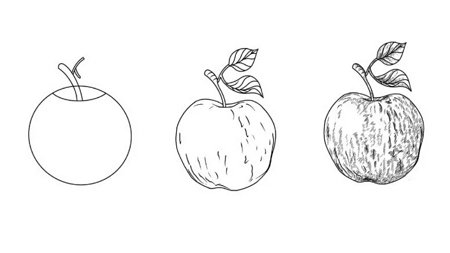 All drawings—especially the most complicated ones—must start with a simple sketch.
That's exactly what we see in Jae Johns's drawing tutorial, beginning with a circle, then adding details bit by bit, until everything starts to take shape.
16. Anatomy of An Apple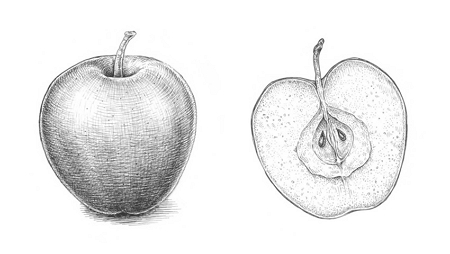 The guides on Envato Tuts+ are always a treat: they're challenging but rewarding at the same time—perfect for those who want to take it a step further.
In this drawing, they dissect an apple. The shading on the skin plus the detail on the core of the apple are masterfully done—not to mention, explained in the drawing tutorial.
We don't devour an entire apple whole; we slice it into pieces to make it easier to swallow.
That's the appeal of 19Ecas video tutorial: breaking it down into morsels to absorb it with no fuss.
Not all drawings start with a pencil. But that's not the case with Arts Core's illustration, which starts and ends with a pencil.
This contains everything a beginner artist wants in a walkthrough video: showing what to do, and explaining why they've done what they've done.
Watercolor is a relaxing activity: mixing the primary colors and applying them to a canvas is simply magical. Just watching this tutorial on NAMIL ART's channel is a soothing experience.
But the challenge involved in this apple watercolor project is not meant to make you fall asleep. There's a subtle art in blending the watercolor, one that can't be easily replicated.
But don't be discouraged—each project is a way to hone your artistic skills.
Simple, Bite-Sized Apple Drawings
Apples are nutritious, versatile—and the perfect starting point for novice artists. Through daily practice, you're well on your way to capturing the most accurate apple depiction.
But don't stop with apple drawings. Gain mastery over form and color by continuing your journey here: