If you're looking for straightforward and easy-to-follow instructions on how to draw a cow then you've come to the right place. Mooore easy drawings of cows await you in this post.
I'm sure that the kids will learn a thing or two and gain new sketching techniques from these helpful guides.
Discover other easy animals to draw for kids right here.
Things You'll Be Needing:
Equip your child with the right equipment like these art materials which they'll find useful in all of their drawing sessions.
12 Easy Drawings of Cows
1. Happy Cow Drawing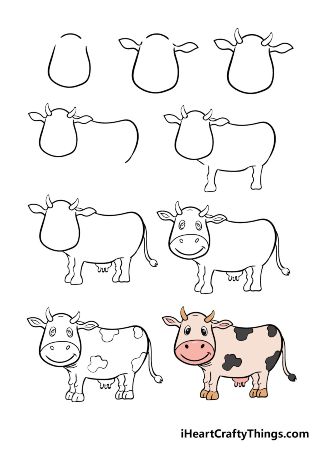 Don't be fooled by the size of cows. They're domesticated and very friendly animals.
Here's a smiling cow drawing from I Heart Crafty Things ready to welcome you to the list.
It will be the perfect drawing to start off the list because it's very cute and easy to do.
2. Cow Eating Grass Drawing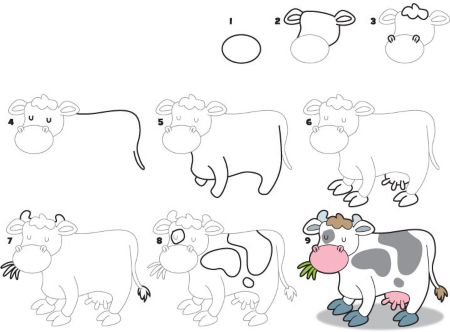 Cows are herbivores that love to eat. Did you know that cows munch on 25,000 to 30,000 morsels of grass in a day?
This drawing from Kid Scoop shows one of the things cows love to do— eat, eat, eat!
Enjoy a hearty meal and art project by doing these perler bead food projects.
3. Cow Drawing from Dots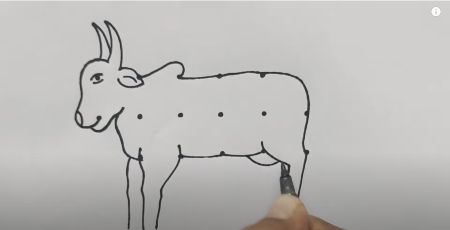 This video tutorial from J B Patel shows how easy it is to draw a cow that you can even draw one using multiple dots!
Kids will love this tutorial because it can also serve as a magic trick that they can show their friends.
Learn how to draw a hummingbird in this post.
4. Baby Cow Drawing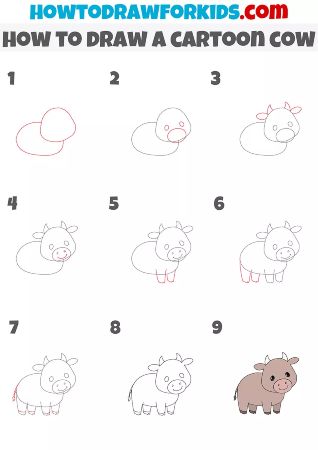 This baby cow from How to Draw for Kids may be small but it sure is packed with 100% cuteness.
Get ideas and techniques on how to draw tiny and miniature cows by following the detailed guide above.
Cuteness overload is guaranteed in these kawaii perler bead patterns.
5. Cow Drawing from the Word
Here's a cool tutorial from Drawing How to Draw on how you can turn the word cow into an actual drawing of a cow.
This step-by-step guide is fun, creative, and easy so I'm sure that kids will love it.
Does your kid love dogs and heroes? Combine the two and you'll enjoy these Paw Patrol crafts for kids.
6. Cow and Calf Drawing
The bond between a mother and child is strong and unbreakable. That's also evident between cows and their calves.
Watch this drawing guide from Ripon's Art and create this beautiful drawing with your own child.
Spend the day with the most famous mouse while making these Mickey Mouse perler beads.
7. Funny Cow Drawing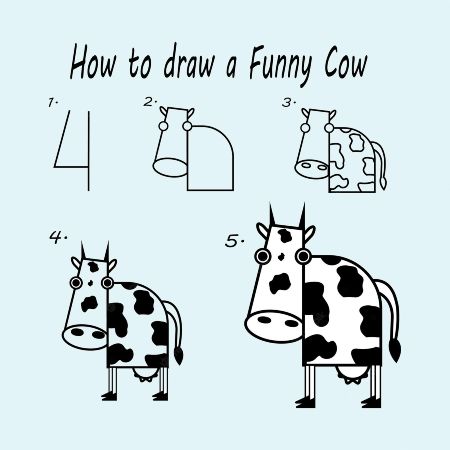 Eye see that you love cows. We do, too!
Find inspiration on how to create a big-eyed and attentive cow drawing from Freepik's tutorial.
The first step is to write the number four so drawing it will be a breeze.
8. Outdoor Cow Drawing
Cows are at their happiest when they're outside because they can breathe in the fresh air, munch a bunch of grass, and see the blue sky above.
Give your cow drawing these things by replicating this artwork from Art Projects for Kids.
9. Tiny Cow Drawing

This guide from Drawing How Tos will be useful if you plan on drawing a bunch of calves.
It shows the right dimensions of a baby cow which will make it easy for little kids to copy and draw.
See the beauty and elegance of butterflies in these pretty butterfly drawings.
10. Cow from the Number Five Drawing
Teach your kids the magic trick of how to turn the number five into a massive cow.
Follow the steps in this video by ART START to get started.
Brownie points if your child is five or turning five years old as well.
11. Highland Cow Drawing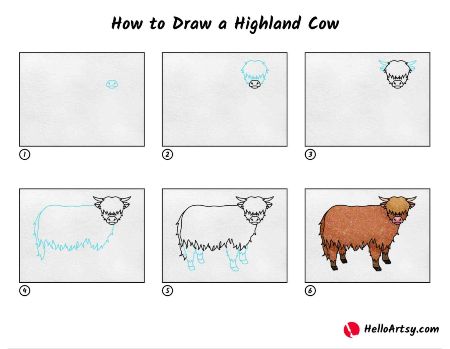 Highland cows are one of the most common types of cows. Your kid may have seen one on a farm or zoo so it will be a thrill to learn how to draw them.
Hello Artsy's guide makes it simple and straightforward so kids will have no problem following the steps.
12. Cool Cow Head Drawing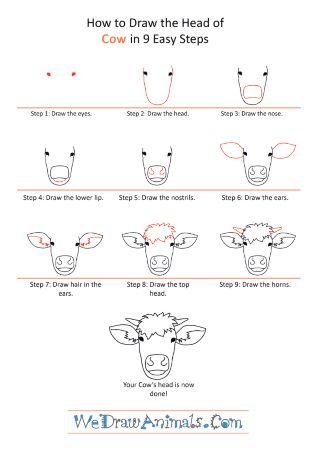 In this cow drawing tutorial from We Draw Animals, the face of the cow takes center stage.
It's not enough to master drawing the body of the cow so this targeted guide will be handy for your next drawing sessions.
6 Cute Cow Drawings
13. Cow with a Bell Drawing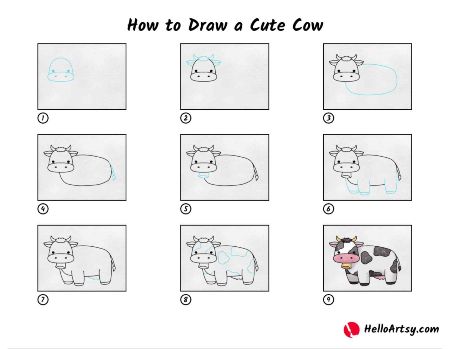 Farmers add bells to cows to easily locate them in the field. Bells are functional and make cows even more lovable and adorable (if that's even possible).
Get the step-by-step tutorial on how to achieve this artistic style from Hello Artsy.
14. How to Draw a Cow Face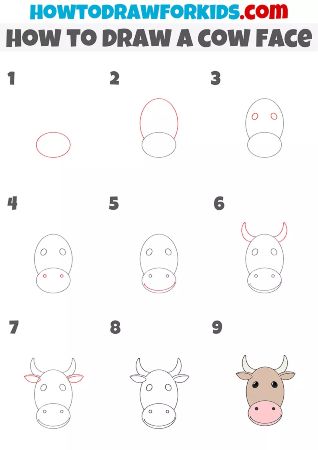 Learn a different way how to draw the face of a cow with this guide from How to Draw for Kids.
Use this as inspiration and play around with it by changing the colors to personalize your cow drawing.
Don't wait for February to spread love. Make these Valentine's Day crafts for toddlers any day of the year.
15. 3D Cow Face Drawing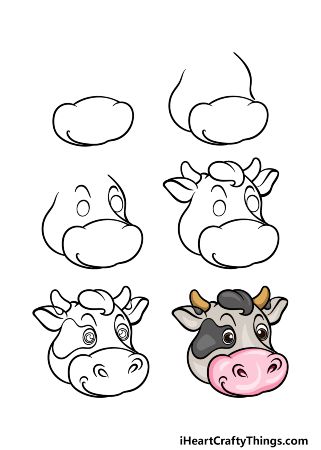 Test the drawing skills of your child by challenging them with this guide from I Heart Crafty Things.
This 3D cow drawing will be their most prized drawing because doing it will be challenging but the finished product will look exceptional and worthy of being displayed in the fridge.
16. Sitting Cow Drawing
Cows need a break, too! It's time for a much-deserved rest after eating and walking around the field all day.
Learn step by step will teach you how to draw a cute resting cow in this video.
Have a relaxing day completing these beautiful perler bead flowers.
17. Square Cow Drawing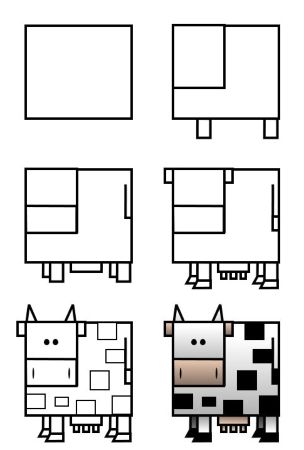 Widen the perspective of the kids by teaching them different drawing styles and techniques such as this one from How to Draw Funny Cartoons.
This will be a unique cow drawing because instead of using round strokes, this one made use of straight lines.
18. Orange Cow Drawing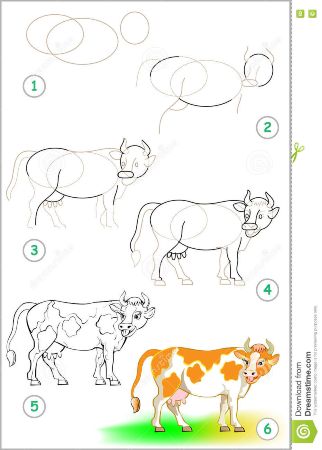 Cows come in all different sizes and colors. Add variety to your sketchbook by doing this orange cow drawing.
Dreams Time provided a helpful step-by-step guide so all you'll need to bring are pencils, erasers, and coloring materials.
Easy Drawings of Cows That are Perfect for Beginners
Don't wait for Cow Appreciation Day to show your love for these animals. Educate the kids and have a fun day learning about them by doing these easy drawings of cows.
These drawings are simple and cute so the kids won't have a hard time making them even on their own.
Mooore incredible projects for children can be found here: