Celebrations are made more special with these pretty butterfly cupcake decorating ideas. Butterflies are one of the most beautiful and magnificent insects in the world. They come in different shapes, sizes, and colors.
Everyone is familiar with this insect. With over 17,000 species of butterflies in the world, everyone gets to appreciate this amazing insect. Let's explore and be mesmerized by butterflies in this post.
Flowers and butterflies are the power combo. Learn how to create 3D paper flowers here.
What You'll Need for Butterfly-Themed Cupcakes
First things first. We're all excited to get our pans out and bake yummy cupcakes, but we need to prepare our materials first. The items below will make baking and decorating more exciting for your kids.
16 Easy Butterfly Cupcake Ideas
1. Purple Flowers and Butterfly Cupcakes
Swirl in some purple frosting to create an aesthetic and sweet flower.
Top it off with handmade chocolate butterflies and you'll have yourself some cupcakes that look like they came straight out of a Pinterest board.
Watch Clarakitchen21 video to learn how to make these mouthwatering and pretty cupcakes from scratch.
2. Gorgeous Butterfly Cupcakes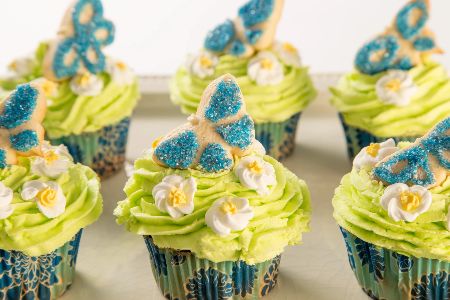 Are your kids not a fan of girly things but are obsessed with butterflies? These will be perfect for them.
They'll love these cupcakes from The Food Channel with the blue butterfly biscuits and green frosting without the usual overly pink butterflies and flowers.
3. Rainbow Butterfly Cupcakes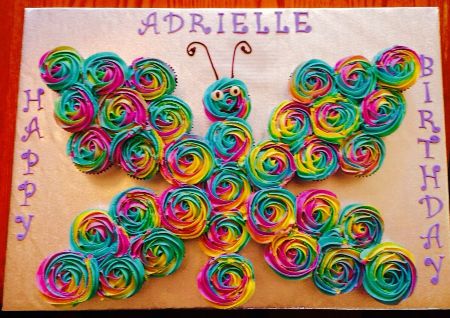 Think out of the box and create a gigantic butterfly using cupcakes like this one from Dubai Khalifas.
This butterfly cupcake will be a great design inspiration. It's easy to follow and will be able to feed all of your guests.
4. Monarch Butterfly Cupcakes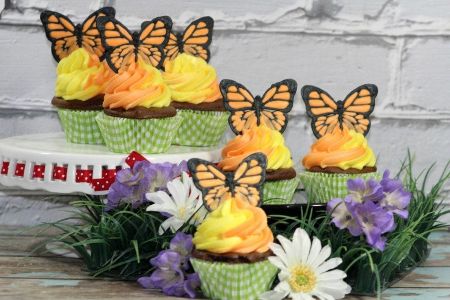 Make your cupcakes extra special by adding a monarch butterfly at the top of each one.
A combination of yellow and orange frosting will give the butterfly a boost, too.
Check out this design inspiration from Tammilee Tips.
5. Easy Butterfly Cupcake Idea
Butterflies come in all colors and sizes. So it would be an awesome idea to create different colored butterflies for your cupcakes.
This recipe by Betty Crocker features blue, pink, and yellow butterflies made with candy melts. But you can also opt for your child's favorite color.
Looking at these cupcakes sure made me hungry. Good thing we've got the best perler bead food patterns, too.
6. Adorable Butterfly Cupcake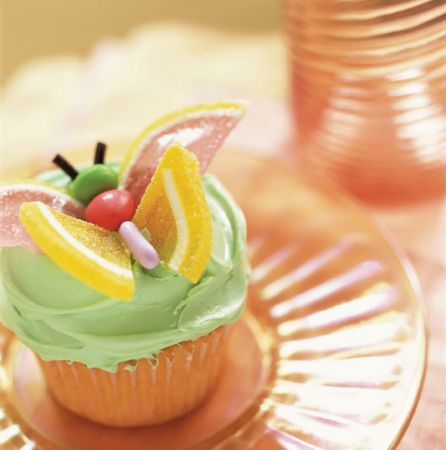 Surprise your kids with sweets after sweets after sweets!
The star of the cupcake is made with candy slices, licorice string, and jelly candies.
This cupcake design from NY Metro Parents will satisfy your sweet tooth cravings in one bite.
7. 3D Butterfly Cupcakes
Your kids will love decorating the cupcakes with these 3D butterflies.
It will look like real butterflies are resting on top of your cupcakes. These will be too cute to eat!
Let yoyomax12 – the diet free zone's video tutorial teach you how it's done.
8. Butterfly and Insect Themed Cupcakes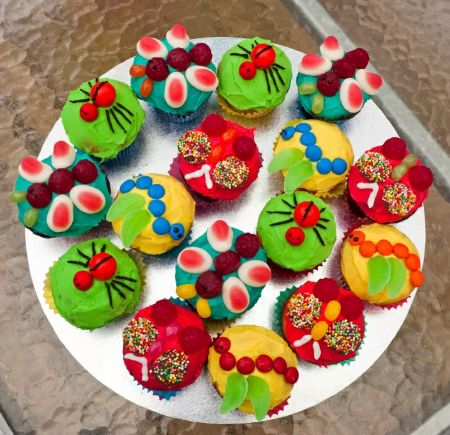 Butterflies are part of the insect family. Get to know the group with this cupcake set that features beetles, bees, ladybugs, and more.
And did I tell you that these insect cupcakes from Kids Love to Know are made of candies, fruits, and frosting too (yum)?
Winter is coming. Prepare these winter sensory bins for your kids.
9. British Butterfly Cupcakes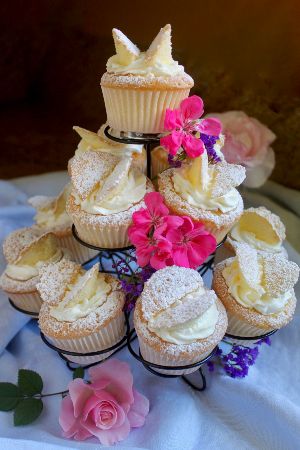 These British butterfly cupcakes will be a more minimalist yet mouthwatering choice.
Each bite from these delicious cupcakes designed by Christina's Cucina will be a delight.
Check out this list that's filled with amazing Bluey crafts.
10. Butterfly-themed Cupcakes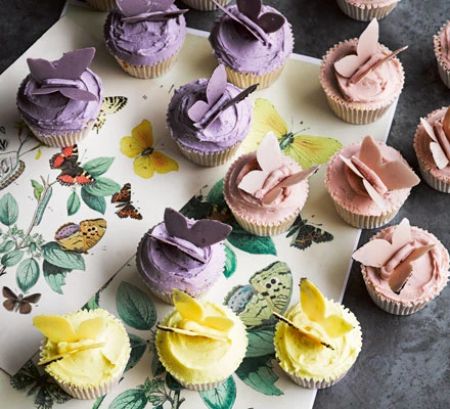 Having a fairy-themed party for your kid's birthday? These cupcakes with buttercream frosting from BBC Good Foodare a must.
The flavorful taste plus cute design will make this a crowd favorite.
11. Cute Butterfly Cupcakes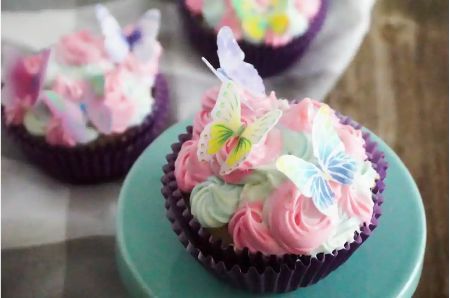 Imagine a cupcake made by fairies, unicorns, and mermaids. This is what it would look like.
The pastel frosting and beautiful butterfly toppers of these cupcakes from Sequins in the South will remind you of fairy tales and happy endings.
Fire it up with these fiery dragon crafts for kids.
12. Beautiful Butterfly Cupcakes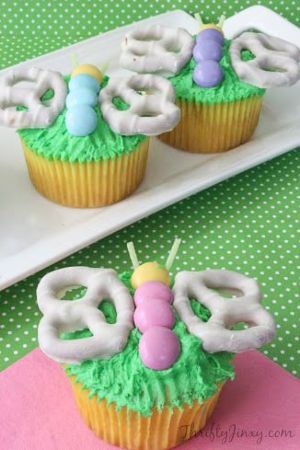 Level up your cupcake skills by trying out these pretty butterfly cupcakes from Thrifty Jinxy.
They're made with delicious and handmade butterfly toppers that are all edible.
13. Cupcake with Butterfly Toppers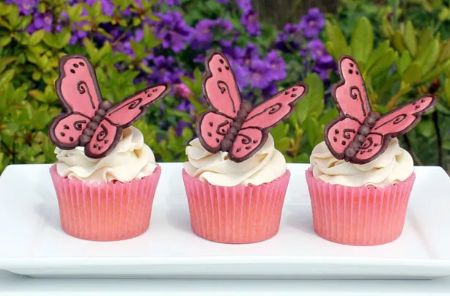 Adding a butterfly topper to your cupcakes will be a great idea if you're running out of time.
They will make the cupcakes look phenomenal and appetizing in an instant. To prove my point, just look at these awesome cupcakes from Good To.
Be busy as a bee working on these bee perler beads patterns.
14. Lovely Butterfly Cupcakes
Give your guests a selection of which butterfly cupcakes they prefer like these sweet treats from A Treats Affair.
A pink butterfly for a strawberry-filled cupcake, blue for chocolate, and green for peanut butter.
Your kids will learn about shapes in these circle perler bead patterns.
15. Multicolor Butterfly Cupcakes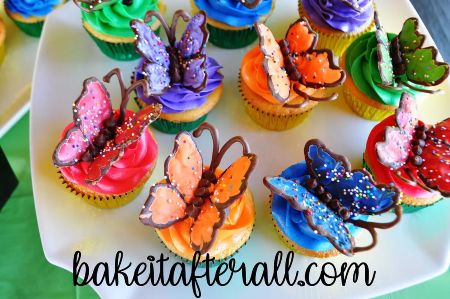 Wouldn't it be amazing to see all the colors of the butterfly in one place?
With this cupcake decoration from Bake It After All, you'll be able to see that for yourself in real life.
16. Baby Pink Butterfly Cupcakes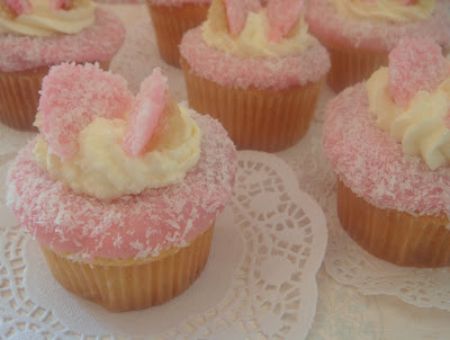 These pink cupcakes from Butter Hearts Sugar will be your kid's new favorite thing to decorate and eat.
They're super cute and have a unique coconut taste, too
6 Edible Butterfly Cupcakes
17. Strawberry Shortcake Butterfly Cupcakes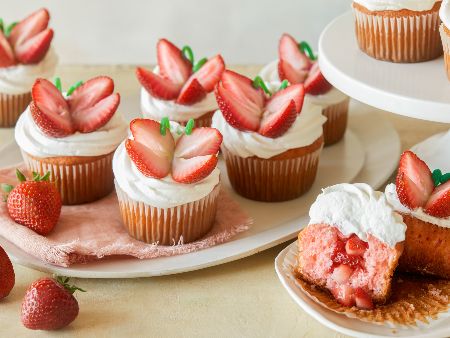 To all the strawberry lovers out there, this decoration inspiration from Food Network is for you.
Doing this is as simple as 1-2-3. Cut the strawberry in half and you got yourself a yummy and cute butterfly.
18. Yummy Butterfly Cupcakes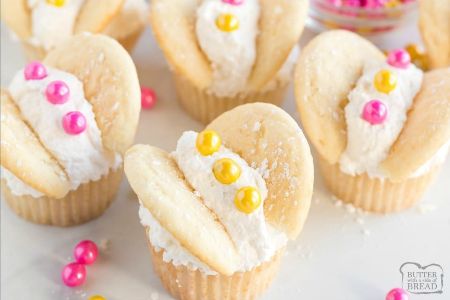 This recipe will give you an idea of how you can present your cupcakes creatively.
Follow the instructions of Butter with a Side of Bread to achieve this look.
19. Purple Butterfly Cupcakes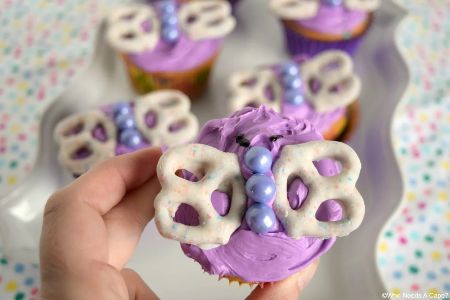 Pretzels can serve as the wings of your butterflies. Throw in some sugar pearls and a cute butterfly will be created.
Customize the flavor of the pretzel and the color of the pearls to add a personal touch to your cupcakes.
Use this recipe from Who Needs a Cape? as your guide.
20. Fluttering Butterfly Cupcakes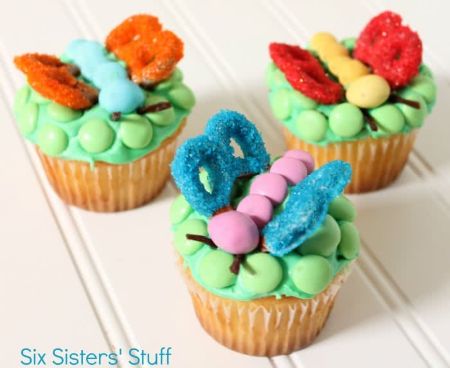 Everything about these cupcakes from Six Sisters' Stuff is perfect. The pretzel twists, sprinkles, and candies all add a clever twist.
This will become your kid's favorite dessert.
Here are heartfelt Valentine's day crafts for toddlers that you need to try out.
21. Creative Butterfly Cupcake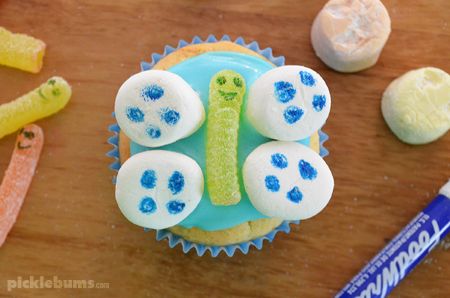 This cupcake from Pickle Bums has got all of the things your kids like.
It's got marshmallows, gummy worms, and of course butterflies.
This treat will be a treat to your kids.
22. Fondant Butterfly Cupcake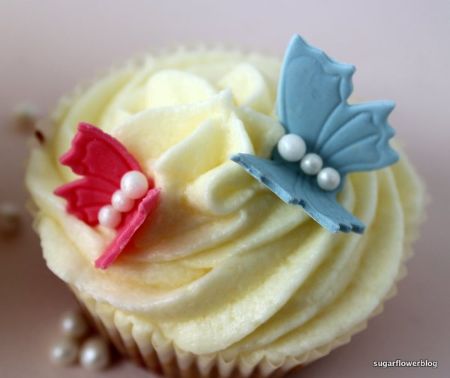 This cupcake from Sugar Flower Blog offers a different approach to how you can style your creations.
Adding a fondant butterfly will be a quick and easy fix to make your cupcakes look cuter.
Make the most out of your everyday items by creating these egg carton crafts.
Butterfly Cupcake Ideas Perfect for All Occasions
This list is filled with fun and creative butterfly cupcake ideas for you and your kids to make. It will also be a great bonding activity. Making these designs will turn any day special and memorable.
More projects await you below: