Into the rabbit hole we go! Bunnies (aka rabbits) take center stage for this post. Here you'll find the cutest, most creative, and most fun bunny crafts for kids.
Bunnies are cuddly, cute, and playful animals which is why they're one of the most in-demand pets—there are over 1.5 million of this adorable bunch in the United States alone.
Whether you're a proud rabbit owner or just want to know what's the fuss about pet bunnies, these bunny crafts will make you fall deeper in love with them.
Hippity hop! Can't get enough of bunnies? You'll love these easter bunny crafts.
Materials for Your Crafts
Prepare these art materials before continuing with the list. No one wants to be ill-prepared in making these fun crafts!
5 Easy Bunny Crafts Using Materials Found At Home
1. Paper Plate Bunny Craft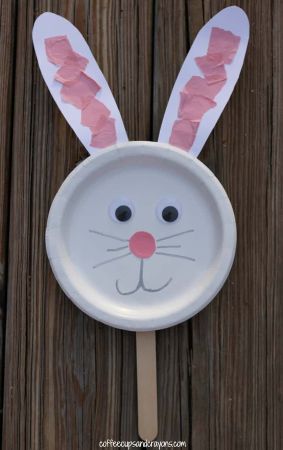 Telling bedtime stories with puppets make it more visual and magical.
This paper plate bunny puppet from Coffee Cups and Crayons will be an awesome addition to the kid's nighttime routine.
Plus, it will boost their confidence knowing that their artwork is very much used and appreciated.
2. Adorable Cotton Bunny Craft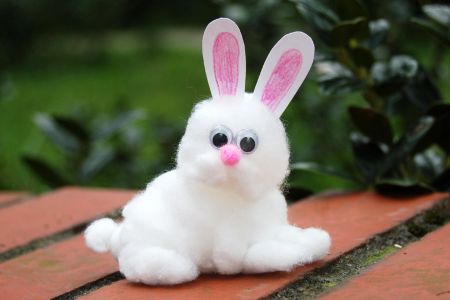 This bunny-shaped cotton will fill the hearts of bunny lovers who are allergic to them.
It will allow the kids to experience being rabbit owners without the threat to their health.
Learn how to build this soft and cute bunny craft from First Palette.
3. Tissue Paper Bunny Craft
This bunny craft made out of tissue paper from Mod Podge Rocks is one of the most artistic projects you can teach the kids.
It will get their creative juices flowing and will also be a nice display on the fridge.
4. Toilet Paper Roll Bunny Craft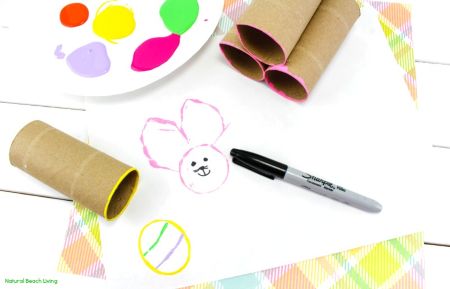 Don't throw away the toilet paper rolls just yet because we're about to do something creative with them.
Breathe new life into them by creating this bunny craft from Natural Beach Living.
Brownie points for the easter egg tutorial, too.
5. Q Tips Bunny Craft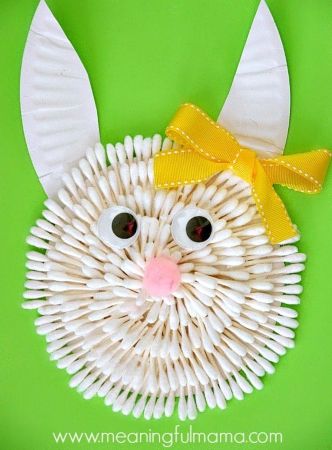 The q tips add a nice touch to this bunny project from Meaningful Mama. They make the bunny soft, fluffy, and original.
Plus, all the items in this craft can be easily found in your home. Aside from the q tips, you'll also be needing a paper plate and ribbon.
7 Bunny Crafts for Preschoolers
6. Footprint Bunny Craft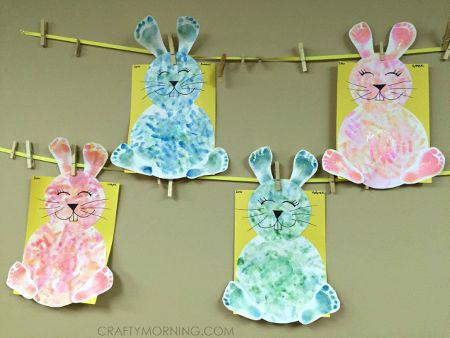 Giggles will ensue while making this bunny craft from Crafty Morning.
Not only because it's a fun project to make but because it will tickle your child's feet, too.
7. B is for Bunny Craft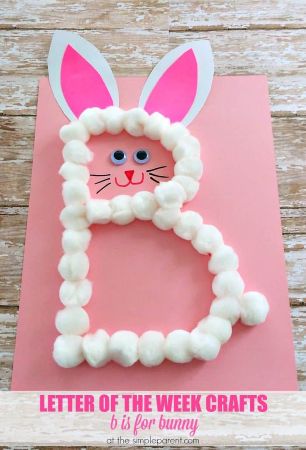 The best animals start with the letter B: blue whales, bats, and of course, bunnies!
Memorize the alphabet by doing fun projects such as this one from The Simple Parent.
Familiarize your kid with the alphabet even more by doing these letter B crafts.
8. Bunny Party Hat Project
It won't be a proper party without these awesome bunny hats!
These hats from The House that Lars Built will be perfect for bunny-themed parties or even for daily playtimes.
9. Plastic Egg Bunnies Craft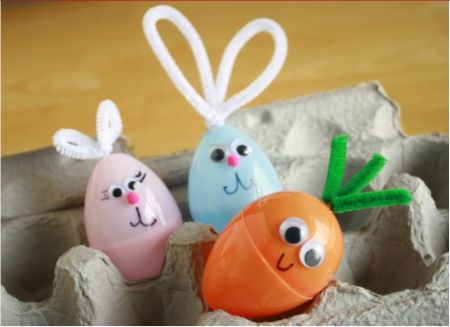 Turn the plastic eggs your kid collected last Easter into something artistic by making them into these adorable bunny crafts.
Aside from bunny eggs, this tutorial from Make and Takes also provides tips on how to make carrot eggs.
10. Popsicle Stick Bunny Craft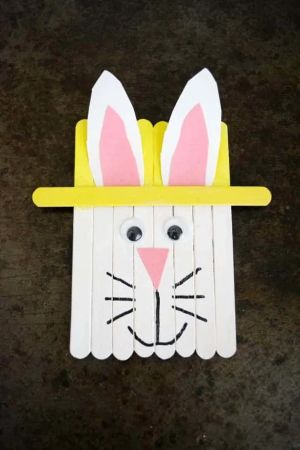 Got a bunch of popsicle sticks from past projects and looking for the next craft you can make with them?
Include this bunny craft from Todays Creative Ideas. This will be an easy and enjoyable craft for preschoolers.
11. Handprint Bunny Craft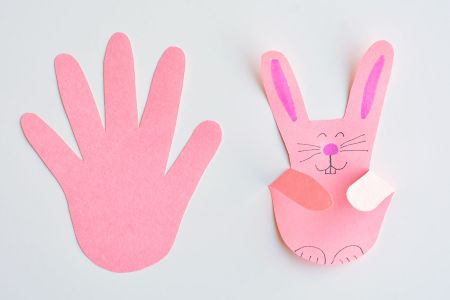 Trace the hand of your little one because this will be the outline of our next bunny craft from One Little Project.
Once you're done, draw in the details such as the rabbit's eyes, nose, and whiskers.
The full tutorial can be found here.
12. Painting and Plates Bunny Craft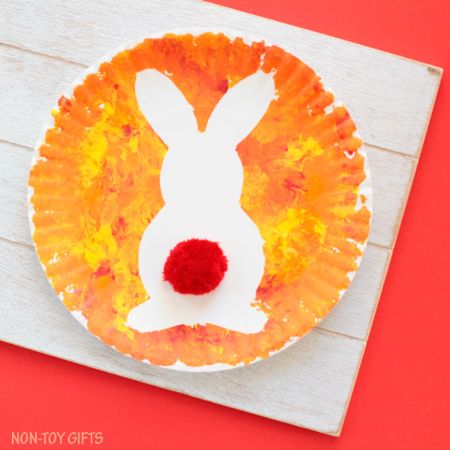 To create this beautiful bunny masterpiece from Non-Toy Gifts, you'll need three paint colors of your choosing, a paper plate, and a bunny cut-out.
Preschoolers will find joy in making this colorful craft because there's an element of surprise once they remove the bunny template.
Get the free printable bunny template here.
8 Bunny Crafts for Kids
13. 3D Bunny Paper Craft

Here's a wonderful bunny craft from Easy Peasy and Fun that's unique and colorful.
This will be a simple and cute decoration for the kid's study table or a small gift made from the heart to their best friend.
Learn how to make friendship bracelets in this post.
14. DIY Mini Bunny Basket
Why wait for Easter Sunday when every day can be a celebration, especially with these adorable bunny baskets from Easy Kids Craft.
The basket can easily fit candies, hair ties, and clips.
15. Bunny Mask Craft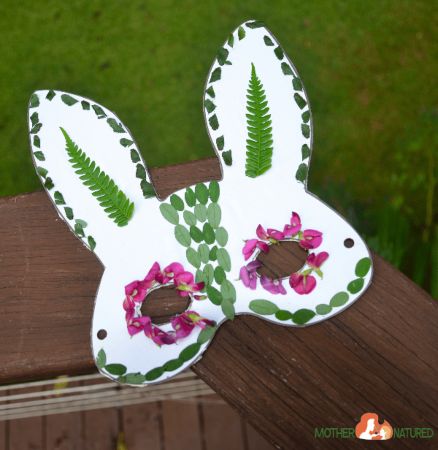 Your child will feel like a bunny whenever they're wearing this mask from Mother Natured.
Decorate the masks with things found in the backyard such as leaves and flowers to add a touch of nature to them.
Raise awareness about environmental protection by making these nature collages.
16. Pop-Up Bunny Card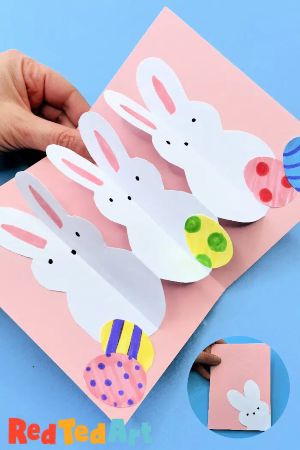 This bunny card from Red Ted Art will be a nice present to your kid's teacher, friends, or grandparents.
DIY projects are always heartfelt and special because it shows that they put a lot of thought and effort into the gift.
Plus, the recipient will always remember your kid whenever they see a bunny.
17. Bunny Bookmark Project
For all the bookworms out there, our next craft is for you!
Gone are the days when you can't remember where you stopped reading because this handy bookmark from Red Ted Art will do the job for you.
This will further encourage and support the kid's love for reading.
18. Movable Bunny Ears Craft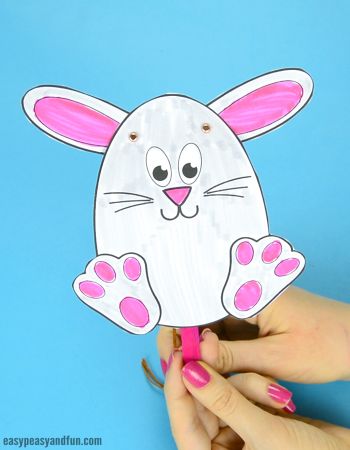 Looking for an interactive bunny project to do with the kids? This craft from Easy Peasy and Fun will be a nice choice.
Moving the ears changes the look and emotion of the rabbit. Grab the bunny template here.
19. Circle Paper Bunny Craft
These cute circular bunnies will be the perfect addition to a bunny lover's room.
Watch Easy Kids Craft's step-by-step video tutorial to learn how to make this craft.
Make these circle perler bead patterns your next project.
20. Bouncing Bunny Craft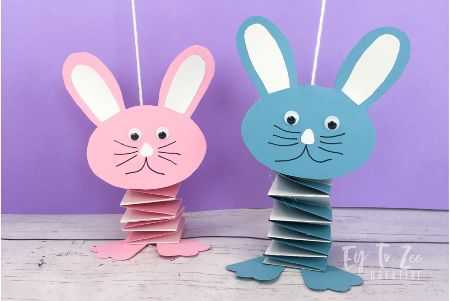 This life-like bunny craft from Ey to Zee makes it look like the bunnies are hopping from one place to another.
Your kids will have a lot of fun creating and playing with these adorable bunnies.
Get the bunny template for this craft here.
The Cutest and Most Awesome Bunny Crafts for Kids
Hop along and create these fantastic bunny crafts for kids.
Not only are they kids-appropriate and enjoyable to do but will also deepen their knowledge about their favorite fluffy creatures.
Got more time? Creating these awesome projects will be a good idea: